Products & Services: PUMPS, MOTORS & DRIVE SYSTEMS
EMUPORT Packaged Lift Stations from Wilo EMU USA LLC are now available with an integral solids separation system.
Jul 1st, 2007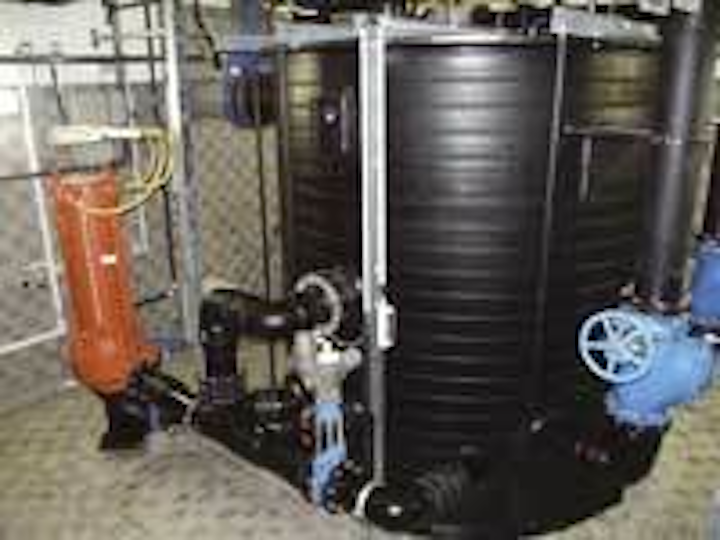 Solids separation system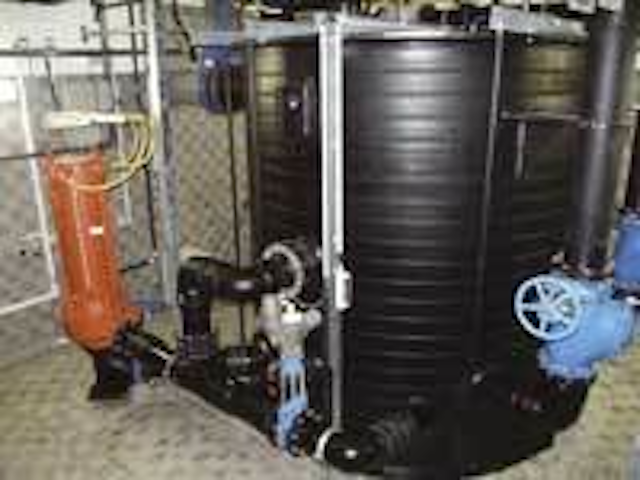 Click here to enlarge image
EMUPORT Packaged Lift Stations from Wilo EMU USA LLC are now available with an integral solids separation system. They effectively prevent lift station blockages including systems with a high percentage solid content. This includes sewage containing material that won't dissolve and keeps it original form and structure, i.e., cellulose towels, sheets and other fibrous or non-dissolving items. Available for wet and dry pit applications, the dry pit design allows pumps to be maintained without contact with the sewage. They can be installed either above or below ground. Wilo EMU USA LLC, Thomasville, GA, 866-476-0323, ww.wilo-emu-usa.com
Failure-free check valve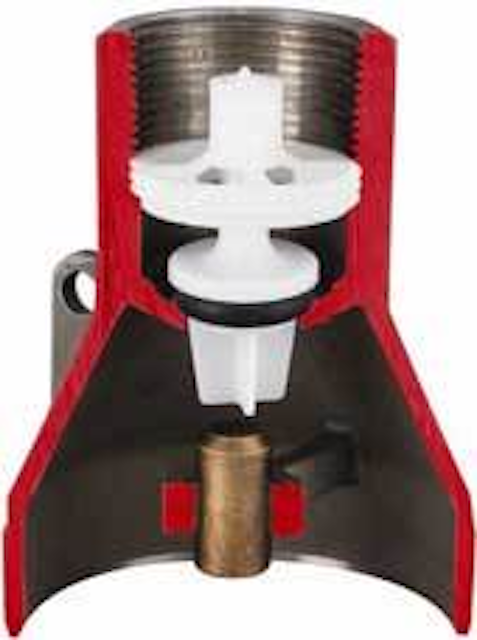 Click here to enlarge image
Flint & Walling, Inc. introduces an improved "removable" check valve assembly on submersible pumps. This new check valve has proven to be failure-free after rigorous lab and field testing. It's based on extensive customer input and feedback offering a unique concept and design. The check valve features a non-spring design for faster pump priming and includes a double flatted "anti-rotation" shaft which virtually eliminates the opportunity for "spinning" during pump cycles. Flint & Walling Inc., Kendallville, IN, 800-345-9422, www.flintandwalling.com
ISO certifiable pumps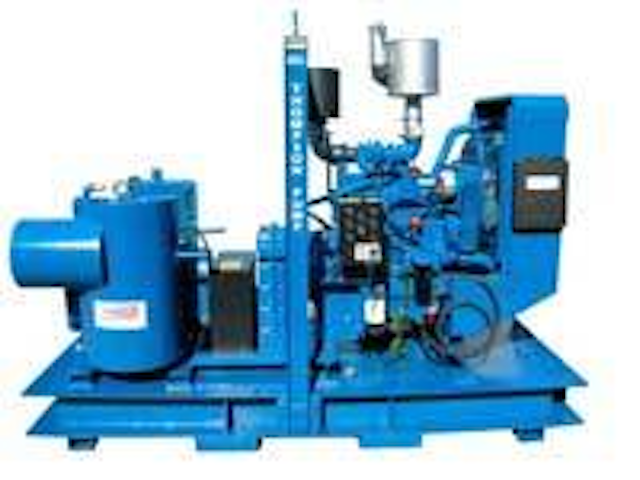 Click here to enlarge image
Thompson Pump's Port Orange manufacturing facility is now ISO 9001:2000 quality certified. It's one of a few pump makers to obtain this certification, following independent testing and assessment of its quality management systems and manufacturing capabilities. Considered the highest standard for quality assurance, it recognizes companies that meet strict criteria for manufacturing standards. Thompson Pump & Manufacturing, Port Orange, FL, 800-767-7310, www.thompsonpump.com
Pump flow switch
Click here to enlarge image
The FLT Pump Protection Flow Switch reduces pump maintenance and extends equipment life. Process and plant engineers tired of repairing or replacing pumps because of unpredictable liquid or slurry flows in their pipelines that cause pump overheating or failure will find it improves process control by adding an extra margin-of-safety to keep pumps running longer and more reliably to reduce total operational costs. It reliably monitors flow and temperature of liquids, gases, slurries, syrups, lubricants, coolants and more. Fluid Components International, San Marcos, CA, 800-854-1993, www.fluidcomponents.com
Shaft grounding ring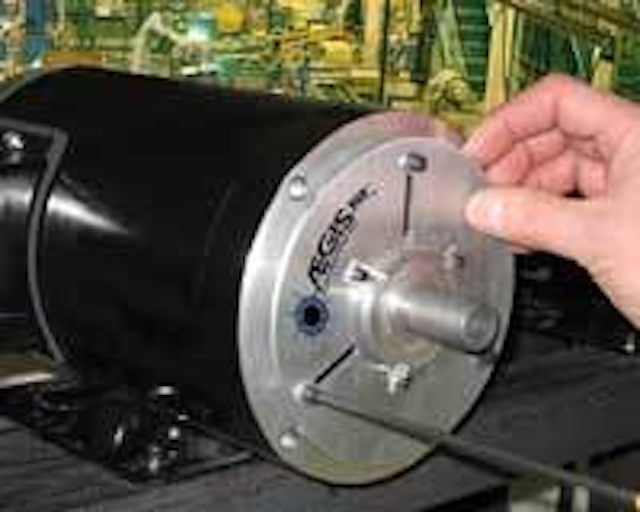 Click here to enlarge image
The AEGIS SGRTM Conductive MicroFiberTM Shaft Grounding Ring is ideal for predictive and preventive maintenance programs on VFD-controlled AC motors and large DC motors. Protecting bearings from electrical damage, it extends motor life, preventing bearing noise, downtime and costly motor repairs/replacements. It simplifies maintenance programs for motor repair shops, maintenance contractors, HVAC service contractors, and in-house maintenance departments. Electro Static Technology, Mechanic Falls, ME, 866-738-1857, www.est-aegis.com.
Pump station enclosures
AD Products, an online source for electrical enclosures and electrical supply products, is pleased to offer Adalet's Pump Station and Powerwash Series of enclosures, complete with an ordering process that customizes each enclosure - with a few clicks of a mouse. This web tool can be found at www.adproductsco.com/new.htm. AD Products, Cleveland, OH, 800-325-4935
Peristaltic pumps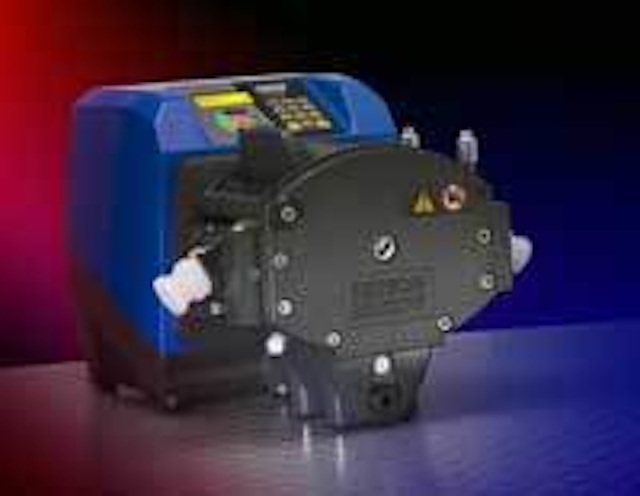 Click here to enlarge image
The new 720 Series peristaltic pumps is designed for accurate metering and dosing of corrosive, abrasive and sensitive fluids. It's ideal for transfer and metering of sodium hypochlorite, ferric chloride, sodium bisulfite, alum, fluoride, carbon and lime slurries, polymers, aqueous ammonia, potassium permanganate and caustic. With a smaller footprint than other industrial pumps of similar flow rates, the pump provides low shear and non-contacting pumping with minimal downtime. Watson-Marlow Bredel, Wilmington, MA, 800-282-8823, www.watson-marlow.com
Shaft/coupling alignment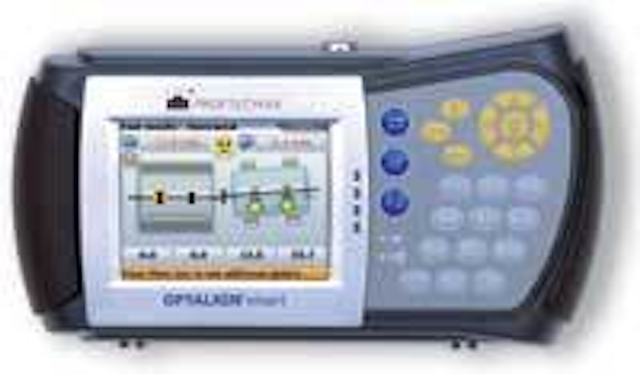 Click here to enlarge image
Optalign smart is a new-generation laser shaft/coupling alignment system that boasts quick, accurate, and reliable maintenance work on rotating equipment. Its modular concept allows you to design your own shaft alignment system, acquiring the exact features you need and adding more capabilities as job demands grow. Its alphanumeric keyboard with navigation, menu keys, and help text produce an easily understood screen picture of measurement results and thus makes the Optalign smart a user-friendly system. Ludeca Inc., Doral, FL, 305-591-8935, www.ludeca.com
Mechanical polymer mixing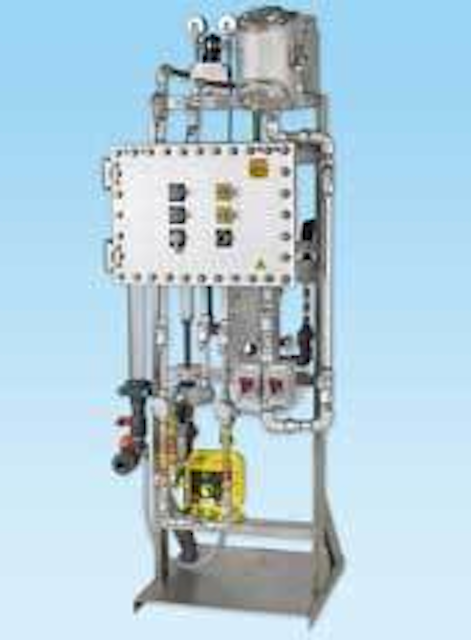 Click here to enlarge image
Neptune Chemical Pump's new explosion-proof polymer makedown system for preparation, blending, activation and injection of liquid polymers in water and wastewater treatment applications can produce dilute solution (0.1% - 2.0%) at capacities of 20-3,000 GPH of total makedown solution. All stainless steel, the system uses the patented "Gatlin Mixer" - a motorized mixing chamber that segments polymer into ultra-thin film for maximum activation. There's no need for booster pumps, and materials are mixed and blended without blades to damage fragile polymer chains. Neptune Chemical Pump Co. Inc., Lansdale, PA, 888-363-7883, www.neptune1.com
Cabinet coolers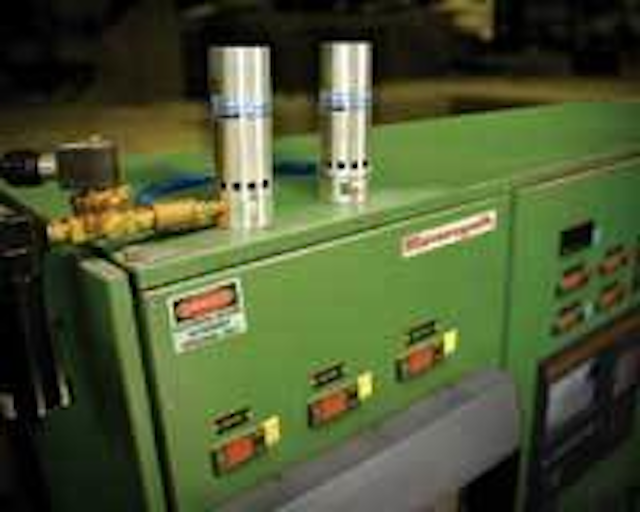 Click here to enlarge image
With a cooling capacity up to 5,600 Btu/hr, EXAIR's new Dual Cabinet Cooler System keeps electrical enclosures cool with 20°F air to eliminate high temperature malfunction and protect sensitive electronics from harsh environments. A vortex tube cools ordinary compressed air to 20°F without use of refrigerants. UL-listed, it mounts through a standard electrical knockout, maintaining the enclosure's NEMA 12, 4 or 4X ratings. Systems with thermostat control minimize compressed air use, keeping enclosures at ± 2oF of temperature setting. An automatic drain filter separator ensures no moisture passes inside. Applications include VFDs, PLCs, industrial computers, motor controls, microprocessors and robotics. EXAIR Corp., Cincinnati, OH, 800-903-9247, www.exair.com/dualcc.htm
Pump selector CD-ROM
Click here to enlarge image
The Gusher Pumps Selector, an updated version of Gusher-Select, includes software created by Pump-Flo to allow potential users to search across the Gusher Pumps catalog to find the exact pump needed for a specific application. The user generates a curve using various search criteria, including: head, GPM, fluid properties, motor sizing, NPSH calculations, pump limits, and system operating points. Once a dynamic curve is generated, the pump user can then trim impeller diameters and adjust operating speeds. This selector is more accurate and easier to navigate. Gusher Pumps, Williamstown, KY, 859-824-3100, www.gusher.com
Soft start motor control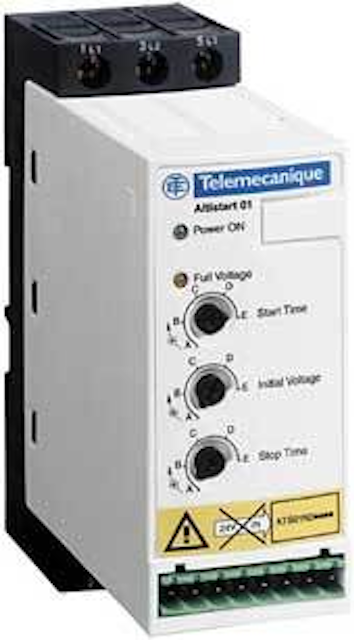 Click here to enlarge image
The Telemecanique® brand AltistartTM 01 mini soft starts from Schneider Electric provide sophisticated starting and stopping control for motors in a small package. They're available in three performance levels to meet application needs of a range of fractional and low horsepower single-phase and three-phase asynchronous motors, from ¼ to 75 HP at 110-575V. Most models are just 45 mm wide, the standard width for IEC low HP motor starters, and are up to 40% smaller than prior models. Capable of use with most any motor starter, the unit is a feature-rich alternative to low HP electromechanical reduced voltage starters. Schneider Electric, Palatine, IL, 847-397-2600, www.us.telemecanique.com