WATER BRIEFS
On April 24, a U.S. Court of Appeals rejected Calgon Carbon's appeal in Wedeco v. Calgon Carbon.
May 1st, 2007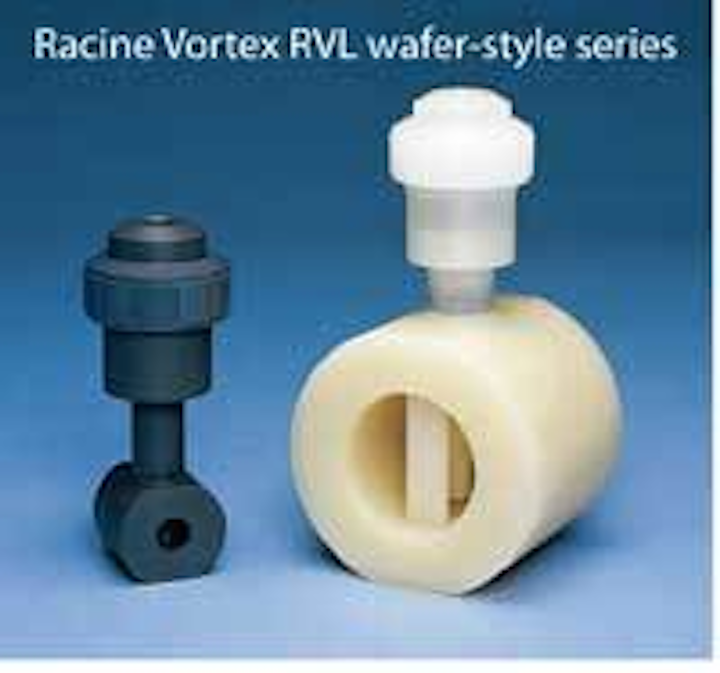 Calgon Carbon UV patent appeal denied
On April 24, a U.S. Court of Appeals rejected Calgon Carbon's appeal in Wedeco v. Calgon Carbon. The decision affirmed a 2006 judgment by the U.S. District Court for New Jersey that declared both of Calgon Carbon's patents on use of UV light to inactivate Cryptosporidium and Giardia in drinking water invalid in their entirety. Wedeco is a unit of ITT Advanced Water Treatment. In earlier news, Calgon Carbon reached an agreement with Trojan Technologies on legal disputes related to the same patents for an undisclosed cash payment. It's not clear how the new ruling will affect that. Meanwhile, the U.S. Department of Commerce imposed final duties ranging between 62.08% and 228.11% as a result of an anti-dumping petition filed in March 2006 by Calgon Carbon and NORIT Americas. Calgon Carbon also won a $10 million jury award against three companies related to its purchase of shares of Advanced Separation Technologies Inc. in 1996 for misrepresenting AST's condition.
Emerson changes brand name, creates automation division, wins awards
Emerson Process Management changed the brand name of its densitometer product line from Solartron to Micro Motion®. The product line, which measures flow and density simultaneously, was acquired in 2005 and added to the Micro Motion offering, giving customers a single-source solution for flow, density and viscosity measurement. And, for the fourth year in a row, Frost & Sullivan picked Emerson Process Management as Company of the Year for industrial automation and process control. It also received Frost & Sullivan's Customer Value Enhancement award for pharmaceutical industry automation solutions. And it merged its Bristol, Fisher, Daniel and Mobrey brands to create the Remote Automation Solutions division.
GL&V divests stormwater business, restructures water group, lands major orders
Canada-based Groupe, Laperierre & Verreault Inc. (GL&V) sold the Australian stormwater business of its Water Treatment Group, and associated Asian licenses for CAD$2.1 million to Rocla Pty Ltd., a unit of New Zealand's Fletcher Building Ltd. GL&V President and COO Richard Verreault said the divestment of these activities, acquired as part of the Copa acquisition last October, is part of its effort to restructure the Water Treatment Group after five acquisitions in 18 months. GL&V also was recently awarded contracts for over $26 million in water treatment markets worldwide. The largest, for over $5 million, is for installation of a wastewater treatment system for a municipality in Canada, to be completed by June 2009. Several large U.S. orders total about $9 million, close to $6 million in Asia and around $6 million in the UK and Australia. Many of the U.S. orders are for submerged membrane technology (MBR) for municipal wastewater treatment marketed by its Enviroquip division.
Black & Veatch wins digester foam control patent
Global engineering consultant Black & Veatch received a patent for an anaerobic digester cover that solves a significant wastewater treatment operations problem. The invention enables operations staff to maintain constant digester levels and prevent foam from entering gas lines. Engineers Jeff Wells and Mark D. Wilson designed the new system to prevent accidental spillage and downstream equipment failures at the Pelham Wastewater Treatment Plant (WWTP) in Greenville, S.C., during expansion of the plant, which is part of the Western Carolina Regional Sewer Authority. In other news, the company won two awards at the 2007 Global Water Awards ceremony held recently in Barcelona, Spain, as the Water Company of the Year and as part of the team for the Wadi Ma'in Water Treatment Plant in Jordan, which was recognized as a Desalination Plant of the Year. Global Water Intelligence sponsors the awards. And, lastly, it was recognized by H2O-china.com as one of the top consulting companies in China.
Racine Federated buys Asahi/America flow meter lines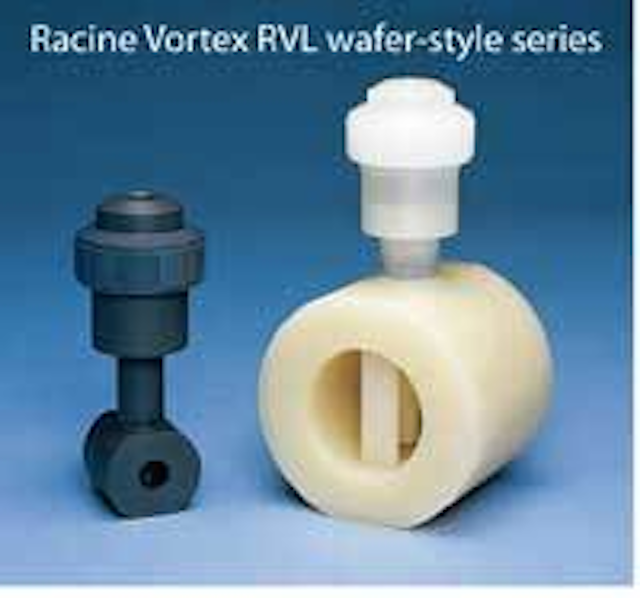 Click here to enlarge image
Racine Federated Inc. (RFI) and Asahi/America Inc. of Malden, MA signed an agreement for the acquisition of the Asahi/America vortex flow meter product lines by the Racine, WI, company which has several flow meter divisions, including Blancett, Dynasonics, Flo-tech, Hedland, Preso, Racine Vortex and Wyco. Asahi/America, a manufacturer and distributor of corrosion resistant thermoplastic fluid flow solutions including valves, actuators, and industrial, dual containment and high purity piping systems, will no longer sell, service or support the Universal Vortex Flow Meter and FloSonex Ultrasonic Flow Meter product lines. RFI has assumed responsibility for all operations surrounding both product lines. In other news, Blancett won a Wisconsin Society of Professional Engineers' (WSPE) Governors New Product Award (GNPA) for its innovative B2800 Flow Monitor.
GE recognizes BASF venture with ecomagination award
As part of a recently announced World Water Tour, GE Water & Process Technologies honored BASF FINA Petrochemicals LP with an ecomagination Leadership Award at an event in Houston. BASF FINA, a joint venture between BASF Corp. and Total Petrochemicals USA Inc., cut its overall environmental footprint with a water program that saved 560,000 gallons of water, reduced wastewater costs and eliminated seven tons of waste during a 12-month period.
Launched in May, the Tour brings together water experts and industrial water users in a series of seminars to discuss best practices and solutions to meet industry's growing needs and minimize operational costs, create sustainable supplies of quality water, decrease energy consumption and address stringent regulatory requirements. Six of the 14 cities on the tour are in North America.
In other news, GE Water recently sold its water dialysis business to Cantel Medical. And it bought a major stake in France's Idex AQUASERVICES, which purifies water for food, beverage and cosmetic industries.
KMS hires water, wastewater technical director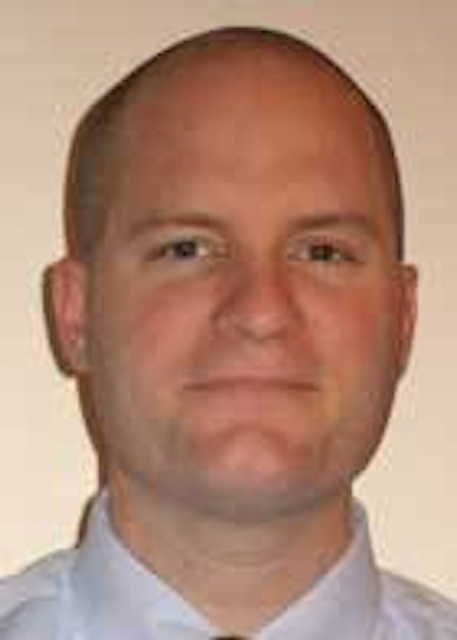 Click here to enlarge image
Koch Membrane Systems Inc. (KMS) has hired John Koch as MBR technical director for its Municipal & Industrial Groups. In this role, Koch will be responsible for promotion and sale of submerged membrane bioreactor (MBR) modules used in water and wastewater treatment. Previously MBR product manager for ITT Sanitaire, Koch, who is not related to the owners, joins KMS with over 15 years experience in wastewater treatment and water reuse technologies. In other news, "The Science of Success: How Market-Based Management Built the World's Largest Private Company," a book written by KMS parent company chairman and CEO Charles G. Koch, who heads Koch Industries Inc., has ranked among the top 100 business books sold on Amazon.com since being published by John Wiley & Sons Inc. in March.
---

WATER HEADLINES
Among other recent headlines at www.industrialww.com, see:
ECSI, SecurWave partner on OEM water monitoring system
Eaton acquires medium-voltage drive business
Shaw invests in Idaho's Blue Water Technologies Inc.
Airgas acquires Aqua Ammonia operations of Continental Nitrogen & Resources
Honeywell to help Quincy, Ill., cut energy costs

DLEC, [as in "DLEC, TMV"...] TMV Systems Engineering merge

Columbian TecTank plans major capital improvements to Parsons, Kan., facility

International American Technologies changed name to Hammonds Industries

Sandia water sensor capable of 24/7 detection of toxins, bacteria in water
ADI scores hat trick with third Top 50 CEOs award
American Water, WateReuse Foundation collaborate on reclaimed water research
CH2M Hill to help lead five-year research program on nutrient removal from wastewater
Flowserve's Ferguson selected as board chairman for Hydraulic Institute
New Flow Research study finds $1 billion DP flowmeter market
Sylvan Source wins Frost & Sullivan award for ultra-clean water innovation
HMM acquires Paragon Engineering
Dow-sponsored Blue Foundation Run celebrates $1 million in funded projects
Philadelphia Gear Corp. hires Latin American sales manager
Veolia Water expands water, wastewater management services for chemical sites
Jacques Whitford acquires NAWE, EcoCheck
Brady Corp. acquires Sorbent Products Co.
Tnemec names Vaughn O'Dea director of sales for water, wastewater
Hach wins SAFETY Act designation for water monitoring system