Product Showcase
Collection of new products of special interest to the industrial water and wastewater markets.
Apr 22nd, 2014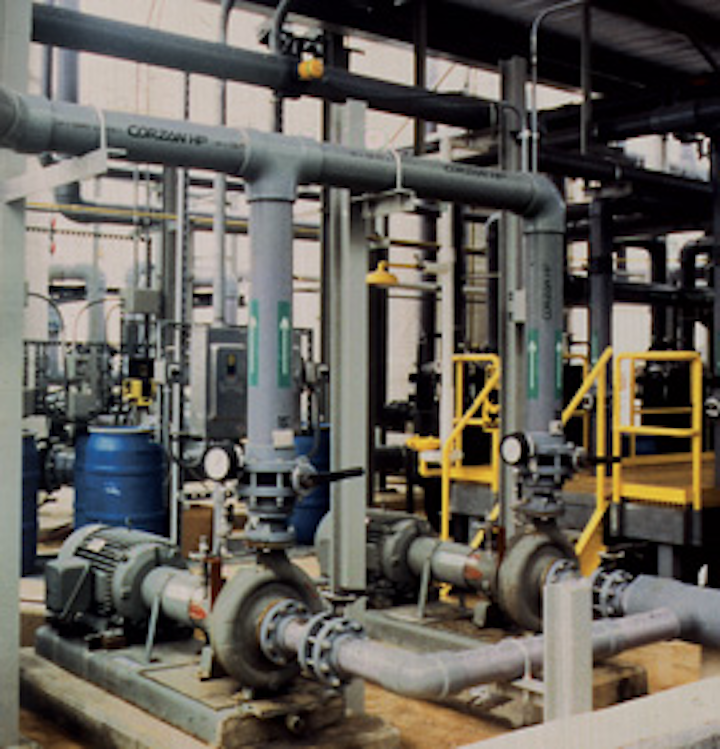 HP piping systems
Corzan's® high-impact strength HP Piping Systems are engineered with the Lubrizol Corporation's specially-formulated and patent-pending chlorinated polyvinyl chloride (CPVC) technology. This corrosion-resistant material eliminates pitting and scaling while providing superior life-cycle benefits. Corzan HP Piping systems eliminate internal and external corrosion caused by industrial environments, reduce installation time and cost, offer lower lifecycle costs, and ensure optimal flow rate.
Corzan Industrial Systems
www.corzancpvc.com

Meter pulse device
Capture high resolution and contact closure digital outputs from Neptune water meters with the RIO Tronics Corp. NT10-4P WaterRead unit. To enable monitoring and controlling of rate and consumption, this unit is fully submersible with a 10' lead wire and a 1/2" female conduit fitting. It also easily retrofits all T10's HPT and TT Series meters with the same device. Further, the unit fits between the meter index and meter body and includes original type security seals for resealing. It even allows retention of Neptune radio reporting devices and has been accuracy-tested by three different labs and approved for military and industrial use.
RIO Tronics Corp.
www.riotronics.com


Vortex shredding flowmeters
Universal Flow Monitors announces battery-powered CoolPoint™ Vortex Shedding flowmeters for water, chemicals and corrosives in seven sizes. Designed for situations where there is no power located nearby or where it would be cost-prohibitive to wire, the CoolPoint runs on three AA alkaline batteries. Expected life is 45 days for continuous use and one year for intermittent use. The display provides user-selectable total or rate as well as gallons, liters or cubic-meter engineering units, and the flowmeter has no moving parts to stick or coat, eliminating potential clogging.
Universal Flow Monitors Inc.
www.flowmeters.com

Industrial power supply
The Instrument Power Supply from Halogen with battery power provides uninterrupted 24 VDC for standard monitoring equipment, like the Jupiter gas detection system. The three-stage battery charger, powered by 115/230 VAC at 50 to 60 hertz, maintains the 12 VDC battery at peak performance levels. The power system is designed to maintain a full charge that will provide 24 VDC output during a loss of AC power for up to three days. Further, membrane panel status lights provide diagnostic information for various system configurations. Optional RS232 serial port and relay interface module relays provide a variety of output information possibilities.
Halogen Valve Systems
www.halogenvalve.com

Oil measurement
The new InfraCal 2 Analyzer measures sub-ppm to percent levels of oil in wastewater and provides additional features to the widely- used line of InfraCal TOG/TPH Analyzers. These include increased sensitivity, multiple calibrations, unlimited data storage, optional internal battery pack, password- protected settings, and ability to tag measurements with analyst, location and date/time. The result is a compact, rugged package, weighing less than 6 lbs., with no moving parts and low maintenance.
Wilks Enterprise Inc.
www.wilksir.com

Solids, sludge conditioning
The EZstrip TR Muncher® from Moyno offers an ideal solution to solids grinding and sludge conditioning. With the ability to maintain the grinder in place without removing the equipment, maintenance is reduced by more than 70% for significant cost savings. Features and benefits include equal thrust offset (ETOS) cutters that capture and reduce large solids for effective maceration; an angled cutter stack "upflow" design that rejects hard materials, reducing the risk of damage to the cutter teeth; a cantilever design that eliminates the need for lower mechanical seals or bearings, reducing breakdowns and repair costs; a built-in trash trap with clean-out ports that can catch any rejected materials; low cutter tip speeds, low power and low noise level; and a programmable logic controller (PLC) to protect the machine against damage and overloads.
Moyno Inc.
www.moyno.com

Loop-powered display
OTEK's new technology LPD Series will flash its display for ~20 seconds, transmit the isolated Serial I/O (USB/485) and then go dark when the loop fails or has no signal. All this is done without power because the LPD is 100% loop- powered. To replace an analog loop meter, simply connect the LPD in parallel, then disconnect the old one. The 1/8 DIN DPM panel cutout is ideal for industrial environments. Further, OTEK's LPD-0 meets the 1.78"x3.6" panel cutout and is only 2" deep. The plastic (94VO) or metal (aluminum nickel plated) case uses OTEK's seismic mounting slides to secure it to panels operating in harsh environments. In addition, nuclear/mil-spec grades are available.
Otek Corporation
www.otekcorp.com