A Hot & Cool Relationship
Water and wastewater treatment in the power industry expected to cool, but market still projected to grow at near double-digit rate through 2013, Frost & Sullivan reports.
Nov 1st, 2008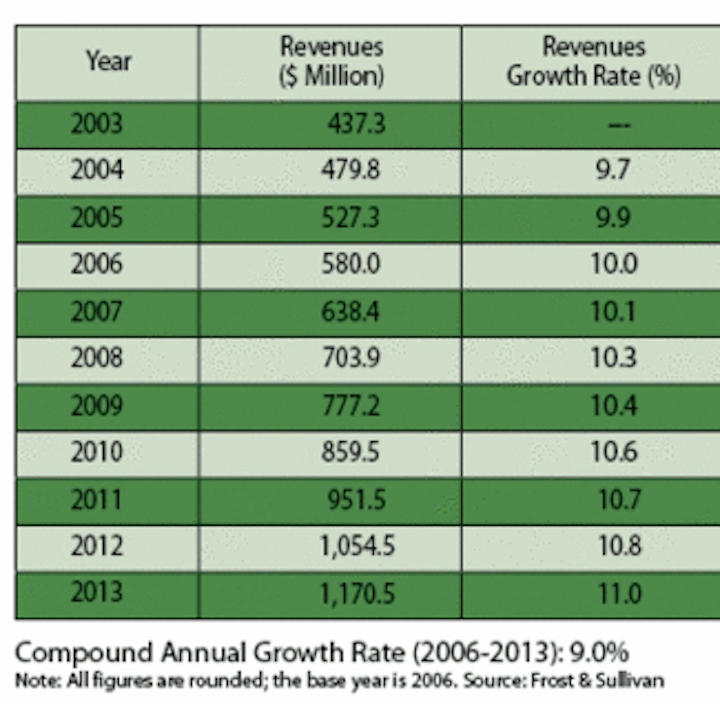 by Shilpa Tiku
• Water and wastewater treatment in the power industry expected to cool, but market still projected to grow at near double-digit rate through 2013, Frost & Sullivan reports.
Power generation facilities are usually characterized as either utilities or non-utilities. Utilities are defined as public or privately owned companies that supply electricity, whereas non-utilities are privately owned companies that generate power for their own use. Non-utilities also have the option to sell power to utilities and others.
The power generation industry produces and consumes large volumes of water, and it has one of the largest wastewater streams as compared to any other industry. There are three main areas of water application in a power plant — boiler feed, cooling tower, and wastewater treatment. Typically, the treatment technologies vary depending on the type of application. While boiler feed water requires high purity water, cooling towers don't. Cooling tower water accounts for the majority of water consumption in a power plant.
Treatment Technologies
A wide range of water treatment technologies and solutions are required by the power industry. Some of these are as follows:
Ion exchange systems
Electro-deionization systems (EDI)
Membrane systems
Wastewater treatment systems
Strategic Market Analysis
Industry Challenges — According to the most recent report by IHS CERA Power Capital Costs Index (PCCI), the cost of new power plant construction in North America has risen 130% in the last eight years. And recent results of the IHS CERA PCCI show that the cost for power plants, such as those powered by coal, gas and wind, continued to rise. In addition, steel and metal costs have been escalating dramatically. Following are some estimates provided by the IHS CERA PCCI.
1. Rising costs a challenge in construction of new power plants: Wind has shown the largest increase at 6% since the third quarter of 2007, and 108% since 2000. This is in response to an increased demand for wind turbines that has elevated equipment costs and delivery time, and is compounded with increasing labor and construction costs. Gas has increased by 3% since 3Q 2007, and 92% since 2000. Coal has increased in cost by 2.3% since 3Q 2007, and 78% since 2000. [Source IHS CERA PCCI.]
2. Economic fluctuation thwart manufacturers' development & expansion schemes: The effects of the current global economic downturn can also be seen in the U.S. water and wastewater treatment market in the power industry. There's a decrease of investment in new systems because end-users aren't holding a high priority in wastewater treatment equipment as spending is limited. Manufacturers face difficulties in planning company expansions because of the uncertain forecasts regarding future profits. The effect of the economic downturn is a challenge for small as well as large manufactures within the water treatment industry.
3. Major market participants dominate through industry consolidation: The trend of industry consolidation has resulted in the domination of the water treatment industry by several large conglomerates. These companies have strong financial advantage over smaller competitors in major business areas such as R&D, as well as marketing. In the long run, smaller market players will be eliminated. The lack of competitive forces could reduce consumers' price elasticity, which could limit market growth due to higher prices set by dominant manufacturers.
4. Population growth and expansion generates ongoing need for more facilities and water treatment: The nation's growing population is generating a need for increased power generation, transmission, and distribution facilities. Ultrapure water is used extensively in powergen boilers. As the number of power generation plants increases in the United States, the need for water treatment will continue to grow nationwide and globally.
Market Size & Revenue Forecasts
Figure 1 shows the revenue forecasts for the water and wastewater treatment equipment market in the power industry.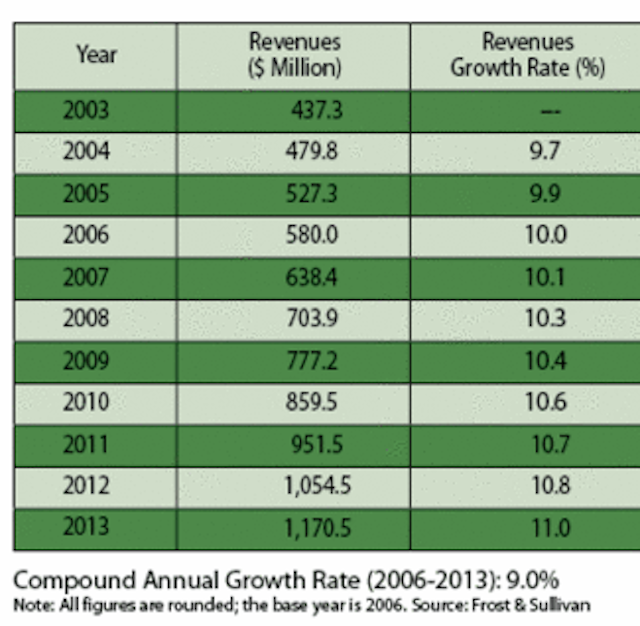 Figure 1. Water and Wastewater Treating Market in the Power Industry: Revenue Forecasts (North America), 2003-2013
Click here to enlarge image
The total North American market for water and wastewater treatment in the power industry generated $638.4 million in revenues in 2007, at an annual growth rate of 10.1%. This market is witnessing a steady growth primarily due to the rise in population, and the resulting demand for energy. An increase in the U.S. and Canadian GDP is also contributing to the overall power consumption, leading to a growth in the market. This trend is expected to continue throughout the forecast period, as more power plants are likely to be commissioned to cater to the increasing energy demand over the next few years. This market is projected to grow at a compound annual growth rate (CAGR) of 9% from 2006 to 2013.
Competition
There are essentially three tiers in the total water and wastewater treatment market in the power industry. Tier 1 is composed of large companies with the capability to offer nearly any type of solution. Siemens Water Technlogies and GE Water & Process Technologies are examples of Tier 1 companies. There are several medium-sized to small participants in this market active in one or more of the market segments. Examples of these Tier 2 companies are Tenergy Christ Water LLC, Aquatech, Degremont Technologies. Tier 3 companies comprise participants that are fairly large but specialize in a niche market or a specific product.
Conclusion
The degree of competition within this market is high and forces manufacturers to differentiate themselves. The one-stop shopping trend, in which potential clients often look for a manufacturer that can provide them with the whole package, is a product of this differentiation. There are several mergers and acquisitions taking place within the industry. Added support, competitive pricing, and superior technological credibility are likely to realize improved success and yield maximized sales returns in the market.
---
About the Author: Shilpa Tiku is a research analyst with Palo Alto, CA-based global growth consulting company Frost & Sullivan's North American Environmental & Building Technologies practice. Joining the company in August 2003, she focuses on monitoring and analyzing emerging trends, technologies and market behavior in U.S. markets for water and wastewater treatment, waste management, and air pollution control. Contact: johanna.haynes@frost.com or www.frost.com