New Products
Wastewater facilities work hard to stay on technology's cutting edge while remaining budget-conscious.
Mar 1st, 2008
Pump monitoring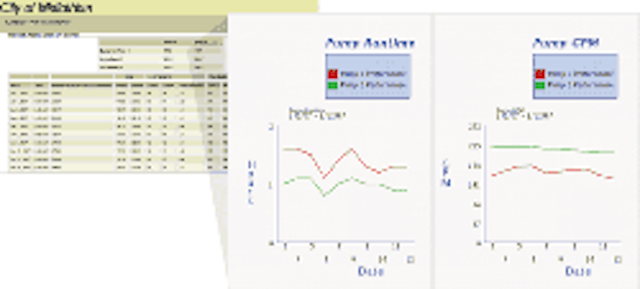 Click here to enlarge image
Wastewater facilities work hard to stay on technology's cutting edge while remaining budget-conscious. RACO Manufacturing utilizes Aeris M2M network to monitor wastewater facilities and manage pump reliability. Powered by the Aeris network, the company's AlarmAgent.com®, a wireless, web-based alarm detection and notification system, monitors devices about the status of wastewater equipment and provide alerts if equipment needs repair or attention – all in an easy to review format. Wastewater customers are provided with the ability to monitor pump systems on-demand, optimize performance and prevent disastrous effects of a pump problem going unalerted. RACO Manufacturing & Engineering Co., Emeryville, CA, 800-722-6999, www.alarmagent.com
Molybdate analysis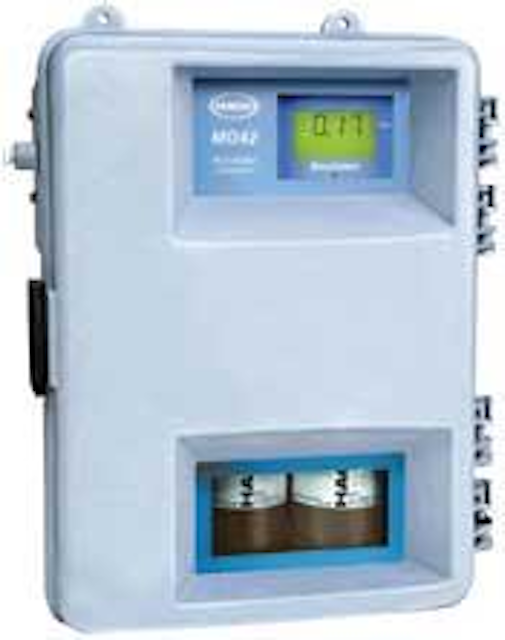 Click here to enlarge image
Hach's new MO42 Molybdate Analyzer provides continuous and cost-effective monitoring (0-5 ppm) in industrial water analysis to minimize chemical over-feed and maximize corrosion control. Ideally suited for cooling towers and closed recirculating systems including hot water heating (boilers) and chilled water systems (coolers), the analyzer keeps the expense of molybdate in check while maintaining its benefits as a tracer agent and a corrosion inhibitor. With automatic readings every 2.5 minutes, it provides real-time monitoring and cyclical self-diagnostics along with warnings/alarms upon issue detection make troubleshooting simple. The system typically requires minimal maintenance, approximately 15 minutes/month, due to a self-cleaning bar, easy-to-clean colorimetric cell, and pump/valve system with one moving part and no seals. Hach Co., Loveland, CO, 866-450-4248, www.hach.com
Sample conditioning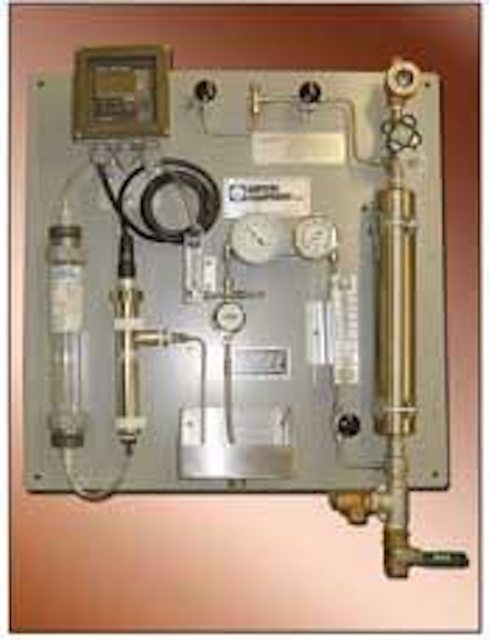 Click here to enlarge image
Waters Equipment's Series 3100 Single Point Sample Conditioning Modules (SCM) provide a versatile tool for lowering temperature and pressure of single samples in power plants and boiler rooms. Used to obtain grab samples of boiler water or steam and able to include a range of instruments for on-line analysis, they're pre-engineered and customized to user requirements with only cooling water, sample and drain field connections required prior to start-up. They can handle sample conditions up to 5,000 psig at 1,000°F. Sample flows of up to 1,500 cc/min are capable of being cooled within degrees of cooling water temperature due to use of high efficiency coolers. High temperature shut-off valves and ion exchange resin columns with auto shut-off valves are among options available. Waters Equipment Co., Lansdale, PA, 215-699-8700, www.watersequipment.com
Industrial laptops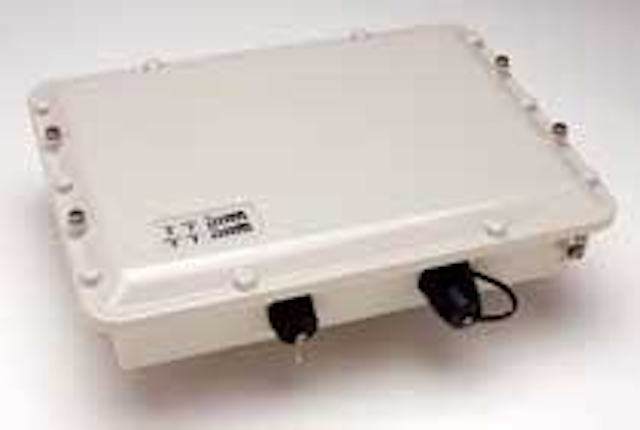 Click here to enlarge image
Panasonic Toughbook notebook computers have received a Compatible Partner interoperability rating from Aruba Networks. Rugged Panasonic Toughbook computers are designed to meet a wide range of industrial and defense requirements and survive the harsh conditions they present. Aruba's new AP-85 Dual-Radio Outdoor Access Point family incorporates unique radio, packaging, and operational capabilities optimized for industrial environments. Panasonic Corp., Secaucus, NJ, 800-662-3537, www.panasonic.com
Noise attenuator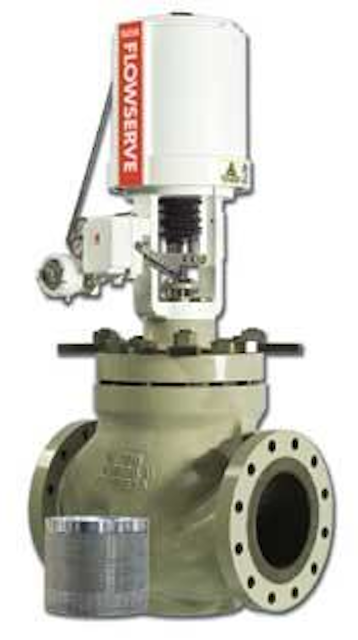 Click here to enlarge image
The new Flowserve Valtek® StealthT is a patented gaseous noise trim that reduces sound pressure levels in the most demanding applications. The device is capable of reducing noise up to 40 decibels in severe service where noise and excessive vibration can damage both human hearing and equipment. Laser-cut discs are stacked to form the seat retainer. The cuts in the discs form channels for the fluid to pass through. Building on technologies from the field-proven Flowserve Valtek TigerToothT trim, flow through the unit expands and contracts as it passes through the seat retainer creating gradual, controlled pressure drops. Flowserve, 3 Springville, UT, 801-489-8611, www.flowserve.com
Pump station monitoring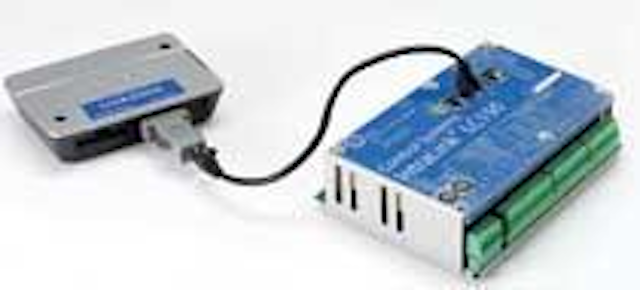 Click here to enlarge image
Siemens Water Technologies introduces the new Link2Site cellular- and Internet-based monitoring and control system for the North American market. It uses national cellular networks to remotely control, monitor and enhance pumping and lift station equipment and facilities. The system provides a reliable, low-cost, easy-to-install and fully functional SCADA solution. A user-friendly operator interface accessed through a web browser via user-entered passwords or electronic key-reader technology provides much of the functionality of traditional solutions such as pump start and stop setpoint adjustment, remote "on/off" control, and alarm setpoint adjustment. Siemens Water Technologies, Warrendale, PA, 800-224-9474, www.siemens.com/water
Metering pump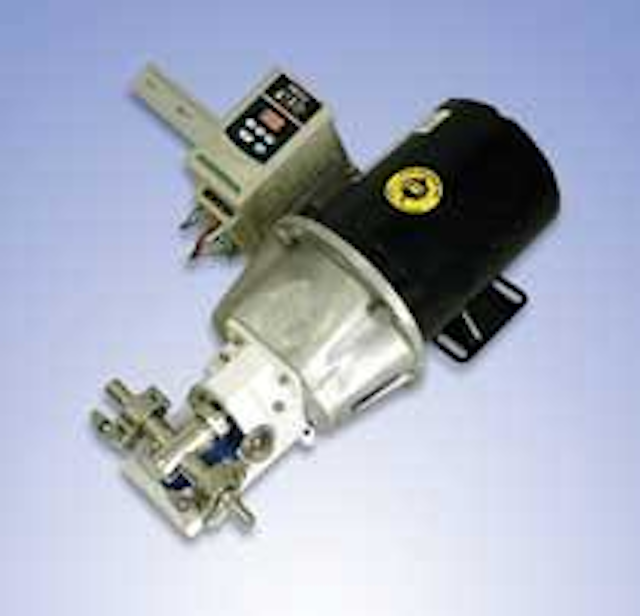 Click here to enlarge image
FMI has introduced the new Industrial Variable Speed Pump (IVSP) for industrial and process applications. Featuring a high torque 3-phase drive and a 3-digit LED display control module, it's ideal for handling a broad range of fluid viscosities. The complete system consists of a high torque VSD, integrally mounted FMI valveless pump head, and controller. The controller is a space-saving, DIN design, ideal for process control panels and control rooms. Motor speed can be adjusted either manually with the front panel membrane switches or electronically using a 0-20 mA, 4-20 mA or 0-10 VDC Input Signals. Fluid Metering Inc., Syosset, NY, 800-223-3388, www.fmipump.com/ivsp.html
Chemical pump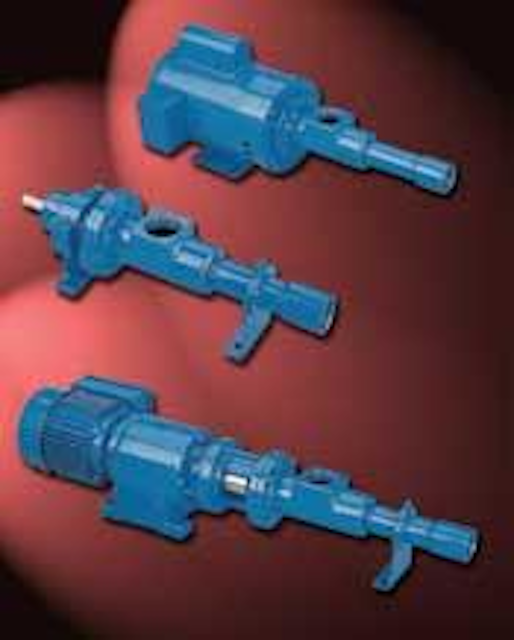 Click here to enlarge image
The Moyno® Chemical Metering Pump provides precise control in low-flow applications, including dosing, sampling and metering. Its progressing cavity design results in a smooth flow free from pulsations and variations in velocity and volume. This prevents material waste or mixture imbalance. Additional advantages and features include: sealed universal joints for longer life; low power consumption and operating costs; no valves to clog, stick, or vapor lock; pressures to 300 psi; and flow rates from 1-190 gph. Moyno Inc., Fluid Management Group of Robbins & Myers Inc., Springfield, OH, 877-486-6966, www.moyno.com
Gas flow control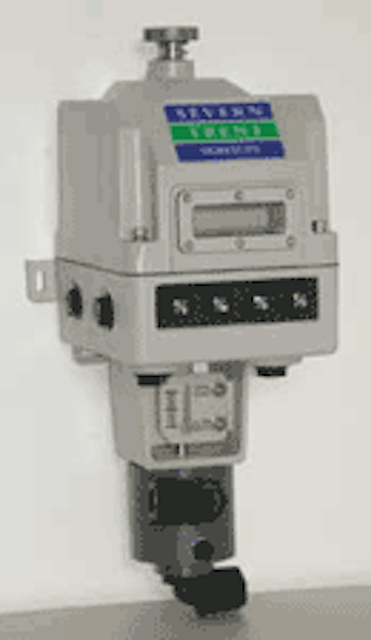 Click here to enlarge image
Severn Trent Services introduces the Capital Controls® Series 70CV3000 Chloromatic™ 3000 Intelligent Gas Flow Control Valve, a wall-mounted system designed for automatic control of chemical feed in water or wastewater applications. It's an integrated, microprocessor-based controller with control valve that responds to multiple process signals from a water flow transmitter or chlorine residual analyzer. It's also field configurable for flow proportioning, residual, compound loop or feed forward control. Severn Trent Services, Fort Washington, PA, 215-283-3478, www.severntrentservices.com
Pump metering
Pulsafeeder's Pre-Engineered Metering Systems provide complete chemical feed solutions for all electronic metering applications. Offering turn-key simplicity that ranges from economical, Basic packages for inhibitor feed to more full-featured Standard packages for redundant disinfection applications, these rugged fabricated assemblies are built with industrial-grade durability in mind. Pulsafeeder Inc., Punta Gorda, FL, 800-333-6677, www.pulsafeeder.com
UV power supply
UV-Technik offers a family of "Plug and Play" electronic power supplies for a variety of ballast solutions. These variable dimming units drive a wide range of UV lamps without all the associated assembly and wiring required when using conventional ballasts. The PowerPlay 26 operates from 260-2,600W, the PowerPlay 59 operates from 600-6,000W and the PowerPlay 75 operates from 750 to 7,500W. Benefits include: no mercury relays required, improved cooling, extended lamp life, long-term reliability, lighter and smaller than conventional power supplies, and not influenced by input voltage fluctuation. UV Technik, Hampstead, NH, 603-329-6429, www.uv-technik.us
Cooling water control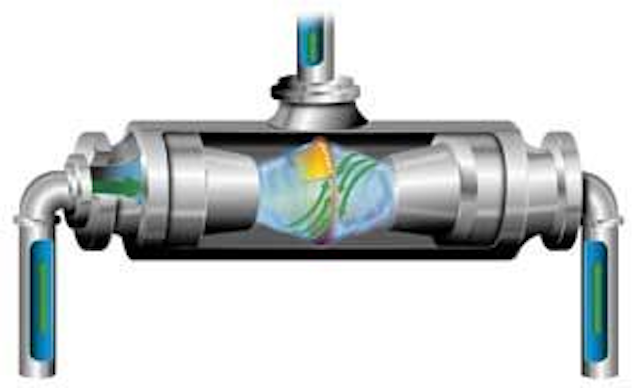 Click here to enlarge image
As drought conditions worsen across the United States, VRTX™ Technologies is giving businesses a way to go green by conserving water in cooling towers and evaporative condensers without chemicals used to treat water in the system. By using hydrodynamic cavitation to control scale, corrosion, and bacteria, the chemical-free system significantly increases the number of times the city or well water passes through the system. It reduces water discharge into the storm sewer by 40-60% on an average installation. The water savings from VRTX are enough to provide enough water for several thousand average households annually. VRTX Technologies, Schertz, TX, 210-651-7402, www.vrtxtech.com.
Liquid filter bags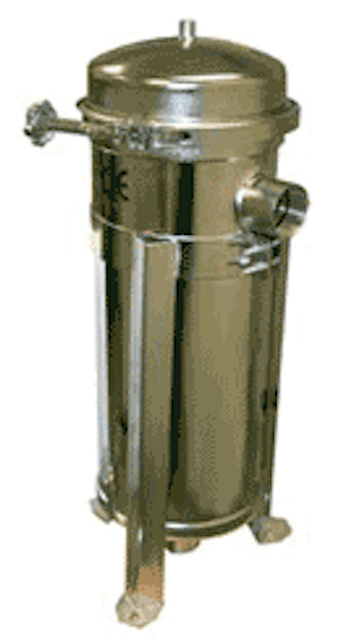 Click here to enlarge image
SchroederPURE liquid filter bag systems are built to withstand pressures up to 150 psi. Available in a variety of sizes with flange, cover and seam options, they're ideal for chemical, pharmaceutical, automotive, food & beverage and paint & coatings industries. The new systems help increase the level of product quality and lower labor costs by removing larger levels of contamination and recovering expensive materials that can be lost in the filtration process. Filter bags come in an array of sizes and materials for applications including wastewater BOD and COD filtration, recirculation of water and coolant, protection of instruments and actuators, pre-filtering for high pressure pumps, and the removal of oversized particles and precipitated solids.When higher flow rates are required, multi-bag housings are available. Schroeder Industries, Leetsdale, PA, 724-318-1100, www.schroederindustries.com
3-phase power measurement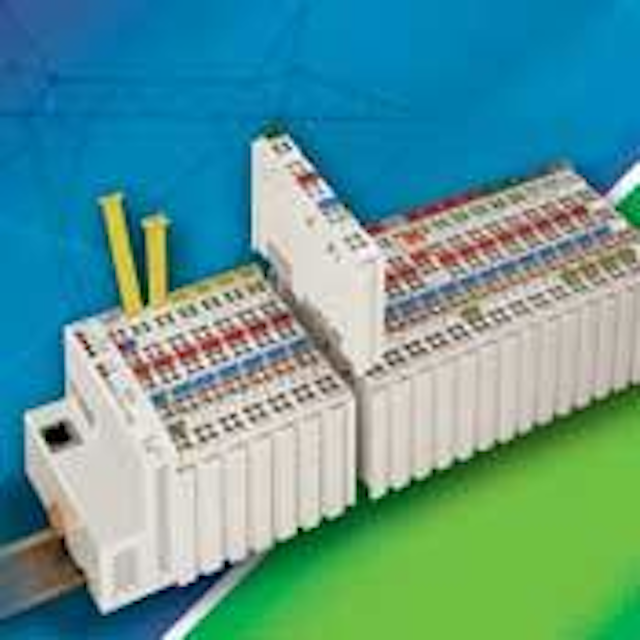 Click here to enlarge image
WAGO's new, 750-493 3-Phase Power Measurement Module integrates full monitoring of a power supply network with connectivity of an I/O system. At just 12 mm wide, the high-density, 6-channel 750-493 represents a cost- and space-effective solution to power system supply management. A component of a remote I/O or distributed control system, it's compatible with 16 different fieldbus networks (including Ethernet, Profibus, Modbus, and DeviceNet) and the 300+ digital, analog, and special function modules found in the WAGO-I/O-System, making it flexible and efficient to analyze and distribute power supply data. WAGO Corp., Germantown, WI, 800-346-7245, www.wago.com
Polymer mixing system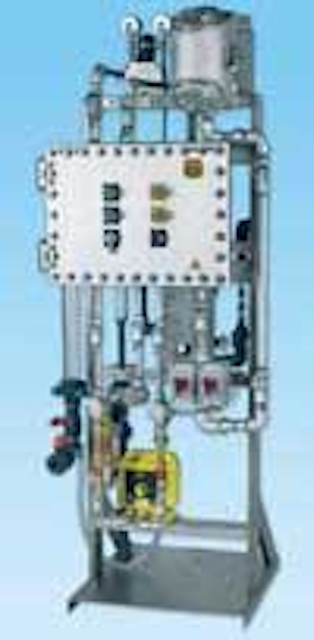 Click here to enlarge image
Neptune Chemical Pump's new explosion-proof, stainless steel polymer makedown system is used for preparation, activation and injection of liquid polymers in water and wastewater treatment applications. The system can produce dilute solution (0.1-2.0%) at capacities from 20 to 3,000 GPH of total makedown solution. It uses the patented "Gatlin Mixer" for mechanical mixing and blending for maximum activation regardless of fluctuating flow rate or water pressure. Standard with manual or automatic electronic metering pumps for polymer injection, larger models use motor-driven metering pumps or progressing cavity pumps. Neptune Chemical Pump Co. Inc., Lansdale, PA, 888-637-8863, www.neptune1.com
Remote control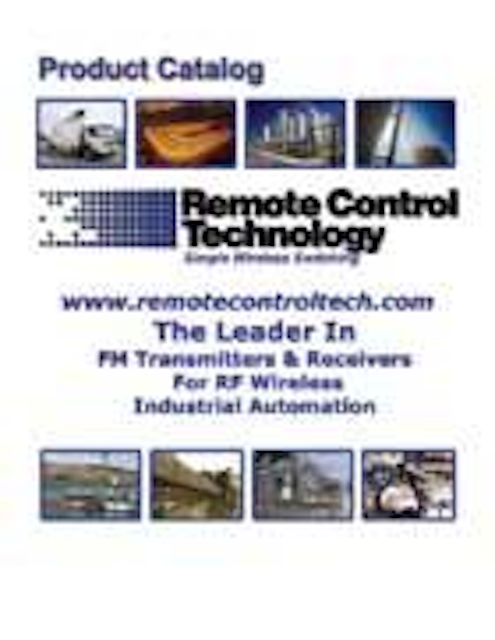 Click here to enlarge image
A downloadable online catalog is available from Remote Control Technology, which offers a variety of Radio Frequency (RF) wireless products for use in diverse industries. It has designed and manufactured custom systems for Exxon/Mobil, Raytheon, Boeing, Ford and other Fortune 500 firms as well as prototypes and small run production systems for domestic and international businesses. Applications include simple automated pump control, chemical level monitoring, emergency notification, valve activation and remote temperature monitoring. Remote Control Technology Inc., Kirkland, WA, 866-701-1146, www.remotecontroltech.com
Datalogger
Water quality engineers tracking temperature conditions affecting water quality can now have the convenience of both real-time data and ability to download data for further analysis with the redesigned Dickson Graph-at-a-Glance flat panel temperature and humidity data loggers. They're paperless chart recorders that provide a digital graph enabling quality managers to immediately visualize environmental trends that have potentially affected water quality. Dickson Co., Addison, IL, 800-757-3747, www.dicksondata.com
Profibus DP modules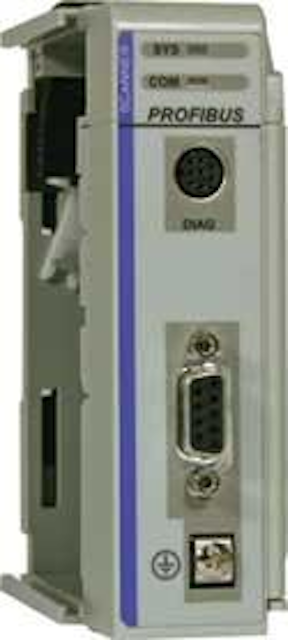 Click here to enlarge image
With release of the inRAx PROFIBUS DP Master and Slave Modules for Rockwell Automation® CompactLogix™ Platform, ProSoft Technology completes its line of PROFIBUS DP modules for Rockwell Automation's ControlLogix, CompactLogix™, SLC™ and FLEX I/O™ platforms. Introduction of the new modules for Rockwell Automation's CompactLogix™ and SLC™ platforms marks the first time a single vendor has ever had support for PROFIBUS DP with so many platforms. ProSoft Technology, Bakersfield, CA, 661-716-5100, www.prosoft-technology.com
Oily wastewater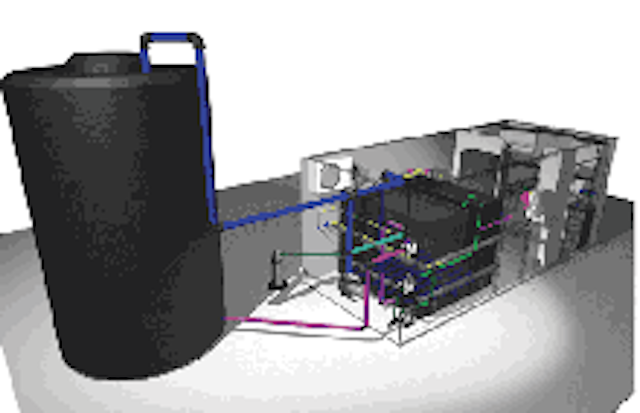 Click here to enlarge image
BPC has pioneered a new, powerful, ecological solution for a range of wastewater treatment challenges, Automatic Chemostate Treatment (ACT). This trailblazing "green" process is easy to modify and can be used in various sites, including oil refineries, oil storage farms, drilling sites, marine ports, contaminated reservoirs, bilge water and storage tanks. Based on patented innovations, the modified bioreactor process is flexible and easy to integrate, fully automated, controllable and significantly more efficient than current practices. The results are a virtually sludge-free output of water which can be returned directly into the environment or processed further. BioPetroClean (BPC) Technologies, Petach Tikva, Israel, +972-3-9214564, www.biopetroclean.com
Wireless enterprise automation
SyTech has partnered with Elutions to re-brand its flagship product XLReporter as Excel Reporter. The product provides the key layer of technology to enable automatic, background report generation using Microsoft Office Excel. Excel Reporter is designed specifically for Elutions customers in markets with exacting reporting requirements such as building automation and facility management, cooling & refrigeration, water & waste, power & energy and large infrastructure management. Elutions Inc., Tampa, FL, 800-836-9909, www.elutions.com
Filter cartridges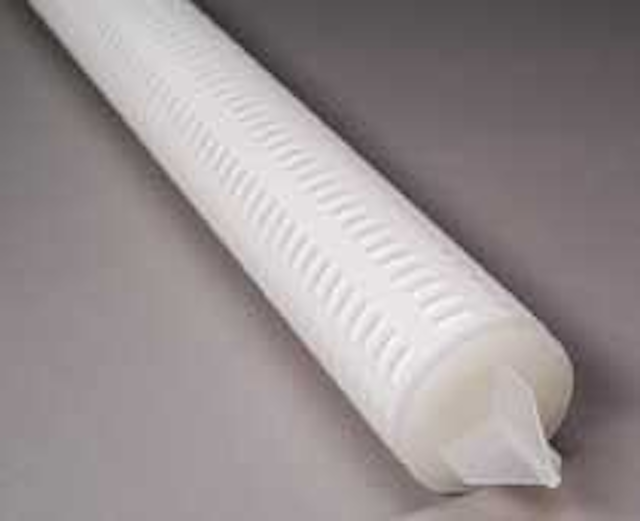 Click here to enlarge image
Argonide NanoCeram® electropositive water filter cartridges are now available in a full line of single open ended (SOE) units. These cartridges are designed for use in most applications where absolute rated pleated filtration is needed with the added assurance of an absolute seal between cartridge and housing. The line of SOE filters is available with flat, fin or spring end caps with 222 or 226 double o-rings. This is in response to demand for such cartridges from markets that include the pharmaceutical/biopharma industry and the semiconductor industry to avoid potential bypass caused by double open ended (DOE) filters. Argonide Corp., Sanford, FL, 407-322-2500, www.argonide.com
Pump control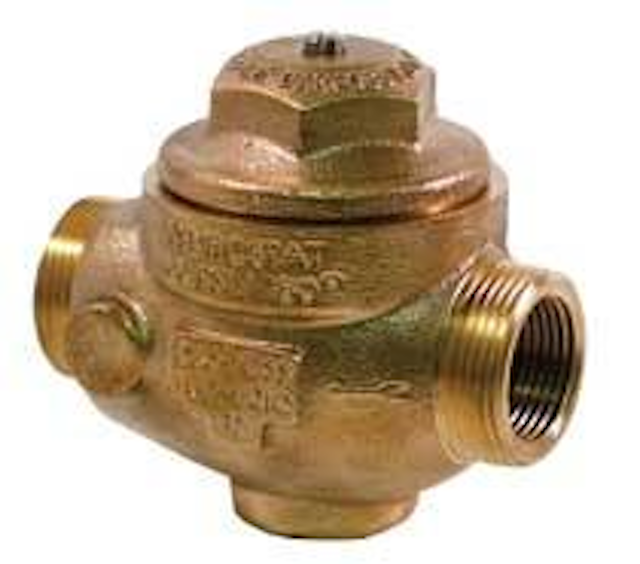 Click here to enlarge image
Danfoss Flomatic introduces its new direct acting pump control with integral built in by-pass, Hydro Stat™ Model C3100. This constant pressure pump control valve reduces rapid pump cycling and maintains a pre-set operating pressure which is field adjustable. The system features a low lead alloy body and bell housing that has threaded female I.D. x male O.D. on inlet and outlet connections and corrosion resistant internal components with a Nylon reinforced Buna-N diaphragm. This valve can be installed vertical or horizontal and can be installed in the wall casing. Danfoss Flomatic Corp., Glen Falls, NY, 800-833-2040, www.flomatic.com
R/O pump packing sets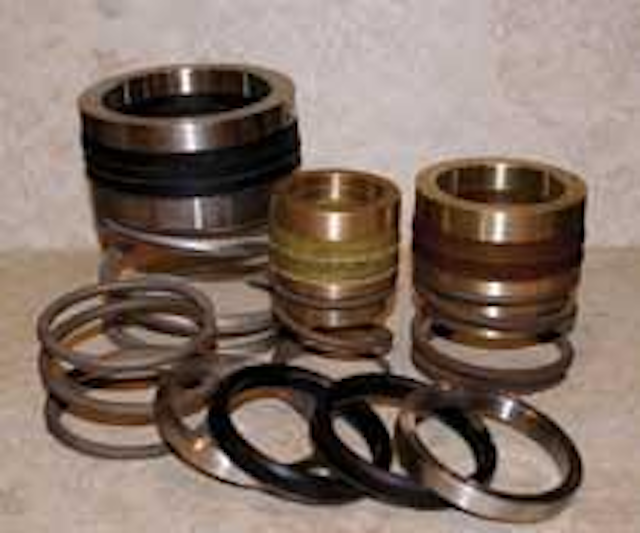 Click here to enlarge image
LifeSource Engineering has added to its offering the BG&S line of spring loaded packing for high pressure plunger pumps. These packing sets are directly interchangeable with the Wheatley, Gaso, Oilwell, National, Gardner Denver, Aplex, Bethlehem and Tulsa pumps. Standard sizes are stocked for immediate delivery. Awarded the Eastern Distributor for BG&S manufacturing in 1991, the company has worked closely with BG&S to develop the R/O pump markets. R/O systems, chemicals, membranes, filters, and operation consumables are also available. LifeSource Engineering Inc., Seminole, FL, 727-393-5886, www.lifesourceengineering.com
Scanning electron microscope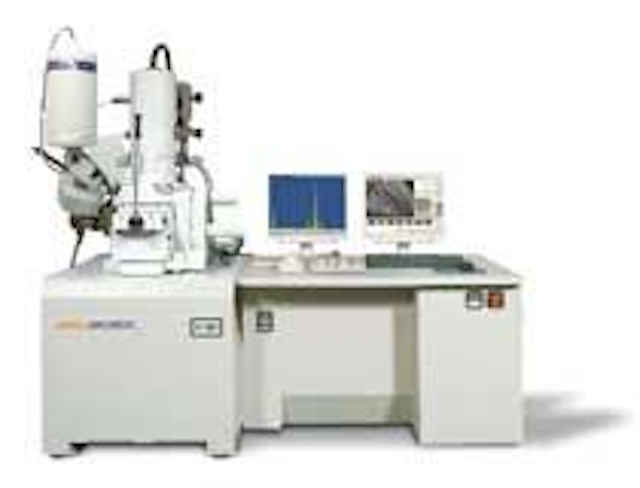 Click here to enlarge image
A new thermal field emission analytical SEM from JEOL, the JSM-7001F, acquires high resolution micrographs at up to 1,000,000X for applications ranging from semiconductor, metals, minerals, materials, and ceramics, to non-conductive biological samples. The microscope features a unique in lens field emission gun that delivers more than 200 nA of beam current to the sample. An extremely small probe diameter at low kV and high current is optimal for characterization of nanostructures with a resolution of 1.2nm at 30kV. JEOL USA Inc., Peabody, MA, 978-536-2309, www.jeolusa.com