Products & Services — Odor Control
The Floating Aerator Fountain from Rainwater Management Solutions is designed for use in ponds, lakes or any other contained body of water with a minimum depth of 30" to improve color, taste and odor.
Nov 1st, 2005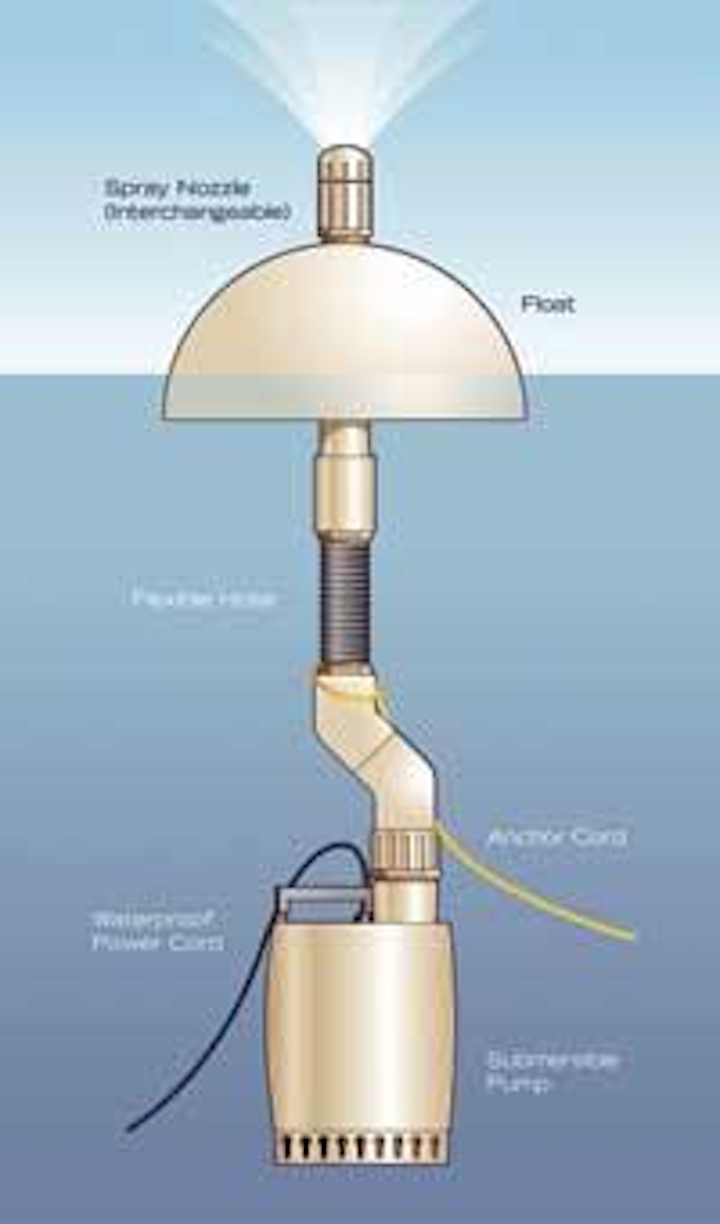 Aeration system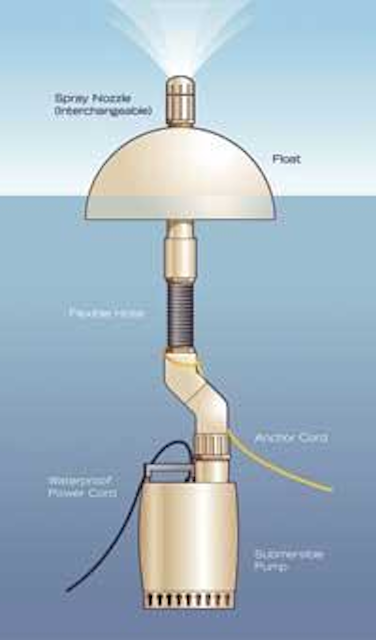 Click here to enlarge image
The Floating Aerator Fountain from Rainwater Management Solutions is designed for use in ponds, lakes or any other contained body of water with a minimum depth of 30" to improve color, taste and odor. The FAF series, (FAF-2000, FAF-5000 & FAF-S-50), consist of a self-contained submersible pump with heavy-duty float and fountain nozzles. The three different models produce an impressive fountain display ranging from 8'-25' high. Rainwater Management Solutions, Salem, VA, 866-653-8337, www.rainwatermanagement.com.
Automatic degassing valve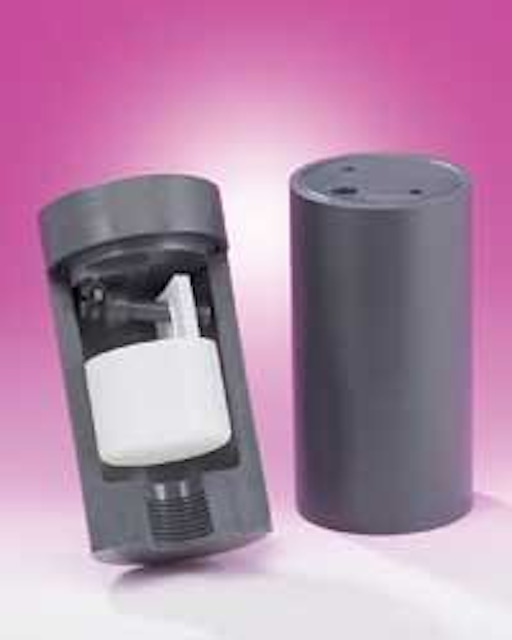 Click here to enlarge image
Plast-O-Matic Valves launches its all-thermoplastic, automatic continuous degassing valve. Series DGV was developed specifically for corrosive applications subject to outgassing, such as sodium hypochlorite, hydrochloric acid and ozone systems. The normally-open valve has an internal float that pivots an arm and seal assembly as it rises and falls. When liquid fills the system, the float rises and the valve closes. As air or gas accumulates, it displaces liquid and the float to fall, re-opening the valve and releasing the gas. Plast-O-Matic Valves Inc., Cedar Grove, NJ, 973-256-3000, www.plastomatic.com/dgv.html.
Sewer cleaning trailer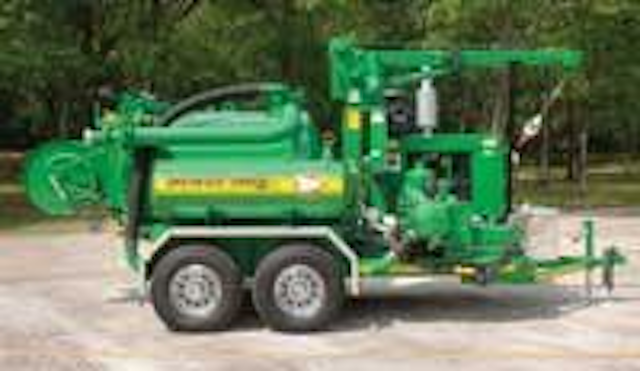 Click here to enlarge image
The Pump & Sewer Equipment Division of Garner Environmental Services Inc. introduces the Sewer Hog™ Model 100, a multi-purpose, trailer-mounted sewer cleaning system that's both closed-loop and non-odor emitting. It incorporates a 3,200-pound retractable crane for moving submersible pumps around easily, a 500-cfm positive displacement blower for vacuuming, and an available 2,500-gpm 6" submersible pump for handling large solids. Garner Environmental Services Inc., Pasadena, TX, 281-991-7179, www.garner-es.com.
Membrane biocides
Dow Biocides, a business division of Dow Chemical, introduces AQUCAR™ RO microbiocide to its water treatment product portfolio. Launched at the 2005 IDA World Congress in Singapore, it's the only product of its kind to receive NSF International certification under the NSF/ANSI standard for personal drinking purposes. The microbiocide is a cost-effective way to prevent biofouling from interfering with membrane performance by virtually eliminating buildup of slime, sessile and other bacteria that may cause odors as well. Dow Biocides, Midland, MI, 847-808-3771, www.biocidesfirst.com.
Steam cleaning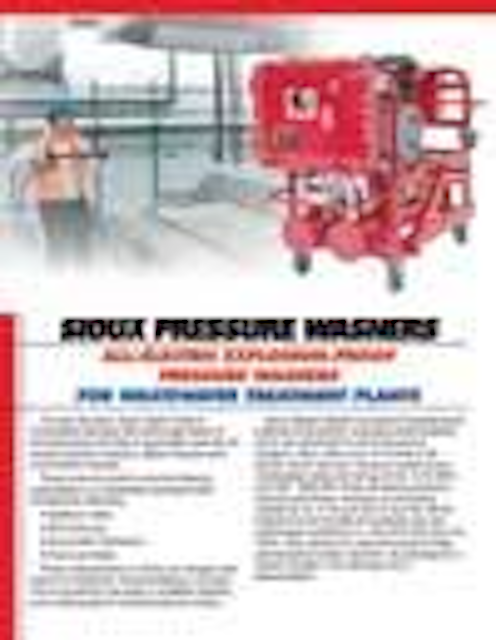 Click here to enlarge image
Sioux Steam Cleaner, a supplier of steam cleaners and pressure washers, introduces a free brochure which highlights cleaning equipment such as sediment tanks, grit collectors, gravity belt thickeners, and floors and walls in wastewater treatment facilities. Its all-electric cleaners produce no flame, exhaust, emissions or contamination into the surrounding air. In addition, explosion-proof models are available for hazardous areas. Standard models are third-party certified to UL 1776 and CSA C-22.2 No. 68-92 and explosion-proof models are certified to UL-1203 and CSA C22.2 No. 30-92. Sioux Steam Cleaner Corp., Beresford, SD, 888-763-8833, www.sioux.com.
Granular algaecide
BioSafe Systems introduces GreenClean®PRO granular algaecide, for applications such as water treatment facilities and lagoons, power generation facilities, and drinking water treatments. This is a fast-acting non-copper based algaecide that kills algae on contact. EPA approved and certified to NSF/ANSI Standard 60 for drinking water treatment, it oxygenates the water columns through a unique peroxygen chemistry oxidation process as it eliminates algae. BioSafe Systems LLC, Glastonbury, CT, 860-657-2211, www.biosafesystems.com.
Odor neutralizer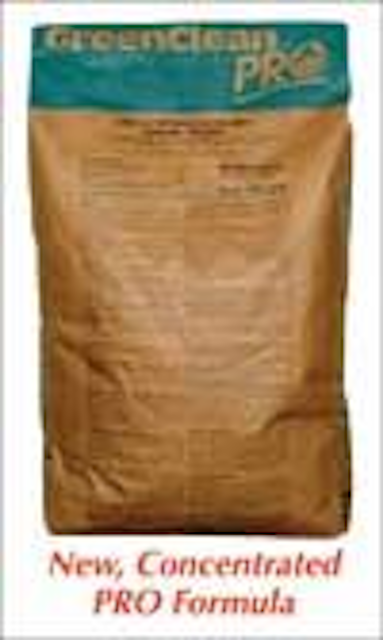 Click here to enlarge image
ECOSORB® Natural Organic Odor Neutralizer removes a wide spectrum of odors from the air without using fragrances or harsh chemicals. Instead, it uses patented technology to eliminate unwanted odors by neutralizing them, rather than simply masking them. Industrial and municipal applications include lift stations, headworks and other small spaces which require simple, effective odor control. The product is typically diluted with water and sprayed into odorous areas in an atomized mist. It's non-toxic and biodegradable. It has been proven safe and effective in even the most confined spaces. OMI Industries, Barrington, IL, 800-662-6367, www.odormanagement.com.
Biological air treatment
Biorem Inc., a holding of CVF Technologies Corp., has launched MYTILUS™, a new biological air treatment product to supplement its biofilter systems. The device is a combination bioscrubber/biotrickling filter ideal for high concentration, high airflow applications for removal of odorous compounds and hydrogen sulfide. Targeted applications include air emission control from specific areas in the collection and treatment of municipal sewage. Extremely high levels of hydrogen sulfide are developed during periods of low rainfall in hot climates such as Florida, Texas and Alabama. Biorem Inc., Guelph, ON, Canada, 800-353-2087, www.biorem.biz.
Odor control media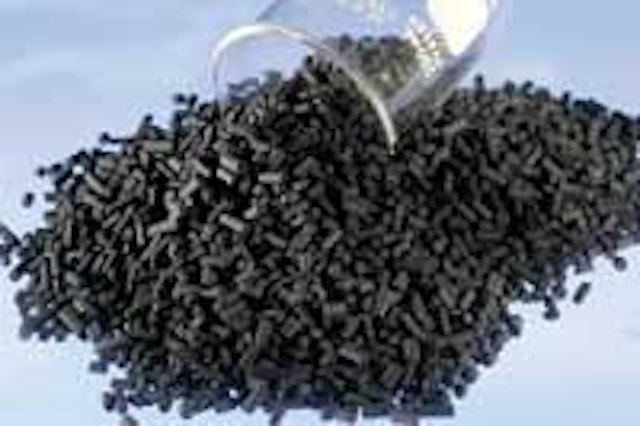 Click here to enlarge image
USFilter Corp., a Siemens Water business, has received a notice of allowance from the U.S. Patent and Trademark Office for its Midas® OCM activated carbon from Westates Carbon. This pending patent describes an innovative odor control media used in conventional deep bed carbon adsorber abatement systems to eliminate nuisance odors associated with hydrogen sulfide (H2S) and organics. The media adsorbs odorous compounds as contaminated air passes over the carbon. With a 4mm diameter pelletized shape, it can be successfully used in any deep bed adsorber application where virgin, impregnated or water-wash carbons are currently used, offering lower pressure drop. USFilter, Warrendale, PA, 724-772-1324, www.usfilter.com.
Air filtration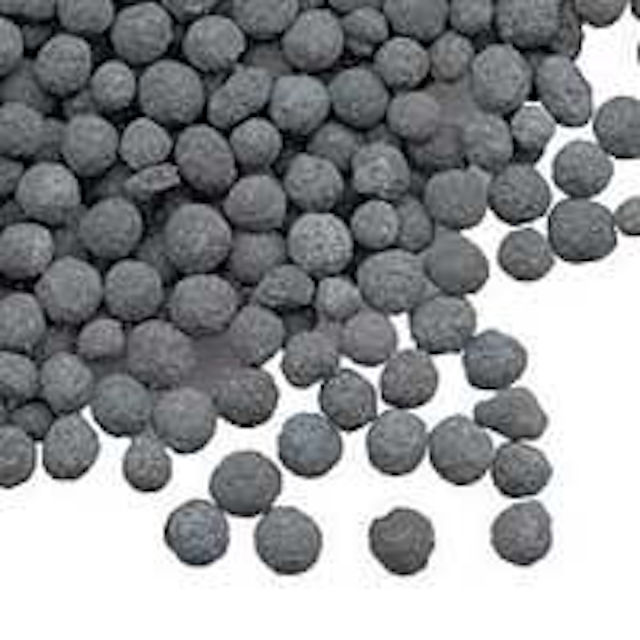 Click here to enlarge image
Purafil has introduced a new, dry-scrubbing media that has a hydrogen sulfide removal capacity of 35% by weight. Odorcarb II (100 lbs of media will remove 35 lbs of H2S gas) is an enhanced version of the company's activated alumina-based Odorcarb, and lasts approximately 75% longer than the previous formula. It still offer customers a UL classified, landfill acceptable media. The increased capacity of the new media allows for more cost-efficient systems with higher airflow designs: The Purafil Tub Scrubber designed for airflows of 1,000-6,000 cfm, the Deep Bed Scrubber designed for airflows of 1,000-8,000 and the Vessel Scrubber designed for airflows of 8,000-20,000 cfm. Purafil Inc., Doraville, GA, 800-222-6367, www.purafil.com.
Flue gas analyzer
Click here to enlarge image
E Instruments releases its GreenLine 4000 portable gas analyzer. This handheld, multifunctional combustion and emission analysis unit weighs only two pounds and is ideal for industrial service and maintenance purposes including boilers, heaters, and other domestic and industrial applications. With true NOx capabilities, it provides the latest technology in flue gas analysis. Capabilities include: up to four gas sensors (O2, CO2, NOx, SO2, HxCy), built-in impact printer, flame ionization sensor, flammable gas leak detector, draft and differential pressure meter, gas velocity with pilot tube, and temp and humidity meter. E Instruments Group, Langhorne, PA, 215-750-1212, www.einstrumentsgroup.com.
Gas detection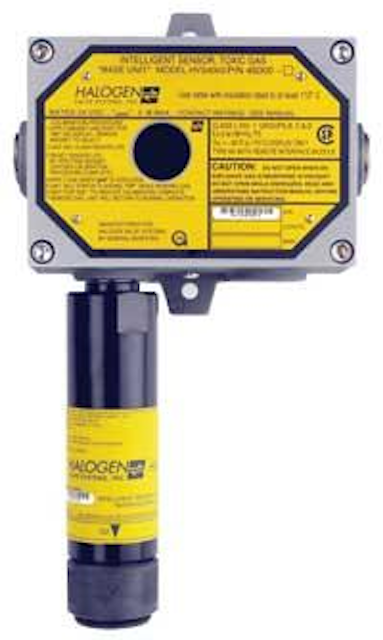 Click here to enlarge image
The Jupiter gas detection system, Model HVS4000, is a new product from Halogen Valve Systems Inc. It monitors and reports a variety of information about hazardous and toxic gases to a SCADA system or other electronic monitoring equipment. Features include indication of sensor life, 250 vAC - 8 amp settable relays, three-digit visual display, dual redundant Modbus communications and 4-20 mA proportional gas level output. Halogen Valve Systems Inc., Irvine, CA, 949-261-5030, www.halogenvalve.com.
Bioaugmentation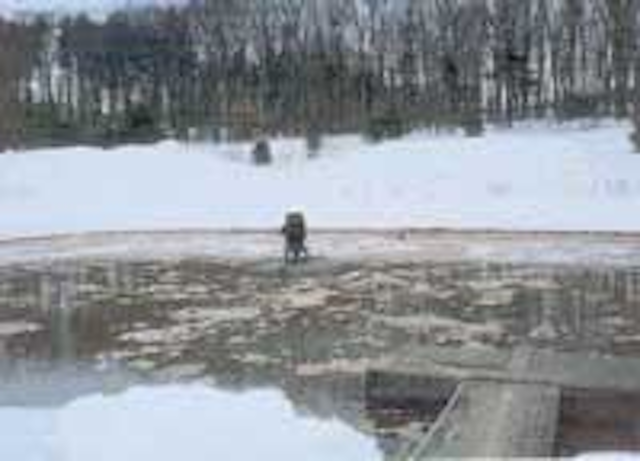 Click here to enlarge image
The ability of a wastewater treatment plant to nitrify ammonia-containing wastes can be adversely affected by cold weather. In one mid-Atlantic state, a 3-mgd municipal treatment plant receive high volumes of industrial and food-processing wastes began to exceed 3 mg/L nitrogen content permit limits when lagoon temperatures fell to 10°C. Addition of Microcat-XNL, a blend of ammonia-oxidizing bacterial strains from Biosciences Inc., plus pH control with soda ash, improved removal rates to 83% compared to 51% and 43% during previous winters. This is just one of the ways Biosciences Inc. can help problem wastewater treatment in cold weather with its bioaugmentation solutions. Bioscience Inc., Bethlehem, PA, 610-974-9693, www.bioscienceinc.com.
Ozonation systems
Spartan Environmental Technologies has signed a sole distribution agreement for the U.S. and Canada with Ozono Elettronica Internazionale (OEI) covering its entire line of ozone generating systems for water and air purification, including industrial and municipal applications - water treatment, wastewater treatment and odor control. OEI, of Milan, Italy, has been manufacturing ozone generators and engineering turnkey ozonation systems for over 30 years. It has over 400 installations in Europe and other parts of the world. The agreement with Spartan represents the first time these systems will be available in the North America. Spartan Environmental Technologies LLC, Mentor, OH, 440-368-3563, www.spartanwatertreatment.com.
Wastewater treatment
MEP Enviro Systems, a subsidiary of Marine Environmental Partners Inc., which focuses on marine wastewater systems, has introduced the TerraSan™ Wastewater Treatment System for land applications. TerraSan utilizes physics and electro-chemistry for disinfection. Equipped with a PLC system that automatically monitors and adjusts the level of treatment to changes in water chemistry, it produces virtually odorless effluent that can meet stringent re-use standards. It can be adapted for varied agricultural, industrial and municipal applications. MEP Enviro Systems Inc., West Palm Beach, FL, 561-842-9900, www.mepi.net.
Odor control
Eco2 SuperOxygenation technology eliminates odor and inhibits corrosion in a collection system by dissolving pure oxygen in wastewater at high concentrations. This process prevents the formation of the "rotten egg" odor of H2S. The environmentally friendly process delivers performance superior to existing gas scrubbers and chemical applications while decreasing operating costs. No chemicals, no corrosion, no complaints. Eco-Oxygen Technologies LLC, Indianapolis, IN, 317-845-1060, www.eco2tech.com.