PRODUCTS & SERVICES Tanks & Structures
All State Tank is now designing, engineering, manufacturing, installing and servicing a full line of panelized tanks and silo's at its new 46,000 sq. ft. facility.
Jan 1st, 2005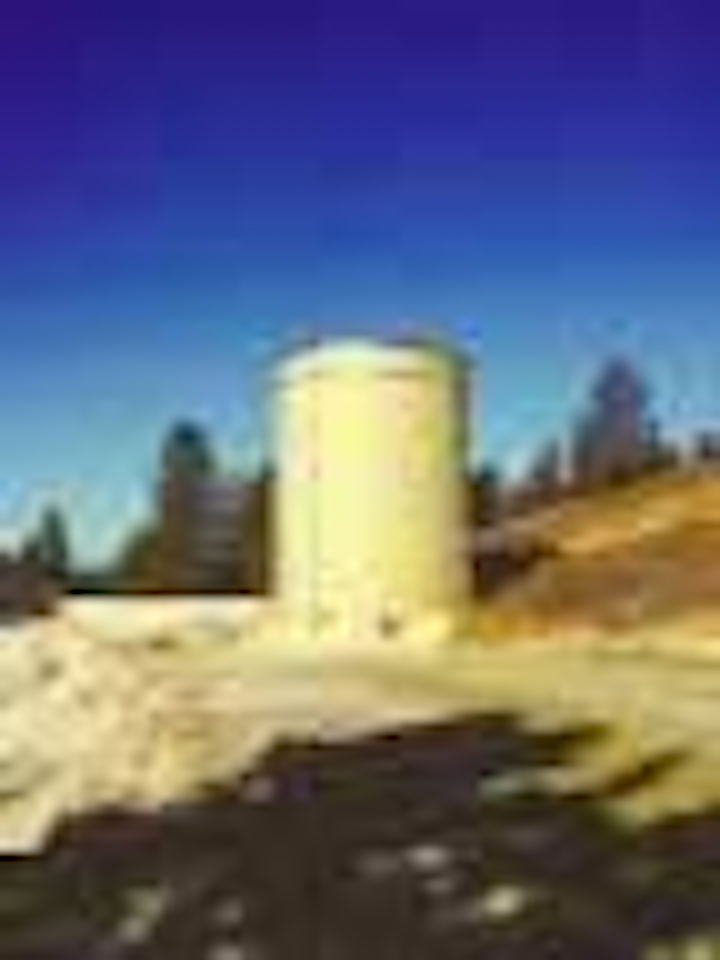 Panelized tanks, silos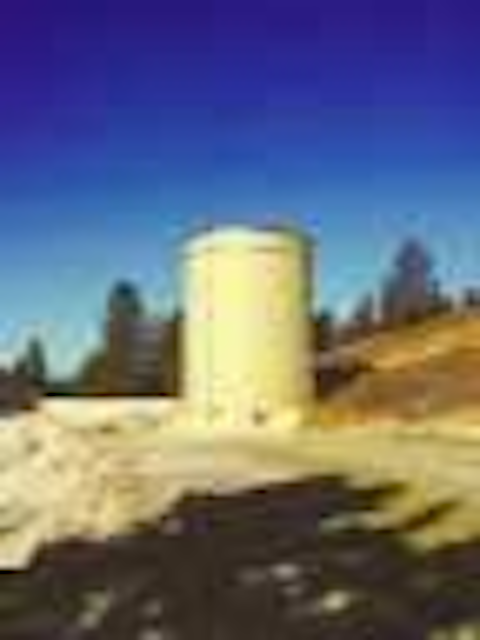 Click here to enlarge image
All State Tank is now designing, engineering, manufacturing, installing and servicing a full line of panelized tanks and silo's at its new 46,000 sq. ft. facility. The company offers a "thermo-bonded" coating line with a proprietary process that will set new "finish standards" for substantial improvements in coating life, UV resistance and the ability to service a much broader range of caustic life and/or difficult applications. The company's tanks are custom designed for its customers through independent professional engineers duly licensed in all states.
All State Tank Mfg. LLC
Grove, OK
Tel: 918-787-2600
Email: rruss@allstatetank.com Web: allstatetank.com
Pre-stressed concrete tanks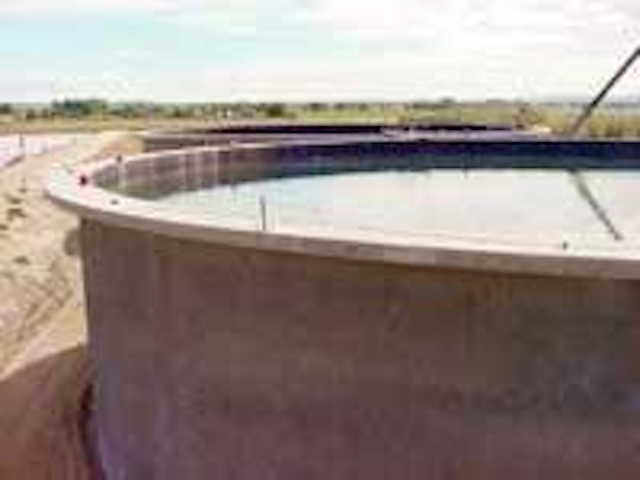 Click here to enlarge image
An updated wastewater treatment plant called Industrial Wastewater Treatment Facility Phase 1 is nearing completion for the Port of Sunnyside in Sunnyside, Wash. Among the facilities designed by Earth Tech's Bellevue, Wash., office are two 1.5 million gallon pre-stressed concrete Sequencing Batch Reactors, or SBRs. These open-top tanks from DYK allow aeration and clarification to take place sequentially in the same tank. The main advantages of SBRs are their flexibility and efficiency.
DYK Inc.
El Cajon, CA
Tel: (800) 227-8181
Email: dykinc@dyk.com
Web: www.dyk.com
Floating cover systems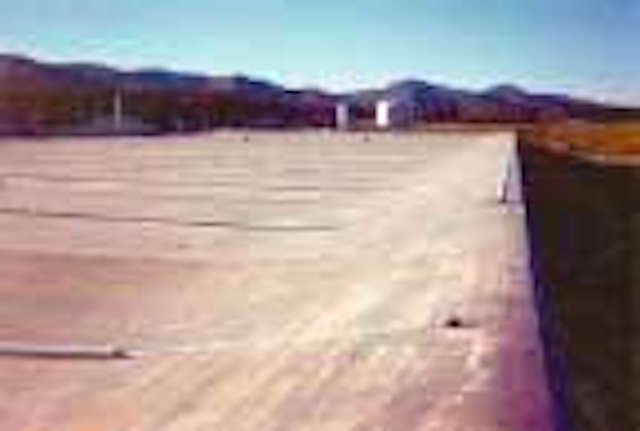 Click here to enlarge image
GTI's insulated floating cover systems control odor in wastewater treatment lagoons, sludge ponds, aeration basins and flow equalization tanks. Its floating covers also are insulated to reduce heat loss and control algae by blocking sunlight. These durable, UV protected covers can be installed quickly without disrupting plant operations and are easy to maintain while in service. These floating covers are safe and strong enough to safely support foot traffic, light vehicles and snow loads. For anaerobic digesters, they're gas-tight to capture odorous biogas.
GTI Tank and Lagoon Covers
Fredericton, NB, Canada
Tel: 506-452-7304
Web: www.gti.ca
Control panel enclosure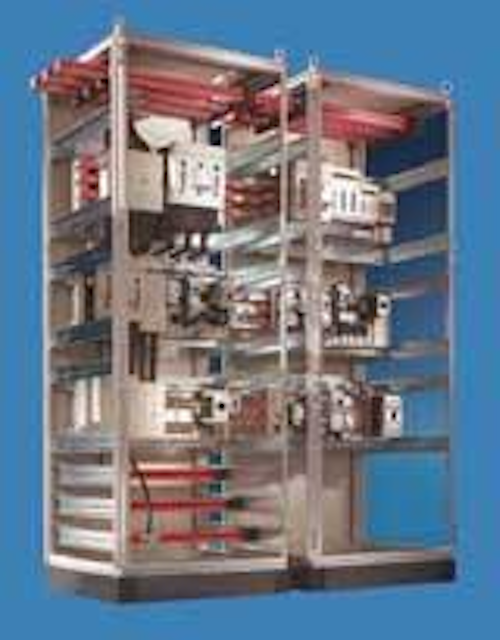 Click here to enlarge image
Rittal is able to offer a variety of control panel enclosure options to clients including wall mounting as well as floor-standing units in addition to its newer TS 8 enclosure system, which offers limitless possibilities resulting from a symmetrical frame and two mounting levels on each frame member. With its PLS range, there's no copper to cut, no drilling, no bending and zero wastage. The 800A PLS system allows a number of motor circuit breaker starters to be mounted directly onto the busbar using component adapters that can be delivered prewired, with the insulation already stripped back.
Rittal Corp.
Springfield, OH
Tel: 937-399-0500
Web: www.rittal-corp.com
Tanks and containers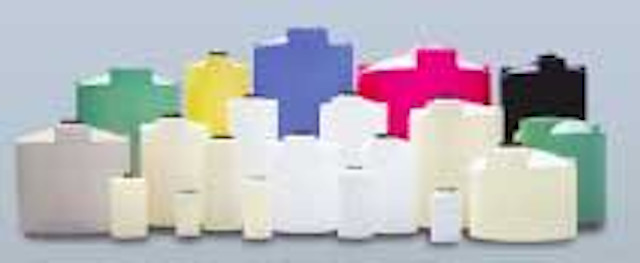 Click here to enlarge image
Assmann Corp. has a full line of corrosion and chemical resistant tanks and containers. Constructed from virgin high-density crosslink or FDA-compliant linear polyethylene, the tanks and containers are used to store and transport corrosive and hazardous materials. Manufactured in Garrett, Ind., and Marshall, Texas, they provide low temperature impact resistance, are UV stabilized and come in wide range of capacities and colors. Custom rotational molding, accessory fittings and custom colors are available.
Assmann Corp.
Garrett, IN
Tel: 888-357-3181
Web: www.assmann-usa.com
Tank within a tank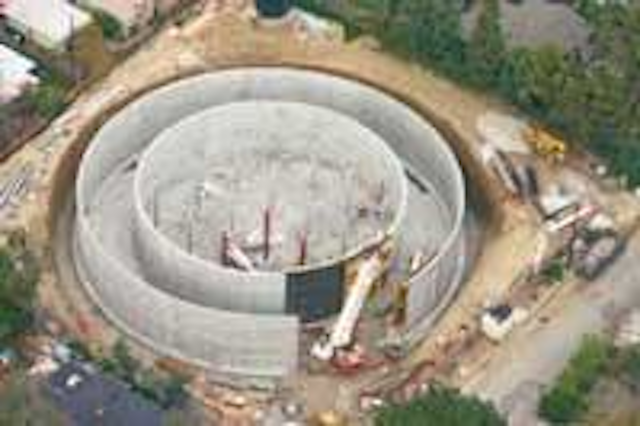 Click here to enlarge image
The Grove Street Reservoir Reconstruction Project in Sierra Madre, CA, was recently selected by the Southern California Chapter of the American Public Works Association (APWA) to receive a Public Works Project of the Year Award. This project, credited to lead design firm RBF Consulting, as well as DYK Inc., Bucknam & Associates and SSC Construction Inc., incorporates innovative design and construction techniques to provide the community with safe and reliable water storage, while complying with the health department's preference for multiple reservoirs within each pressure zone.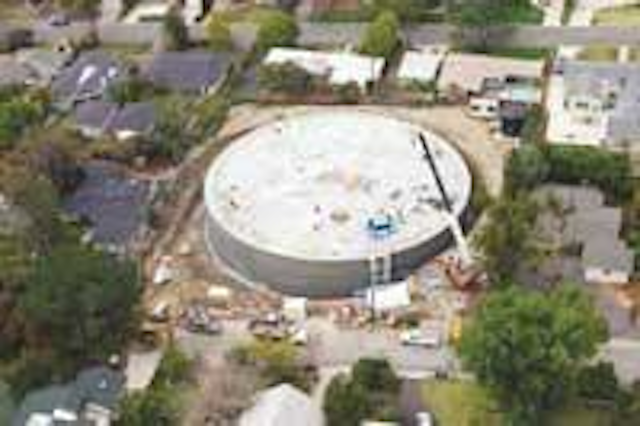 Click here to enlarge image
RBF Consulting
Irvine CA
Tel: 949-472-3505
Web: www.rbf.com
Tank coatings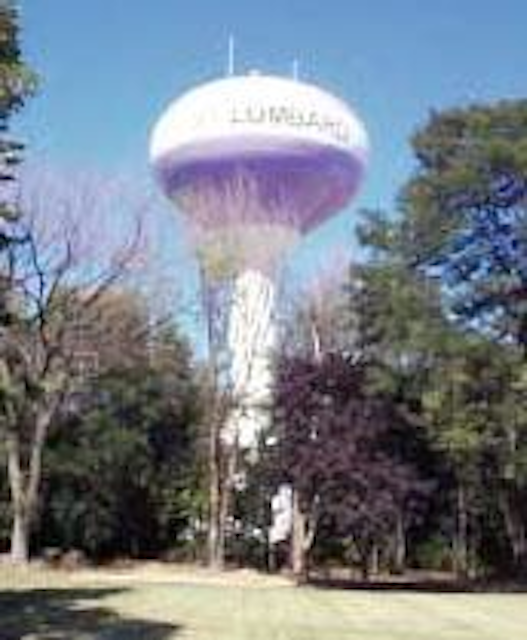 Click here to enlarge image
Tnemec Company Inc., a leading manufacturer of high-performance coatings for specialized architectural and industrial markets, has now made available an exterior finishing coat for water tanks called Series 700 HydroFlon. A more than 20-year life expectancy and superior gloss and color retention are on the long list of benefits of the new coating. Consisting of a two-component fluoropolymer, it also has the unique ability to be brushed, rolled or sprayed, which gives it unprecedented ease of application.
Tnemec Company Inc.
Kansas City, MO
Tel: 800-863-6321
Web: www.tnemec.com
Silver anniversary
Tank Industry Consultants, founded by Crone Knoy in 1979 in Indianapolis, celebrated 25 years of service at the end of 2004. The business has grown to a staff of more than 40 professional engineers with offices in Midlothian, Va., Woodlands, Texas (near Houston), and Bolingbrook, Ill. (near Chicago). It's been involved in over 6,000 tank projects nationwide.
Tank Industry Consultants
Indianapolis, IN
Tel: 317-271-3100
Web: www.tankindustry.com
Sewer cleaning equipment
Vactor Manufacturing is a supplier of truck-mounted combination sewer and catch basin cleaners, jetters, and hydro-excavators. The company has more than 30 years of experience providing equipment to the sewer cleaning industry including combination units that combine water jetting with vacuum for sewer cleaning and maintenance solutions.
Vactor Manufacturing
Streator, IL
Tel: 815-672-3171
Web: www.vactor.com
Geodesic dome tank covers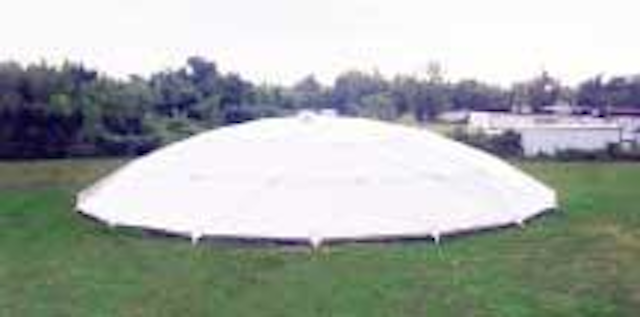 Click here to enlarge image
With a history stretching to 1976, Geodome™ technology was recently updated with ALGOR finite element analysis, allowing exacting designs based on a wide range of load parameters. The aluminum geodesic dome roofs and covers – with diameters starting at 11' – are perfect for covering new tanks and retrofitting existing ones. Designed specifically for cylindrical tank applications, the Geodome system offers an exceptional clear span cover that minimizes maintenance costs.
Geodome, A Unit of CST Industries
Birmingham, AL
Tel: 205-980-3454
Web: www.geodomeroof.com
Fiberglass tanks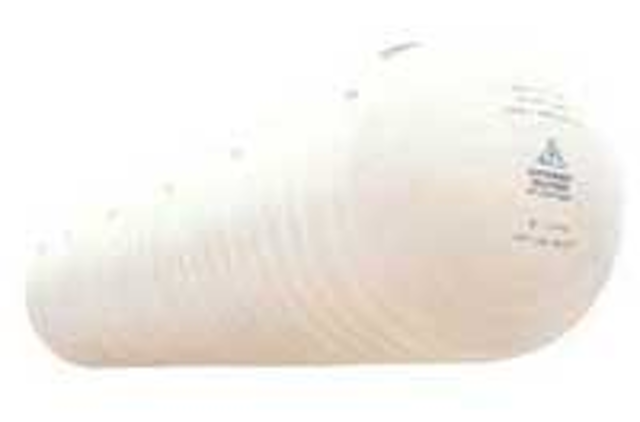 Click here to enlarge image
Containment Solutions specializes in the manufacture of underground fiberglass storage tanks (500-50,000 gallons) designed with rust-resistant fiberglass for long term containment of potable and non-potable water storage. The company's tanks can be supplied with a NSF61 certified liner for storage of potable water. The tanks are also an excellent choice for rainwater, irrigation water, fire protection, and septic. The company also provides a full line of single-wall, double-wall and triple-wall tanks for petroleum, automotive, chemical and water storage; oil/water separators for storm water discharges; and fiberglass manholes, rehabilitation manholes and wetwells for the wastewater industry.
Containment Solutions Inc.
Conroe, TX
Tel: 936-756-7731
Web: www.containmentsolutions.com
Tanks, domes
Aquastore® glass-fused-to-steel tanks from Engineered Storage Products are virtually maintenance free. The company's coatings can withstand the harshest of elements and do not require periodic repainting. The tanks' bolted fabrication allows for future capacity expansion and simplifies erection. The company also offers the Aquastore Aluminum Geodesic Dome. The lightweight domes resist corrosive vapors from wastewater treatment, and can be added to newly-assembled tanks or retrofitted to existing steel or concrete tanks.
Engineered Storage Products Co.
DeKalb, IL
Tel: 815-756-1551
Web: www.aquastore.com
Stormwater tanks
Click here to enlarge image
Fisher Tank offers custom-fabricated tanks that can be used to retain and treat stormwater, which has become an increasing concern at locations with overloaded storm sewers or ponds. The tanks are designed and fabricated to the customer's specifications at the manufacturer's plant and then transported by truck to the customer site. Field crews weld the sections together, assembling and testing the complete tank, often in a week or less. The steel tanks can have capacities from 20,000 gallons to as high as 10 million gallons.
Fisher Tank Co.
Chester, PA
Tel: 610-494-7200
Web: www.fishertank.com
Epoxy coatings
HippoPoxy, available from M.A.B. Paints, is a 100% solids epoxy designed for potable water tanks. It has been specially formulated for application with no solvent thus eliminating future solvent contamination of drinkable water. It can be applied by a plural component spray gun or traditional airless spray pump without thinning in a one coat application.
M.A.B. Paints
Broomall, PA
Tel: 800-622-1899
Web: www.mabpaints.com
Concrete tanks
Click here to enlarge image
Preload has completed the construction of a 1.7 MG prestressed concrete water storage tank for the town of Manchester-By-The-Sea, MA. The tank measures 60' ID x 78' SWD, and incorporates a clear-span dome roof. Built to the AWWA D110, Type III Standard for Circular Wire-Wound Prestressed Concrete Water Tanks, Preload tanks require no routine maintenance or repainting and provide a long service life. Consulting engineer on the project was Earth Tech, Concord, MA.
Preload Inc.
Hauppauge, NY
Tel: 888-773-5623
Web: www.preload.com
Tank, pump system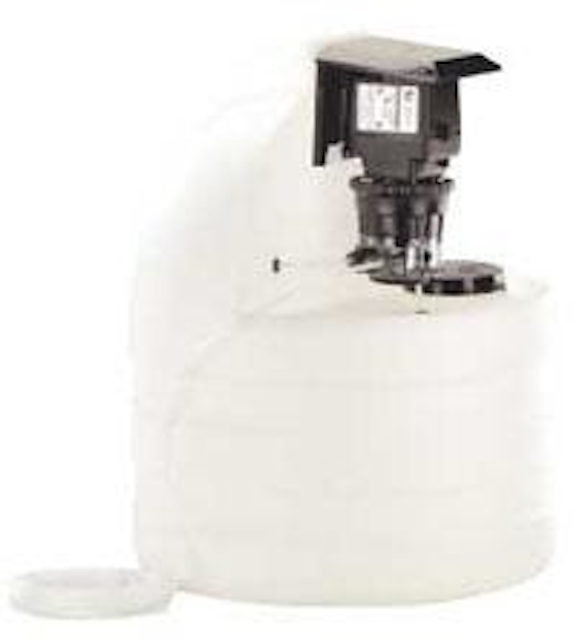 Click here to enlarge image
G.H. Stenner offers the STS series 30-gallon combination tank and pumping system featuring the company's peristaltic metering pumps. The systems are completely assembled at the factory and shipped ready for installation and start up. The tank is available in UV resistant gray or natural and constructed of polyethylene for indoor or outdoor applications. Features include a large fill opening and lid with a locking tab plus incremental level indicators. The metering pumps are vertically mounted over the containment basin and a rainroof is included.
G.H. Stenner & Company Inc.
Jacksonville, FL
Tel: 800-683-2378
Web: www.stenner.com
Containment systems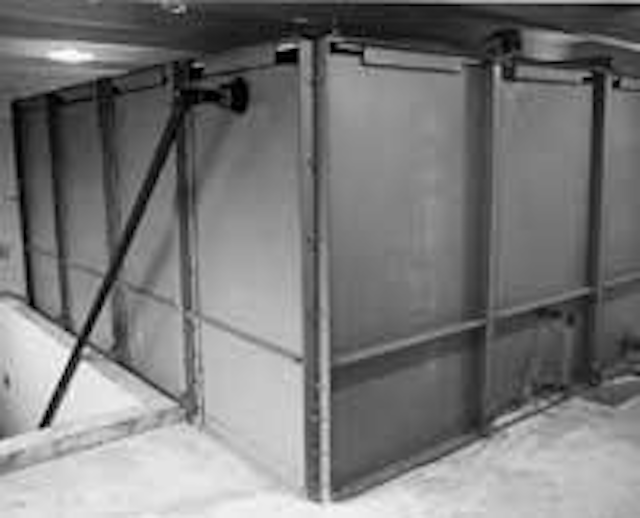 Click here to enlarge image
The new VariTank containment system has been engineered to fit virtually any space or location. The unit's modular components hand-carry through doorways, windows and walkways for assembly into square, rectilinear, L, S, or T shapes. Available capacities range from 500 to 100,000 gallons. The tanks are constructed of 6'3'' high by 3'6'' wide galvanized steel modules that are bolted together with ordinary hand tools. A choice of chemical resistant flexible membrane liners includes XR-5, PVC, HDPE or polypropylene.
ModuTank Inc.
Long Island City, NY
Tel: 918-392-1112
Web: www.modutank.com
Aluminum covers
Ultraflote manufactures and installs aluminum covers for the water and wastewater industry. The Ultradome™ roof is custom engineered for specific design requirements. The self-supporting dome allows for maximum overhead space and provides interference-free operation for equipment. The Quad-Seal™ flat cover, for both rectangular and round tanks, consists of individual, interlocking panels made up of reinforced extruded aluminum planks. The covers become a strong yet lightweight, corrosion resistant structure. The company's Geotruss™ is ideal for rectangular and square structures that require overhead room and access.
Ultraflote Corp.
Houston, TX
Tel: 713-461-2100
Web: www.ultraflote.com
Concrete water tanks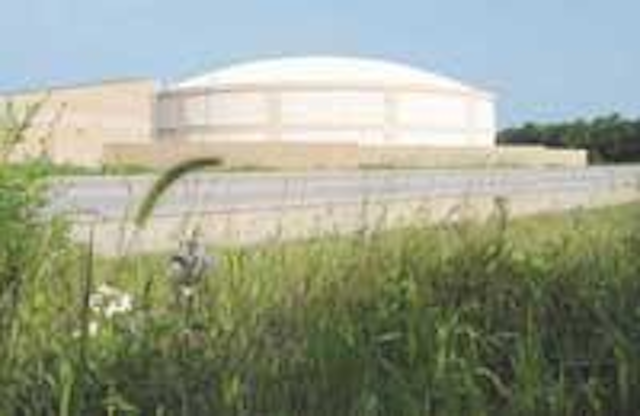 Click here to enlarge image
All Natgun concrete water storage tanks conform to AWWA Standard D110, Type III, a design standard proven in thousands of installations across the country. The tanks feature a continuous, watertight steel diaphragm embedded in the wall and multiple layers of bonded prestressed wire which hold the tank in permanent compression. The tanks never need to be repainted. They are custom sized and designed to fit each job requirement and can be constructed at-grade, partially, or totally buried. They are available with clear-span domes, or column-supported flat roofs, with or without interior mixing systems. Seven regional offices provide local support.
Natgun Corp.
Wakefield, MA
Tel: 800-662-8486
Web: www.natgun.com
Coating products guide
The Society for Protective Coatings (SSPC) has published a compilation titled Planning and Specifying Industrial Protective Coating Projects. This new 246-page softcover book contains select chapters from SSPC's most popular publications, such as excerpts from Good Painting Practice and The Inspection of Coatings and Linings. It also includes a collection of SSPC standards, guides and specifications, all of which pertain to the planning phase of an industrial protective coating project.
Society for Protective Coatings
Pittsburgh, PA
Tel: 877-281-7772
Web: www.sspc.org
Epoxy coating, primer
Sherwin-Williams Industrial and Marine Coatings group now offers Dura-Plate® 235 NSF Multi-Purpose Epoxy and Dura-Plate® UHS NSF Primer as part of the company's ControlTech™ line of low-VOC coating systems for tank linings, secondary containment, and corrosion control. Both coatings were recently approved to ANSI-NSF Standard 61 for potable water on tanks of 1,000 gallons and larger and 36'' and greater pipe diameters. The epoxy coating is engineered for use on concrete or steel tanks, floors, drains, clarifiers, sumps and slabs, and is recommended for immersion service in fresh, salt, and potable water. Formulated using a modified phenalkamine epoxy, Dura-Plate 235 NSF can withstand application temperatures ranging from 0°F to 120°F without adversely affecting coating performance and cures at temperatures as low as 0º F.
Sherwin-Williams Co.
Brea, OH
Tel: 800-524-5979
Web: www.sherwin-williams.com
CPVC products
Corzan™ Industrial Systems – comprised of chlorinated polyvinyl chloride (CPVC) pipe, sheet, duct, fittings, valves and tanks – are resistant to highly corrosive fluids in a wide range of environments. By replacing conventional metallic systems with CPVC, engineers can extend system service life and reduce maintenance, while minimizing process life cycle costs. CPVC is inert to most mineral acids, bases, salts and aliphatic hydrocarbons and compares favorably to other non-metals in these chemical environments. The material provides exceptional mechanical strength, flame spread and smoke performance characteristics. Corzan CPVC is available in a complete line of process components, including pipe and fittings, sheet, valves, pumps, strainers, filters, ducting, storage tanks, fume scrubbers, tower packing and process vessels.
Noveon IP Holdings Corp.
Cleveland, OH
Tel: 888-234-2436
Web: www.corzancpvc.com
Portable tanks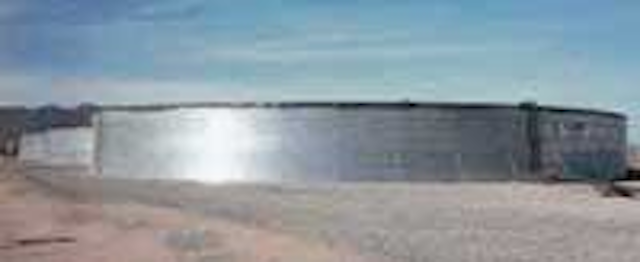 Click here to enlarge image
Environetics' Porta Tank™ bolted steel, membrane lined tanks are used for both permanent or temporary above ground storage. The factory sealed and tested liners are fabricated of supported thermoplastic. Available capacities range from 6,500 to 1.5 million gallons. The patented design seldom requires a concrete foundation.
Environetics Inc.
Lockport, IL
Tel: 815-838-8331
Web: www.environeticsinc.com
Basin cleaning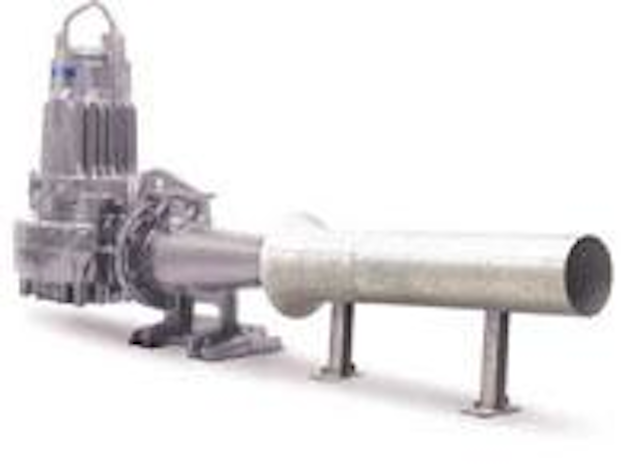 Click here to enlarge image
A new mixing and flushing unit for cleaning retention basins has been introduced by ITT Flygt. Designated as the Flygt Hydroejector, the unit acts as a mixer when water levels are high, keeping solids in suspension so they can be readily pumped away. When basin water levels are low, the unit automatically becomes a flushing device, with water discharged through the ejector pipe in a powerful jet which removes organic matter from the basin floor and walls.
ITT Flygt Corp.
Trumbull, CT
Tel: 203-380-4700
Web: www.flygtus.com
Storage tanks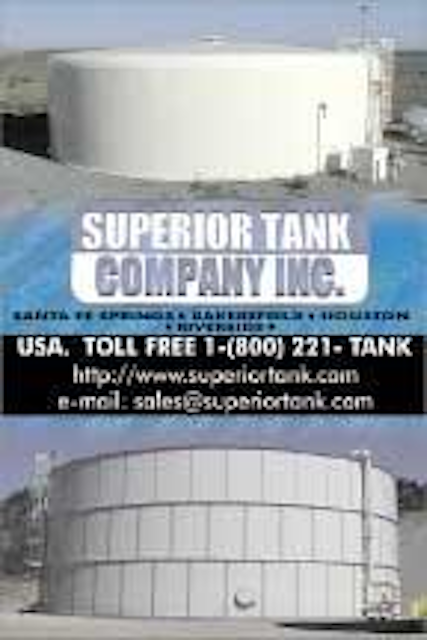 Click here to enlarge image
Superior Tank is a fabricator and erector of bolted and welded steel storage tanks for the potable water and wastewater industries. The tanks are manufactured to AWWA, API, NFPA and Factory Mutual specifications and feature NSF approved coatings. Worldwide shipping, erection, engineering, foundation design and turnkey projects are available.
Superior Tank Co.
Santa Fe Springs, CA
Tel: 562-946-8804
Web: www.superiortank.com
Flexible enclosures
Click here to enlarge image
Stahlin's ModRight™ Enclosure Modification Program offers customers the opportunity to benefit from Stahlin's diverse in-house capabilities for achieving accurate, cost-effective enclosure modifications and includes cutouts, holes, windows, vents, countersinking, latches and locks, and non-standard sizing. One client, Metropolitan Industries of Romeoville, Ill., was particularly pleased with its choice of Stahlin to provide a tricky sump pump control panel.
Stahlin Non-Metallic Enclosures
Belding, MI
Tel: 616-794-0700
Web: www.stahlin.com
Drum storage units
The new Ultra-HardTop Plus outdoor drum storage units are available in 8, 12, 16 and 20-drum models. Extender kits are available to expand capacity beyond 20 drums. The units feature chemical-resistant, all-polyethylene construction. Multiple 4-drum compartments offer flexible usage for a broad range of operations. Each compartment is lockable and features a 2-way entry system.
UltraTech International Inc.
Jacksonville, FL
Tel: 800-353-1611
Web: www.spillcontainment.com