Products & Services
May 1st, 2012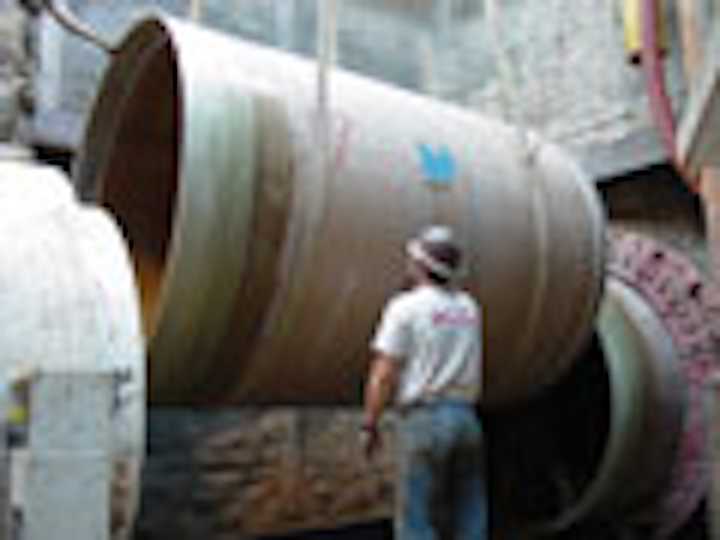 Polymer pipe
Centrifugally cast, fiberglass-reinforced, polymer mortar Hobas pipe is inherently corrosion resistant and provides a very low life-cycle cost. Key applications are sanitary and storm sewers, potable water and corrosive environments. Its benefits include superior hydraulics, light weight, and high strength. Installation methods include open cut, sliplining, jacking, microtunneling, two-pass tunnel, casing carrier and above ground. Sizes range from 18" to 110" for both pressure and gravity applications.
Hobas Pipe USA
www.hobas.com
PVC pipe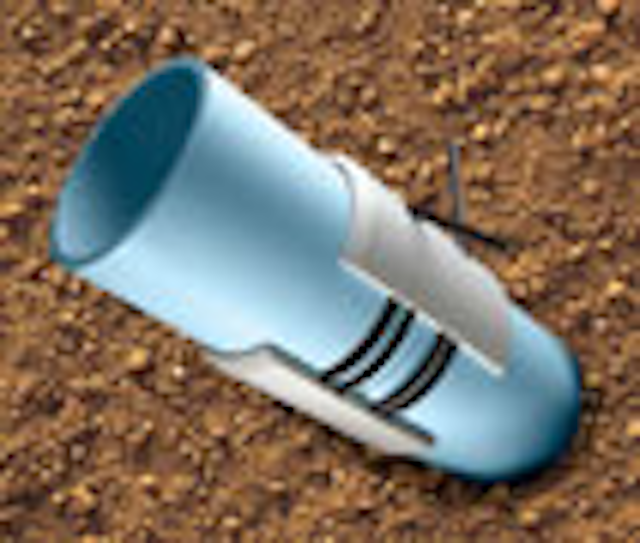 CertainTeed's Certa-Lok C900/RJ PVC Pipe is designed for use in directional drilling and other restrained joint applications. The pipe requires no special heat-fusion equipment, saving contractors a significant amount of time and money. Its joints are assembled as the pullback continues, so streets remain open and clear. Compared to alternate thermoplastic materials, higher-strength PVC requires a much thinner wall in order to achieve the same pressure rating. Because of this, a smaller diameter of PVC pipe can often be used.
CertainTeed Corp.
www.certainteed.com
Casing isolators, spacers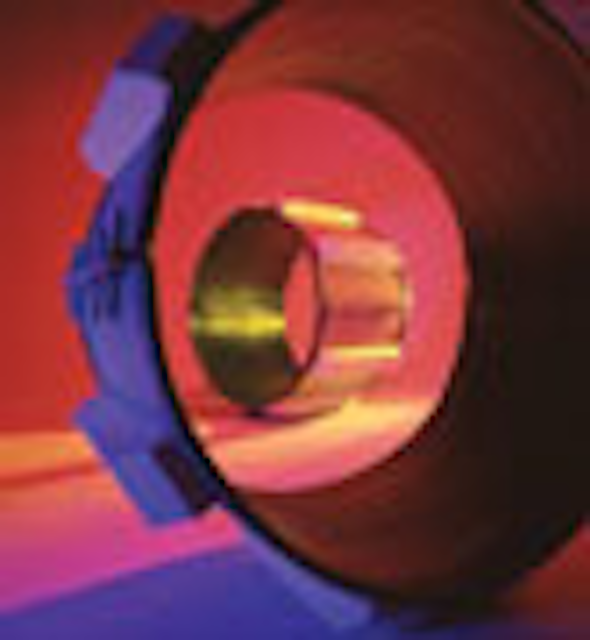 PSI/Pikotek, has added lower runner segments for securing carrier pipes in its Ranger II® non-metallic casing isolator/spacer system. The smaller sizes will be available in the mini, midi and medi segments for the boltless, UV-resistant, polypropylene system. They not only eliminate the need to cut down segments in the field, but also facilitate installation when confronted with smaller annular spaces for carrier/ casing pipe differentials.
PSI/Pikotek
www.ranger2.com
Cured-in-place pipe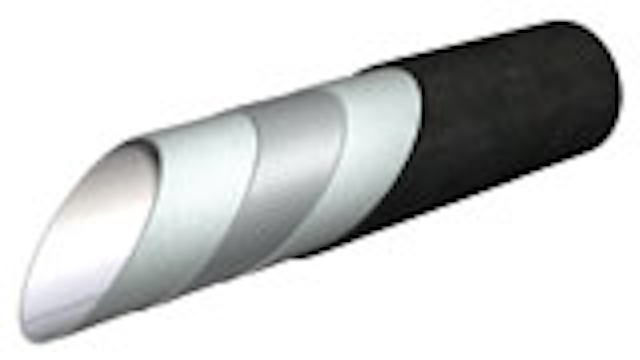 Insituform Technologies invented cured-in-place pipe (CIPP) 40 years ago and continues to advance the infrastructure rehabilitation industry today with its InsituMain® system, a fully structural, pressure rated CIPP solution suitable for pressure pipelines up to 60" in diameter. Engineered to restore existing pressure pipes, the system withstands internal pressure and external load requirements as well as eliminates leakage and corrosion.
Insituform Technologies Inc.
www.insituform.com
PVCO pressure pipe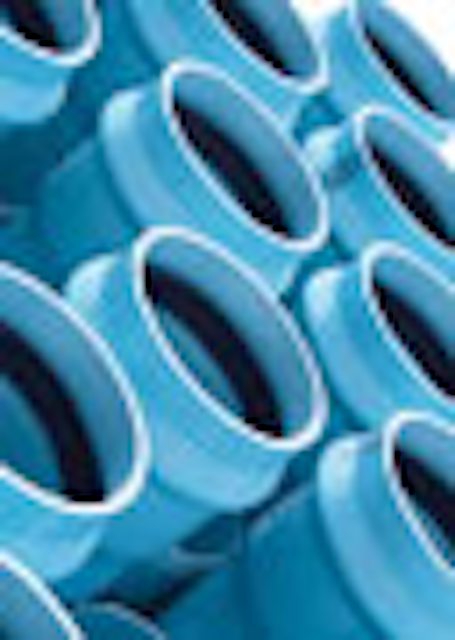 JM Eagle's Ultra Blue PVCO pressure pipe is suited for potable water and force main systems. Molecularly oriented for a wall that's four times stronger than conventional PVC at half the thickness, it also features a larger interior diameter for improved performance. The pipe is crush resistant, non-corroding, durable and leak-resistant, and it is pressure tested to meet HDB of 7,100 psi. Ultra Blue C909 pipe is covered by a 50-year warranty.
JM Eagle
www.jmeagle.com
Pipeline rehab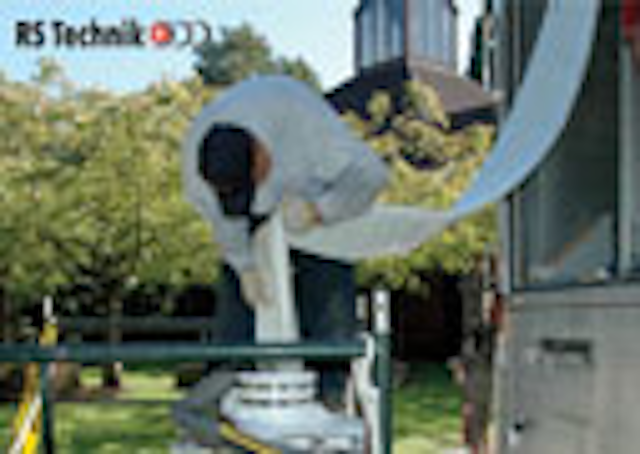 RS Technik is best known for its turn-key, environmentally friendly, CIPP installation systems that feature mobile computer controlled wet-out units, Dow® formulated epoxy resins, and high quality liner materials to ensure a safe, long-lasting pipeline repair. The company's cured-in-place products include: RS Cityliner® for gravity pipe rehabilitation, RS BlueLine® for pressure pipe rehabilitation, and RS MaxPatch® for point repairs. Contractors using this advanced CIPP system have received comprehensive training and receive ongoing technical and field support.
RS Technik
www.rstechnik.us
Pipe products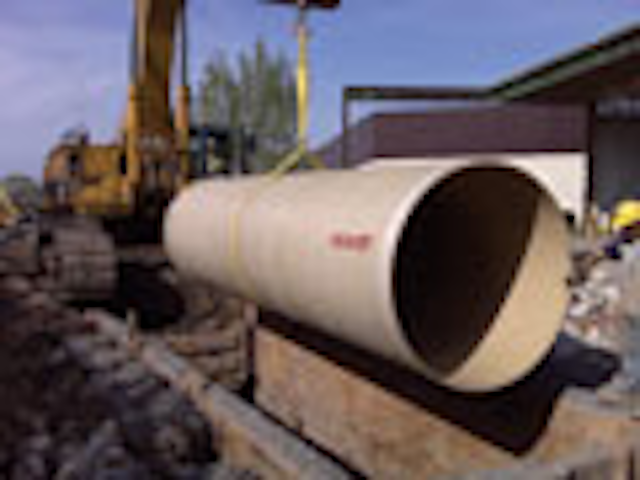 Flowtite® filament wound pressure pipe and Meyer® polymer concrete pipe products are available from U.S. Composite Pipe South. Flowtite filament wound pressure pipe products are produced in diameters from 12" to 156", and pending application may range in length from 16' to 40'. Flowtite products are proven effective for non-corrosive pipeline systems for direct bury, slipline and penstock projects, for gravity pressure/sewer, raw water, potable water and other industrial applications.
Flowtite Pipe
www.flowtitepipe.com
Internal joint seal
The Weko-Seal from Miller Pipeline is used extensively for internally resolving joint leakage, punctures and crack repairs in pipelines ranging in diameter from 18" and larger. Its unique design incorporates a series of proprietary lip seals that create a leak proof fit on either side of the joint.
Miller Pipeline
www.millerpipeline.com
Fusible PVC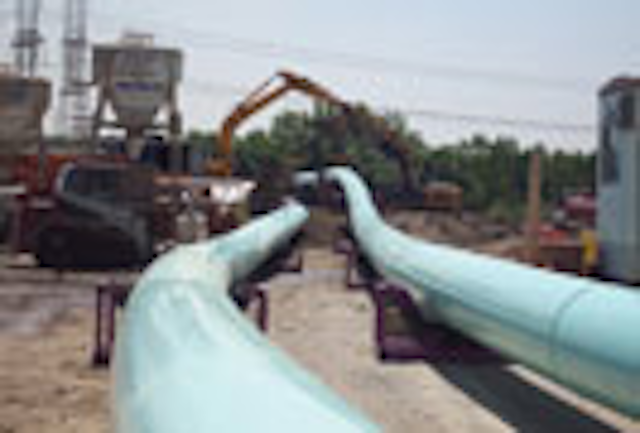 Underground Solutions provides infrastructure technologies for water and sewer applications. The company's Fusible PVC™ pipe products are available in diameters from 4"-36", including Fusible C-900®, Fusible C-905® and FPVC®. The company uses a patented technology to produce a fused monolithic, fully-restrained, gasket-free, leak-free piping system ideal for trenchless (horizontal directional drilling, pipe bursting and sliplining) or conventional "open-cut" installations. Its Duraliner™ is a patented, close-fit pipeline renewal system that creates a stand-alone structural liner (exceeds Class IV AWWA M-28).
Underground Solutions
www.undergroundsolutions.com
Pipe joining system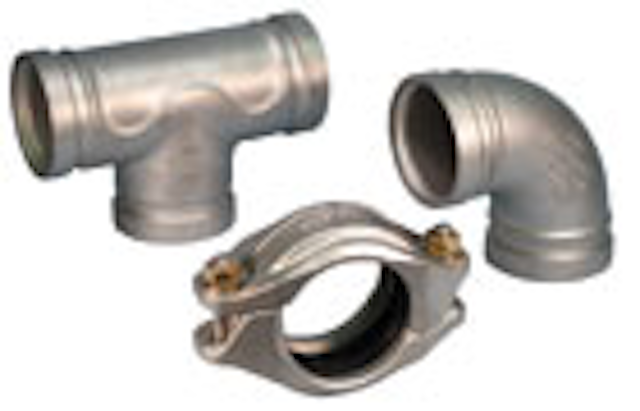 Victaulic has launched the StrengThin™ Piping System, which features a proprietary groove profile for high-pressure performance on thin-wall Duplex and Super Duplex stainless steel pipe. The system enables direct pipe-end forming of the new groove profile on Schedule 10S and Schedule 20 Duplex and Super Duplex stainless steel pipe up to 16" in diameter, and delivers improved performance over previously required thicker wall Schedule 40S cut-grooved pipe. The StrengThin system can significantly cut piping installation time for an entire high-pressure piping system, lower costs, improve safety and reduce project risk.
Victaulic
www.victaulic.com
Pipe elbows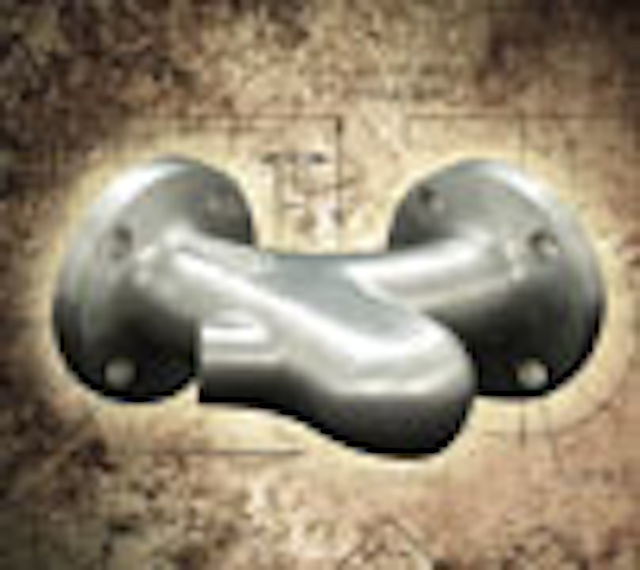 HammerTek's Smart Elbows are designed to reduce maintenance and replacement costs, and limit plant downtime, and protects the integrity of your product. By creating a deflection zone, the elbow virtually eliminates elbow wear, product degradation, plugging, surging, cross contamination, noise, and turbulence. The elbows are suited for conveying corrosive and abrasive materials, including pelletized lime.
HammerTek Corp.
www.hammertek.com
PVC pipe
Bionax, available from IPEX, is a molecularly enhanced PVC pipe designed for water mains, sewage force mains, irrigation lines and industrial process piping. Made from biaxially oriented PVC material, the pipe has almost double the strength of conventional PVC and three times the impact absorption capability. The company uses a new process that orients the PVC molecules both in the axial and circumferential directions (biaxial orientation). The result is a pipe with enhanced toughness and flexibility.
IPEX Inc.
www.ipexinc.com
Pipe restraint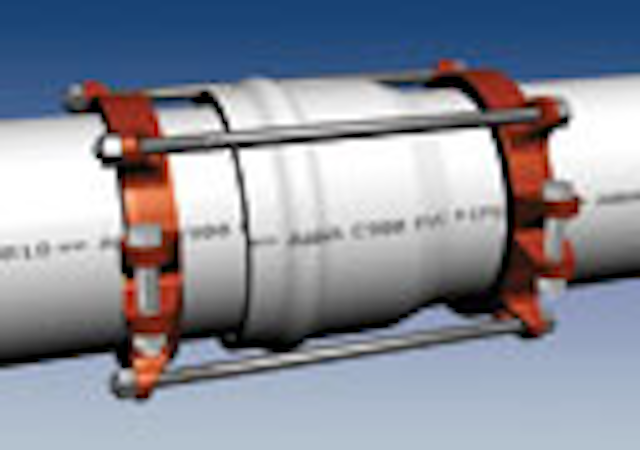 EBAA Iron engineers have developed an appropriately designed split serrated restraint ring device that will provide the necessary restraint capabilities now required to accommodate increased pressure ratings that have been assigned to PVC pipe. The EBAA 1900 series product literally enables any connection (that would be subject to hydrostatic pressure) to be fully restrained within the full pressure rating of the pipe - but even more importantly, within a minimum 2 to 1 safety factor design criteria.
EBAA Iron
www.ebaa.com
CIPP liner
Sekisui NordiTube offers the Nordipipe™ cured-in-place pipe liner for trenchless pipe rehabilitation of water mains. The NSF 61 approved pressure pipe rehabilitation technology is designed for fully deteriorated pipe conditions and is impregnated with special resins which rehabilitate the old pipe by direct inversion. The liner is cured to a statically self-supporting pipe-within-a-pipe meeting AWWA Class IV standards.
Sekisui NordiTube
www.sekisuinorditube.com
Plastic pipe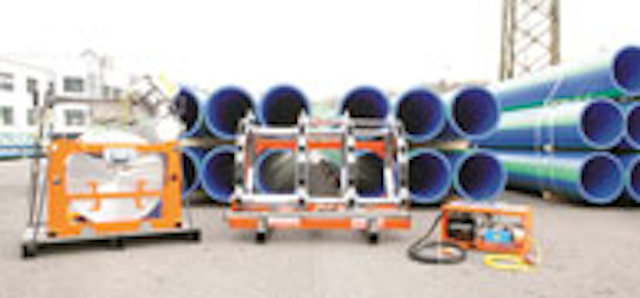 Aquatherm's polypropylene-random (PP-R) pressure pipe is now available in North America for large scale piping applications. The company offers its Greenpipe® line for potable water in sizes from ½" to 18" in diameter. The pipe is joined using heat fusion and has a design life of over 50 years. The pipe is available in SDR 7.4 in sizes ½" to 10" and SDR 11 from ½" to 18".
Aquatherm Inc.
www.aquathermpipe.com
Pipe lining
Formadrain has released an epoxy liner for pipeline restoration that can be fully prepared and allowed to sit on a shelf (called "open time" or "pot life") for a full two months until it is ready to be used. The new epoxy-resin formulation, which uses the company's Durapox™ technology, will actually remain in a pre-cured state for eight weeks until such time as steam is applied during the installation process, at which point the liner will fully cure in 60 minutes.
Formadrain
www.formadrain.com
Joint wrap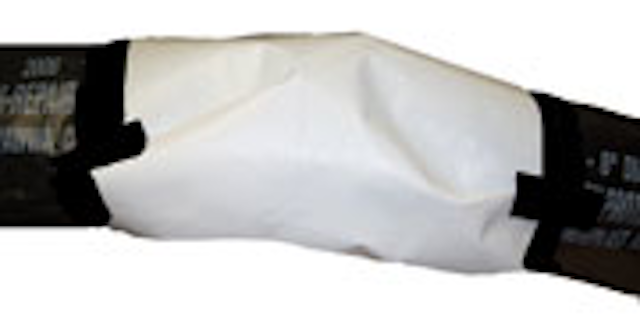 AA Thread now offers 10 MIL High Density Cross Laminated Joint Wrap for wide joints as well as standard joints. Until now, the company's joint wrap was 30" wide for wrapping standard joints with proper overlapping. The company found there are many joints that are wider and require additional pieces to be taped together to get a proper wrap. They developed a joint wrap that is available in 100' rolls so it may be cut to a specific length depending on the specific joint. 10 MIL HDCL Joint Wrap is used to protect joints from external corrosion for the life of the pipeline.
AA Thread Seal Tape Inc.
www.aathread.com
CIPP resins
AOC has expanded its selection of cured-in-place pipe resins with the new Vipel® L085-PPA epoxy novolac vinyl ester. The company created this new technology for applications that need resistance to aggressive chemical solutions and high heat. The new series offers corrosion resistance, durability and toughness in formulation packages that are designed for CIPP processing. The resin's epoxy novolac chemistry provides resistance to acids, bases and many organic solvents. It also performs exceptionally well at high temperatures with a heat distortion temperature of 300°F.