New Products
A compilation of products being introduced into the industrial water market.

May 1st, 2012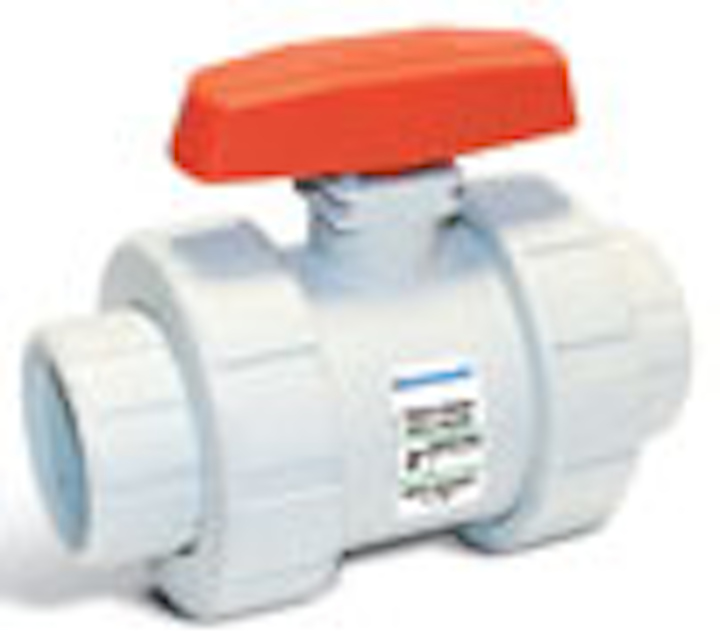 Ball valves
Hayward Flow Control has released its new platinum GF-PP (Glass Filled Polypropylene) TB Series Ball Valves. Available in sizes ½" - 2", the series features full port design, with true union threaded or flanged end connections and reversible seats. The valves have a maximum pressure rating of 250 psi; 150 psi with threaded or flanged ends, and maximum service temperature of 240°F. The platinum GF-PP material provides high impact resistance and is ideal for more robust chemical services, abrasive applications and water distribution.
Hayward Flow Control
www.haywardflowcontrol.com
Centrifugal pumps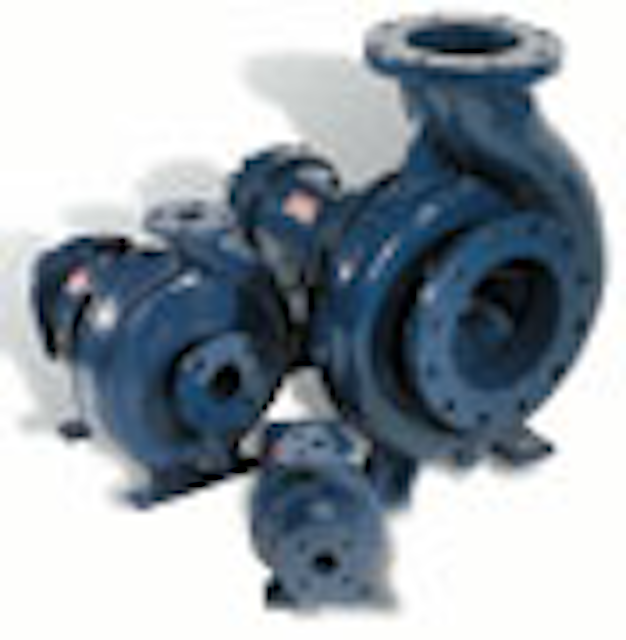 Griswold™ Pump's ATEX-rated 811 Series centrifugal pumps reliable transfer various dangerous chemicals. The pumps feature open impeller and seal chambers, which facilitate corrosive and erosive substance transport, heat regulation and routine maintenance. Their enhanced power frames and rigid base plates combine the latest technology with the highest quality construction to minimize the effects of work forces and shaft deflection, optimizing cooling and simplifying the installation and maintenance process. The Pumps are ready-to-ship and interchange seamless with a variety of ANSI pump models and brands, without piping, baseplate or coupling changes.
Griswold™ Pump Co.
www.griswoldpump.com
Rupture disc
Continental Disc Corp. has announced the launch of its Sanitrx HPX® II Rupture Disc and the HPX® Double Disc Holder. The rupture disc is a semicircular, scored, reverse acting rupture disc designed specifically for applications in the pharmaceutical, food & beverage and biotech industries. Available in sizes 1 ½" to 4," this rupture disc is available to fit between standard sanitary ferrules, NA Connect® flanges or Sanitrx® fittings. The discs are shipped in sanitary, non-toxic packaging.
Continental Disc Corp.
www.contdisc.com
Electric actuators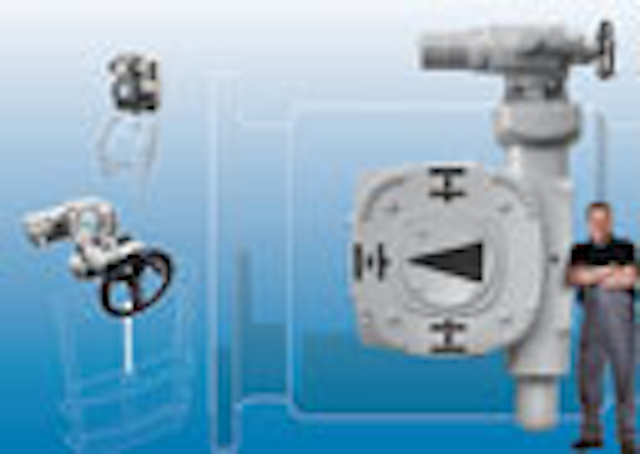 AUMA's Generation .2 multi-turn actuator range is designed for valves of all sizes and types. The actuators will be on display at ACHEMA 2012, a chemical processing trade to be held June 18-22, in Frankfurt, Germany. Diagnostic features have been enhanced with a sensor incorporated into the actuator to measure valve vibration. The software indicates if vibration exceeds the permissible actuator limits - this anticipates device failures and avoids plant downtime.
AUMA
www.auma-usa.com
Progressive cavity pump
seepex has introduced the food-grade BWC Progressive Cavity Pump. It bridges the gap between positive displacement sanitary pumps (low flow & high pressure) and centrifugal pumps (high flow & low pressure) by uniting the best of both designs into one compact package capable of a controlled flow rate of 45 gpm and a maximum pressure of 60 psi. This new pump design is comprised of very few components, simplifying maintenance and reducing the overall cleaning period. The pumps can convey liquids containing suspended solids and slurries that are up to 40,000 centipoise in viscosity.
seepex Inc.
http://shop.seepex.com
Pressure instrumentation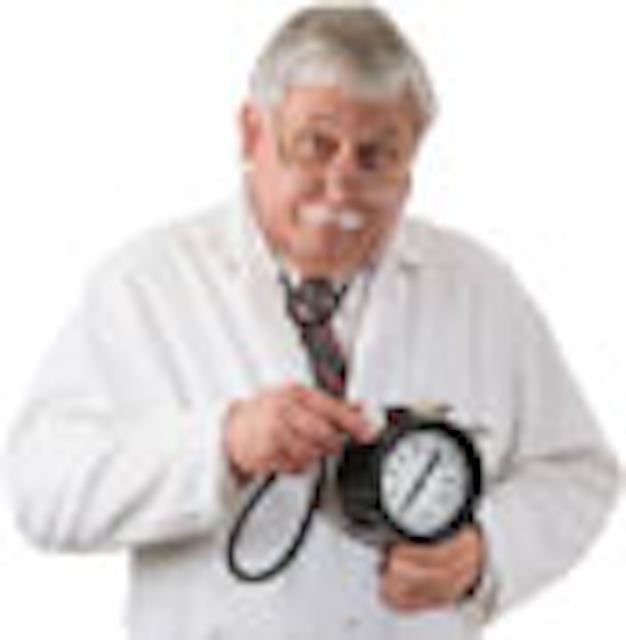 To prevent failures and maximize efficiency, Ashcroft is offering a free check-up of pressure and temperature instrumentation. The company's experts will audit your installation and look for misapplied or malfunctioning gauges, transmitters, switches, thermometers and more.
Ashcroft
www.ashcroft.com
Sliding vane pumps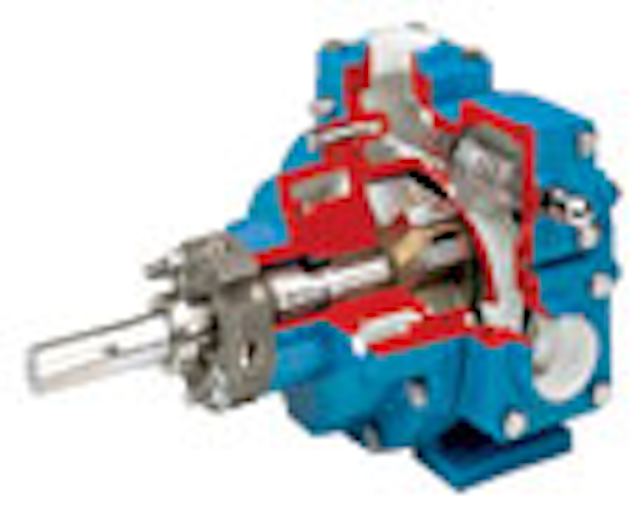 Blackmer® will display its Sliding Vane Pumps and System One® centrifugal pumps at ACHEMA 2012, a chemical processing trade to be held June 18-22, in Frankfurt, Germany. The company's sliding vane are available in compatible materials with shaft sealing options that make them the ideal for many dangerous chemical applications. NP Series pumps are available in five sizes, with port sizes from 1.5" to 4". They feature flow rates from 5 to 500 gpm at operating temperatures up to 500°F, with an optional jacketed pump head for high-temperature operating atmospheres.
Blackmer
www.psgdover.com
Waterproofing
In 2005, Marseal waterproofing and corrosion resistant lining was selected to rehabilitate a Leachate Water Treatment Facility in Orlando, FL. Two concrete tanks had developed cracks in their floors and walls, resulting in leakage. The material, Marseal 4000 is a 90-mil, peel and stick system. The unique properties of the flexible sheet membranes combined with thermally welded seam construction provide security in primary and secondary containment.
Marseal
www.marseal.com
Diaphragm pumps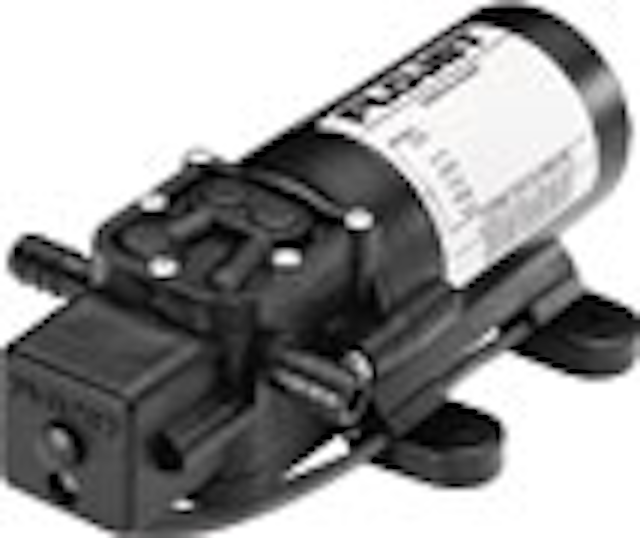 Flojet®, a Xylem brand, has released the new Flojet LF Plus series of low flow industrial motor driven diaphragm pumps. The line of compact pumps features a new design that reduces diaphragm cleaning time by up to 40 percent and weighs just 20 ounces. The pumps are versatile for multiple applications extending throughout the industrial, agricultural, automotive, and food processing industries. The pumps attain operating pressures of up to 40 psi, have self-priming capabilities up to six feet, and dependable run dry capabilities. The pumps are offered now in both 12 and 24-volt models, with a 115-volt model coming soon.
Flojet, a Xylem brand
www.xylemflowcontrol.com/flojet
Chlorine dioxide analyzer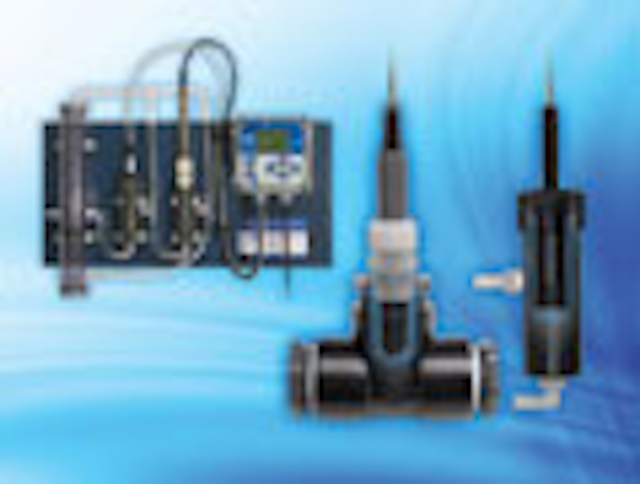 The CDA-22 Chlorine Dioxide Analyzer from Electro-Chemical Devices simplifies the monitoring and control of chlorine dioxide in applications for the food and beverage industry, including Clean in Place (CIP) sanitizing and rinsing operations. With a panel mounted plumb-and-play design and automatic flow control, the analyzer is a low maintenance, complete chlorine dioxide measurement system.
Electro-Chemical Devices
www.ecdi.com
Gear pumps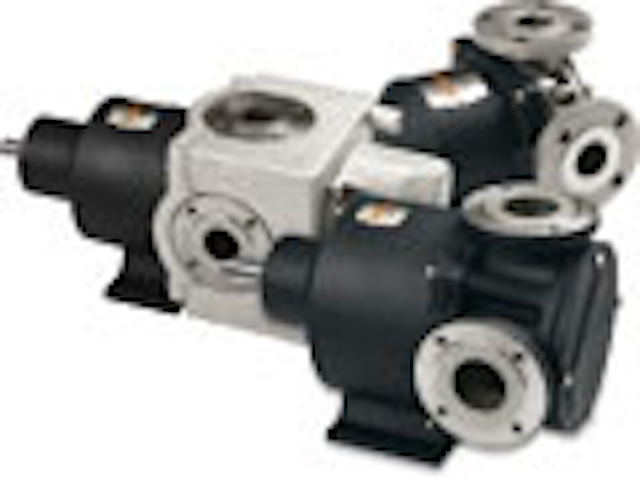 Pump Solutions Group's EnviroGear® line of internal gear pumps will be on display at ACHEMA 2012. The pumps are suited for many dangerous and demanding chemical product-transfer applications. The pumps feature a magnetically driven seal-less design, which eliminates any concern of seal failures that can hamper these types of operations. The pumps have one fluid chamber, and only seven primary parts.
Pump Solutions Group
www.psgdover.com
Data logging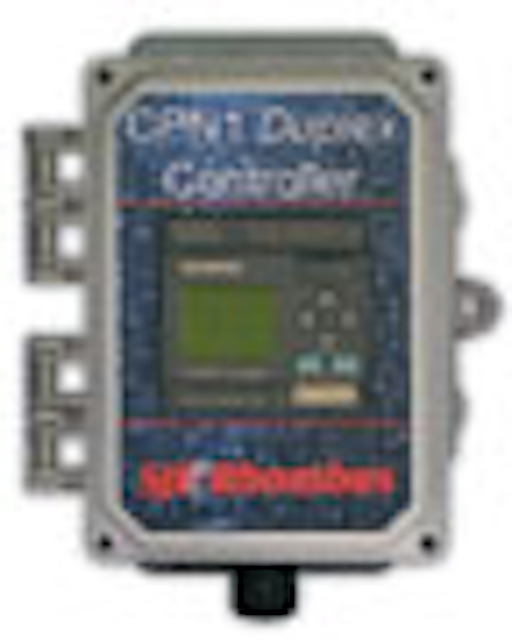 SJE-Rhombus® has introduced a new, data logging control panel. The EZ Series® In-Site® CL control panel is designed to connect to a laptop computer for system programming, monitoring and reporting. The panel is designed to control one or two 120/208/240V single phase pump(s) in water and sewage installations. It features a Modbus Port located on the inside door to connect to a Windows®-based PC to download system events which have occurred, including pump run times, pump cycles, alarm conditions, HOA settings, power outages, and service calls.
SJE-Rhombus
www.sjerhombus.com
Wafer-cone flow meter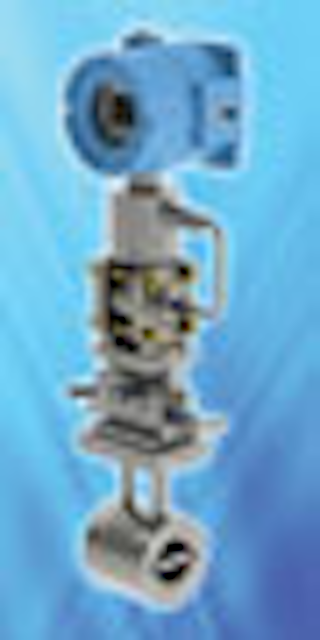 McCrometer's Wafer-Cone® Flow Meter is now available with a new direct mount configuration that minimizes installation labor while ensuring accuracy. Direct mounting the transmitter eliminates impulse lines, which not only lowers installation costs but also reduces potential leak points by more than 50 percent. Simple plug-and-play mounting ensures the meter is installed correctly the first time and eliminates a potential source of flow measurement errors.
McCrometer
www.mccrometer.com
TOC monitoring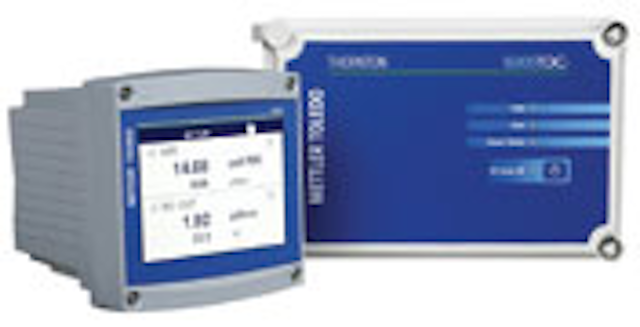 Mettler Toledo Process Analytics Division has introduced its 5000TOCi sensor with Intelligent Sensor Management™ (ISM). The new sensor is ideal for continuous monitoring of total organic carbon (TOC) levels in applications such as water for injection, reverse osmosis membranes, effectiveness of TOC destruct UV lamps, resin bed performance, organics shedding, and quality of final rinse water. The sensor was developed specifically to meet the demands for pure water in the pharmaceutical, power generation and microelectronics industries.
Mettler Toledo Process Analytics
www.mt.com/toc
Multiphase pumping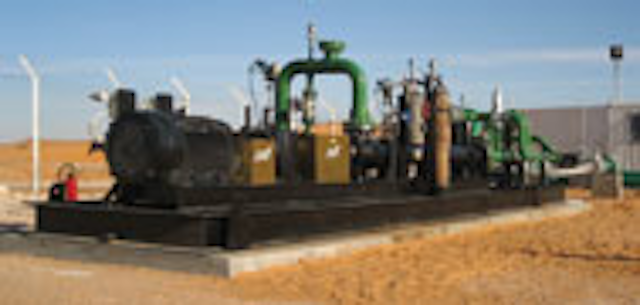 The Moyno Tri-Phaze® System is a patented progressing cavity solution offered for multiphase pumping applications within the oil and gas industry. The pumps allow all fluids produced at the well site including oil, water and gas to be transported simultaneously through one pipeline to a central processing station. The pump's abrasion-resistance allows for smooth transfer of sandy fluid as well.
Moyno Inc.
www.moyno.com
pH monitoring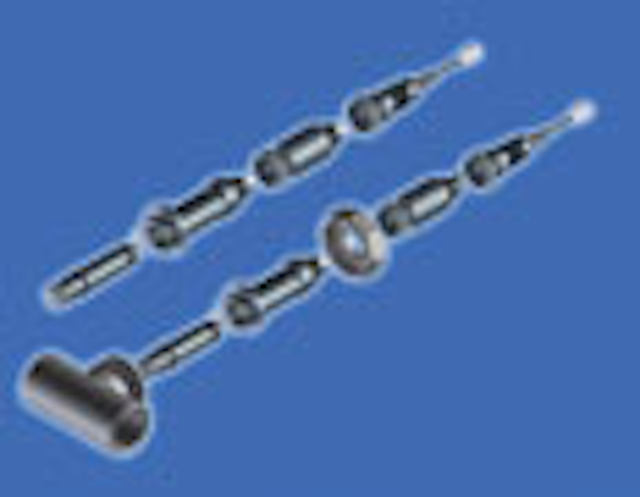 The S8000 Modular pH Sensor Platform from Sensorex is available as a submersion mounted sensor system, reducing measurement costs for open tanks and vessels as part of water and wastewater treatment applications. Ideal for measurement in wastewater treatment tanks, the company's S8000CD pH electrodes are fully submersible. The electrodes are available with rugged mounting hardware with threads to attach standard couplers as well as pipe to protect the cables from chemical attack.
Sensorex
www.sensorex.com
Electrolyzer systems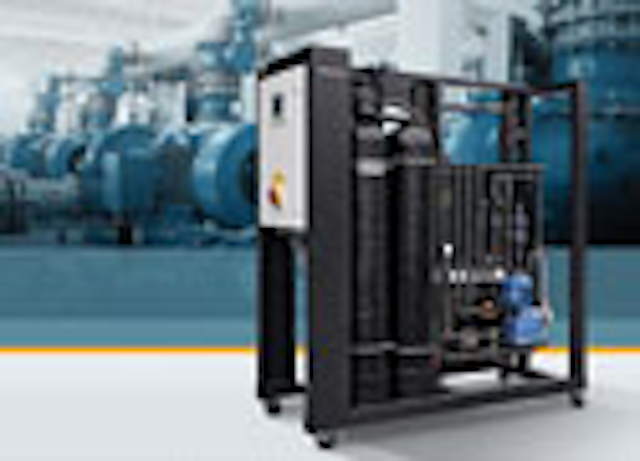 The Siemens Industry Automation Division has added four tubular cell electrolyzer systems to its water disinfection portfolio. The new Osec B-Pak products have an enhanced, compact construction and a newly designed electrolyzer cell. The tubular systems generate a 0.8 percent sodium hypochlorite solution from water and salt for disinfecting drinking, process and swimming pool water. Available in four new capacities, the tubular cell electrolyzer systems can generate up to five kilograms of chlorine per hour.
Siemens Water Technologies
www.siemens.com/water
Vortex shedding flowmeters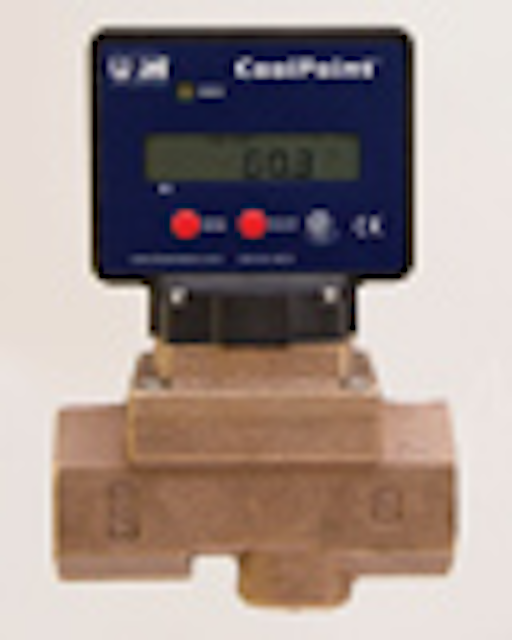 Universal Flow Monitors has developed seven new Battery-Powered CoolPoint™ Vortex Shedding flowmeters for water and low viscosity fluids. Designed for situations where there is no power located nearby or in which it would be cost prohibitive to wire the monitoring station, the Battery-Powered CoolPoint™ runs on 3 AA alkaline batteries or lithium batteries. The expected battery life is six months with the alkaline batteries or two years with lithium. The flowmeters have no moving parts to wear or clog. They will indicate flow rate or total on an LCD screen.
Universal Flow Monitors, Inc.
www.flowmeters.com