NEW LITERATURE
New 4/c, 24 page product guide provides detailed information...
Mar 1st, 2005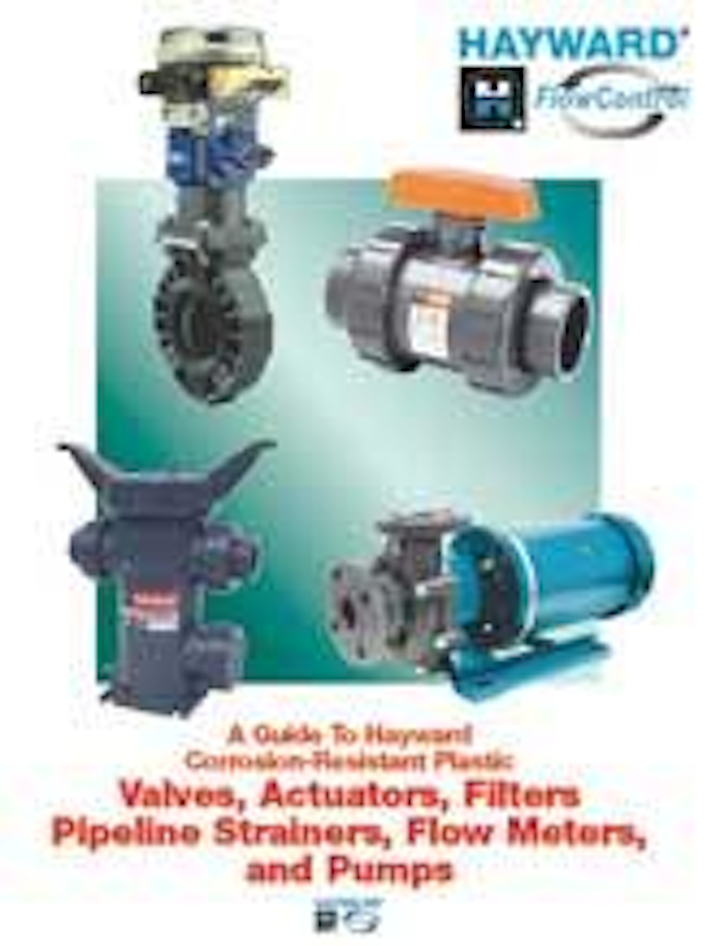 New valve product guide
New 4/c, 24 page product guide provides detailed information on Hayward Industrial quality, all plastic, corrosion resistant Valves, Filters, Strainers, Flow Meters, and Pumps in piping systems - especially in corrosive or ultra-pure applications that require more expensive alloy or lined metal products. A special section describes the many benefits of these products including nontoxicity, extended service life, easy installation, and savings over similar metal products.
Hayward Industrial Products Inc.
Elizabeth, NJ
Tel: 908-351-5400
Web: www.haywardindustrial.com
SS block-style pumps
A catalog is now available for Cat Pumps' Block-Style triplex plunger pump models, which are designed for special applications such as gas turbine inlet cooling, hi-temp liquids, containment of environmentally unfriendly liquids, wastewater re-injection and seawater desalination systems (SWRO). Several models are available providing flows from 1-70 gpm and pressures up to 5,000 psi.
Cat Pumps
Minneapolis, MN
Tel: 763-780-5440
Web: www.catpumps.com
Remote monitoring
RACO Manufacturing and Engineering Co. expands its product line with a new wireless remote monitoring, control and alarm notification system, AlarmAgent.com. This cost-effective, easy-to-set-up service allows users to collect, access and view data from their monitored equipment 24-hours a day, from any Internet-connected appliance via a secure central website. Other benefits include timesaving functionality, improved maintenance scheduling, data reporting and security features.
RACO Manufacturing
Emeryville, CA
Tel: 800-722-6999
Web: www.racoman.com
Centrifuge dewatering system
A new two-page flyer highlighting the USFilter Centrapac™ - a new, turnkey centrifuge dewatering system - is now available. The full-color brochure lists the dimensions of the different models, illustrating the small footprint of this compact system. To create the package, USFilter mounted its Centramax™ centrifuge on a skid with a scroll drive unit, feed pump, flowmeter, discharge screw conveyor, polymer system and a PLC control system.
USFilter Dewatering Systems
Holland, MI
Tel: 616-772-9011
Web: www.usfilterdsg.com
Pulp & paper brochure
Emerson Process Management announces its new Pulp and Paper Industry Solutions application brochure. The new brochure discusses the optimal use of liquid analysis techniques and products to help meet critical challenges in the paper industry requiring maximum efficiency and minimum variability. These include analytical instrumentation and sensors for measurement of pH, ORP, conductivity, and dissolved oxygen.
Emerson Process Management,
Rosemount Analytical Inc.
Irvine, CA
Tel: 800-854-8257
Web: www.raihome.com
Odor control
Bioway America Inc. announces its newly revised web site (www.bioway.com). With U.S. headquarters in New Jersey and world headquarters in The Netherlands, Bioway has installed its products in North America, Europe and Asia. The site offers information on products, installations and much more. In addition, you can submit a form so that the company's technical sales force can evaluate your air or water situation to develop a customized odor elimination solution.
Bioway America Inc.
Marlton, NJ
Tel: 856-988-9414
Web: www.bioway.com
Water, wastewater brochure
A new four page color brochure describes Controlotron's solutions for flow measurement applications in the municipal and industrial water and wastewater industries. Clamp-On and In-Line Transit-Time and Doppler Ultrasonic systems range from simple single meter installations to complete flow metering and/ or leak detection systems for large treatment plants, distribution and collection systems.
Controlotron Corporation
Hauppauge, NY
Tel: 800-275-8479 x227
Web: www.controlotron.com.
Wet weather analysis
ADS Environmental Services introduces Sliicer.com™, a set of online engineering tools designed for examining wastewater collection system dry and wet weather flow data. Sliicer.com provides performance measurements in one-tenth the time of other analysis tools, assuring that rehabilitation dollars can be correctly targeted. Accessible over the Web, using Citrix, Sliicer.com allows the user to: incorporate scattergraph tools; assess the operational capacity of pipe; diagnose upstream and downstream SSOs; and animate the pipe's performance during rain events.
ADS Environmental Services
Huntsville, AL
Tel: 800-633-7246
Web: www.adsenv.com
Product selector
Millipore has announced the availability of its interactive Product Selector, an online tool to help choose an appropriate water purification system. This easy-to-use web tool configures systems for a broad range of laboratory needs ranging from glassware washing to ion chromatography to pyrogen-free ultrapure water. In just four intuitive steps, users select an application, water consumption rate, dispense flow rate and feed water source.
Millipore Corporation
Billerica, MA
Tel: 800-645-5476
Web: www.millipore.com/h2o
Lock system
A full-color brochure is now available on Videx's line of online security enabled locks and locking systems. It includes the CyberKey Authorizer™, which brings network and modem capabilities to its CyberLock® Access Control System - highlighted by the high security CyberLock, an intelligent lock cylinder designed to convert existing mechanical locks into full-functioning access control systems without hardwiring, and CyberKey®.
Videx Inc.
Corvallis, OR
Tel: 541-758-0521
Web: www.videx.com
Visual flow indicators
The broad line of precision-engineered visual flow indicators from L.J. Star Inc. is described in a four-page illustrated product bulletin. Both standard "view-through" and 360° "full-view" designs are included. Among signature features are independent bolted glass retainers, use of tempered borosilicate glass and solid investment-cast metal components. Standard view-through models are offered with a choice of flow indicators: rotator, flapper, drip tube or plain.
L.J. Star Inc.
Twinsburg, OH
Tel: 330-405-3040
Web: www.ljstar.com
Data loggers
Data loggers
Onset Computer Corp., a supplier of battery-powered data loggers and weather stations, has released its 2005 product catalog. The catalog offers detailed product descriptions, specifications and prices for its full line of HOBO®/Stowaway® data loggers, weather stations and Tattletale® logger-controller products. Highlighted are 12 new USB-based data loggers, including the company's first water level logger, and its next-generation graphing and analysis software.
Onset Computer Corp.
Bourne, MA
Tel: 800-564-4377
Web: www.onsetcomp.com/hobo