PRODUCT SHOWCASE
For more effective network management, the new Event Monitor™ Trigger System from Hach makes sense...
Mar 1st, 2005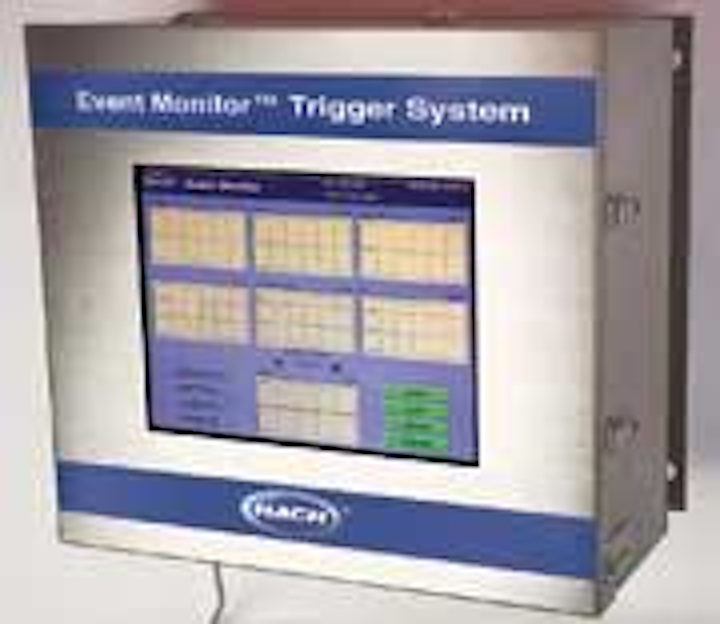 Event monitoring
For more effective network management, the new Event Monitor™ Trigger System from Hach makes sense of reams of remote water quality measurements by "learning" sensor measurement combinations related to network events. Constantly comparing measurements against those in its internal plant event library, the system can immediately alert operators and help system personnel manage normal or unpredicted changes in their water network.
Hach Co.
Loveland, CO Tel: 800-604-3493 Web: www.hach.com
10-inch UF cartridges
Koch Membrane Systems offers TARGA®-10 ultrafiltration cartridges for industrial water treatment applications. These hollow fiber membrane cartridges have a 10" diameter and deliver 60% more product water than conventional 8" cartridges, resulting in significant cost savings. Additional flow per cartridge means systems require 50% less floor space, saving in building costs, and the fewer skids required lowers shipping and installation costs. The larger capacity cartridges also reduce the number of connections, improving reliability and further lowering costs.
Koch Membrane Systems Inc.
Wilmington, MA
Tel: 888-677-5624
Web: www.kochmembrane.com
Gas detector
The new version of Regal's Series 3000 gas detector is available for chlorine or sulfur dioxide. This improvement makes standard many features previously available only as options, including: A single, unpowered and isolated 4-20 mA output circuit board on all single-sensor detectors; and six 10-amp relay circuits consisting of DPDT danger relays, SPDT warning relays, SPDT latch alarm relay, and SPDT horn/failure relay. The monitor includes numeric and four color, 12 LED bar graph displays and individual LEDs to indicate which gas (chlorine or sulfur dioxide) is being monitored. Calibrations are easily performed, and sensor function tests can be performed without setting off alarms.
Chlorinators Inc.
Stuart, FL
Tel: 800-327-9761
Web: www.regalchlorinators.com
Pipeline strainer
New from Hayward Filtration the Model 53BTX pipeline basket strainer offers no hassle strainer basket cleaning and change out. The patented diverter cartridge isolates and seals the out-of-service basket chamber leak tight, simplifying strainer cleaning and changing for the system operator. The strainer is ideal for piping systems that must run continuously or for batch systems that cannot be stopped because the pipeline system flow never has to be shut off for strainer basket cleaning. It's available in sizes from 3⁄4" to 4", with threaded or flanged pipe connections in iron, bronze, carbon steel or stainless steel. Stainless steel strainer baskets with a low pressure drop design are standard and come in perforation/mesh sizes from 1⁄2" down to 400 um.
Hayward Industrial Products
Elizabeth, NJ
Tel: 800-859-9212
Web: www.haywardfiltration.com
Hazardous gas shutoff
Halogen Valve System announces a new dual-torque Terminator Actuator™ that closes and torques hazardous gas 150 lb. cylinder valves in an emergency in three seconds. This microprocessor controlled and sequential operated system applies 30 ft.-lbs. for actuator testing and 40 ft.-lbs. during an emergency situation to the valve stem as recommended by the Chlorine Institute. The Gemini controller has a self-contained battery system that guarantees the operation of the motorized closing mechanism even during a power failure.
Halogen Valve Systems
Irvine, CA Tel: 877-476-4222 Web: www.halogenvalve.com
Corrosion control
Bilco's J-AL Door, ideal for most corrosive environments, is a durable and cost-effective solution for wastewater treatment facilities. Available in single- or double-leaf design, the aluminum door is well-suited to provide access to areas located underground or beneath/ between floors. The door is easily operated by a single person, and functions dependably in harsh environments. Special anti-corrosion hardware includes forged aluminum hinges, a 5086 aluminum cover plate, electrostatically coated compression springs and advanced composite spring housing assemblies. Bilco's exclusive 70 durometer EPDM debris gasket limits dirt and debris from entering the channel frame.
Bilco Co.
West Haven, CT
Tel: 203-934-6363
Web: www.bilco.com.
Ultrasonic sensors
STI's Automation Products Group IRU-2000/3000 family of ultrasonic sensors are now CSA-approved for operation in Class I Division 2, Group A, B, C & D hazardous locations. The group serves the factory automation, semiconductor, transportation, oil and gas, consumer and food processing industries. These ultrasonic sensors provide a reliable, non-contact method of determining distance or level measurements. They offer detection from 1-35 ft. (0.3-10.67 m), and are suitable for a range of applications, including presence/absence detection, proximity detection and level control. The maintenance-free units function well in harsh environments, and aren't affected by the color, translucency, dielectric constant, specific gravity or viscosity of the target.
Scientific Technologies Inc.
Logan, UT Tel: 888-349-7098 Web: www.stiapg.com
Control steam trap
TLV Corp. announces its high performance LEX3N-TZ temperature control trap for steam service. The trap includes a built-in scale removal function, and is ideal for use in tracing applications where low-temperature heating is required. This includes winterization, instrument, and low temperature tracing, freeze control on manifold drains, condensate control on tank coils, and high temperature air venting that allows subcooled condensate. The unit is prohibited for drip application or high temperature tracing (like sulfur or pthalic anhydride). Advantages include scale removal capability, adjustable temp setting (120-390˚ F), longer service life, high energy efficiency, and an inline repairable design.
TLV Corp.
Charlotte, NC Tel: 704-597-9070 Web: www.tlv.com