SCADA & PROCESS CONTROL
Citect announces Switch2Citect, an automated conversion tool for SCADA users to upgrade to CitectSCADA from one or multiple legacy systems with minimal cost and effort.
Mar 1st, 2006
SCADA conversion tool
Citect announces Switch2Citect, an automated conversion tool for SCADA users to upgrade to CitectSCADA from one or multiple legacy systems with minimal cost and effort. Switch2Citect The tool provides upgrades from InTouch, Fix32, iFix, FactoryLink. The company also plans to release more upgrade paths in the near future. This tool it automatically converts most graphics and tag databases to a CitectSCADA system, reducing configuration time from days to hours or even minutes. It also includes features available in the new CitectSCADA V6 release, such as a fully-functional Web Client and the unique Process Analyst, an integrated alarm and trend viewer on a single screen. Citect Inc., Alpharetta, GA, 770-521-7511, www.citect.com/products/switch2citect
Remote control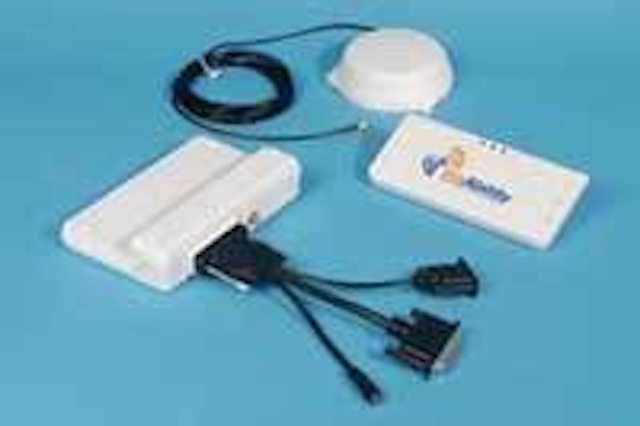 Click here to enlarge image
VizAbility EM, a new remote monitoring and control solution for water quality and wastewater management, provides users with global reach through satellite technology. The satellite-connected monitoring systems deliver information that in the past required personnel to travel to sites that are often miles away from central facilities. It's also designed to integrate with wastewater management systems by remotely monitoring all the key aspects of water plant lift station pumps, retention ponds, water towers, and other key components of water works infrastructure. VizAbility LLC, Cedar Rapids, IA, 319-365-0903, www.remotevizability.com
Mini datalogger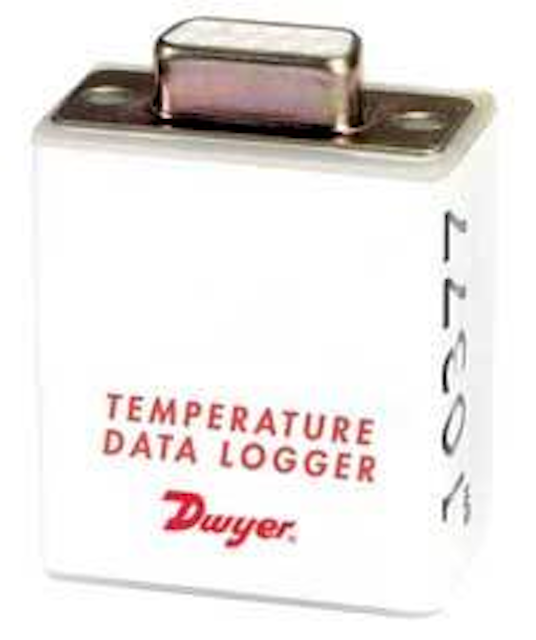 Click here to enlarge image
Dwyer Instruments' Series MDL mini datalogger is ideal for food process verification, pharmaceutical storage, laboratories, transportation of temperature sensitive goods or monitoring equipment run time. The series is designed with a precision calibrated internal temperature sensor. Once the desired information has been recorded, plug the logger into the serial port of a computer and begin downloading and viewing the logged data. Dwyer Instruments Inc., Michigan City, IN, 219-879-8000, www.dwyer-inst.com
Wastewater process monitor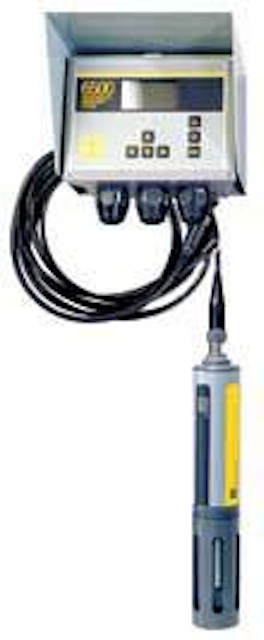 Click here to enlarge image
Dayton, OH's Tri Cities Wastewater Authority plant treats 8 mgd on average, with effluent pumped into the Great Miami River. It took advantage of a YSI 6599 environmental process monitor and YSI 600 XL sonde to ease concerns over operating costs, quality control of data monitoring and complying with permit limits. The sonde is stationed in a trough that contains water pumped from the effluent tank, and continuously monitors pH, DO and temperature, read by the monitor once an hour. YSI Inc., Yellow Springs, OH, 937-767-7241, www.ysi.com/environmental.htm
Offshore monitoring
Click here to enlarge image
MSA Custom Products offers individually designed solutions to customer problems. Its custom gas detection and flow systems are built to customer specifications and combine advantages of various instruments and sensors with electrical and mechanical engineering expertise. It's experienced in bringing a total approach to solving a variety of gas monitoring needs, including hazardous area applications. For combustible gases, toxic gases and oxygen levels, sensing techniques include electrochemical, catalytic bead, solid state and both photoacoustic and non-dispersive infrared (IR) technologies. MSA Custom Systems, Pittsburgh, PA, 800-672-4678, www.msagasdetection.com
Valve actuator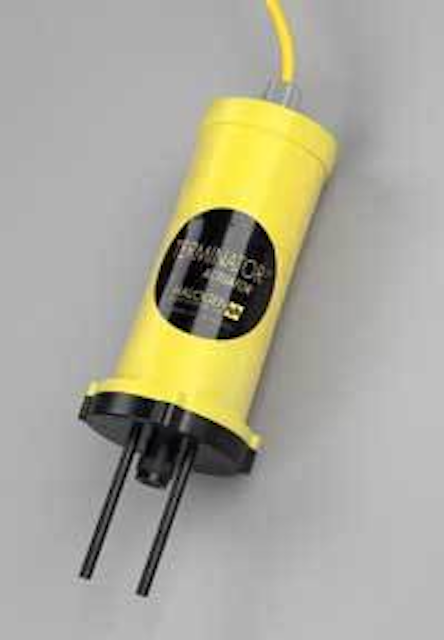 Click here to enlarge image
Halogen Valve Systems' Terminator Actuator™ closes 150 lb. toxic gas cylinder valves in three seconds when activated by remote sensors and switches. This fire-code approved, microprocessor controlled system has a self-contained battery that guarantees operation of the motorized closing mechanism during a power failure. Halogen Valve Systems, Irvine, CA, 877-476-4222, www.halogenvalve.com
ECM integration
Agilent Technologies Inc. and Labtronics Inc. announce the release of LimsLinkECM, an advanced integration solution for Agilent's Cerity Enterprise Content Manager (ECM). The off-the-shelf integration enables Cerity ECM customers to connect to any LIMS. With RS232 data capture, this allows users to share data between Cerity ECM systems and LIMS where previously the systems couldn't communicate. For example, when used with the Agilent ChemLMS LIMS, LimsLinkECM can send document references to the LIMS for later one-click access. Labtronics Inc., Guelph, Ontario, Canada, 519-767-1061, www.labtronics.com
Remote graphics unit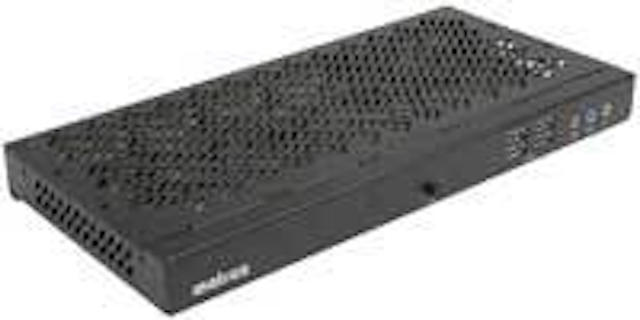 Click here to enlarge image
Matrox Graphics announces Extio™ F1400, the world's first remote graphics unit (RGU). With this solution, the user interface of the computer - the keyboard, mouse, monitors, audio peripherals, and graphics hardware - are separated from the rest of the computer by up to 250 meters (820 ft) of fiber-optic cable. Designed for professional applications, this product supports up to 4 digital or analog monitors at a time, and has passive (fanless) cooling. Matrox Graphics Inc., Montreal, Canada, 800-361-1408, www.matrox.com/graphics
HMI/SCADA automation software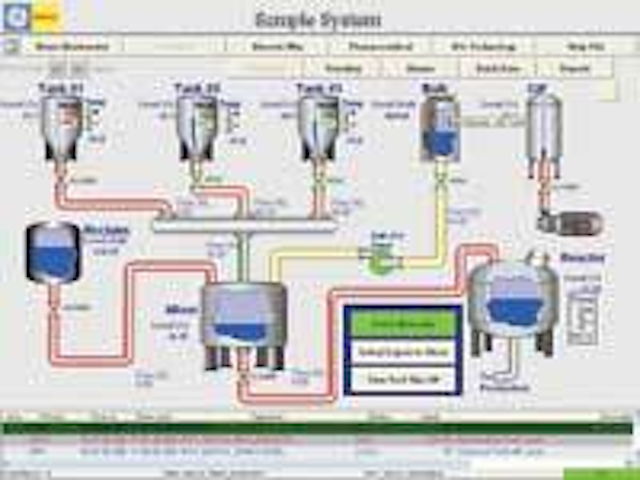 Click here to enlarge image
GE Fanuc's new release of Proficy HMI/SCADA automation software − iFIX 4.0 for monitoring, control and distribution of plant-wide data − is now employed by Singapore's Changi Water Reclamation Plant, one of the largest integrated SCADA systems in the world. The Singapore system will process about 500,000 tags and also uses Proficy Real-Time Information Portal and other GE Fanuc products. The new release provides third-party PLC integration, developer and operator productivity enhancements, and tight integration within the Proficy automation software platform. GE Fanuc Automation Inc., Charlottsville, VA, 800-433-2682, www.gefanuc.com
Wastewater control manual

Click here to enlarge image
Raven Environmental Products now offers its wastewater Process Control Package (PCP) with a 14-page users manual. This package is designed for activated sludge treatment plants. Used to obtain operational information in wastewater treatment operations, it's an effective, affordable solution for industrial as well as municipal wastewater treatment operations. It provides timely data for solids control. Raven Environmental Products Inc., Saint Louis, MO, 800-545-6953, www.ravenep.com
SCADA video surveillance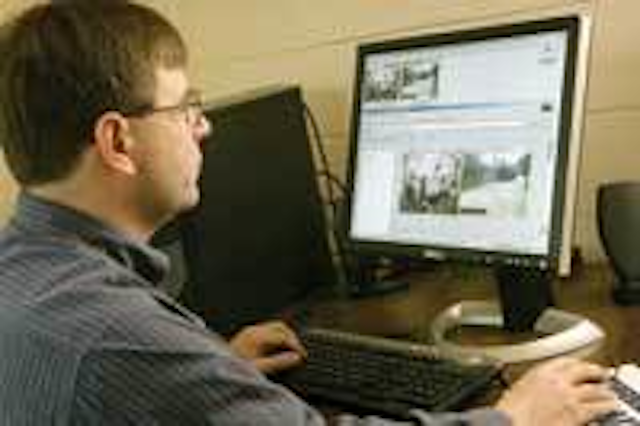 Click here to enlarge image
The Longwatch Video Surveillance System provides operators with the visual information they need to effectively monitor and manage remote facilities, like well fields, pumping stations, and water towers. Operators receive automatic video alarm notification that can be used to verify if an intrusion warrants immediate action, no response or is a false alarm. Until now, installing video surveillance for remote facilities required a new, separate, and expensive communications network to incorporate currently available technology. Longwatch Inc., Norwood, MA, 781-255-7400, www.longwatch.com
RMU logic controller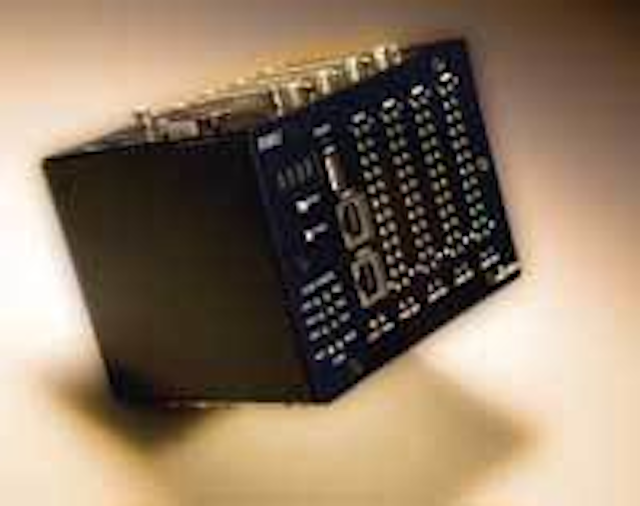 Click here to enlarge image
MKS Instruments, a provider of process control technologies for improving productivity in advanced manufacturing processes, introduces the RMU Linux logic controller - an open, integrated platform for real-time automation control, data acquisition and process monitoring. Based on PowerPC™ and Linux technology with a 4" x 4" x 2.5" footprint, the remote monitor unit is expandable up to four I/O cards (with the ability to add third-party cards). Logic flexibility, based on C/C++ running on Linux, is now broader compared to traditional PLC systems.MKS Instruments Inc., Wilmington, MA, 800-227-8766, www.mksinst.com
PI protocol converter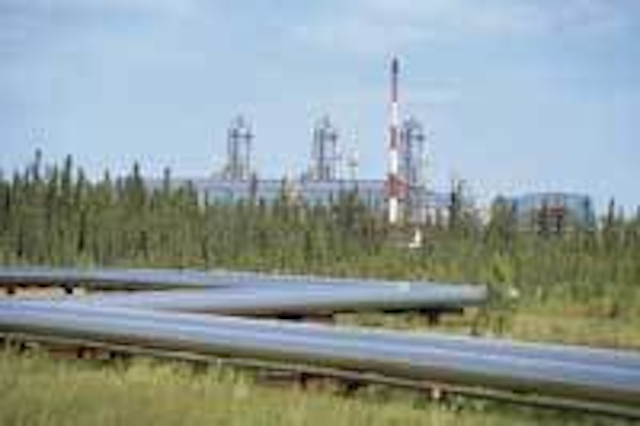 Click here to enlarge image
Emerson Process Management and OSIsoft announce availability of the PI Protocol Converter which continues connectivity of OSIsoft PI System™ and client applications to Emerson's DeltaV™ digital automation system, a key component of the company's PlantWeb® digital plant architecture. The converter gives DeltaV owners a variety of options to integrate two systems, ranging from a single PI DataLink connected to a ProfessionalPlus station in a small plant, to a full PI Enterprise Server integrated into the larger DeltaV system implementations. Emerson Process Management, Austin, TX, 888-752-6893, http://plantweb.emersonprocess.com
Digital flow sensor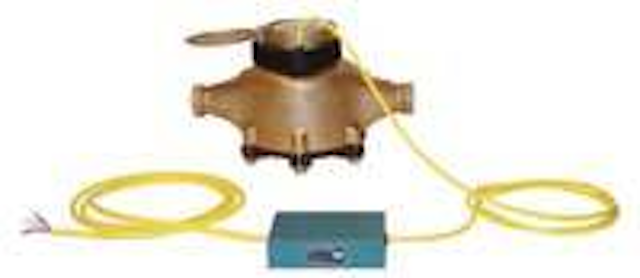 Click here to enlarge image
The submersible Meter-Master Model 20 flow sensor uses a strap-on magnetic sensor to digitize a water meter's magnetic drive signal. The square wave output is available for input into data logging, SCADA, telemetry, process control and other utility management systems. No electrical or mechanical connection to the meter is required. The sensor is compatible with large and small water meters worldwide. It's externally powered and suitable for permanent or portable applications. Other product offerings include Model 60, which provides a 4-20mA output from any water meter. F.S. Brainard & Co., Burlington, NJ, 888-388-3569, www.meter-master.com.
Online water analysis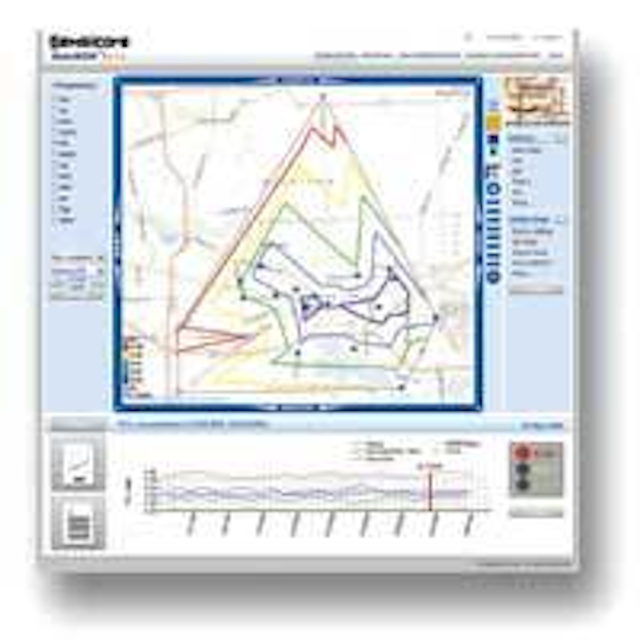 Click here to enlarge image
Sensicore unveils its WaterNOW service, an online monitoring system that enables real-time monitoring of water and wastewater for municipal and industrial applications. The software enables dynamic contouring of water chemistry on a map, much like Doppler weather conditions are presented on TV, which helps users better understand contamination problems using sophisticated plume analysis algorithms. Sensicore, Ann Arbor, MI, 877-528-6333, www.sensicore.com
Harmonic filters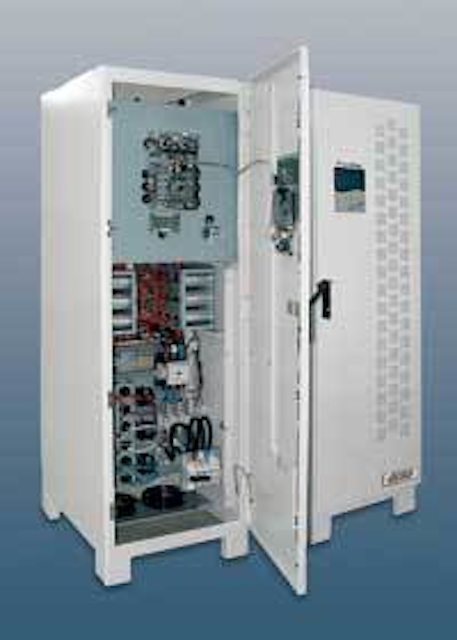 Click here to enlarge image
The new line of StacoSine® Active Harmonic Filters dynamically correct a range of harmonic orders present in most water treatment plants (due to the presence of multiple motors and pumps). They use power electronics to monitor a non-linear load and dynamically correct every harmonic order from the 2nd to the 31st. Through an injection and cancellation process, the sine wave is restored and distortion is reduced to less than 5% THD, meeting stringent IEEE 519 standards. Staco Energy Products Co., Dayton, OH, 866-261-119, www.stacoenergy.com
Wireless interface sensor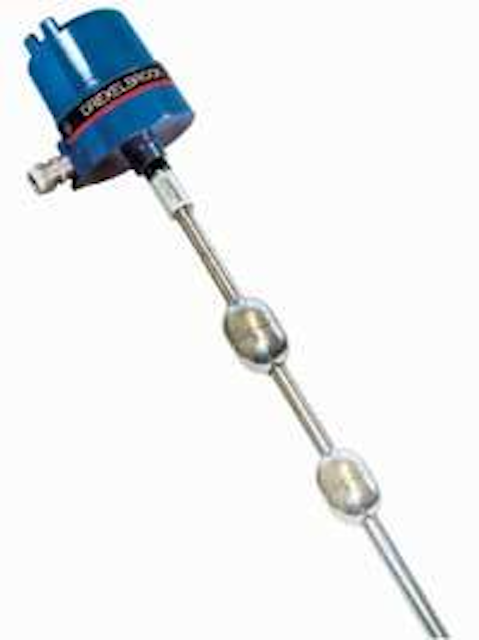 Click here to enlarge image
The DM230 liquid & interface level sensor from AMETEK Drexelbrook is an explosion-proof unit for Class 1, Div. 1 environments with Modbus RTU digital output (and optional analog output converter) for total level, interface level, temperature and system diagnostics - with a wireless interface option. It utilizes field-proven magnetostrictive position sensing technology with all of its measurement circuits integrated into a 5/8" diameter sensing tube. This patented design eliminates need for a bulky electronics enclosure and offers a greater number of options for insertion and mounting on tanks or inside vessels. AMETEK Drexelbrook, Horsham, PA, 215-674-1234, www.drexelbrook.com
Oil industry MBR
MemJet Petro membrane bioreactors meet the petroleum industry's strict environmental regulations and engineering standards. They can be applied to oily wastewater for cooling tower or boiler feed make-up systems to sanitary wastewater for irrigation reuse. Low-pressure membranes at the system's core are designed to remove common petroleum industry wastewater contaminants such as suspended solids, BOD, ammonia and total nitrogen, as well as turbidity, coliforms, and other infectious agents in sanitary applications. USFilter Engineered Products & Systems, Rothschild, WI, 715-355-3524, www.usfilter.com
Flow and temperature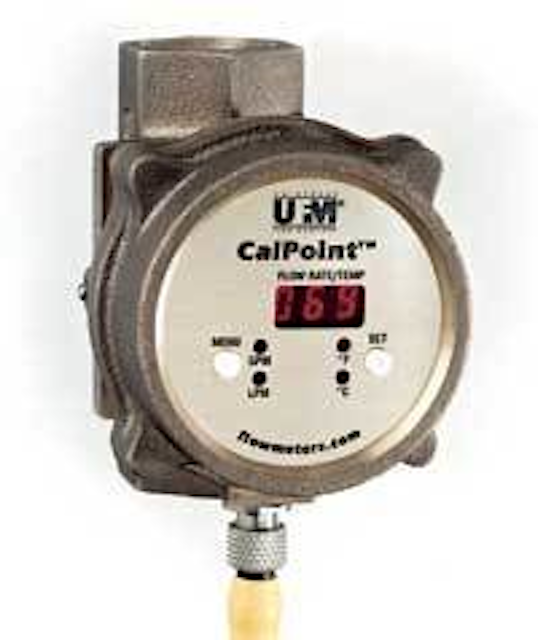 Click here to enlarge image
Offered for water and wastewater treatment applications, Universal Flow Monitors' CalPoint™ vortex shedding flowmeter and temperature transmitter is designed for heat removal applications. It efficiently measures flow rate and temperature in dilution water and similar water treatment applications. Wastewater applications include polymer mixing with water, seal water to pumps, and secondary water for chemical dilution and mixing. It's a version of the CoolPoint™ flowmeter that also can monitor temperature readings and transmit them to a process controller. Universal Flow Monitors Inc., Hazel Park, MI, 248-542-9635, www.flowmeters.com
Cellular, voice alarm reporting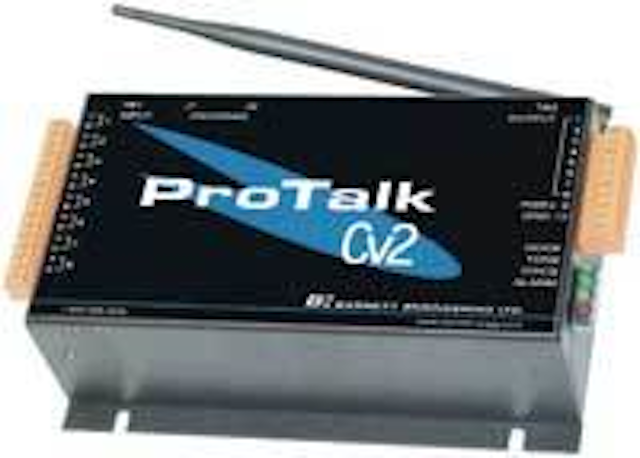 Click here to enlarge image
The ProTalk Cv2, Model B1272D from Barnett Engineering Ltd., a designer and manufacturer of remote site monitoring devices, is now approved for use on Verizon Wireless CDMA network. It integrates the Kyocera 200 module and combines real-time, CDMA wireless communication ability, auto dialing and alarm reporting into a compact and rugged product for unmanned, remote industrial site monitoring. Barnett Engineering Ltd., 800-268-2646, www.barnett-engg.com
Trending software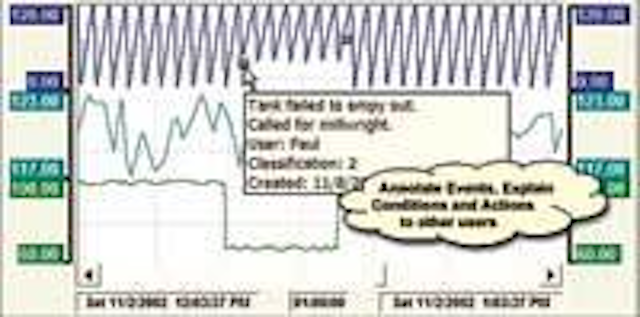 Click here to enlarge image
Canary Labs releases Version 6.1 of its trending software to deliver the vital information from the plant floor to the executive office. Its trending software are the building blocks to Canary's full-service Flite Solutions. Additional features in the V.6.1 release are the data replication session configuration of historians, status of client activity and performance monitoring, and the ability to combine multiple data files for easier data management. With Trend Historian, Trend Export, Trend Link and Trend Web, it complies with the latest OPC standards and specifications, DA (Data Access) and HDA (Historical Data Access). Canary Labs Inc., Martinsburg, PA, 814-793-3770, www.canarylabs.com
Boiler control valve
The new Flowserve Multi-Z severe service control valve is designed to handle high-pressure drop applications where entrained solids are a problem - and is ideal for system start-up and boiler feed water recirculation. The valve features a multistage trim design that eliminates cavitation and provides extended life. The addition of a venturi outlet nozzle provides further trim and seat protection from high velocity, cavitation and flashing. Its linear multistage plug design provides high rangeability and throttling resolution. Flowserve Flow Control, Dallas, 801-489-2393, www.flowserve.com
Wireless remote monitoring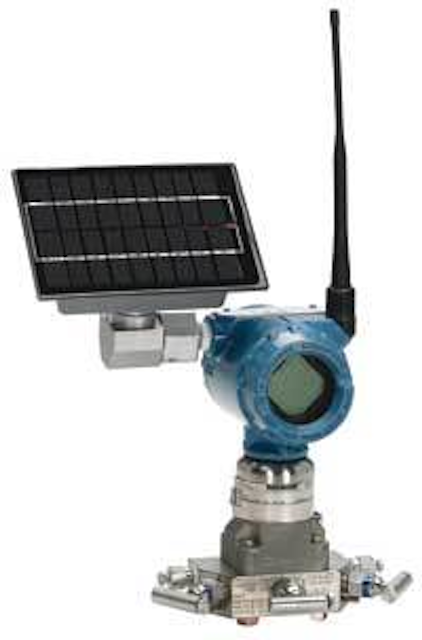 Click here to enlarge image
Rosemount Analytical announces the Rosemount 753R with iTraX® web-based monitoring system. First in the industry to integrate smart sensors, communications and self-contained power into a single packaged solution, the new monitoring system includes intelligent indicators that provide reliable wireless communication of measurement data, alerts, and device health status through established cellular networks. Data is accessed via a secure web interface. This system is ideal for Vendor Managed Inventory (VMI) and remote inventory monitoring applications where avoiding customer tank outages is critical to distributors of industrial gases, specialty chemicals, and fuel. Rosemount Analytical, Chanhassen, MN, 800-999-9307, www.emersonprocess.com/raihome/
Remote monitor, alarm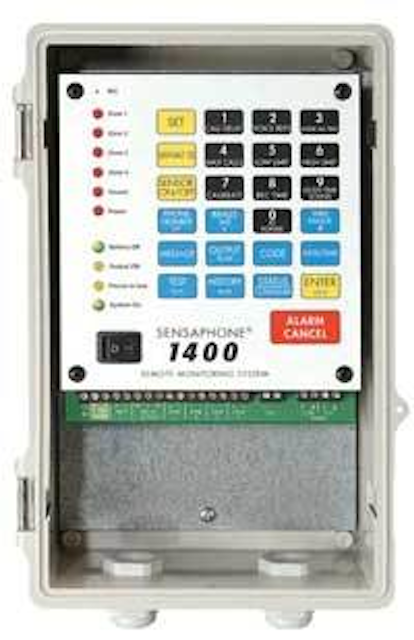 Click here to enlarge image
The new Sensaphone 1400 remote monitor and alarm notification system offers enhanced features, including the ability to sense and alarm on ultra-low temperatures down to -85°C and monitoring of up to four environmental conditions, such as temperature, power, humidity, or water on the floor. When dangerous conditions threaten personnel or equipment, the new system offers alarm notifications for up to eight recipients, alarm history reviews, and remote control capabilities - as well as custom voice messaging on any alarm event. Sensaphone, Aston, PA, 877-373-2700, www.sensaphone.com
Unattended feedback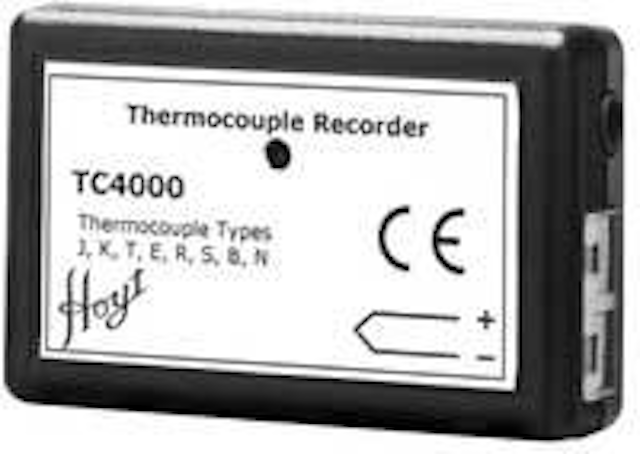 Click here to enlarge image
The new TC4000 data logger is a thermocouple-based temperature recorder. Designed to accept eight different thermocouple types, it fits almost any temperature measurement application, including extreme temperature monitoring, warehouse monitoring, HVAC, medical/pharmaceutical, oven profiling and environmental studies. It offers up to 16 bits of resolution and an internal temperature sensor to monitor and record ambient temperatures. The TC4000 comes standard with an SMP-style (miniature) connector for quick and easy setup. A removable screw terminal input connector is also available upon request. Windows-based software allows users to download and view all data points, which can easily be exported to MS Excel®. Hoyt Electrical Instrument Works, Penacook, NH, 603-753-6321, www.hoytmeter.com