PRODUCTS & SERVICES—SCADA & Process Control
GE Fanuc, a unit of GE Infrastructure, announces Proficy™ Change Management Version 5.0...
Mar 1st, 2005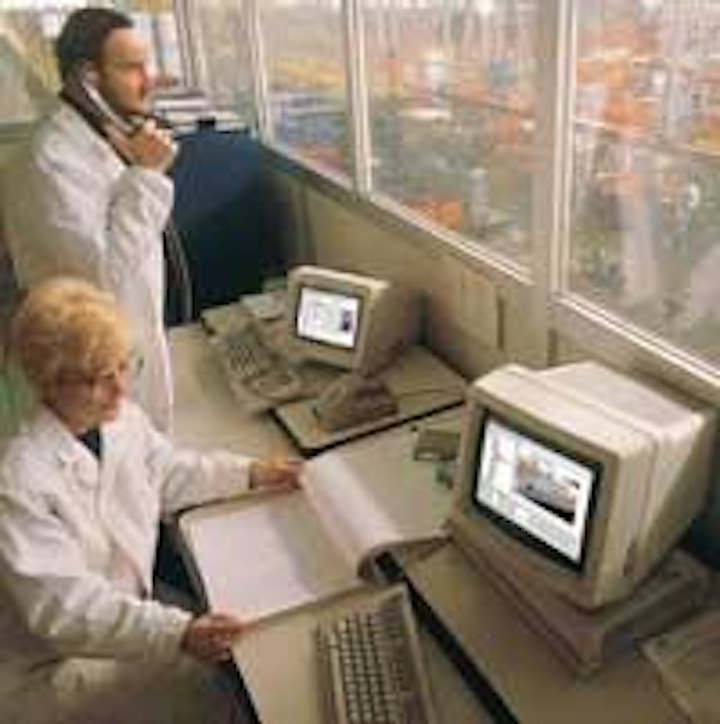 Data asset management
GE Fanuc, a unit of GE Infrastructure, announces Proficy™ Change Management Version 5.0 - a major new version of its plant-wide advanced automation management and control software - which allows users to increase security, productivity, quality and flexibility, while helping companies meet crucial regulatory requirements. This system focuses on managing a company's data assets by monitoring, controlling and protecting the wide range of data generated throughout an operation.
GE Fanuc Automation Americas Inc.
Charlottesville, VA Tel: 800-433-2682 Web: www.gefanuc.com
Greater flow control
George Fischer's new Control Ball Valve features a unique, characterized ball design that creates a gradual change in flow rather than a sudden change typical with traditional ball valve styles. This linear, rather than exponential, flow change offers less pressure loss and greater control for the user, whether manually or through electronic or pneumatic actuation. Available as an option on the new Type 546 Ball Valve, the new control ball features all plastic construction and superior flow characteristics, making it an ideal shutoff valve for aggressive media in a variety of applications.
George Fischer Inc.
Tustin, CA
Tel: 800-854-4090
Web: www.us.piping.georgefischer.com
SCADA solution
Citect, a global provider of production process improvements, won a SCADA system upgrade project by the Nashville Metro Water Services (MWS) to provide engineering services and software in partnership with Edison Automation. The project involves an initial top-end SCADA software replacement of two older systems incorporating HSQ Technology (wastewater collection) and Wonderware software (water distribution), with later upgrades to communications and RTU hardware.
Citect - Americas
Alpharetta, GA
Tel: 770-521-7511
Web: www.citect.com
Pressure transducer
Dresser Instruments presents the new Ashcroft® GT pressure transducer, designed for a broad spectrum of OEM applications. The heart of this new product contains the latest evolution in a planer, micro-machined sensor - of which over 10 million are in service today. The sensor is combined with a custom ASIC that enables digital compensation to performance levels that exceed those of competitive-type products on the market today.
Dresser Instruments
Stratford, CT
Tel: 800-328-8258
Web: www.ashcroft.com
Flowmeter accuracy
Accusonic Technologies, a Division of ADS Corp., offers the Model 7510+ multiple-path chordal transit-time flowmeter. The unit can measure flow bi-directionally in full pipes, open channels, and gravity-flow pipes flowing partially full through surcharged, covering the diverse range of flow measurement and monitoring applications in the water and wastewater industry.
Accusonic Technologies
West Wareham, MA
Tel: 508-273-9634
Web: www.accusonic.com
Explosion-proof pump
Neptune Chemical Pump expands the range of its Series 500 "dia-PUMPs" with explosion-proof motors and NEMA 7 stroke positioners for use in hazardous environments. These hydraulically actuated diaphragm pumps provide leak-free metering of a variety of corrosive, flammable or hazardous liquids. The explosion-proof model is ideal for use in oil-and-gas, CPI and other extreme environments. Removable check valves allows for inspection/cleaning without disconnecting piping.
Neptune Chemical Pump Co. Inc.
Lansdale, PA
Tel: 888-363-7886
Web: www.neptune1.com
Universal process controller
The Eagle Microsystems UPC-1000 universal process controller utilizes all digital electronics to provide high quality, low cost control for your process with a simple, menu driven, four pushbutton operator interface. This full function controller is housed in a NEMA 4X field mountable enclosure, and can perform general PID control as well as specialized flow pacing or compound loop control for water & wastewater chlorination applications. The controller accepts two 4-20 mAdc inputs and produces a single isolated, controlled 4-20 mAdc output.
Eagle Microsystems Inc.
Pottstown, PA
Tel: 800-780-8636
Web: www.eaglemicrosystems.com
Flow electronics
Hoffer Flow Controls presents the CAT Series of flow electronics, a new compact design of flow conditioners, amplifiers and transmitters used in combination with Hoffer turbine flowmeters. This trio of microprocessor-based devices is capable of providing signal conditioning and amplification as well as transmission depending on customer needs. Several enclosure options are available including general purpose with or without DIN rail mount, NEMA explosion-proof and ATEX-approved explosion-proof.
Hoffer Flow Controls Inc.
Elizabeth City, NC
Tel: 800-628-4584
Web: www.hofferflow.com
Process bath regeneration
A new recycling method developed by Goema, a member of the Christ Water Technology Group, permits regeneration of process plating baths containing nickel-zinc alloys without need for chemicals, thus making regular preparation of new baths unnecessary. For this, rinse water containing the zinc-nickel alloy is passed through a specially designed vacuum evaporator. Organic waste substances, dirt particles and the valuable substances are separated from each other and can thus be disposed of separately or re-used.
Christ AG
Aesch Switzerland
Tel: +41-61-755 83 64
Web: www.christwater.com
Industrial pH electrode
SensIrOx Inc.'s new InpHO™ Probe provides effective pH measurement in extreme temperature and pressure conditions. Stable response over a wide pH range is achieved with a proprietary process for depositing an oxide layer on an iridium indicator electrode. If a combination electrode is required, an optional silver/silver chloride reference electrode is mounted into the same robust package. A polymer coating also can be applied to the indicator and reference electrodes to decrease interference from reducing agents in long-term monitoring applications where rapid response time isn't essential.
SensIrOx Inc.
Columbus, OH Tel: 614-985-0667 Web: www.sensirox.com
Conductivity sensor
The Sensorex GEN 2 OEM toroidal (inductive) conductivity sensor is now available. Molded in Polypro, it features a wide measurement range and simplified installation. It's ideal for trouble-free operation in applications where corrosion, coatings, and fouling are a problem. The sensors are submersion ready by utilizing the 3/4'' MNPT threads on the sensor itself. For in-line installation, a new molded CPVC tee with tongue in groove alignment assures sensor is always mounted for optimal performance.
Sensorex
Garden Grove, CA
Tel: 714-895-4344
Email: scott@sensorex.com Web: www.sensorex.com
Isolators, signal splitters
Acromag's new 630T Series AC/DC-powered 4-20mA loop isolators and signal splitters provide an economical and space-efficient solution to eliminate ground loops, filter signal noise, and block high voltage surges. These inch-wide single/dual-channel isolators receive 4-20mA inputs and provide fully isolated 4-20mA output signals. Signal splitter models provide two identical outputs from a single input. A built-in excitation supply delivers power for 2-wire transmitters or other input loop devices to eliminate the cost of external power supplies. The isolator power requirement is very flexible, operating off either 90-250V AC or 15-36V DC with a 4-wire connection.
Acromag Inc.
Wixom, MI
Tel: 800-881-0268
Web: www.acromag.com
Pump inlet stabilizer
Since 1976, Blacoh has optimized the discharge side of pumping systems to remove virtually all hydraulic shock, enhancing all-around performance and reliability of fluid flow. With addition of its patented "J" Model inlet stabilizer, the company further maximizes your entire pumping system. The patented stabilizer was designed specifically for the inlet side of all pumps and improves inlet flow conditions, insuring adequate flow into the pump and extending the service life of all inlet system components.
Blacoh Fluid Control
Riverside, CA
Tel: 800-603-7867
Web: www.blacoh.com
Check valves
Spence Strainers International announces its cast iron, carbon steel and stainless steel flanged- and wafer-style silent check valves. SSI Silent Check Valves are ANSI Class 125, 150 and 300 lbs, for use in the HVAC, power, process, chemical, oil and gas, pulp and paper, metal and mining and water and waste industries. Ideal for applications when silent operation and cost are of major concern, they can be mounted vertically or horizontally to prevent flow reversal while eliminating water hammer and system surges normally associated with the sudden stoppage of a reverse flow.
Spence Strainers International
Walden, NY
Tel: 800-398-2493
Web: www.ssiequipment.com
CIS software
Innoprise Software has announced the release of new Customer Information System (CIS) software. Innoprise CIS is the first package in a suite of fully integrated enterprise software solutions being developed by the company to meet the evolving business needs of utilities and local government agencies. The first such solution that's based on a Java™ 2 Platform, Enterprise Edition (J2EE™) service-oriented architecture and a multi-tiered Internet-native architecture, the software offers enterprises the ability to unify customer and financial data and business processes across all departments, divisions and systems.
Innoprise Software Inc.
Orlando, FL
Tel: 407-277-0176
Web: www.innoprise.com
Modbus interface
Found in many different industries (food processing, mining, petrochemical, and pulp and paper), ProSoft Technology's Modbus and Modbus Plus communication modules are a fast, easy way to connect Modbus and Modbus Plus networks to the Allen-Bradley ContolLogix System. When the power of the ControlLogix processor is combined with flexibility of Modbus and Modbus Plus modules, users see quick benefits in time and cost savings, and simple start-ups that result when products are designed to work together. Ideal for SCADA and Foreign Device interface applications, the Modbus modules have independently configured Modbus ports that operate as Master and/or Slave with full radio, modem, and multi-drop support.
ProSoft Technology
Bakersfield, CA
Tel: 661-716-5100
Web: www.prosoft-technology.com
Telemetry solution
Altivia's A-Tracks™ telemetry solution is a sophisticated remote monitoring and control system designed to meet the unique needs of the water industry. Each unit can monitor up to 16 flow, level, or pressure sensors, provide high/low level alarms, leak detection, and is capable of controlling up to four pumps or valves. Control can be adjusted automatically based on time-of-day/season, or in calculated response to another input such as temperature or pressure. A Modbus interface allows easy integration into existing SCADA systems. This unit provides a comprehensive monitoring and control solution for the water industry: equipment, on-site installation, remote communications, 24x7x365 access through a custom-built web application, and ongoing maintenance.
Altivia Corp.
Houston, TX
Tel: 1-866-258-4842
Web: www.altivia.com
Fieldbus power hub
New from Pepperl+Fuchs comes the FieldConnex™ Fieldbus Power Hub (FPH), the latest component-level solution to its FieldConnex™ Fieldbus Installation System. This modular power supply system for Foundation Fieldbus (FF-H1) provides multiple power supplies for Fieldbus devices via digital data lines. This consists of a motherboard with single or redundant plug-on modules.
Pepperl+Fuchs
Twinsburg, OH
Tel: 330-486-0002
Email: sales@us.pepperl-fuchs.com
Flow control
The FLR2000 Series meters and FLV-2000 Series controllers from Omega Engineering offer a solution for real-time metering and control of chemicals that are dosed, injected, pumped or dispensed. Flow ranges of 0.1-400 gph at pressures from 20-300 psi meet the general range of use in water, wastewater, industrial, CPI, food and beverage, and pharmaceutical marketplaces.
Omega Engineering Inc.
Stamford, CT
Tel: 203-359-1660
Web: www.omega.com
Sludge pump
Watson-Marlow Bredel offers the SPX50 pump, which is suitable for feeding primary or thickened sludge to digesters or filter presses. The pump offers continuous operation, the ability to handle abrasive sludge and ease of integration into control monitoring and alarm systems. Advanced hose technology enables the pump to handle corrosive chemicals dependably for a long period of time. Unlike other pump types, the highly abrasive nature of sludge, corrosive acids and gaseous chemicals do not affect the pump life of the hose pump. Peristaltic hose pumps use only one wearing part: The hose.
Watson-Marlow Bredel Pumps
Wilmington, MA
Tel: 800-282-8823
Web: www.wmbpumps.com
Polymer blending
Fluid Dynamics has introduced the new dynaBlend™ B series polymer blending and activation system. The series uses a non-mechanical, high-energy polymer activation technology. The systems are compact and yet offer a wide range of standard control package to meet most any need.
Fluid Dynamics Inc.
Rockford, IL
Tel: 815-654-2501
Web: www.fluiddynamicsinc.net
Photoionization monitor
Photovac's new 2020PRO' photoionization monitor is a portable, ergonomically designed instrument providing users with onsite, rapid VOC detection in air, water and soil. The compact unit is ideal for a wide range of applications, including OSHA compliance, confined space pre-entry, emergency response, site characterization, fugitive emissions and law enforcement. It's classified as intrinsically safe in North America and Europe for use in potentially explosive environments.
Photovac Inc.
Waltham, MA Tel; 781-290-0777 Web: www.photovac.com/pr
Color-coded jacks
Tyco Electronics, a business segment of Tyco International Ltd., has expanded its AMP Netconnect MT-RJ Secure™ connector product line with six new, color-coded and keyed, outlet and patch panel jacks. The new colors are rose, aqua, brown, violet, orange and slate, which (along with the original colors: red, yellow, green and blue) increase the product line to 10 secure jack options. These products feature color-coded, mechanical keyed jacks, which mate only with like-colored plugs to minimize connection to wrong networks and chances of improper connection of segregated networks.
Tyco Electronics
Harrisburg, PA
Tel: 800-522-6752
Web: www.ampnetconnect.com
Digital valve positioner
Flowserve Corp.'s PMV D3 digital valve positioner has added Foundation™ Fieldbus support and gained ATEX EEX approval as an explosion-proof device. The high-performance D3 is designed for control of linear and rotary control valves with applications in a variety of industries and processes, including oil and gas production and refining, pulp and paper, and food processing.
Flowserve Corp.
Dallas, TX
Tel: 281-292-7500
Web: www.flowserve.com
Ethernet switches
Weed Instrument introduces a series of new managed Ethernet switches, designed to meet stringent industrial requirements, with three levels of management properties for a range of applications. The ideal choice where temperature, vibration and insulation are critical, the L100 LynxSwitch features light management properties. The L300 offers standard management properties and features Weed's Fast Re-configuration of Network Topology (FRNT v0) concept for single redundant ring applications and fast reconfiguration time (20mS).
Weed Instrument Co. Inc.
Round Rock, TX
Tel: 512-434-2850
Web: www.weedinstrument.com
Cooling tower controls
Cole-Parmer Instrument introduces a new line of Cole-Parmer® pre-assembled cooling tower control systems. Customize a system to fit specific requirements or select from one of four standard systems: basic conductivity system; basic ORP and conductivity system; basic pH and conductivity system; or advanced pH, ORP and conductivity system. Place these systems in almost any location. Simply attach the PVC back plane with four bolts, join the inlet/outlet and chemical connections, and plug into a power outlet.
Cole-Parmer Instrument Co.
Vernon Hills, IL
Tel: 800-323-4340
Web: www.coleparmer.com/856
Overflow safety switch
Little Giant Pump Co., a subsidiary of Tecumseh Products Co., introduces its Little Giant® ACS-4 auxiliary condensate overflow safety switch to help prevent flooding caused by clogged air conditioning condensate drains. The new switch detects downstream clogs and shuts off the air conditioning unit before flooding occurs. It can be installed to activate audible and/or visual alarms, as well.
Little Giant Pump Co., a Tecumseh Products unit
Oklahoma City, OK
Tel: 8880956-0000
Web: www.lgpc.com
Point level controls
Princo Instruments Inc. recommends its new low-cost L2000-OEM Null-Kote™ point level controls for OEM and other systems integration applications. With its no-moving-part design, the unit is a much better alternative to moving part level controllers and switches such as paddle wheels and tuning fork-based controls that may get clogged or jammed by materials. The RF impedance controller employs special circuitry to cancel out any effects of coatings on the sensing probe.
Princo Instruments Inc.
Southampton, PA
Tel: 800-221-9237
Web: www.princolevelcontrols.com
Liquid flowmeters
J-TEC Associates carries a line of ultrasonic vortex flowmeters that now extends to liquid applications not limited to water, chemicals and HVAC. It's been a leader in the field of vortex technology since 1968 and is well-known for air, gas and steam flowmeters for use in process control and automotive field tests.
J-TEC Associates Inc.
Cedar Rapids, IA
Tel: 800-959-0872
Web: www.j-tecassociates.com
Turnkey SCADA monitoring
From full, always-on wireless SCADA and in-sewer monitoring systems to vehicle tracking and rainfall monitoring systems, Mission expands its low cost products that are simple enough to be up and running in a morning. All systems include a website, display & graphics software, alarms to anything, reports, built-in site security and maintenance logs, and pump runtime/ starts analysis with automatic alarms if they aren't running right.
Mission Communications
Norcross, GA
Tel: 877-993-1911
Web: www.123mc.com
Flue gas analyzer
E Instruments' new GreenLine Model 8000 flue gas analyzer incorporates advanced electrochemical technologies with NDIR (EPA CTM-022) to monitor combustion efficiency, safety and environmental emissions in all combustion process applications: O2, CO, CO%, NO, NO2, SO2, CO2, CxHy and H2S; efficiency, velocity, draft, Tambient, Tgas, COambient and RH%. It's one of the first capable of monitoring LO-NOx & True NOx. A detachable, handheld remote control unit communicates with the main gas sampling unit via an RS422 link and can operate at a considerable distance (over 2,500 feet away).
E Instruments Group
Langhorne, PA
Tel: 215-750-1212
Web: www.einstrumentsgroup.com
Remote automation
TelemetrySCADA, an affiliate of Princo Instruments Inc., introduces the TBox-MS, a modular, high-power, and flexible remote automation solution. This system enables remote event monitoring, alarm management, multi-communications, and interfacing with all types of local equipment. The TwinSoft™ configuration software is user friendly and contains all tools needed to create the telemetry functions.
TelemetrySCADA
Southampton, PA
Tel: 800-221-9237
Web: www.telemetryscada.com