Automated Chemical Dosing via Flexible Screw Conveyor Improves Filtration
Oberlin Filter Co. is a Waukesha, WI-based manufacturer of high pressure flat-bed, liquid-solid filtration systems for demanding applications...
Sep 1st, 2006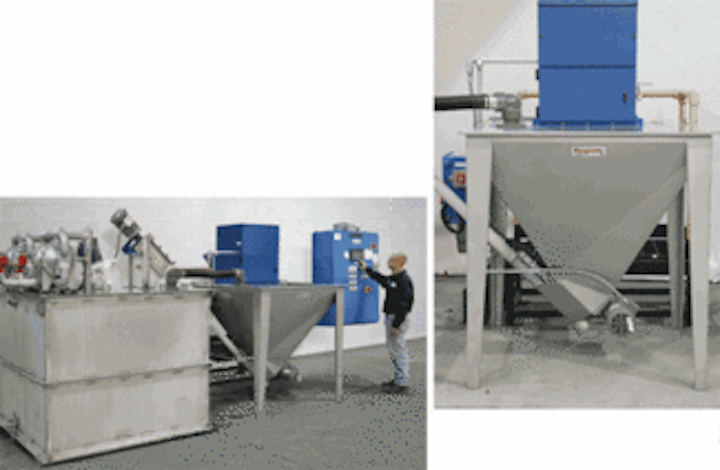 Oberlin Filter Co. is a Waukesha, WI-based manufacturer of high pressure flat-bed, liquid-solid filtration systems for demanding applications such as filtering heavy metals and resins from colloidal suspensions. Its top-of-the-line DMaxTM filtration system, which cleans "impregnation resin" wastewater, requires a dry chemical delivery system that provides more precise, cleaner and safer dosing than achievable using manual methods of delivery.
"The key to dropping out heavy metals and separating resins from colloidal suspensions is to introduce exactly the right dry ingredient into the wastewater - consistently and in large volumes," explains Jeff Koepnick, Oberlin Filter's project manager, "precisely what Flexicon's flexible screw conveyor accomplishes."
Chemical Precision
The DMax system integrates Oberlin pressure filter technology with a pre-treatment process that uses a flexible screw conveyor to introduce precisely measured amounts of dry chemicals into the wastewater, without the spillage or dust associated with manual dumping. The chemicals cause minute waste products to clump together as larger solids, or flocculate, which can be filtered out for discharge or disposal as dry cake. The cleaned wastewater can be continuously re-used in the original application or discharged as cleaned and permitted water.
Matching Conveyor to Process
"We researched numerous conveyor systems before determining that a flexible screw conveyor would be the best answer for consistent delivery of a variety of large quantities of dry chemicals. Our engineers chose the flexible screw conveyor because it can convey vertically as well as horizontally. It's durable and can accommodate small configurations," says Koepnick.
Oberlin Filter looked at competing units and selected a flexible screw conveyor from Flexicon Corp.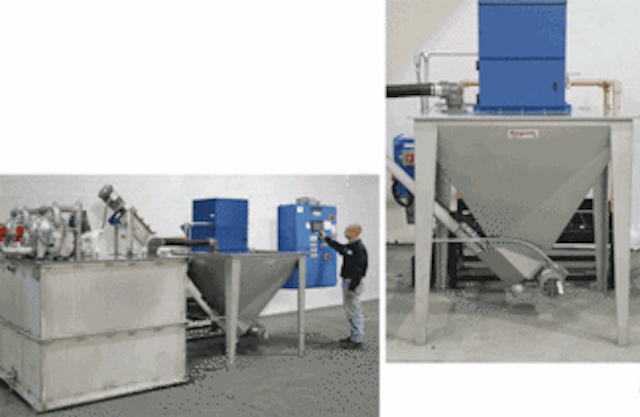 Oberlin Filter's DMax filtration system features an automated dry chemical delivery system that provides more precise dosing than possible with manual methods. A hopper and flexible screw conveyor from Flexicon Corp. deliver dry treatment chemicals to the wastewater holding tank.
Click here to enlarge image
"We knew we had to have a conveyor that was built tough, required little or no maintenance, and could reliably convey whatever quantities and kinds of dry chemicals were needed," Koepnick adds. "Flexicon ran our DMax process in its test lab demonstrating that the conveyor would deliver our dry ingredients according to specifications - and they did the same in our plant. We knew exactly how the conveyor would perform before we bought anything."
The company purchased a Flexicon Model 1250 conveyor with a 3-in diameter x 10-ft long tube. The conveyor, combined in-line with Oberlin's smallest filter and tanks, results in a machine train that's 6 ft wide x 27 ft long. When treatment of large (8-ft) tanks of water is required, Oberlin adds a Flexicon bulk bag discharger to the filter system to deliver large quantities of dry chemicals.
Enclosed, dust-free conveyor improves plant hygiene
According to Koepnick, "The conveyor has only one moving part that contacts the dry chemicals - a durable, replaceable, flexible screw that's driven by an electric motor."
As the screw rotates, the chemical is propelled forward, and the screw self-centers within the conveyor tube. A removable clean-out cap at the intake end of the tube allows it to be emptied, flushed, disassembled and washed - precluding cross contamination if multiple chemical agents are used.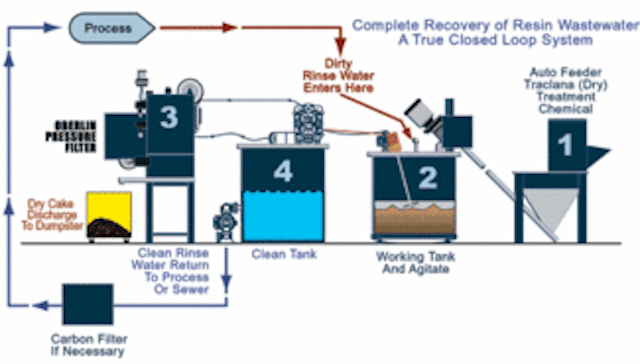 Click here to enlarge image
The working tank is equipped with high- and low-level sensors that signal a PLC to automatically control the material feed, thereby delivering the correct amount of dry chemicals while eliminating the need for manual dumping and the risk of spillage and dust.
Koepnick says some cleaning systems require up to 50 pounds of dry chemicals per day, which previously required workers to lift heavy bags of material overhead for dumping into small hoppers atop large tanks, creating dust and spillage. The conveyor's hopper, with a dump height of less than 4-ft (122 cm), averts that problem.
Although the treatment chemicals are non-toxic and non-hazardous, Koepnick says, "Customers are happy that their wastewater clarification system doesn't incur a dust problem.
"Most companies discharge cleaning water at the end of the day," he concludes, "but the addition of automated conveying to the system enables our customers to re-use wastewater and/or discharge cleaner wastewater, reducing both cost and environmental impact."
Oberlin's DMax system has been used successfully to treat heavy metal, emulsified, vibratory and color dye wastewater. The company's basic line of filtration equipment has been an integral part of precision grinding coolant technology, automotive paint/zinc phosphate lines and power plant salt crystallization systems for over 35 years.
About the Author: David Boger is sales manager at Flexicon Corp., of Bethlehem, PA. He holds a bachelor's degree in chemical engineering from Rensselaer Polytechnic Institute in Troy, NY. Contact: 888-353-9426 or sales@flexicon.com.