Process Water Recycling: New Regeneration Method for Zinc-Nickel Electrolytes in Plating Operations
To ensure best results, plating process baths containing zinc-nickel alloys have to be discarded after being used for a certain period of time.
Jan 1st, 2005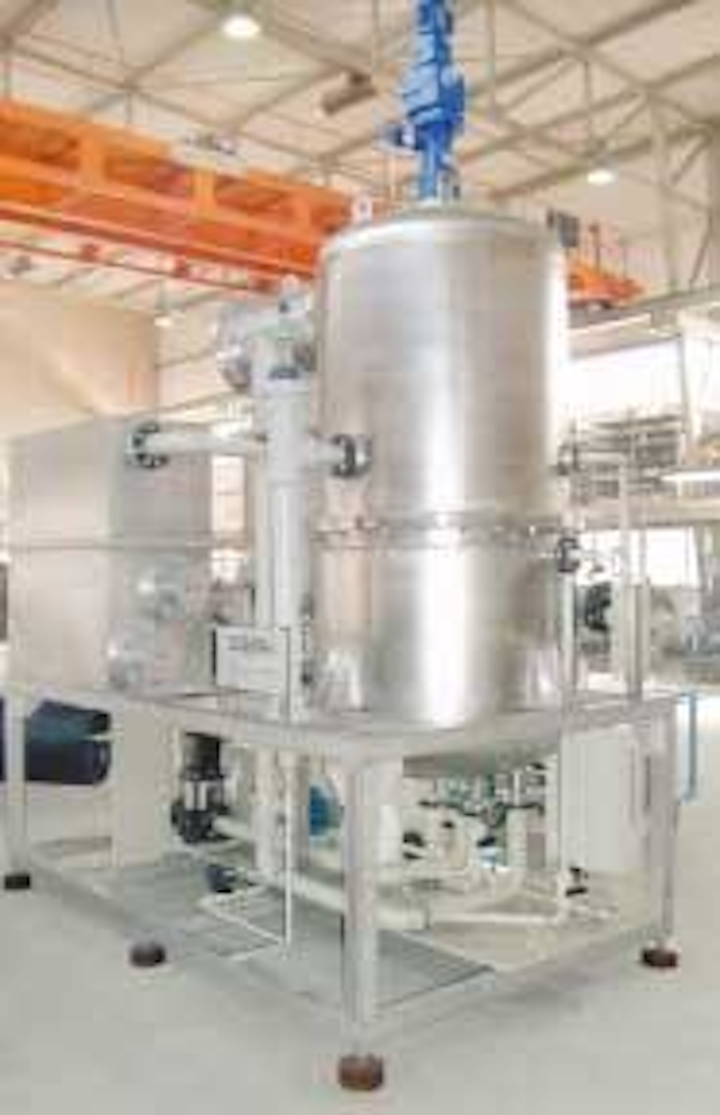 To ensure best results, plating process baths containing zinc-nickel alloys have to be discarded after being used for a certain period of time. But a new recycling method developed by Goema, a German business unit of the Christ Water Technology Group, of Aesch, Switzerland, permits regeneration of such baths without the need for chemicals, thus making the regular preparation of new baths unnecessary.
For this, the rinsing water containing the zinc-nickel alloy is passed through a specially designed vacuum evaporator. This process is not based on filtration, but on thermal separation under vacuum and is run with a temperature of below 50°C. Organic waste substances – dirt particles and the valuable substances like zinc and nickel – form phases and are separated from each other. Thus they can be disposed of separately or re-used. The distilled water and the zinc-nickel electrolyte are returned to the bath, resulting in a fully closed circuit.
About 90% of the valuable substances are recycled, while retaining their constant high electrolyte quality. Furthermore, no additional chemicals are needed. The system also needs no additional rinsing water and generates no wastewater. Therefore costly wastewater treatment becomes unnecessary. The compact, space-saving system is constructed from stainless steel and is available in various versions with outputs of 50 to 5,000 L/hr.
The continuous regeneration of the zinc-nickel electrolyte ensures uniform precipitation of the zinc-nickel alloy and thus a constantly good bath and coating quality. The electrolyte can be used at an optimum and constant current. The vacuum evaporator operates independently, either with its own heat pump and a power consumption of about 80 to 160 kWh/m3 or conventionally from the mains supply with a power consumption of about 18 kWh/m3.
The complete system, which is based on a modular design, runs automatically under control of a PLC (programmable logic control) unit. This permits the permanent monitoring and recording of all important process parameters. Automatic cleaning systems and the precise calculation of the necessary heat-exchanger areas and inlet temperatures ensure that the system needs little maintenance.
The development of the method for regeneration of zinc-nickel electrolytes was sponsored by the German Federal Ministry for Education and Research.
For more information, contact Beate Scheiffelen of Goema GmbH in Vaihingen/Enz, Germany, at +49-7042 910 261 or vertrieb@ goema.de. Goema – whose focus is process water – and Tenergy Christ Water LLC, of New Britain, Conn., are part of the Christ Water Technology Group, which is a unit of BWT Group of Mondsee, Austria. You may also visit www.goema.de or www.tenergychrist.com. IWW
The new zinc-nickel recycling method greatly reduces the consumption of chemicals and the production of solid and liquid wastes which result from the regeneration of process baths. The system, which needs little maintenance, permits full recycling of the active substances and thus economical production.