Pipe & Related Products
The Hole Master™ hole cutting base (HCB) provides a means of clamping onto pipe and using a drill to cut a hole in a pipe.
Jul 1st, 2003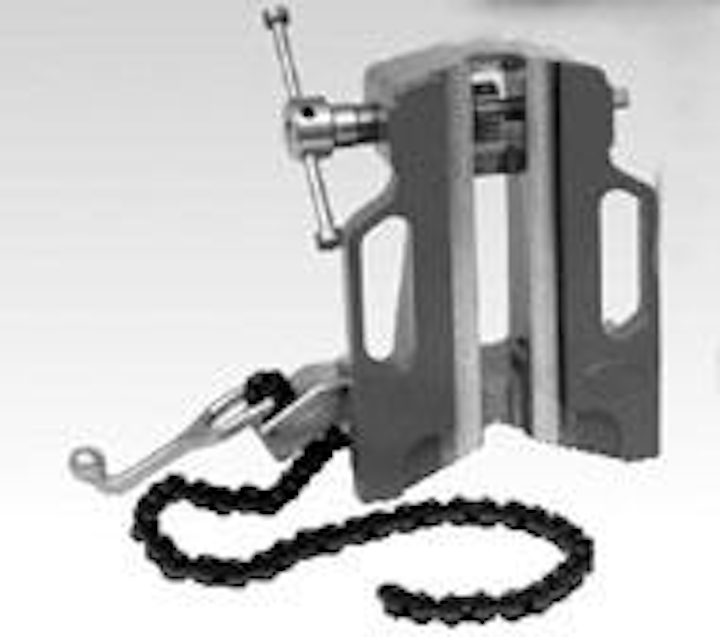 Hole cutter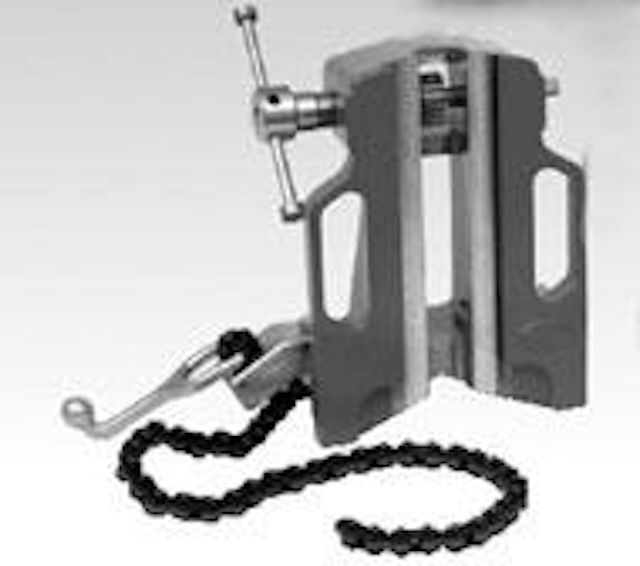 Click here to enlarge image
The Hole Master™ hole cutting base (HCB) provides a means of clamping onto pipe and using a drill to cut a hole in a pipe. The tool comes with base, chain and screw for clamping securely onto pipe. The base plate and drill holder allow mounting a drill with a hole saw. The handle and gear provide leverage for cutting holes. The unit requires a hole saw or bit (sold separately). It is designed for use on depressurized piping systems only.
Reed Manufacturing Co.
Erie, PA
Tel: 800-666-3691
Web: www.reedmfgco.com
Pipe coupling system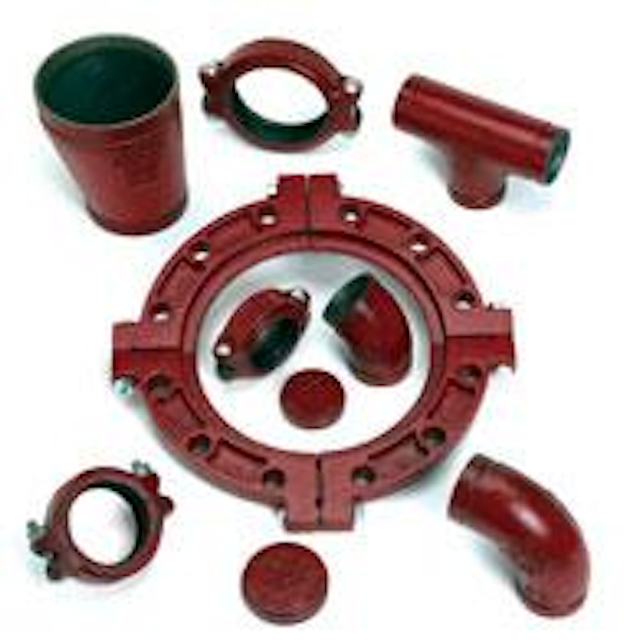 Click here to enlarge image
The new AWWA compliant Gruvlok® pipe coupling system, from Anvil International, allows grooved ductile iron piping to be installed in substantially less time than conventional threaded or flanged connections and is engineered to comply with ANSI/AWWA C606. Use of the system significantly reduces installation and maintenance time, and allows pipes and equipment to be rotated a full 360° at each coupling, or removed without having to disturb other parts of the system.
Anvil International, Inc.
Portsmouth, NH
Tel: 603-422-8000
Web: www.anvilintl.com
Flexible ball joints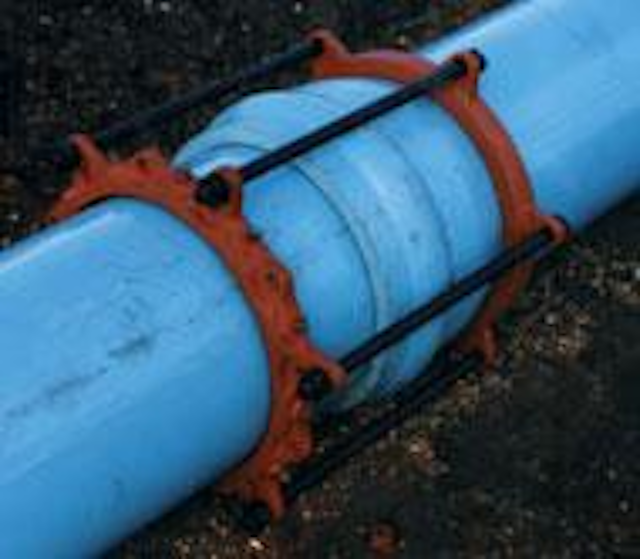 Click here to enlarge image
For pipeline protection against damage from bending movements where protection against linear expansion is not required, the FLEX-900 Flexible Ball Joint from EBAA Iron provides a minimum of 15 degrees of deflection for pipeline connections in sizes of 4'' through 12.'' The joint is available with a choice of mechanical joint, flange, restrained PE or any combination of connections. Each unit is manufactured entirely of 60-42-10 ductile iron and conforms to the material and other applicable requirements of ANSI/AWWA C153/A21.53. In addition, each joint receives a 15-mil, fusion-bonded epoxy lining for corrosion protection.
EBAA Iron Sales Inc.
Eastland, TX
Tel: 800-433-1716
Web: www.ebaa.com
Pipe elbows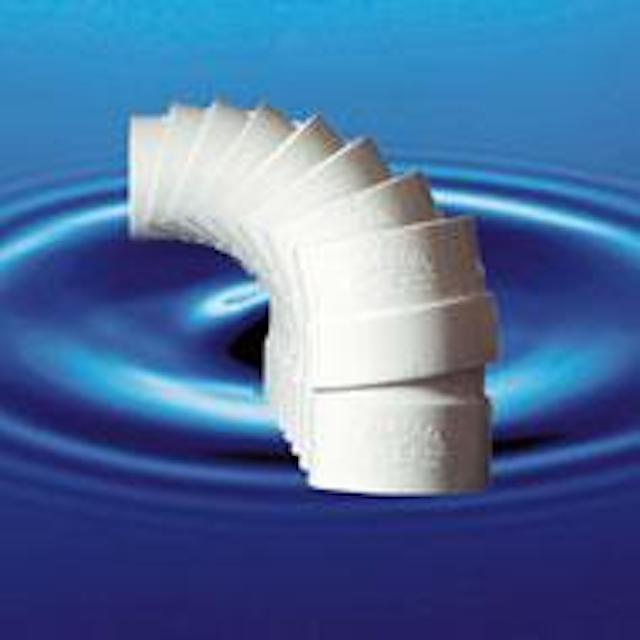 Click here to enlarge image
Image Components offers a new pipe elbow with a selectable angle. The All-Bend® two-piece rigid PVC elbow can be cut and assembled to any angle between 22 1/2 and 90 degrees. (Smaller angles for DWV). This unique ability provides installers with flexibility while simplifying the fitting of custom angle joints. The elbows are currently available in four sizes (1 1/2'', 2'', 3'' and 4'') in PVC. They meet ASTM standards for Schedule 40 pressure applications and potable water. Joints are made with standard solvents and cements.
Image Components, Inc.
Philadelphia, PA
Tel: 888-255-2363
Web: www.allbend.com
Concrete corrosion protection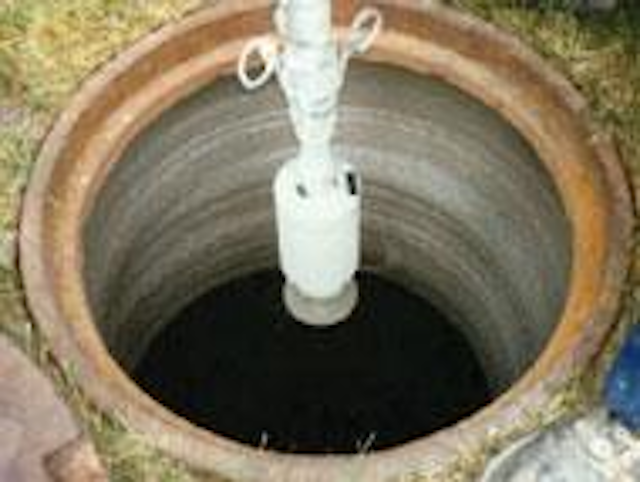 Click here to enlarge image
CON(mic)Shield®, available from AP/M Permaform, is designed to prevent corrosion in concrete sewer structures. The liquid admixture can be incorporated into repair mortars as well as new concrete for pipe, manholes and similar sewer structures. It prevents the growth of the T. bacteria that creates acid from sewer gases. It is not a surface treatment that can chip, peel or delaminate. It is throughout the concrete matrix for long term protection against MIC. The City of Atlanta is currently using the product for a major shotcrete-lining project of old brick sewer lines.
AP/M Permaform
Johnston, IA
Tel: 800-662-6465
Web: www.permaform.net
Corrosive waste pipe
George Fischer Sloane has expanded the Fuseal 25/50™ PVDF Corrosive Waste Piping System to include six-inch diameter. The new six-inch PVDF (polyvinyldene fluoride) Schedule 40 pipe is available in 10-foot lengths and includes all the necessary six-inch drainage pattern fittings required on most corrosive waste applications. Fittings are supplied in a combination of fabricated and molded styles that include couplings, 1/8 and 1/4 bends, wyes, combination wyes, pipe increasers, caps, p-traps, clean-outs, reducing wyes and combinations.
George Fischer Sloane, Inc.
Little Rock, AR
Tel: 800-423-2686
Web: www.sloane.georgefischer.com
Polymer mortar pipe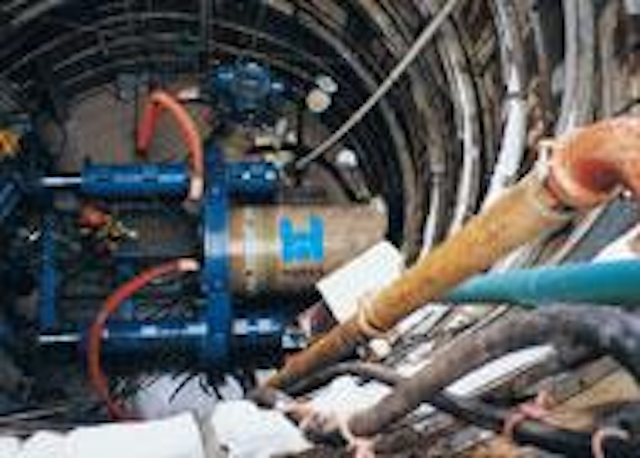 Click here to enlarge image
Hobas pipe has inherent corrosion resistance. The pipe also features improved hydraulics (Manning's .009, Hazen Williams 155). The centrifugally cast, fiberglass reinforced, polymer mortar pipes are available in sizes from 18'' through 102'' for installations including mircotunnling, jacking, sliplining, tunnel lining as well as conventional open cut and above ground use. The pipe performs through a wide range of pH factors, chemicals and temperatures, so it is widely used in both new construction and rehab for corrosive environments such as industrial effluents, contaminated drainage or foul air.
Hobas Pipe USA, Inc.
Houston, TX
Tel: 800-856-7473
Web: www.hobaspipeusa.com
Pipe gaskets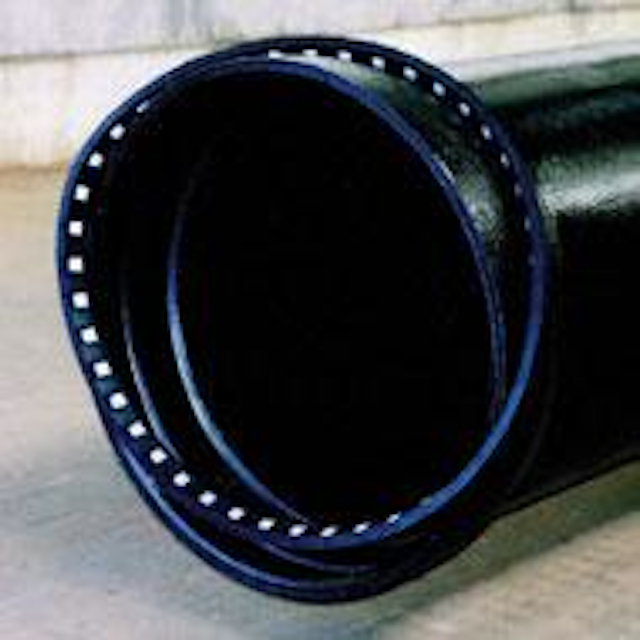 Click here to enlarge image
U.S. Pipe has extended its Field LOK 350® Gasket product range to include 30" and 36" sizes. The line of gaskets now provides positive internal joint restraint in the 4"-24" size range up to 350 psi, and up to 250 psi in the new 30" to 36" size range. The company's ductile iron pipe is ideally suited to the deep buries common in gravity sewer systems. Its TR Flex® Joint system is available in 4"- 64" pipe and fittings. This product provides internal joint restraint at up to a 350 psi pressure rating, with excellent deflection capability.
U.S. Pipe & Foundry Co.
Birmingham, AL
Tel: 866-347-7473
Web: www.uspipe.com
Hot tapping machine

Click here to enlarge image
The Hydra-Tapper® hot tapping machine from Severn Trent Services is a lightweight tapping machine that makes pressure taps on gas or water lines. The machine takes only one operator, where traditional tapping machines can require two or more workers to perform a single hot tap. Because of its light weight, no blocking and bracing is required.
Severn Trent Services
Alsip, IL
Tel: 800-538-7867
Web: www.severntrentservices.com
Orbital weld head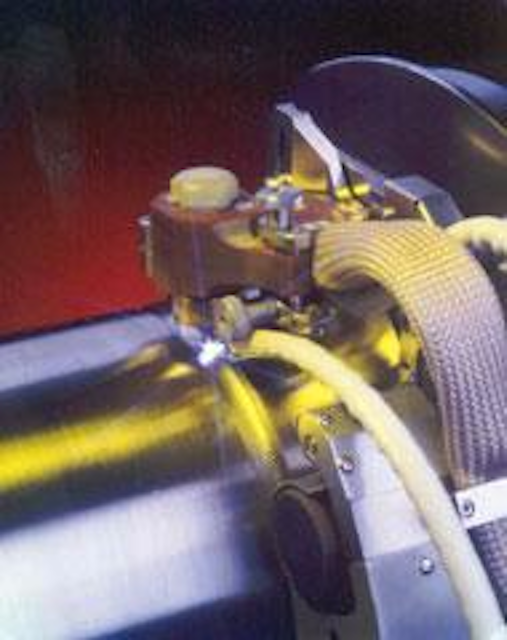 Click here to enlarge image
The Model 79 Series weld heads from Arc Machines are designed for orbital welding with or without filler wire of tube, pipe and fittings. Each weld head features: AVC, oscillation and a precision wire feeder and wire entry mechanics. All Model 79s operate using the GTAW (TIG) process and will accommodate a range of pipe sizes from 0.750'' O.D. to 6.625'' O.D. and wall thicknesses up to 0.75". The can be used in pipe shop applications and on-site in a variety of industrial piping environments including water treatment. In one of the first applications of automatic orbital welding in the construction of a water treatment plant, the series was used in the Water Campus project in Scottsdale, AZ. This automated method increased productivity from three to four welds per day to 13 to 16 on the 6- to 8-in. pipe used for air distribution to the microfiltration system.
Arc Machines, Inc.
Pacoima, CA
Tel: 818-896-9556
Web: www.arcmachines.com
Plastic lined pipe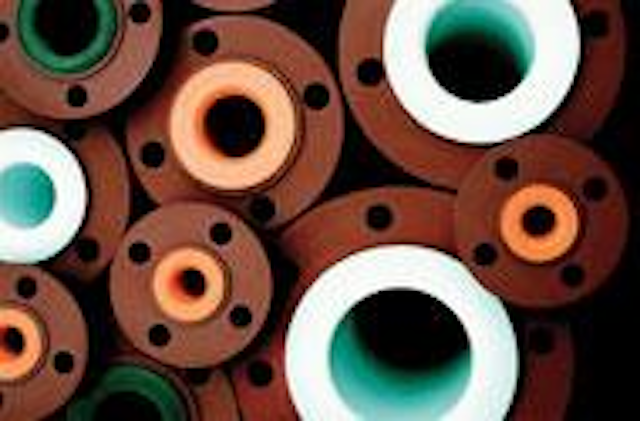 Click here to enlarge image
Edlon offers plastic-lined pipe and fittings designed for use in the chemical, pharmaceutical, and food processing industries. These products provide high-temperature corrosion resistance to most chemicals and can reduce the buildup of deposits on pipe walls. The piping systems are available in sizes from 1/2" to 144" with the following liner materials: PTFE, PVDF, Polypropylene, Polyethylene, Halar®, Tefzel® and PFA. The product line also includes dual and secondary containment systems, jacketed pipe & fittings, high-purity systems, and large-diameter pipe and vessels.
Edlon, Inc.
Charleston, WV
Tel: 800-753-3566
Web: www.edlon.com
Epoxy coating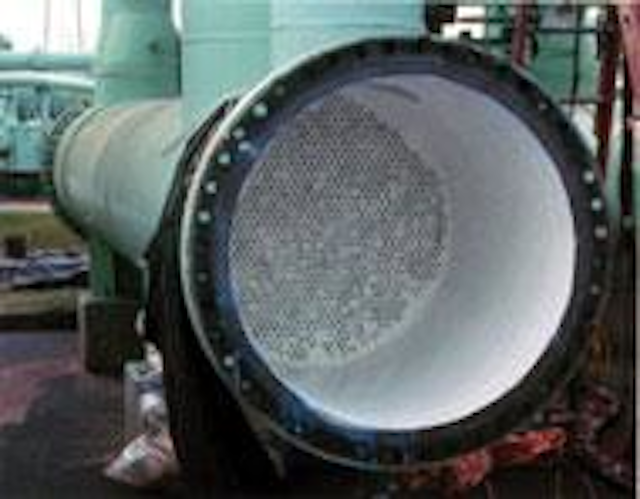 Click here to enlarge image
Devcon's CR 5000 is a 100% solids, high-density glass flake-filled epoxy coating which provides excellent resistance to corrosion, cavitation, erosion, and chemicals. Engineered for flexibility, it is ideal for sealing and protecting equipment exposed to erosion, corrosion, impact, expansion/contraction, and flexing. The coating can be applied by brushing, rolling, or spraying. Its low-viscosity, nonVOC formulation ensures 100% surface contact and guarantees excellent adhesion to prepared surfaces. Typical applications include: pump casings, impeller blades, gate and butterfly valves, water boxes, suction plates, heat exchangers, tube sheets, and other water-circulating equipment.
ITW Devcon Engineered Coatings
Danvers, MA
Tel: 978-777-1100
Web: www.devcon.com
Elbow flow conditioners
Measurement engineers experiencing problems with short runs of piping that cause inaccurate gas or liquid flow measurements will find the new Vorel 90 degree Elbow Flow Conditioner from Vortab isolates flow disturbances, reduces swirl and develops a symmetrical, repeatable flow profile with minimal pressure loss. The flow conditioner elbow was developed using the same tab-type flow conditioning technology as the straight run Vortab Flow Conditioners, which have been installed in hundreds of plants worldwide.
Vortab Co.
San Marcos, CA
Tel: 760-736-6171
Pipe coupling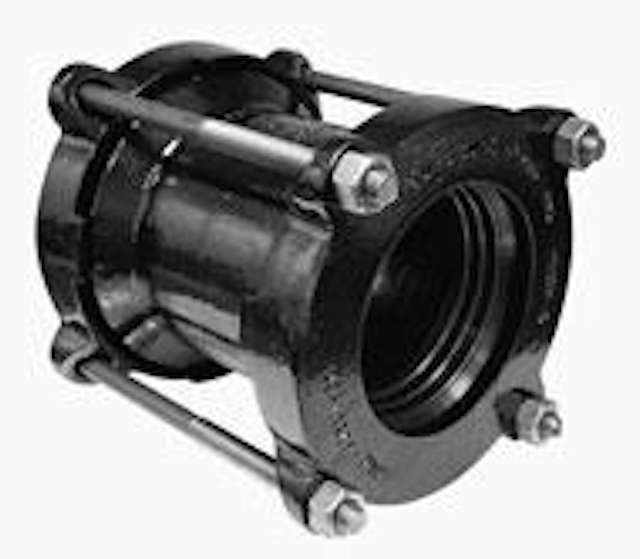 Click here to enlarge image
The Ford Ultra-Flex ductile iron wide-range coupling is available in five nominal sizes to fit domestic pipe sizes from 3.96'' – 14.38''. The coupling features a convenient stab fitting and slides onto a pipe without disassembly. The couplings have a 250 psi water pressure rating and feature ductile iron construction, HSLA fasteners and specially designed Buna-N pre-lubricated gaskets. A standard fusion bonded epoxy coating allows the couplings to stand up to corrosion.
Ford Meter Box Co.
Wabash, IN
Tel: 260-563-3171
Web: www.fordmeterbox.com
Pulsation dampener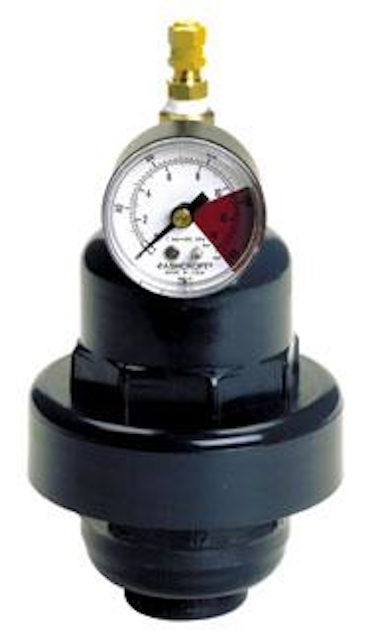 Click here to enlarge image
Blacoh Fluid Control announces its new "Revolution" pulsation dampener. The dampener's design features threaded housings that screw together, eliminating the need for metal fasteners that are subject to the damaging effects of corrosive environments. The pulsation dampener is available in PVC construction, with a PVC bladder for chemical compatibility with many corrosive chemicals, such as sodium hypochlorite.
Blacoh Fluid Control
Riverside, CA
Tel: 909-342-3100
Web: www.blacoh.com
Corrosion resistant flange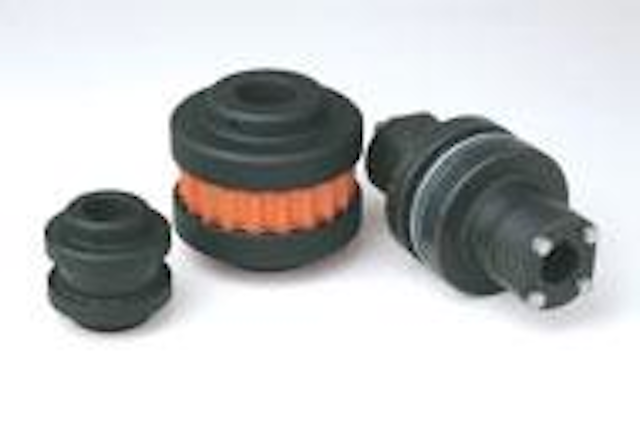 Click here to enlarge image
Lovejoy, which specializes in coupling design and development, has introduced its new painted S-Flex flange, offering enhanced protection against rust. Compared to traditional black oxide, the new painted coupling protects the flange from salt spray and other chemicals, and is easier to handle. The coupling is easy to install, and is fully interchangeable with parts created by other manufacturers. One of the four key specifications vital to selecting an S-Flex coupling is surrounding environmental factors; including extremes of temperature, space limitations, or corrosive conditions, such as caustic wash downs or harsh, abrasive chemicals, common particularly in the pulp and paper or petrochemical industries, where environmental factors often include all of the above. Industrial manufacturing settings that use centrifugal pumps also use the flanges, most often in an electric motor/pump combination.
Lovejoy Inc.
Downers Grove, IL
Tel: 630-852-0500
Web: www.lovejoy-inc.com
Fabricated spools
Mars offers fabricated spools, meter test spools and fittings in many sizes, lengths and configurations. They can also be custom designed and fabricated to meet specific needs. By providing a precise fit, corrosion resistant coating such as epoxy or nylon, excellent strength and short laying lengths, they work well in any application.
Floyd S. Salser, Jr. & Associates
d/b/a MARS Company
Ocala, FL
Tel: 800-782-5268
Web: www.marswater.com
Casing spacers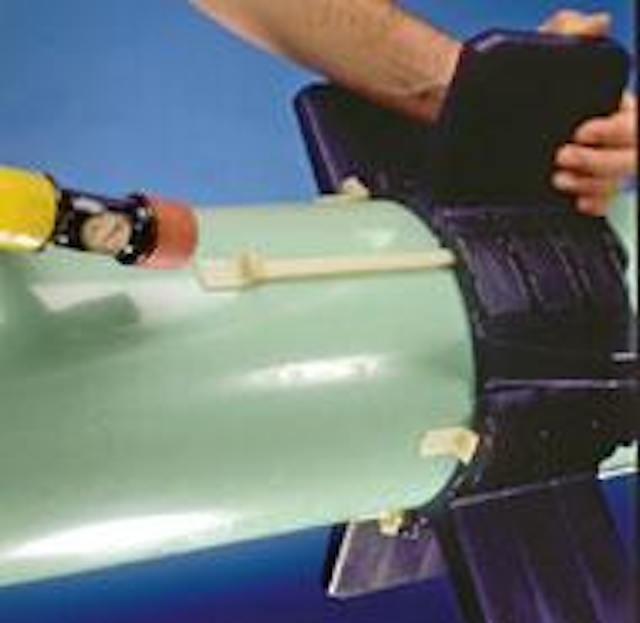 Click here to enlarge image
Need to support pipes passing under road crossings or casing installations? The Ranger II® Casing Spacer from Pipeline Seal & Insulator is an all non-metallic UV resistant polypropylene casing spacer. Patented segmented pieces are lightweight, easy to stock and can be assembled by one person without any special tools. The spacers can be ordered with various runner heights to support and center pipes. The spacer can be fitted to pipe size diameters from 1.0'' up to 36.0''.
Pipeline Seal & Insulator, Inc.
Houston, TX
Tel: 800-423-2410
Web: www.pipelineseal.com
Rubber products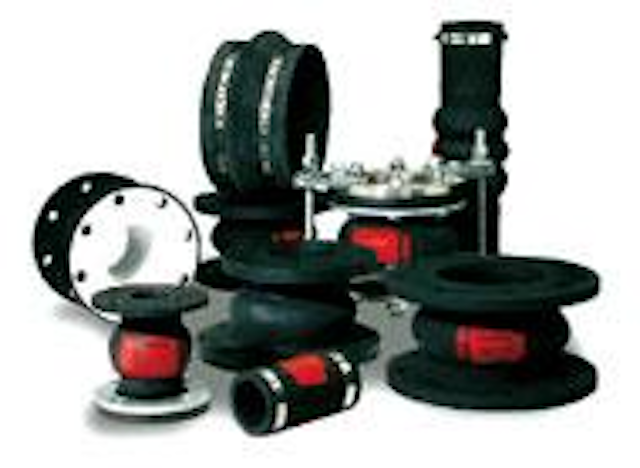 Click here to enlarge image
Expansion joints, reducers, fittings, elbows, ductwork connections, vibration pipe and custom designs are all available from Red Valve through its Redflex® line of rubber products. All products are made to the highest quality standards and conform to all FSA guidelines. Parts can be custom-built to compensate for offset flanges, special face-to-face dimensions or unique configurations. Sizes range from 1'' to 108''.
Red Valve Co. Inc.
Carnegie, PA
Tel: 412-279-0044
Web: www.redvalve.com
Tubing cutter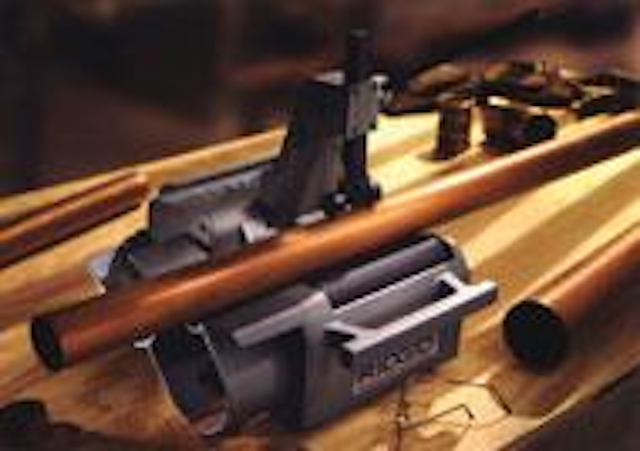 Click here to enlarge image
Ridge Tool has introduced the Ridgid® Model 122XL Copper Cutting and Prep Machine, a versatile unit designed to cut and prepare copper tubing. The new product allows the user to cut, clean and debur 1/2" to 4" tubing and ream 1/2" to 2" tubing. An optional, quick-change fitting brush system and storage rack allows the preparation of 1/2" to 4" copper fittings for soldering. The unit features a rugged O.D. cleaning brush and deburring disk to clean and debur the outside diameter of the tubing; a heavy-duty cutter wheel that has been tested to over 10,000 cuts on type "K" copper; and a cone reamer designed to remove turbulence-causing burrs on the inside of the tubing.
Ridge Tool Co.
Elyria, OH
Tel: 800-769-7743
Web: www.ridgid.com
Pipeline grinder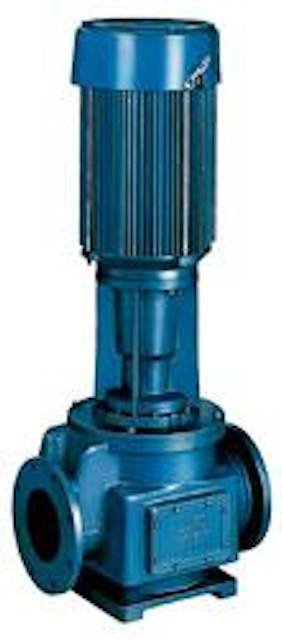 Click here to enlarge image
The Moyno® Pipeliner™ Grinder features a self-adjusting cutter head that ensures consistent solids reduction performance and eliminates the need for manual adjustment and the resulting costs for maintenance. The grinder can handle large solids in suspension and inconsistent particle size. Larger particles entering the unit are effectively reduced in size, improving the overall efficiency of the application. These units are ideal for wastewater treatment, pulp and paper, food processing and hazardous waste industries. The unique design characteristics of the cutters reduce the chance of jamming and eliminate the need for expensive reversing controls.
Moyno, Inc.
Springfield, OH
Tel: 877-486-6966
Web: www.moyno.com
Corrosion control
Nanovapor Systems offers a biotechnology that is designed to suppress the ability of sulfur reducing bacteria to change sulfates into H2S. The company's Nano SI (sulfur inhibitor) works by inhibiting the enzyme production site on the sulfur reducing bacteria so that it cannot create sulfites. It does not harm the bacteria it treats; it simply stops the sulfate to sulfite process, thereby arresting further corrosion in the pipeline or vessel. The product will work in virtually any aqueous organic process flow system from paper mills and petroleum processes to wastewater treatment plants and holding tanks and any vessels where a bio-film can occur. It has been used successfully in multi million gallon flow systems at low dosages.
Nanovapor Systems LLC
Aptos, CA
Tel: 831-685-1148
Web: www.nanovapor.com
Sewer cleaning equipment
Vactor Manufacturing is a supplier of truck-mounted combination sewer and catch basin cleaners, jetters, and hydro-excavators. The company has more than 30 years of experience providing equipment to the sewer cleaning industry including powerful jetters and combination units that combine water jetting with vacuum for sewer cleaning and maintenance solutions. Vactor products feature a unique "modu-flex" design and its Jet Rodder water pump, designed for efficient use of water.
Vactor Manufacturing
Streator, IL
Tel: 815-672-3171
Web: www.vactor.com
Industrial fittings catalog
Charlotte Pipe and Foundry offers a new pocket-sized industrial fittings catalog. The guide features dimensional data and product specifications for PVC Schedule 40 and 80 fittings, and Corzan® CPVC Schedule 80 fittings. Engineered to work together as a system for easy installation and optimum performance, the company's industrial product line also includes PVC Schedule 40 and 80 pipe and Corzan CPVC Schedule 40 and 80 pipe. The company's industrial products meet all applicable ASTM and NSF standards.
Charlotte Pipe and Foundry
Charlotte, NC
Tel: 704-348-6582
Web: www.charlottepipe.com