NEW LITERATURE
Flowserve's Pump Division has published a new brochure that describes its line of MSX Solids-Handling, Submersible Pumps.
Sep 1st, 2003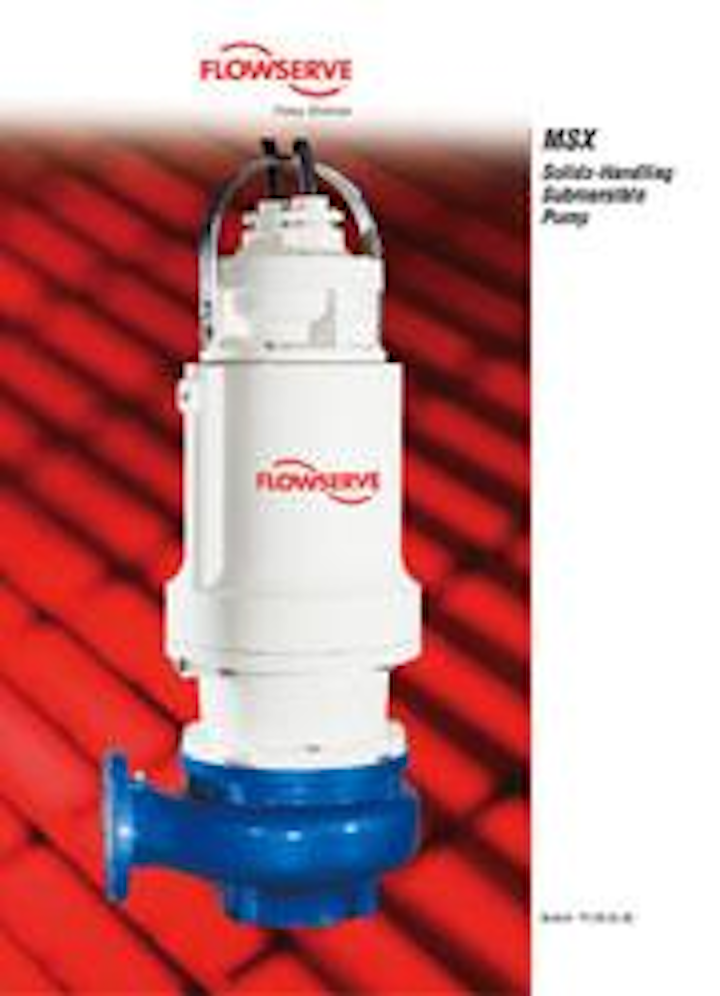 Solids-handling pumps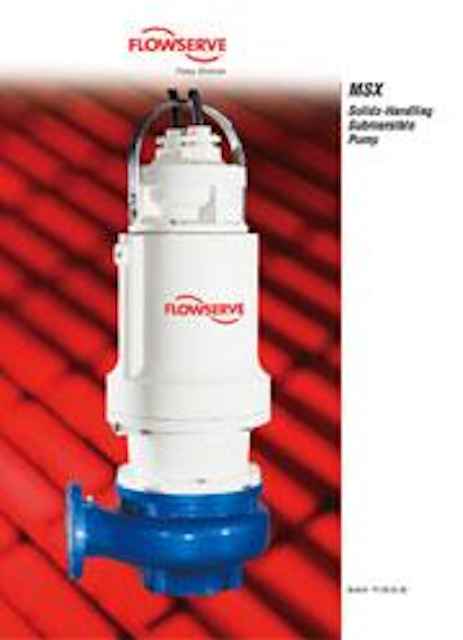 Click here to enlarge image
Flowserve's Pump Division has published a new brochure that describes its line of MSX Solids-Handling, Submersible Pumps. The family of pumps is engineered to perform in such challenging services as pumping raw sewage to moving industrial wastewater and solids laden liquids. The non-clog pumps are available in Series 1 medium-capacity or Series 2&3 high-capacity designs. All pump series feature EPACT rated motors; Dynamically balanced shafts and rotors; spike-resistant windings and long-lasting seal and bearing designs. The pumps can handle flows 20,000 gpm and heads to 300 ft.
Flowserve Corp.
Vandalia, OH
Tel: 800-728-7867
Web: www.flowserve.com
Process pump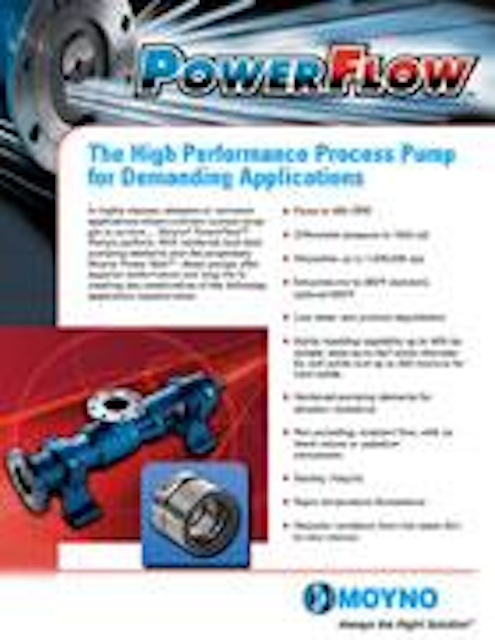 Click here to enlarge image
Moyno has released a new full-color brochure describing the Moyno PowerFlow high performance process pump for demanding applications. The pump is designed for the most viscous, abrasive or corrosive applications, including polymers, resins and chemical and industrial waste. The pumps are also capable of handling thin, water-like liquids at high temperatures. The brochure provides an overview of the PowerFlow Pump, its capabilities, materials of construction and typical applications.
Moyno, Inc.
Springfield, OH
Tel: 877-486-6966
Web: www.moyno.com
Industrial pumps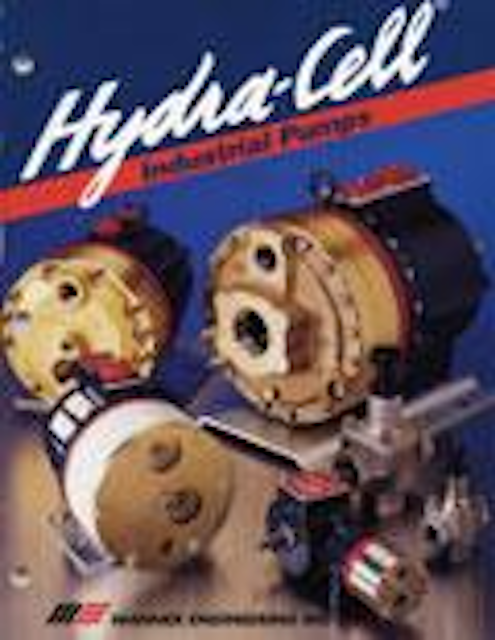 Click here to enlarge image
The 100-page Hydra-Cell Industrial Pumps catalog, available from Wanner Engineering, provides product specifications, options, installation guidelines and design considerations, as well as application examples, selection guidelines and ordering instructions. The company's line of pressure regulating valves and pump accessories, including the new pump/motor baseplates and guards, oil cooler and filter system and oil level monitor mounting kit, are also featured.
Wanner Engineering Inc.
Minneapolis, MN
Tel: 612-332-5681
Web: www.hydra-cell.com
Valve products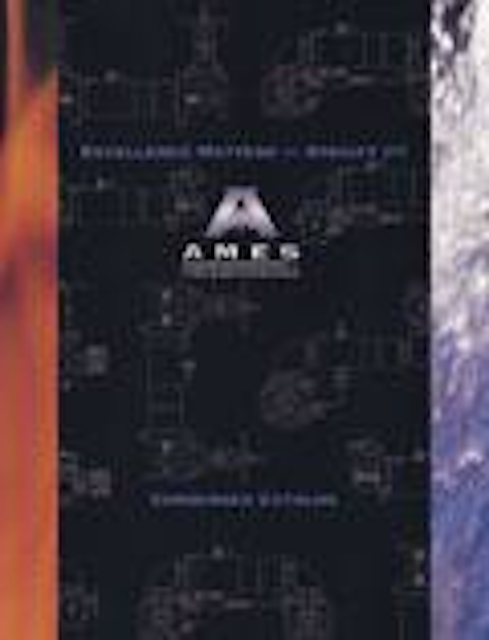 Click here to enlarge image
Ames Co. has published a new condensed catalog which contains detailed information on its entire product line. Feature products include double check, double check detector, reduced pressure, reduced pressure detector and detector check valves. Also included is information on the company's vacuum breakers, strainers and other engineered products. Each product description includes features, materials, pressure and temperature information, dimensions, approvals, flows and options. Request literature C-Ames.
Ames Co.
North Andover, MA
Tel: 800-617-3274
Web: www.amesfirewater.com
Thermoplastic pumps
Vanton has released a technical paper on design developments associated with the use of thermoplastic pumps for handling process and waste treatment fluids. These include corrosive acids, caustics, halogens and other aggressive liquids as well as those fluids that cannot tolerate metallic contamination such as reagent grade chemicals, pharmaceuticals and ultrapure water. It also reports on horizontal pump constructions that extend seal life, reduce seal maintenance costs or eliminate the use of seals altogether. Request Vanton TL-162, What's New with Thermoplastic Centrifugal Pumps.
Vanton Pump & Equipment Corp.
Hillside, NJ
Tel: 908-688-4216
Web: www.vanton.com
Bulk bag unloaders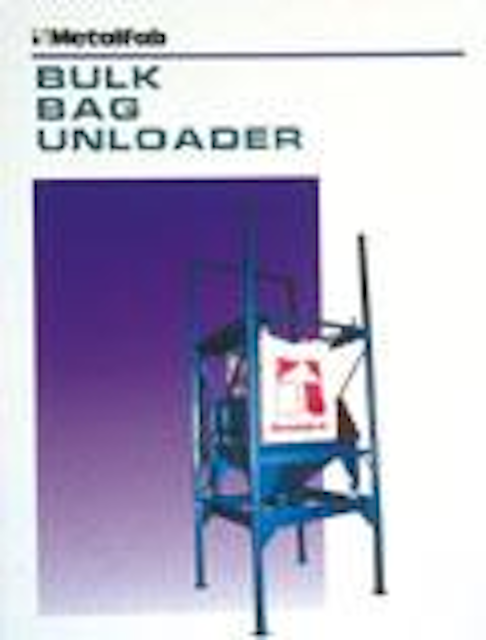 Click here to enlarge image
Metalfab has published a new brochure on its line of bulk bag unloaders for on-demand discharge of a wide variety of powers and other difficult to handle materials. The brochure provides a detailed overview on design, construction and operation of the company's Vibratory Bulk Bag Unloaders along with information on three available models including a basic support stand and back rack unit, fork lift unit with four adjustable position posts to hold the product bag straps, and a hoist rack unit with integrated motor and four stationary posts to handle the product bag straps.
Metalfab Inc.
Vernon, NJ
Tel: 800-764-2999
Web: www.metalfabinc.com
Flow meters, probes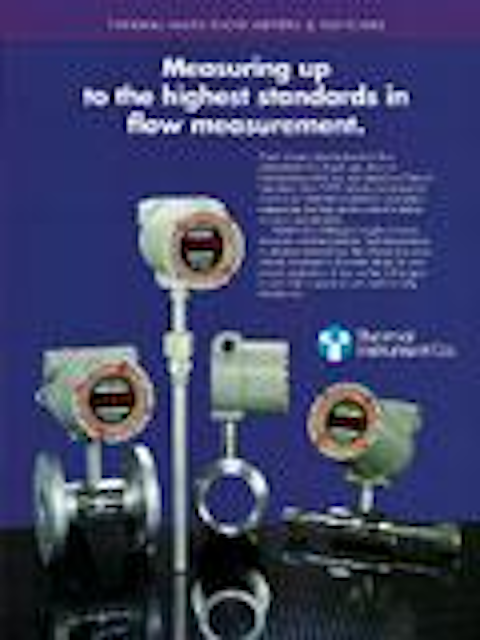 Click here to enlarge image
A six-page brochure describes the Model 600-9 inline flowmeters, the Model 62-9 flow probes, and flow switches manufactured by Thermal Instrument Co. The products are designed to measure flows of gases, liquids, slurries and homogeneous solids. The flow path of the inline flowmeter is nonintrusive. The flow probe has no apertures to clog and no moving parts. Flow indication and totalization are available.
Thermal Instrument Co.
Trevose, PA
Tel: 215-355-8400
Web: www.thermalinstrument.com
Storage tanks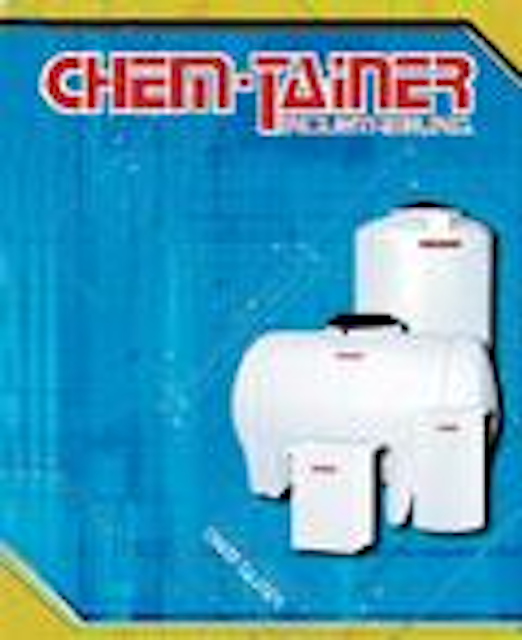 Click here to enlarge image
Chem-Tainer Industries' new 24 page catalog features a selection of molded closed head bulk storage tanks, secondary containment basins, spill containment pallets, double wall tanks and many other items. Hundreds of stock sizes are offered as well as an engineering staff that can help develop a custom product.
Chem-Tainer Industries
Babylon, NY
Tel: 631-661-8300
Web: www.chemtainer.com
Air compressor guide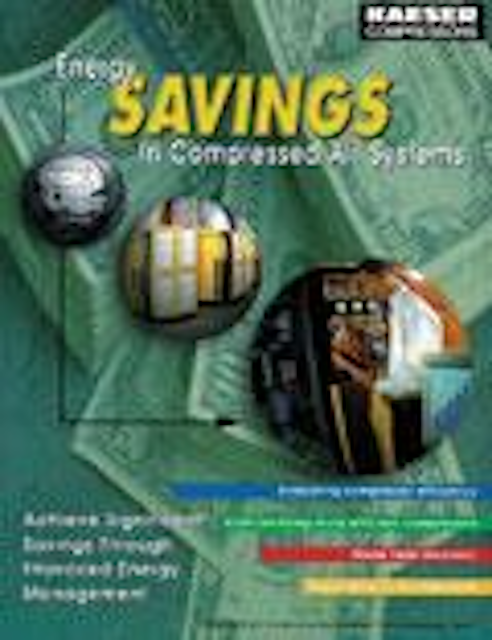 Click here to enlarge image
Kaeser Compressors has published a guide to understanding and measuring the cost of generating compressed air. The guide explains the various factors that affect efficiency in the compressed air system, and outlines steps to dramatically increase the efficiency of existing systems. The guide demonstrates that in 125 hp applications, the annual cost of electrical power to drive compressors can be twice the cost of the compressor unit. Over a typical 10-year period, a compressor that cost $40,000 can accumulate up to $800,000 in electric power costs.
Kaeser Compressors Inc.
Fredericksburg, VA
Tel: 800-777-7873
Web: www.kaeser.com
Products catalog
Accent Control Systems offers a 78-page catalog featuring a variety of products for the water and wastewater treatment professional. Products include chemical feed systems; water quality test instruments; process control instrumentation; flow meters; level measurement and control; thermoplastic valves; and temperature and pressure transmitters. Among other equipment, the catalog features chemical metering pumps from Liquid Metronics Inc.
Accent Control systems
Norristown, PA
Tel: 888-265-5632
Web: www.accent-control.com
Pump system parts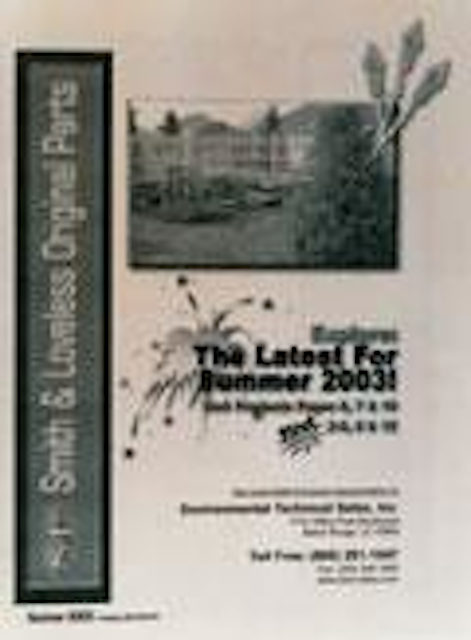 Click here to enlarge image
The Smith & Loveless After Market Division has published its summer Promotional Parts Catalog (04-06-0676), which highlights a variety of parts, retrofit kits and packages designed to upgrade existing equipment. The 12-page catalog includes write-ups on more than 25 of the company's parts, including product specifications, ordering data and pictures.
Smith & Loveless Inc.
Lenexa, KS
Tel: 913-888-2173
Web: www.smithandloveless.com
Automation products
Phoenix Contact, a manufacturer of industrial automation, interconnection and interface equipment, has redesigned its website. The site provides detailed technical information, including part numbers, data sheets and downloadable CAD drawings. An enhanced search capability makes it easier to find equipment. Visitors to the site will also find comprehensive contact information for the company.
Phoenix Contact Inc.
Harrisburg, PA
Tel: 800-322-3225
Web: www.phoenixcon.com