New Products
Phoenix Contact now offers the MCR-RAD, an integrated radio and I/O module designed to eliminate cable and conduit for analog and digital signals in harsh industrial environments.
Jan 1st, 2003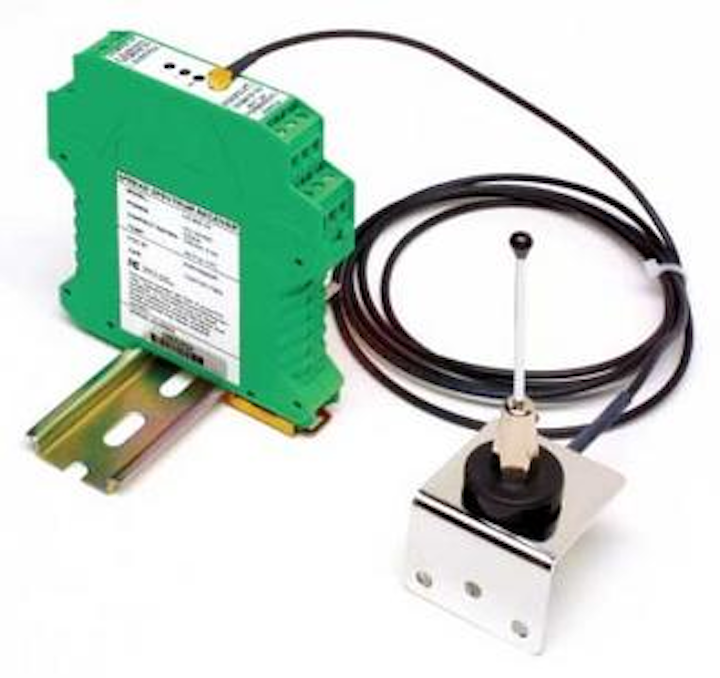 Radio, I/O module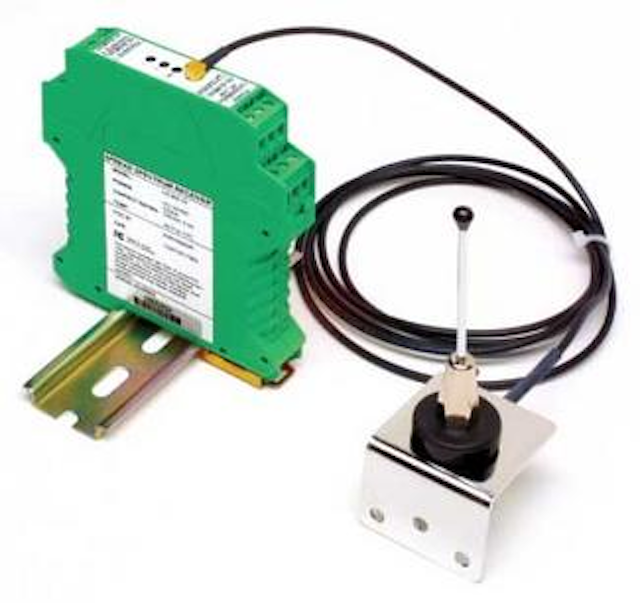 Click here to enlarge image
Phoenix Contact now offers the MCR-RAD, an integrated radio and I/O module designed to eliminate cable and conduit for analog and digital signals in harsh industrial environments. The module uses spread spectrum frequency hopping techniques to guarantee a license-free, interference-free link between remote devices and the control room. Costly cable and conduit runs on new projects or retrofitting of existing systems are eliminated. The modules are available as a transmitter/receiver pair and come factory programmed, calibrated and tested as a set, capable of carrying one 4-20mA current loop and two digital status signals. Typical in-plant range is 600 – 1,000 feet with no line-of-sight, much farther with outdoor applications.
Phoenix Contact Inc.
Harrisburg, PA
Tel: 800-322-3225
Web: www.phoenixcon.com
Wireless monitoring
Microtel now offers the Series WRU-2000, wireless, portable communication system that uses a special cellular track on which it sends signals, penetrating mountains, tall buildings and other obstructions. It is available in 1, 4, and 8 channel models. The unit can be monitored from anywhere via an Internet-based central station for which customers pay a monthly monitoring fee based upon needed services. Customers have access only to their units and complete privacy is assured via a secure password. The system notifies customers of a problem situation via several contact devices: alphanumeric pager, email to a web address or an SMS message to a cell phone.
Microtel Inc.
Chalmette, LA
Tel: 504-276-0571
Web: www.microtel-inc.com
Information management
The Pavilion Environmental Portfolio Manager can help industry with EPA's New Source Review reforms. Industrial facilities can take full advantage of new options and incentives through access to real-time emissions source data. The software solution has the flexibility to extract emissions source data in real-time from single, multiple and enterprise-wide sources. The reforms made by the EPA are intended to remove current, unintentional barriers preventing industrial facilities from investing in energy efficiency and pollution control projects. The reforms, a result of findings in a June 2002 Report to the President on NSR, will allow facilities greater flexibility, and provide incentives, for implementing technologies and controls to provide accurate calculations of emissions of air pollution.
Pavilion Technologies, Inc.
Austin, TX
Tel: 512-438-1544
Web: www.pav.com
Level, flow meter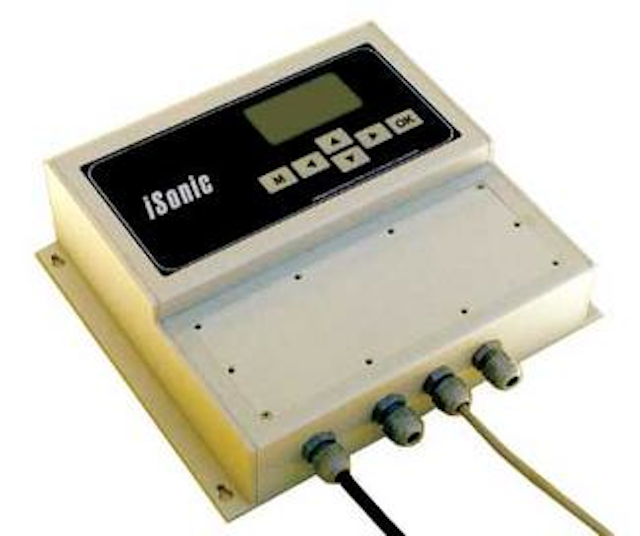 Click here to enlarge image
Dynamic Measurement Solutions (DMS) introduces the ISonic, an ultrasonic level or open channel flow meter designed for the water and wastewater environment. The meter is a flexible, processor-based controller designed to determine liquid levels within open and closed containers. In its most basic operation, the unit determines the fluid level with a single transducer and provides an output signal for recording or control. To use the meter as a controller, set points such as "high" or "low" alarms can be programmed through the front panel or through a computer program uploaded to the unit. To use it as a flowmeter, the unit has pre-programmed "level-to-flow" functions built-in allowing the user to determine flowrate by measuring the head rise over a flume or weir.
Dynamic Measurement
Solution, LLC
Tulsa, OK
Tel: 918-523-5131
Web: www.dmsllc-usa.com
Water sensor

Click here to enlarge image
Available from Rosemount, the Züllig Cosmos-25 sensor is designed for use in water treatment plants and in the water industry, as well as in chemical and other industrial plants. Capable of a wide range of suspended solids measurements, the probe can be used in open channels or basins as well as pipelines due to its planar measuring system. Its multi-beam technology eliminates possible measurement discrepancies caused by window pollution, temperature influences, suspended dye and other factors.
Emerson Process Management, Rosemount Analytical Inc.
Irvine, CA
Tel: 800-854-8257
Web: www.raihome.com
Fieldbus control information
Instrument and control engineers in water & wastewater plants can learn how to install and configure a control system based on fieldbus from a new book called "Fieldbuses for Process Control." This implementation-oriented book based on experience and tips collected from end-users in the water & wastewater industries provides a clear presentation of how to apply fieldbuses as a network infrastructure for control and monitoring. The book is suitable for all personnel involved in automation of plants. In addition to fundamentals, the book addresses "how-to" for all project stages and all phases of the system lifecycle from engineering design through device and strategy configuration, installation and commissioning, diagnostics and troubleshooting, to operation, calibration and maintenance.
Instrumentation, Systems and Automation Society (ISA)
Research Triangle Park, NC
Tel: 919-549-8411
Web: http://books.isa.org
Wastewater sampler
The Global Wastewater Sampler from Forestry Suppliers is designed specifically to meet the sampling requirements for industrial discharges, sewers, rivers and streams. It takes a "time weighted" composite sample in a two gallon bottle, to meet wastewater sampling guidelines. A float switch on the sample bottle automatically turns off the sampler pump if the bottles becomes full. Sample size can be adjusted from 25 mL to 600 mL and internal sampling can be adjusted from five minutes to four hours. The sampler consists of a rainproof, lockable carrying enclosure. Inside the enclosure is a two-gallon polyethylene sample bottle for collecting composite samples, a peristaltic sampling pump, the logic timer/controller and a rechargeable gel cell battery. Also provided is a sample pickup hose and a battery charger.
Forestry Suppliers, Inc.
Jackson, MS
Tel: 800-647-5368
Web: www.forestry-suppliers.com
Oil skimmers
Abanaki now offers the Mighty Mini® SST with integrated timer, a portable oil-skimmer made of stainless steel that is equipped with a timer that allows it to work during off hours. The skimmer uses a belt made of stainless steel or specially engineered plastic to remove the unwanted tramp and honing oil that contaminates industrial coolants, especially coolants used in parts washers and in the machine tool industry. The one-inch-wide belt picks up one gallon or more of medium-weight oil per hour; the two-inch-wide belt removes at least two gallons per hour.
Abanaki Corp.
Cleveland, OH
Tel: 440-543-7400
Web: www.abanaki.com
Ultrasonic mass meter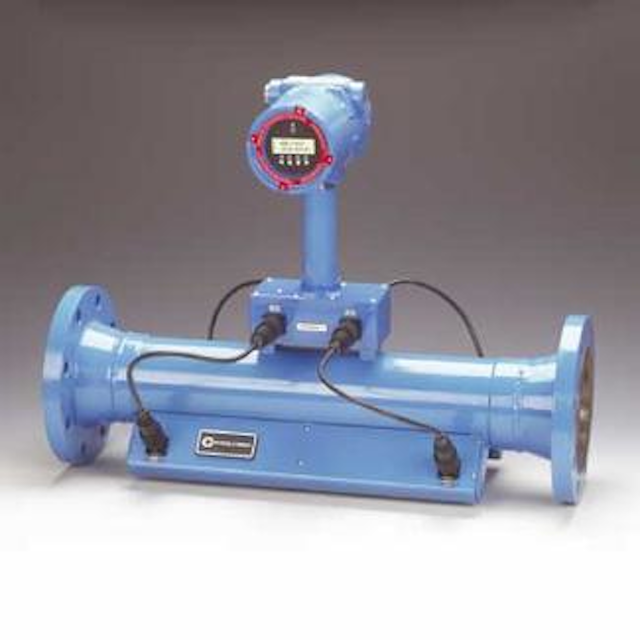 Click here to enlarge image
Controlotron has released the first Clamp-On Ultrasonic Mass Meter, SonicMass™. The meter provides mass flow for process liquids in pipes up to 1200 mm in diameter, and is the first commercially available liquid mass meter. This machine is designed to measure the actual volumetric, standard volume, and mass flow rates of liquids, such as ethane, propane and most liquid hydrocarbons. The patent-pending design uses ultrasonic transit-time technology to measure both flow and the sonic velocity of the fluid and incorporates a 4-wire, 1000 ohm RTD. With the measured sonic velocity and temperature, the unit determines the density of the liquid and converts volumetric flow to mass flowrate.
Controlotron Corp.
Hauppauge, NY
Tel: 631-231-3600
Web: www.controlotron.com
Pipe couplings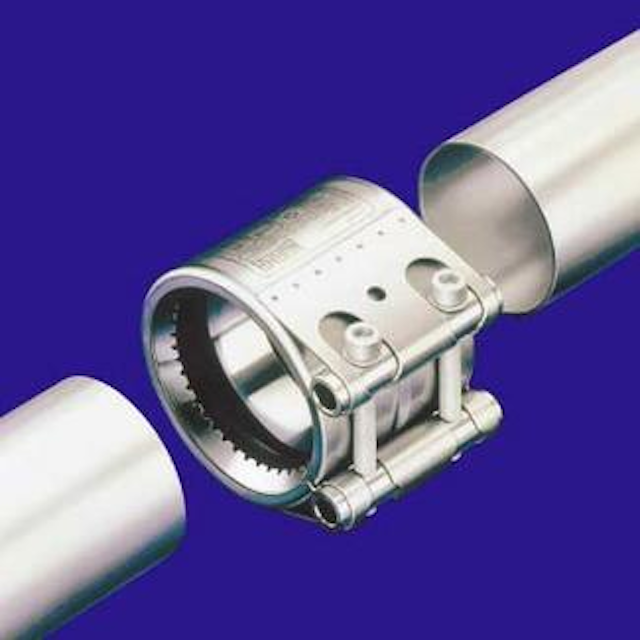 Click here to enlarge image
Norma Connect Pipe Couplings join plain-ended pipes of like or different materials and require no pipe-end treatment to do so. They require no welding, grooving or fusing, with a typical installation time of less than 15 minutes in virtually any environment. Made of 304 & 316 SS, these products are offered in Axial Restraint & Flexible Sealing types for metal to metal, metal to plastic and plastic to plastic pipe joining. The patented sealing gaskets are certified to ANSI/NSF Standard 61. These low profile couplings dampen system vibration and reduce system-borne noise as well as compensating for pipe misalignment.
Norma Products (US), Inc.
Tel: 248-668-9510
Web: www.normaus.com
Jet aeration
Mixing Systems Inc. has designed a new aeration system for leachate treatment from solid waste landfills. The high COD and ammonia nitrogen leachate streams are aerated in deep oxidation tanks. The system consists of a jet aerator mounted in at the bottom of the tank. A recirculation pump is used to create a high velocity liquid stream in the jet aerator. Compressed air is introduced. The two streams are combined in the jet aeration nozzle. The aerator produces fine air bubbles that rise to the surface of the tank. The jet aeration system is suitable for aerating and mixing deep tanks with varying liquid levels. This aerator has been installed at two landfills in Virginia.
Mixing Systems, Inc.
Dayton, OH
Tel: 937-435-7227
Web: www.mixing.com
Laboratory software
Zymark Corp. has announced the introduction of iLink™, a new "point and shoot" software interface that simplifies use of the company's Twister® II robot. With this new software, any instrument that uses microplates can have automated stacking capability added to it by connecting the Twister II. The software extends the power of automation to individual instruments, such as readers and washers, with the flexibility to pass plates through several instruments building to a powerful, integrated system.
Zymark
Hopkinton, MA
Tel: 508-497-6549
Web: www.zymark.com
Expansion joints
Unaflex is now offering expansion joints constructed of exotic metals. The joints are available in sizes to 220 inch ID in Hastalloy, Inconel, Monel, 300 Series stainless steel and Teflon™ lined. The metal joints are designed to stand up to heat, corrosion and high pressure.
Unaflex Inc.
Pompano Beach, FL
Tel: 954-943-5002
Liqud analyzer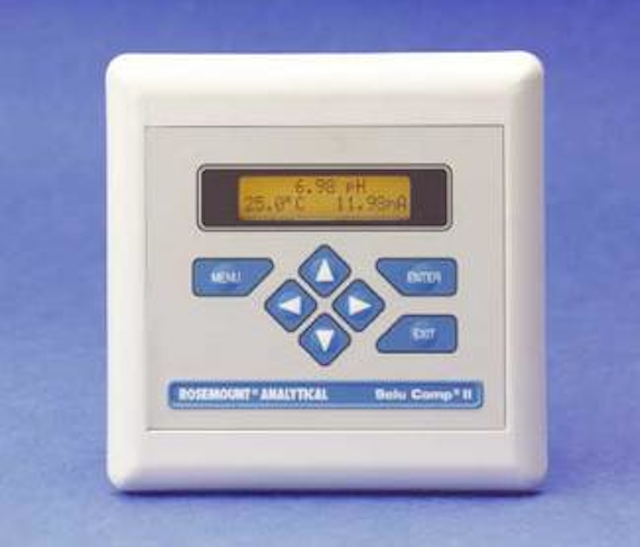 Click here to enlarge image
The Solu Comp II Model 1055 dual-channel, multi-parameter analyzer is the first liquid analyzer that can be programmed to measure most combinations of two parameters in one instrument. The dual-input instrument measures parameters such as pH, ORP, chlorine, dissolved oxygen, temperature, flow, ozone and conductivity. This mix and match capability reduces the cost per loop as well as the panel space requirement. The analyzer also includes three fully programmable alarms and a choice of enclosures for pipe, surface and panel mounting that meet NEMA 4X/CSA 4 (IP65) requirements.
Emerson Process Mgmt., Rosemount Analytical Inc., Liquid Division
Irvine, CA
Tel: 800-854-8257
Web: www.raihome.com
AMR battery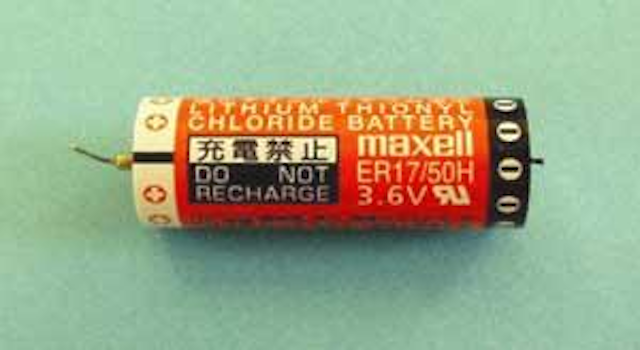 Click here to enlarge image
A new Lithium Thionyl Chloride battery constructed from inorganic materials and hermetically sealed, featuring a much higher capacity rating of 3,300 mAh, has been introduced by Maxell Corp. Designated model ER17/50H and designed to fit the familiar type A form factor, the new battery has a 20 percent increased capacity and is designed to serve as an improved power source for the longer-lasting next generation of automatic meter reading systems. Because it is hermetically sealed, the new battery is ideal for long-term applications as a power source for automatic meter readers, as well as a backup power source for memory ICs. With the automated meter reader industry requiring longer service life, Maxell increased the lithium content in the improved cell without changing the cell's size. The new battery's price will be approximately the same as the conventional model ER17/50.
Maxell Corp. of America
Fair Lawn, NJ
Tel: 201-794-5900
Web: www.maxell.com
Conveyor systems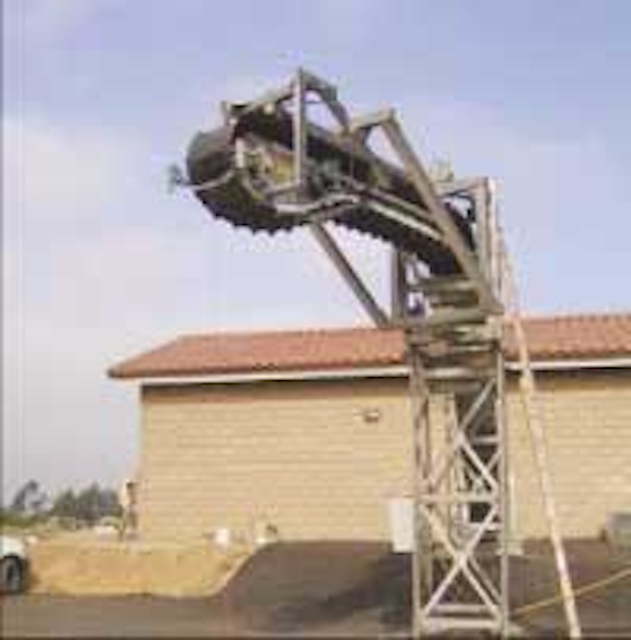 Click here to enlarge image
Serpentix manufactures a conveyor for use in wastewater treatment plants that features an articulated track section just prior to the discharge end. The result is a "flex-end" conveyor that can discharge grit, screened material, and dewatered sludge at any point over a 12-foot arc. One can uniformly load a truck, several hoppers, or bypass a process, such as a lime blender, using just one conveyor. The positioning of the discharge end can be controlled manually, hydraulically, or pneumatically.
Serpentix Conveyor Corp.
Westminster, CO
Tel: 303-430-8427
Web: www.serpentix.com
Spherical connectors
Proco Products versatile Style 240/242 rubber expansion joint features a unique spherical arch that allows fluid to flow smoothly in the sludge & slurry lines without sediment build-up in the arch, and the Pressure/Temperature capability makes it a perfect match for all equipment used in blower lines. The style 240/242 is readily inventoried in Neoprene and EPDM, and also carried in other elastomers such as: Hypalon, Buna-N, and Chlorobutyl.
Proco Products Inc.
Stockton, CA
Tel: 800-344-3246
Web: www.procoproducts.com
Telemetry radio module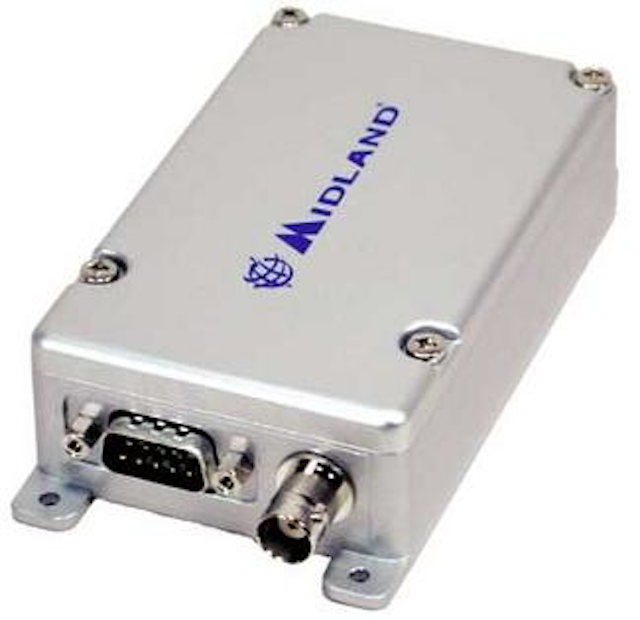 Click here to enlarge image
Midland Radio's 70 Series Data Module has been designed to support the water and wastewater treatment industry's efforts to facilitate wireless SCADA. The radio features a range up to five miles and enables users to connect RTUs for data collection, system status monitoring (flow, pump, etc.), alarm reporting, metering as well as other SCADA applications. Housed in a die-cast aluminum case, the unit is FCC type-approved. Programmable features include transmission power of either 1 Watt or 5 Watts (synthesized UHF or VHF), up to 16 channels and either 12.5 kHz or 25 kHz bandwidth spacing.
Midland Radio Corp.
N. Kansas City, MO
Tel: 816-241-8500
Web: www.midlandradio.com
Modular biomedia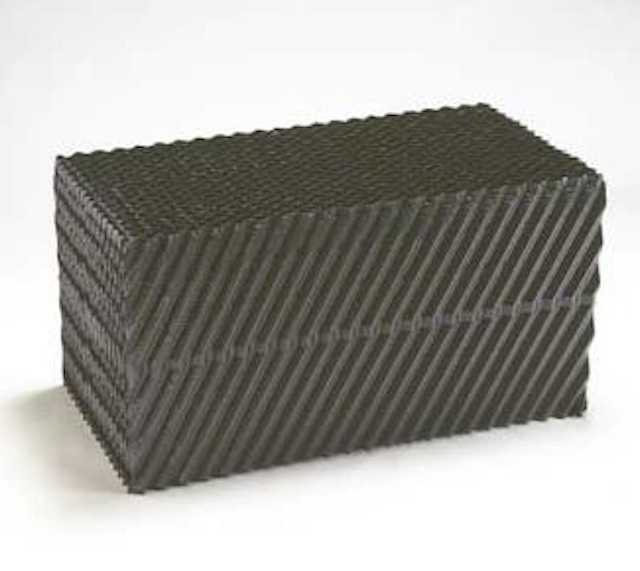 Click here to enlarge image
Dura-Pac from NSW is a modular PVC media available in the 60 degree crossflow and vertical flow geometries for municipal wastewater treatment. The media is available in a range of specific surface areas and can be used in trickling filters and submerged fixed beds. Applications include BOD reduction, nitrification, denitrification and anaerobic treatment. Other applications for the crossflow media geometry include oil/water and liquid/solids separation.
NSW, LLC
Roanoke, VA
Tel: 800-368-3610
Web: www.nswplastics.com/environmental
Dewatering systems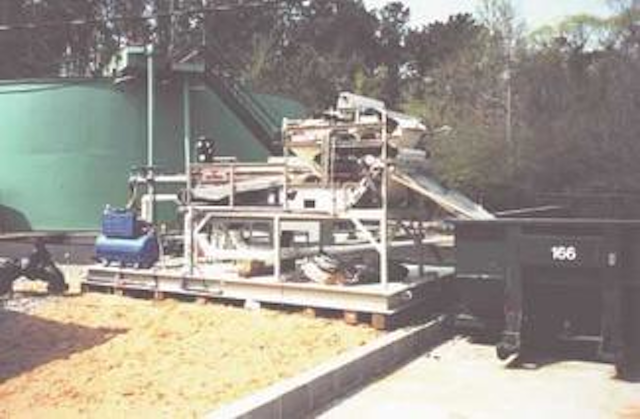 Click here to enlarge image
Phoenix Process Equipment Co. offers a series of compact belt filter presses and gravity belt thickeners specifically designed for smaller municipal wastewater plants. When supplied as skid mounted systems, they include all necessary pumps, controls, polymer dosing systems, and require only four external connections, simplifying installation. The gravity belt thickeners can be used to reduce sludge volume prior to digestion or to minimize liquid hauling costs. The belt filter presses will produce a dry cake for hauling, composting or drying, and can eliminate sand or vacuum drying beds.
Phoenix Process Equipment Co.
Louisville, KY
Tel: 502-499-6198
Web: www.dewater.com
Recessed impeller pumps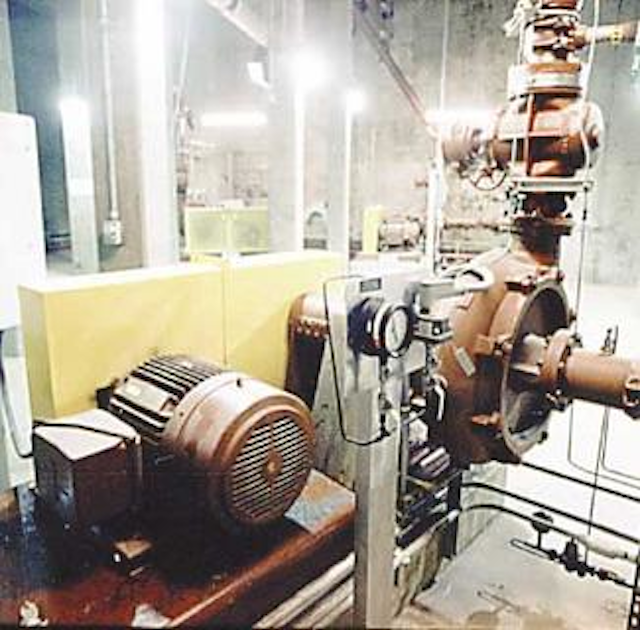 Click here to enlarge image
Morris Series 6100 cup-type recessed impeller pumps provide reliable performance under severe operating conditions. Grit, sludge, slurries, process waste and other solids-handling applications are routine for this pump design. The pumps feature a universal stuffing box, high-chrome cast iron construction and a reversible casing.
Morris Pumps
Aurora, IL
Tel: 630-236-6900
Web: www.morrispumps.com
Collector chains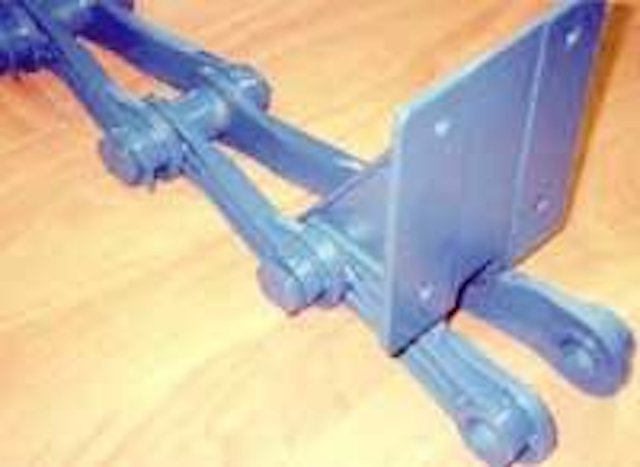 Click here to enlarge image
Viking Chains Inc./VC Chains Corp. has introduced its new VC720S Non-Metallic Collector Chain for use in primary and secondary clarifiers. This 6 in. pitch chain is made of a glass filled nylon 6V6 material and has an average ultimate strength of 8,000 lbs. Standard F226 and F228 flight attachments can be supplied for use with this chain. With an average weight per foot of 1.42 pounds, this chain is lightweight. No special tools are required for assembly. The non-metallic chain is designed to be compatible with other chain manufacturer's non-metallic sprockets and components.
Viking Chains Inc.
VC Chains Corp.
Marietta, GA
Tel: 877-941-1500
Web: www.vikingchains.com
Level measurement

Click here to enlarge image
WIKA LS-10 submersible liquid level transmitters are engineered for a variety of municipal liquid level measurement applications, including drinking water and wastewater treatment, well depth measurement, and offshore water depth measurement. The transmitters offer an accuracy of <0.25% full scale. The printed circuit boards use state-of-the-art surface mount technology for protection against mechanical shock and vibration. Temperature compensation assures accuracy and long-term stability when exposed to severe ambient temperature variations.
WIKA Instrument Corp.
Lawrenceville, GA
Tel: 770-513-8200
Web: www.wika.com
Electromagnetic flowmeter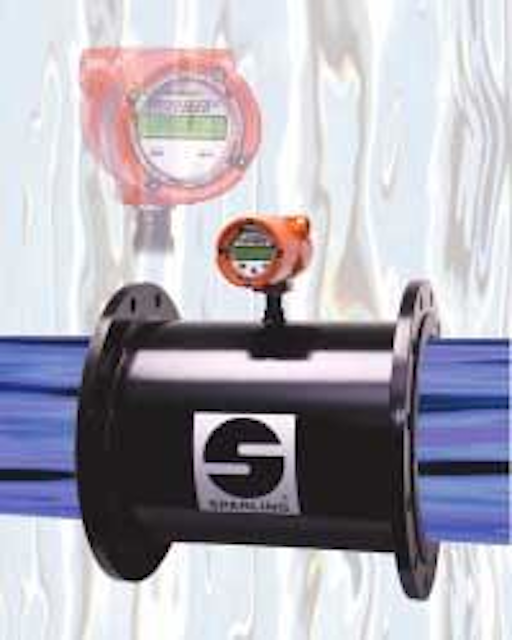 Click here to enlarge image
The FM657 TigermagEP from Sparling features Mag-Command™, a menu driven software program that serves as a user interface and a flowmeter diagnostic package. Developed for measurement of flows such as water, wastewater and raw sewage, the flowmeter is available with a polyurethane liner in sizes from 2 in. to 48 in. Accuracy is ±0.5% of rate.
Sparling Instruments, Inc.
El Monte, CA
Tel: 626-444-0571
Web: www.sparlinginstruments.com
Engineering services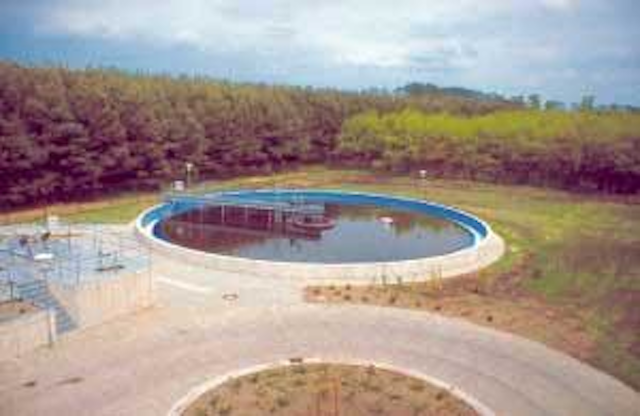 Click here to enlarge image
Weston Solutions offers a variety of water and wastewater engineering design and consulting services. The company has more than 40 years of experience in the negotiation of wastewater discharge permits, planning and design of wastewater treatment systems, and in designing and implementing pollution prevention, monitoring and compliance programs. It services include design, construction, design/build, and operations and maintenance.
Weston Solutions
West Chester, PA
Tel: 610-701- 3115
Web: www.westonsolutions.com
Metering pumps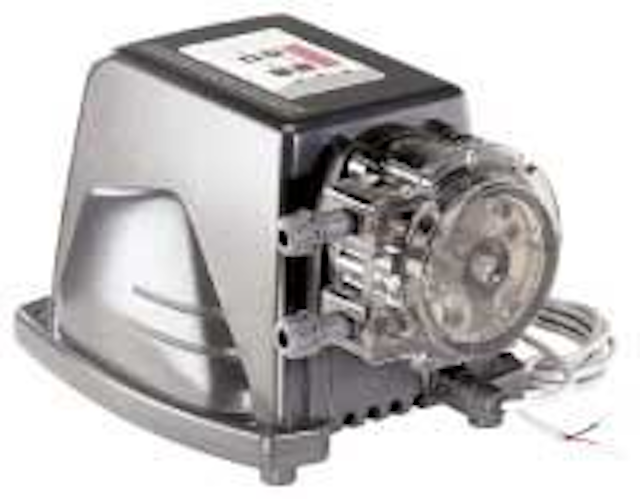 Click here to enlarge image
The G.H. Stenner Company has introduced the SVP Series, a variable speed peristaltic metering pump. The pumps are capable of 1.66 gph at 100 psi and 3.5 gph at 25 psi and are designed to respond directly to a 4-20 mA input signal from water treatment controls including pH and ORP monitors. Features also include a 4-button keypad for manual adjustment and an LED display. Control adjustment ranges from 5-100% in 1% increments.
G.H. Stenner & Company
Jacksonville, FL
Tel: 904-641-1666
Web: www.stenner.com
Smoke testing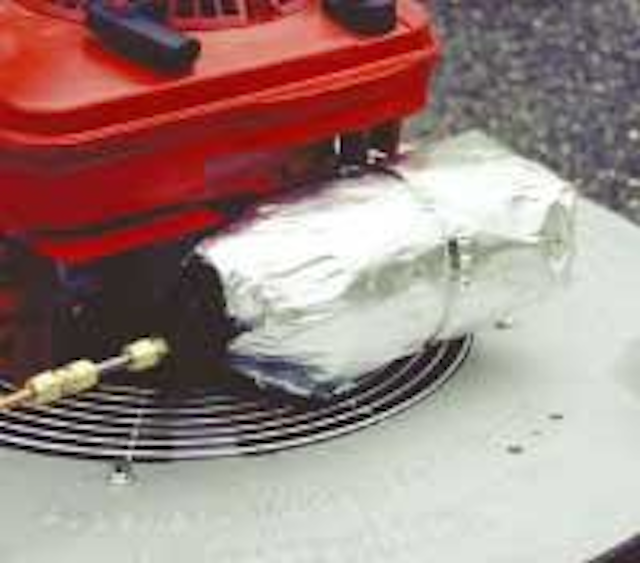 Click here to enlarge image
The 30-L smoke system from Superior Signal is designed to optimize dry smoke output. Its insulated heating chamber retains heat to maximize smoke production. A precision fluid injection orifice also helps minimize the chance of overloading the heating chamber, the primary cause of "wet" smoke. Using a 5.0 hp Briggs & Stratton engine and a 10 blade fan, this blower is capable of meeting any smoke testing challenge. The low profile base design is constructed of cast aluminum. The new model 30-L is equipped to use smoke fluid, but can also be used with classic Superior smoke candles.
Superior Signal Company, Inc.
Spotswood, NJ
Tel: 732-251-0800
Web: www.SuperiorSignal.com
Electronic switch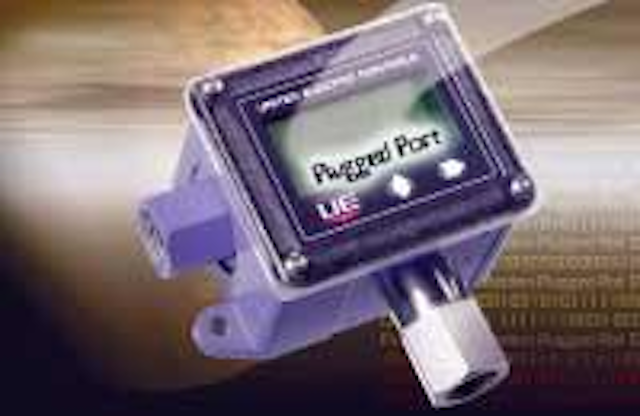 Click here to enlarge image
United Electric offers the One Series electronic switch with self-diagnostics, local display and field programmability. Providing alarming and shutdown for cavitating pumps, this electronic switch can potentially replace a mechanical switch and gauge while reducing potential leak paths. When sensing slurries or biosolids streams, the One Series' microprocessor monitors pressure while reporting its own health and plugged port condition. An optional 4-20 mA output provides trending data for variable speed drives and non-volatile memory captures process extremes. Model options include high-capacity switching, dual set points, differential pressure and temperature sensors and are 24 vDC, 115 vAC or PLC input powered.
United Electric Controls Co.
Tel: 617-926-1000
Web: www.ueonline.com
Turbine flowmeters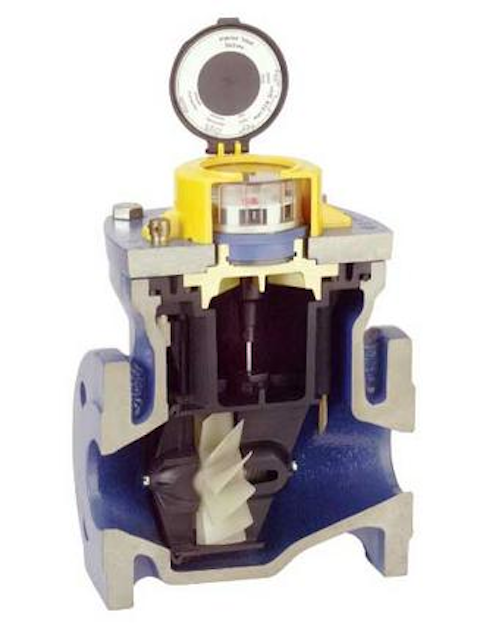 Click here to enlarge image
Niagara WPX Series Turbine flowmeters are ideal for the measurement of hot and cold water in line sizes from 2 in. to 10 in. and up to 4400 gpm. The rotor is the only moving part in the flow stream and magnetically coupled to a hermetically sealed indicator/totalizer. The hermetically sealed indicator/totalizer is dust and waterproof, preventing condensation or fogging due to variations of temperature. The magnetic coupling eliminates packing leaks.
Niagara
Spartanburg, SC
Tel: 864-574-3327
Web: www.aaliant.com
Engineering services
KLM Engineering is a structural engineering and inspection firm staffed by experienced, registered professionals. Inspection services offered include: water towers, antennas, water treatment plants, wastewater treatment plants and pipelines. KLM employs one of the largest certified NACE coatings, AWS welding, and API-653 inspection staffs in the nation.
KLM Engineering Inc.
Lake Elmo, MN
Tel: 651-773-5111
Data management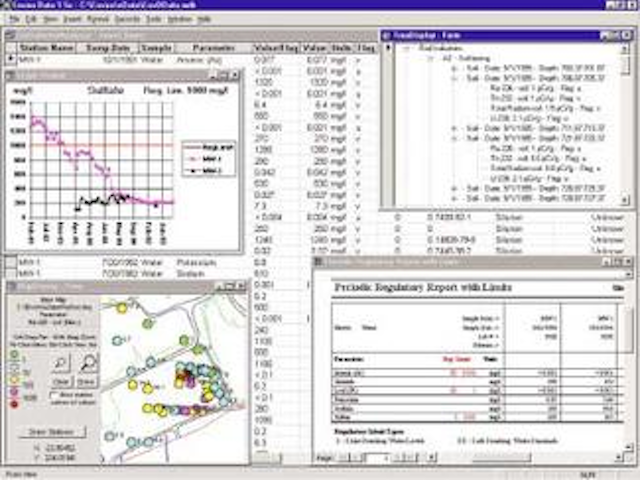 Click here to enlarge image
Enviro Data from Geotech Computer Systems stores and displays water quality and other environmental data using Microsoft Access for the user interface and Access, SQLServer or Oracle to store the data. It works well for wastewater, groundwater, soil, air, and other media. Users can import analytical and other data, review Geotech Computer Systems, Inc. the quality, select data, and generate reports, graphs and maps, or provide data to other programs. Capabilities include a lab and field data interface, data validation (if required), a user-friendly selection screen, and integrated graphing, mapping and reporting.
Geotech Computer Systems, Inc.
Englewood, CO
Tel: 877-740-1999
Web: www.geotech.com
Severe duty motors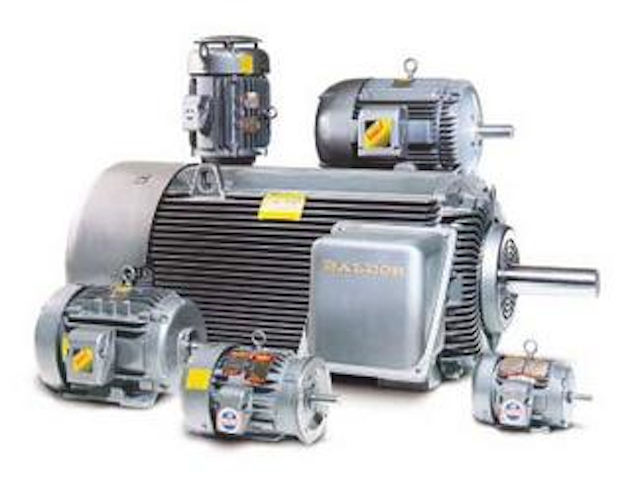 Click here to enlarge image
Baldor offers customers a range of Severe Duty motors directly from stock, including premium or standard efficiencies in ratings from 1/2 to 500 hp. Non-stock (to 2000 hp) motors can be delivered in 10 working days. For most extreme applications where downtime is critical, the company's IEEE-841 motors are ideal. These are NEMA Premium™ efficient motors that exceed IEEE 841-2001 specifications. Standard efficient severe duty motors include chemical processing motors and "Dirty Duty™" motors. The motors are built with Class F insulation, Class B temperature rise, and a 1.15 service factor.
Baldor Inc.
Fort Smith, AR
Tel: 800-828-4920
Web: www.baldor.com
Coating system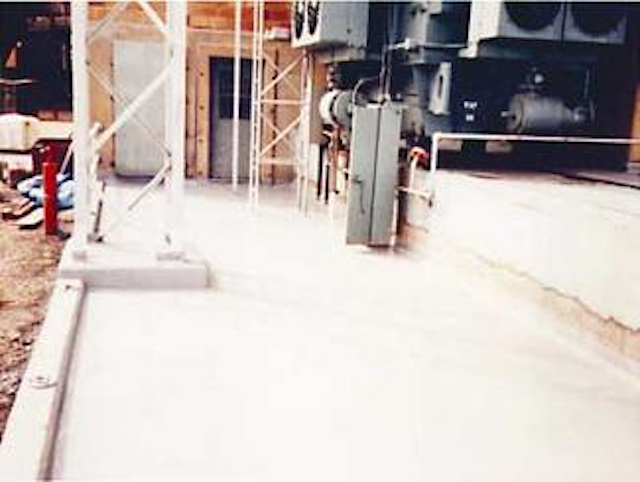 Click here to enlarge image
ITW Devcon offers its AS 2000, a flexible, two-component coating system for protecting plastics, FRP, composites, metal, and other surfaces subject to movement or flexing. It has excellent hydrolytic stability and is extremely resistant to moderate concentrations of acid, alkaline, and other chemical solutions. With superior resistance to abrasion, impact and puncture, UV radiation, and thermal cycling, it is ideal for a wide range of service conditions and applications including secondary containment; antislip flooring; and protection of composite, metal, concrete, and brick structures such as bridges, walkways, platforms, etc.
ITW Devcon Engineered Coatings
Danvers, MA
Tel: 978-777-1100
Web: www.devcon.com
Pipe survey reporting software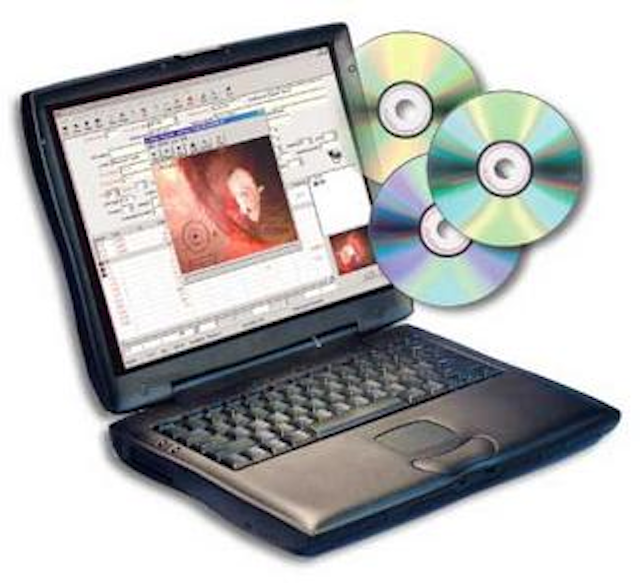 Click here to enlarge image
Flexidata provides a pipe survey reporting software package that meets all reporting standards: PACP, WRc and Hansen Non-Formula or Formula. The software also interfaces with GBA Master Series, Carte Graph and Sussex, among others. The program's evaluation reports provide the condition assessments needed for CMOM or GASB34. With the DVS (Digital Video Survey) Module, operators can record surveys in either MPEG1 or MPEG 2.
flexidata
Thousand Palms, CA
Tel: 800-688-8094
Web: www.flexi-data.com
Riser pipe clamp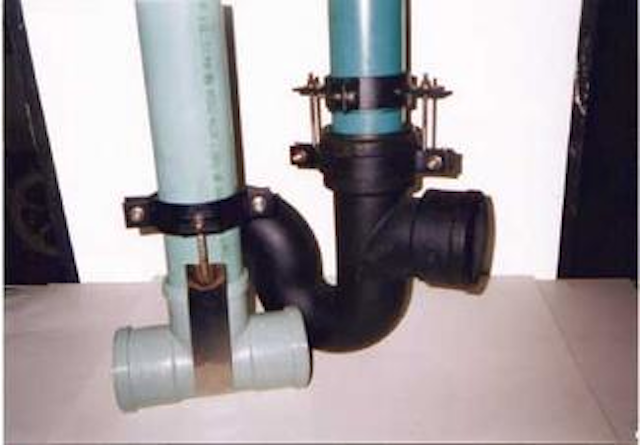 Click here to enlarge image
The A-Clamp from LNR Industries is a patented device that firmly secures a riser/cleanout pipe to the lateral sewer line. Due to powerful hydrostatic ground forces caused by the freeze-thaw cycle in colder climates, riser/cleanouts can pull out of the lateral hookups. This allows ground water to enter the sanitary sewer system. The clamp is designed to prevent this from happening. It is made of solid steel with a rubber coating for added protection. It has stainless steel hardware and is guaranteed to last the lifetime of the hookup.
LNR Industries
Newfane, NY
Tel: 716-778-6220
Web: www.aclamponline.com
Sump pumps
Vertiflo offers its Series 800 Industrial Vertical Immersion Sump Pump for service in water, corrosive chemicals and hazardous liquids. Applications include sump drainage, flood control and process drainage to meet EPA and OSHA requirements. The pumps are designed for long life in severe services with minimal maintenance at heads to 230 feet and temperatures to 350° F. They can operate in pit depths to 26 feet and up to 3000 gpm. Features include carbon line shaft bearings, semi-open impeller with external adjustment, high-thrust angular contact ball bearing, 416 stainless steel shafts to 115/16 inches and standard NEMA C face motor. Construction materials available are cast iron, 316 stainless steel or Alloy 20.
Vertiflo Pump Co.
Cincinnati, OH
Tel: 513-530-0888
Web: www.vertiflopump.com
Pipeline inspection cameras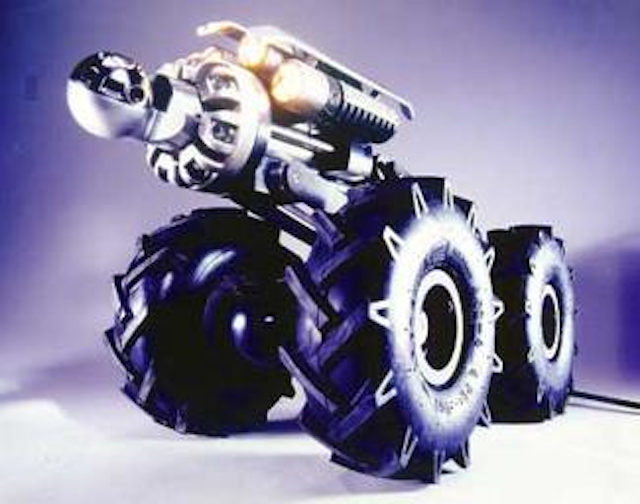 Click here to enlarge image
The P494 flexiview® Pan & Tilt camera from Pearpoint features full 360° rotation, digital video processing and 1 lux capability with interchangeable tractors for inspection of pipes 6 in. and larger. A variety of peripherals, such as lightheads, wheels and controllers give the operator the flexibility to design a system that best suits each inspection. The system is shown with the P448 Steerable Tractor which can negotiate radical bends and turn on its own axis.
Pearpoint, Inc.
Thousand Palms, CA
Tel: 760-343-7350
Web: www.pearpoint.com
Drive systems
Direct connectivity for Ethernet networks and increased power ratings up to 500 hp give the new Square D Altivar® 58 TRX AC drive the extended functionality to meet demanding water/wastewater application requirements. The drive incorporates sensorless vector control. The drive is part of Schneider Electric's portfolio of Transparent Ready™ control, automation and electrical products with built-in connectivity that simplifies the exchange of equipment and process information. With an Ethernet option card, embedded Web pages allow real-time access to drive information from anywhere in the world using a standard Web browser.
Schneider Electric
Appleton, WI
Tel: 800-392-8781
Web: www.squared.com