New Products
H2ONET Generation V9 for AutoCAD® 2010 from MWHSoft offers significant advances and usability improvements for an enhanced user experience ...
Feb 1st, 2010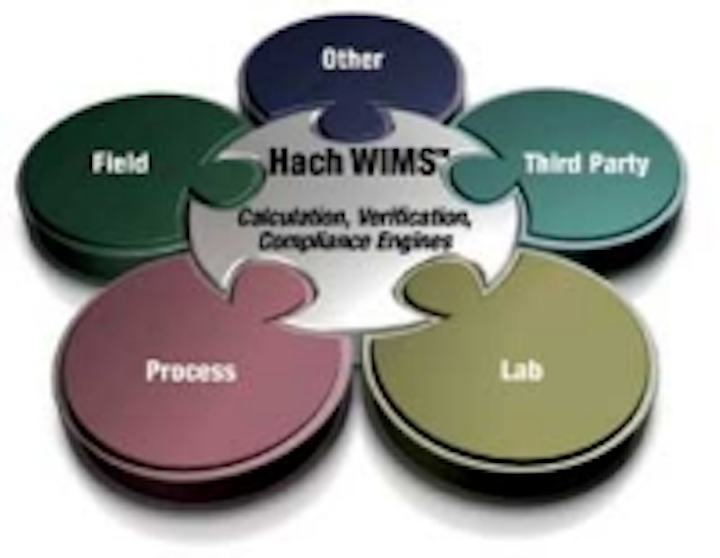 Modeling, simulation software
H2ONET Generation V9 for AutoCAD® 2010 from MWHSoft offers significant advances and usability improvements for an enhanced user experience, increased flexibility and computational speed, and the facilitation of greater productivity and performance. It features integrated real-time network modeling, GIS data exchange, spatial database query and analysis across multiple data types. It also provides the sophisticated mapping required for complete infrastructure management and business planning.
MWH Soft
Broomfield, CO
626-568-6868
www.mwhsoft.com
Stormwater capture, recycling
Oceansafe is a patented new system that captures, cleanses and recycles stormwater and urban runoff from parking facilities, plazas and other hardscape structures in a simple, cost-effective manner. It mimics nature's cleansing process and meets the needs of architects, developers and owners who are designing and building more environmentally sensitive projects, especially in urban areas. The system can be installed as part of hardscape structures such as parking facilities, plazas, sports arenas, sidewalks, and roadways and is almost 100% effective in collecting and recycling water runoff. It not only reduces urban runoff, but it also collects, stores, filters, and recharges local groundwater tables, saving water utilities the need to import thousands of acre feet of water.
Oceansafe Inc.
Costa Mesa, CA
949-642-0660
www.lithocrete.com/oceansafe
Check valve
The TF-1 Curved Bill Tideflex® Check Valve is designed with enhanced sealing to improve headloss across the valve. The valve is constructed entirely of rubber, making it immune to rust, corrosion and weathering. Its design enables the check valve to handle long-term water weight and maintain its structural integrity. The spine is at a greater vertical angle, making the TF-1 able to withstand the cantilever effect when water is flowing through the valve. The TF-1 has lower headloss compared to the original TF-2.
Tideflex Technologies
Carnegie, PA
412-279-0044
www.tideflex.com
High-flow stormwater filter
The StormSafe™ HF10 from Transpo Industries is designed specifically to reduce pathogens/bacteria contained in surface water runoff at high flow rates. As an end-of-pipe solution, it is scalable and can be built with as many as six filter tubes providing treatment rates up to 20cfs. The filter tube uses innovative helical filtering elements (patent pending) to provide a filtering path through the FabGuard anti-microbial shield. This filtration media reduces bacteria by up to 90%. The lightweight filter elements are easy to access for replacement through manholes provided. The solution also uses standard 30" diameter corrugated plastic pipe, and includes a pre-filter, sediment/debris separator.
Transpo Industries Inc.
New Rochelle, NY
www.transpo.com
Pipeline inspection
With its acquisition of PipeEye International, Pure Technologies offers expanded capabilities for electromagnetic testing of water transmission and sewer force mains constructed with prestressed concrete cylinder pipe (PCCP), a process marketed under the P-Wave® trade name. The assets include a powerful tracked robotic system that can operate in water pressures up to 70 psi. The device requires only an 18-inch diameter access opening into a depressurized pipeline and can inspect over a mile of pipe in each direction from the manhole. The system also provides a detailed video record of the internal surface of pipelines.
Pure Technologies Ltd.
Columbia, MD
443-766-7873
www.puretechnologiesltd.com
Industrial stormwater treatment
StormwateRx has introduced AquiPlus™, a polishing add-on to its highly efficient Aquip® stormwater filtration system. AquiPlus provides enhanced pollutant removal for a number of challenging stormwater treatment applications, including removal of dissolved metals to the parts per billion range, reduction of water turbidity and elimination of pathogenic microorganisms such as E. coli. Due to its extremely high level of stormwater pollutant removal, the system is ideal for industries where higher concentrations of specific industrial pollutants are unavoidable or in areas where stormwater quality standards require especially high quality effluent.
StormwateRx LLC
Portland, OR
www.stormwaterx.com
800-680-3543
Valve for CSO applications
Red Valve's Weirflex creates an adjustable weir for stormwater control in combined sewer systems. It is a variation on the company's pinch valve principal: Instead of closing on centerline, the Weirflex closes from the bottom only to create a weir that can be used to retain stormwater in the sewer line. This allows the treatment plant operator to maximize existing stormwater storage within the lines while preventing the treatment plant from being over burdened by a stormwater surge. The Weirflex can be controlled remotely by an electric actuator or by a handwheel and bevel gear. Its open-frame construction provides a visual reference to valve position and weir height. It is available in sizes to 90''.
Red Valve Company Inc.
Carnegie, PA
412-279-0044
www.redvalve.com
Debris, trash collection
The WATERGOAT system from New Earth Industries is adaptable to almost any stormwater outfall or drainage application. It attaches to stormwater outfall pipes to catch debris and trash before it hits open water. The device raises and lowers with tides and rain events and comes equipped with a chemical sock that soaks up harmful hydrocarbons. Its lightweight construction enables it to be moved for short-term use. The design also allows for flexibility in size and shape whether acting as a rigid debris boom or stormwater debris catchall.
New Earth Industries Inc.
St. Petersburg, FL
727-459-2301
watergoat.org
Inside drops
Inside Drops for sanitary sewers by Reliner®/Duran Inc. eliminate outside drops in manholes, clean up failed inside drops and are excellent as stormwater drops. When used in wet wells they can help prevent pump cavitation. Compact, low profile Drop Bowls and Stainless Pipe Supports are simple and cost effective, reduce maintenance and simplify cleaning while providing full access to areas below. The bowls attach to the manhole wall with stainless expansion bolts. Reliner adjustable stainless pipe clamps, pump support systems, specialty clamps and extensions are available.
Reliner®/Duran Inc.
Lyme, CT
800-508-6001
www.reliner.com
Rainwater harvesting solutions
RainSava rainwater harvesting systems from Bord na Móna Environmental Products U.S. are designed to provide an alternative to the use of potable drinking water for non-drinking water re-use applications. The company provides complete systems or individual components to capture and use rain that falls onto a catchment area such as a roof. By collecting and filtering natural rainwater, and providing a means of distributing the water to the required locations in an economic way, the systems provide a solution to the growing problem of water shortage and stormwater run-off. The company's packaged solutions are directly available to green build developers, self-builders and to homeowners retrofitting rainwater recycling into their houses. It is also offering skid-mounted units and recycling components to builders & owners of commercial properties.
Bord na Móna Environmental Products U.S. Inc.
Greensboro, NC
www.bnm-us.com
Corrugated PE pipe
Eagle Corr PE (Dual Wall) pipe from JM Eagle combines a corrugated exterior and a smooth interior for maximum hydraulic efficiency in a high-density polyethylene pipe. It can be used in a variety of gravity flow applications and is especially suited for storm sewer systems. The pipe has a high strength-toweight ratio, is very flexible and weighs less than traditional products. It can support a load rating of H-25 – with a minimum cover of only 1 foot – but with a conduit design that's also flexible enough to allow for cover heights in excess of 100 feet.
JM Eagle
Los Angeles, CA
www.jmeagle.com
Stormwater, sewer infrastructure management
Computational Hydraulics International (CHI) has released the latest version of PCSWMM, the standard GIS-based software support system for EPA's SWMM5 solution for water quality compliance. The new version features a streamlined, adaptive user-interface that improves work-flow for experienced users while dramatically reducing the learning-curve for new users. PCSWMM 2009 provides a set of feature-rich, high-performing professional urban drainage and watershed modeling tools that work with GIS/CAD based data, including Arc-GIS, AutoCAD, MapInfo, Microstation, Geomedia SQL, OpenGIS SQL and many others. It offers unlimited model sizes (100,000+ pipes) and fast set-up of models for dual drainage and detention pond design, RDII and CSO/SSO reduction, flood inundation analysis and more.
Computational Hydraulics International
Guelph, ON, Canada
www.computationalhydraulics.com
Ammonium analyzer
Featuring reliable ISE technology, the new HYDRA Ammonium Analyzer from Electro-Chemical Devices Inc., offers fast and accurate ammonium measurement for superior water quality monitoring with virtually no maintenance. It can be used to monitor the ammonium nutrient load in environmental waters, lakes, streams and wells. It measures the concentration of dissolved ammonium nitrogen using three electrodes: an Ammonium Ion Electrode, a Potassium Ion Electrode and a pH Electrode. Featuring a backlit LCD display, the rugged C22 Analyzer is housed in a NEMA 4X enclosure. The HYDRA Analyzer is also configured to periodically actuate a cleaning cycle using the integral spray cleaner in the sensor, minimizing the formation of biofilms or other coatings on the electrodes and keeping maintenance to a minimum. The cleaning cycles feature a user configurable period and duration.
Electro-Chemical Devices
Yorba Linda, CA
800-729-1333
www.ecdi.com
Manhole monitoring system
Weidmuller offers a wireless manhole monitoring solution designed to monitor underground sewer levels in order to prevent sewage overflow throughout municipal localities. Installed in the sewer manhole, the wireless solution is compact, easy-to-use, and provides the necessary power to send signals through the ground and steel manhole covers to receivers located in control cabinets that are often blocks away. The system offers ultra-low power consumption and has the ability to power the solution via standard AA-sized batteries. It is contained in a rugged, explosion-proof, Class 1, Division 1 enclosure that features a small external antenna, and is portable so that it can be moved to different locations as needed. Plus, it has the ability to send both analog and discrete signals, so both water levels and high-low set points can be monitored. Programming software for the wireless devices is provided for free via web download, and is easy to use and understand.
Weidmuller
Richmond, VA
800-849-9343
www.weidmuller.com
Hydraulic modeling, flood forecasting software
MHWSoft has released Version 10.5 of its InfoWorks software. InfoWorks CS allows engineers and planners to produce hydraulic modeling of a complete urban collection system network, including backwater effects and reverse flow, open channels, trunk sewers, complex pipe connections and ancillary structures. Tools for urban flooding and receiving stream impact prediction, water quality, sediment transport and real time control simulation are also included. InfoWorks SD allows users to model stormwater flows through a complex environment with a diversity of underground and overland structures and paths. The latest version incorporates new inlet flood types, improved rainfall generators and new routing methods. InfoWorks RS combines 1D & 2D simulation, data management, geographical analysis and a relational database in a single environment and includes full-solution modeling of open channels, culverts, floodplains, embankments and hydraulic structures.
MWH Soft
Broomfield, CO
626-568-6868
www.mwhsoft.com
Curb inlet stormwater filter
The ClearWater BMP stormwater filter is not just a trash basket, it's a powerful advancement in sidewalk curb inlet filtration technology. The patent-pending, stainless steel filter train design allows stormwater flows to be screened, triple settled, and then filtered, all within the confines of an existing concrete curb inlet drain box. This aggressive filtration design significantly reduces concentrations of trash, sediment, hydrocarbons, metals, and nutrients. Testing from San Diego State University established that the unit will remove 97% of TSS, 86% of hydrocarbons, 83% of zinc, and 81% of lead. Specifically designed for retrofitting within the existing curb and gutter infrastructure, it handles heavy storm flows with ease, is non-scouring, utilizes mosquito free technology, and requires no excavation or concrete modification.
Clear Water Solutions
Vista, CA
800-758-8817
www.ClearWaterBMP.com
Inspection software
Granite XP version 4 from CUES provides out-of-the-box support for cleaning inspections. The software can now be run on sewer and stormwater cleaning, jetting and pumping vehicles to integrate cleaning activities with CCTV operations for more effective coordination and management of labor and equipment. The solution can be deployed to utilize camera-attached cleaning equipment to collect video for post-cleaning review or used without video collection allowing the cleaning operator to input information about the lines that have been assessed.
CUES
Orlando, FL
800-327-7791
www.cuesinc.com
Water reuse system
Oldcastle Precast has introduced its new Storm Capture™ Reuse System, a sustainable product for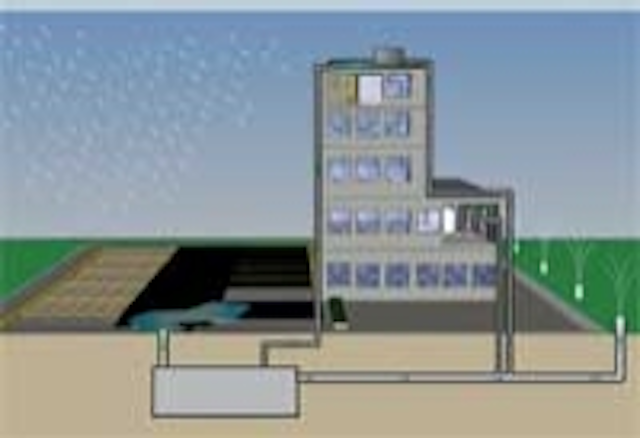 stormwater harvesting. The system combines a cistern, sized specifically for each commercial or institutional project, with equipment to treat the captured water to reuse quality for toilet flushing, irrigation, cooling towers, and fire suppression. Sources of water for reuse can include rooftop runoff, parking lot stormwater, air conditioner condensate, gray water from sinks, and groundwater. The system is ideal for Low-Impact-Development (LID) situations and for projects seeking LEED certification.
Oldcastle Precast Inc.
Atlanta, GA
404-758-4487
www.oldcastleprecast.com
Video pipeline inspection
Controlled by an ergonomic joystick pendant, Envirosight's Agilios™ selfleveling pan/tilt camera captures detail from sidewalls and distant targets alike. Dimmable, shadowless illumination ensures optimum viewing on the pendant's integral 800 x 600-pixel display. The camera measures 3" diameter, suitable for inspecting past multiple 90-degree bends in pipe 3.5" and larger. It carries a 1 bar pressure rating and is made of stainless steel. The welded, wheeled aluminum frame holds 100, 200 or 300 feet of push rod, and includes padded storage for the pendant during transit.
Envirosight LLC
Randolph NJ
www.envirosight.com
Water circulation for treatment ponds
Using the sun's energy instead of grid power, SolarBee® water circulators minimize aeration equipment run-time in wastewater and industrial water reservoirs, which significantly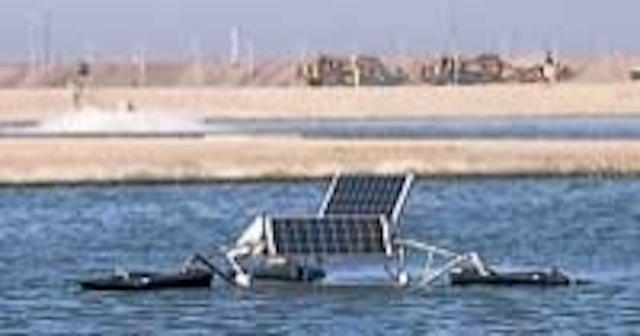 reduces energy costs and helps provide a fast payback. The circulators can supply most of the mixing energy required in virtually any type of treatment pond, reducing the hours that the aeration system must operate. Thorough mixing helps improve regulatory compliance by reducing biochemical oxygen demand (BOD), total suspended solids (TSS), ammonia, odors and sludge buildup.
SolarBee Inc.
Dickinson, ND
866-437-8076
www.solarbee.com
Flood barrier
A self-erecting flood barrier, which will enable homeowners and businesses to protect themselves from flooding, has been successfully developed in partnership with AECOM, PAGeotechnical and NTU. The Self Erecting, Low Cost (SELOC) Flood Barrier features rotary-molded polyethelene units that rest unobtrusively at ground level until flood waters arrive. Flood water lifts the buoyant barrier units, which are hinged on one edge to automatically provide the flood protection. The polyethelene units can be covered with a surfacing, such as timber decking or rubber crumb, to provide a non-slip surface for pedestrians and cyclists.
AECOM
www.aecom.com
Standby lift station pumps
Cities and municipalities can now utilize Thompson pumps in an innovative new pump station design. Traditional emergency backup systems – a generator with an automatic transfer switch – can be replaced with the Silent Knight diesel-driven dry prime pump. This independent unit is a more cost-effective solution to traditional pump station problems such as sewage pump failures. The versatile diesel dry prime pump also supplements lift station pumps should routine maintenance or emergency repairs be necessary.
Thompson Pump & Manufacturing
Port Orange, FL
www.thompsonpump.com
Construction stormwater treatment
StormKlear® Liqui Floc™ treats suspended sediment in construction stormwater and was formulated specifically to treat sediment that will not settle out by gravity alone. It uses a proprietary chitosan formula to coagulate suspended particles when added to untreated stormwater, neutralizing the negative static electrical charge on soil particles. It can reduce turbidity and phosphorous levels by greater than 90% when used with high-volume efficiency filtration. The product is biodegradable, 100% PAM free, environmentally friendly and approved by many government agencies
StormKlear Storm Water Treatment Solutions
Redmond, WA
888-282-6766
www.stormklear.com
Floating debris removal
Highland Tank's Solids Stormwater Interceptor (SSI) is a simple, yet effective, water quality inlet (WQI) typically employed in removing floating debris and settleable solids from a stormwater stream prior to its entry into a detention basin, constructed wetland, or collection system. It contains a series of sediment settling chambers separated by baffles. Its primary function is to remove sediment, suspended particles, and associated pollutants from stormwater. It also contains trash screens to capture larger materials, trash, and floatables. SSI can be installed either in-line or at the end of storm pipes.
Highland Tank
Stoystown, PA
www.highlandtank.com
Gutter guards
The Environmental Protection Agency has declared storm runoff the biggest threat to our water supply. Every year, millions of tons of pollutants — including trash and floatables — enter our rivers and lakes through unfiltered storm sewer systems. But storm sewer filtering is necessary, inexpensive and immediately available. Simple plastic guards from Heka Engineering can catch all large trash and water filters can sift out most of the sediment and much of the fluids.
Heka Engineering
Dallas, TX
214-554-4247
srowe@hekaengineering.com
Water quality vault
CrystalStream Technologies' water quality vault works according to the fundamental principle that things less dense than water float and things more dense than water sink. Incoming stormwater flows through a fine mesh in the trash basket, capturing floating debris and vegetative matter. Water proceeds around baffles, slowing and spreading the flow and ensuring that oil gathers at the top. As the water level rises, the oil flows over the edge of the reservoir and the water flows under it to the outflow pipe. As the water rises out of the unit in the back chamber, it passes through a 3/4 inch coconut fiber filter designed to remove smaller floating or suspended materials. Other elements, such as absorbents, flocculants, or charcoal canisters, can be added to target specific pollutants.
CrystalStream Technologies
Lawrenceville, GA
770-979-6516
www.crystalstream.com
Well washing system
Anue Water Technologies has introduced the new EP-1315, an all-mechanical system that cleans wet wells and provides wastewater conditioning to promote aerobic activity. The system removes up to 98% of fat, oil, and grease (FOG) build-up in wells through agitation and homogenization of the wastewater. During the process, wells are washed down and the system's action provides significant increases in dissolved oxygen (DO).
Anue Water Technologies
Carlsbad,CA
800-559-7159
www.anuewater.com
Additive for hydraulic mulch products
Profile Products offers a hydraulic mulch additive that significantly improves performance characteristics of Profile's wood and wood-cellulose blends of hydraulic mulch products. TriFlo™, a proprietary blend of hydrocolloid tackifiers, works synergistically with the Thermally Refined® manufacturing process, which utilizes heat and pressure to more completely break down wood into finer fibers. The result is a higher-quality wood mulch. Finer fibers produce greater product yield, while also creating more surface area for water absorption. TriFlo further enhances these characteristics by absorbing additional moisture and creating a more fluid slurry that shoots farther and more uniformly.
Profile Prodcuts
Buffalo Grove, IL
800-508-8681
www.profileproducts.com
More Urban Water Management Issue Articles