Products & Services: Detectors, Monitors
Used in conjunction with the Oil Smart® Alarm, the Liquid Smart® Alarm Switch from See Water differentiates between oil and water at any predetermined location.
Dec 1st, 2008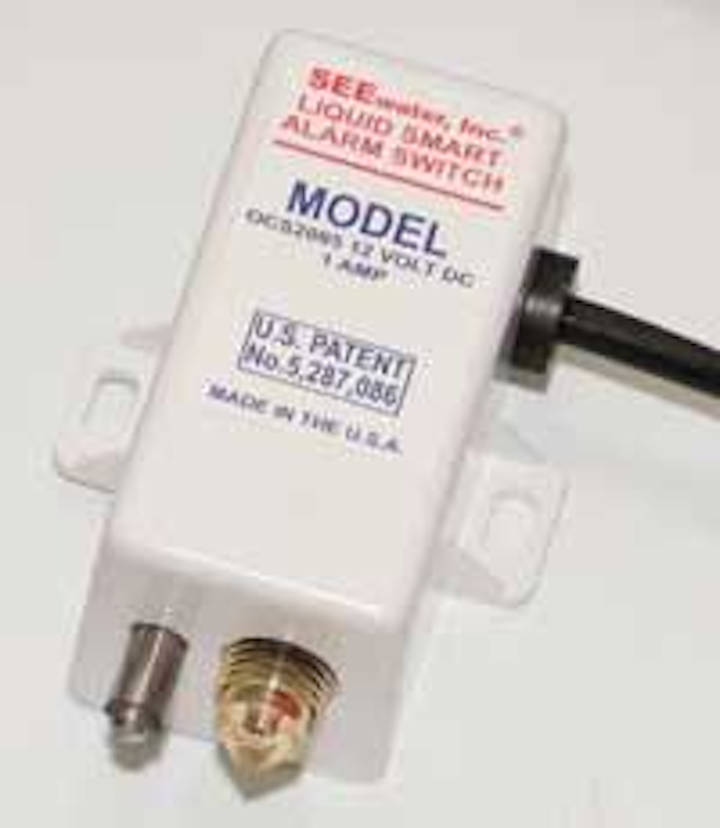 Liquid alarm switch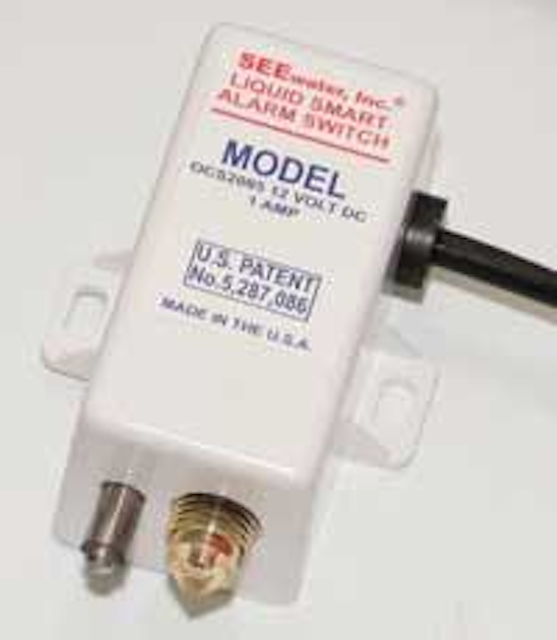 Click here to enlarge image
Used in conjunction with the Oil Smart® Alarm, the Liquid Smart® Alarm Switch from See Water differentiates between oil and water at any predetermined location. It is an environmental product used to detect the presence of any liquid in various applications. The switch will activate the alarm panel with the presence of any liquid and simultaneously identify if oil or water is present. The switch is CSA/UL approved, Type 3R, low-amp, solid-state device using a combination of optic and capacitive technology.
See Water Inc.
Tel: 888-733-9283 Web: www.seewaterinc.com
Circle No. 220 on Reader Service Card
Level transmitter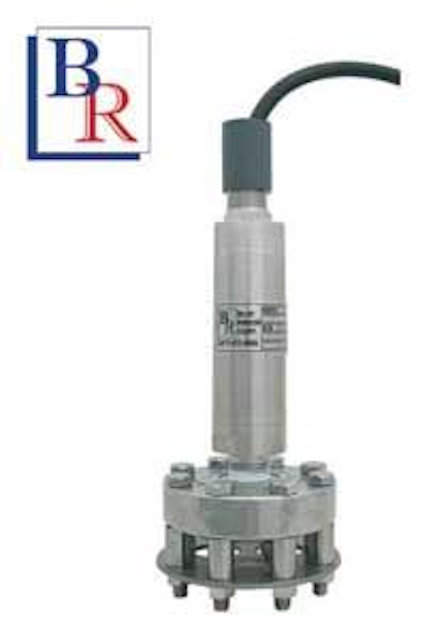 Click here to enlarge image
Blue Ribbon now offers the BC001, a Lift Station Level Transmitter that contains the patented Bird Cage design. The design features a heavy duty stainless steel protective standoff plate that protects the sensing diaphragm from damage. The system provides an accurate level measurement above its installation height. It includes integral voltage surge protection and lightning protection as well as a reinforced polyurethane cable with integral barometric vent tube.
Blue Ribbon Sales & Services Corp.
Longwood, FL
Tel: 877-677-8899
Web: www.blueribboncorp.com
Circle No. 271 on Reader Service Card
Hazardous gas detector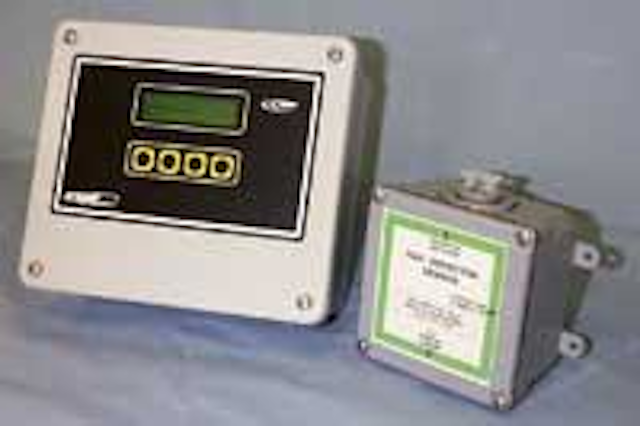 Click here to enlarge image
Eagle Microsystems has introduced its next generation of hazardous gas detectors for chlorine, sulfur dioxide, ammonia and ozone for use in water and wastewater applications. The instrument is capable of supporting up to two electrochemical gas sensors for the same or different gases simultaneously, and includes a battery backup feature. The basic unit can support two sensors and provides two analog outputs, four programmable alarm contacts and one RS232 serial port. A second serial port for RS485 is optional. The instrument has a 2 -line by 16-character backlit LCD display and a simple, menu driven, 4-pushbutton operator interface.
Eagle Microsystems Inc.
Pottstown, PA
Tel: 800-780-8636
Web: www.eaglemicrosystems.com
Circle No. 221 on Reader Service Card
Rainfall datalogger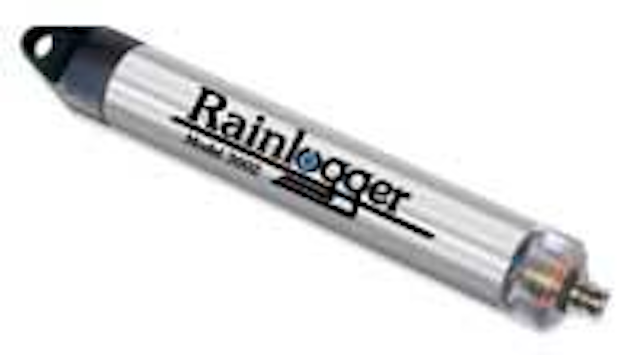 Click here to enlarge image
The Solinst Rainlogger records rainfall data when connected to a tipping bucket rain gauge. Compact and durable, it offers long-term reliability with a 10-year battery, and non-volatile memory for 40,000 readings. Compatible with Solinst Levelogger deployment and communication accessories, customers can add rainfall data to their monitoring network using the same intuitive Levelogger Software. The Rainlogger and Solinst Levelogger Series are SDI-12 compatible.
Solinst Canada Ltd.
Georgetown, ON Canada
Tel: 905-873-2255 Web: www.solinst.com
Circle No. 219 on Reader Service Card
Leak correlator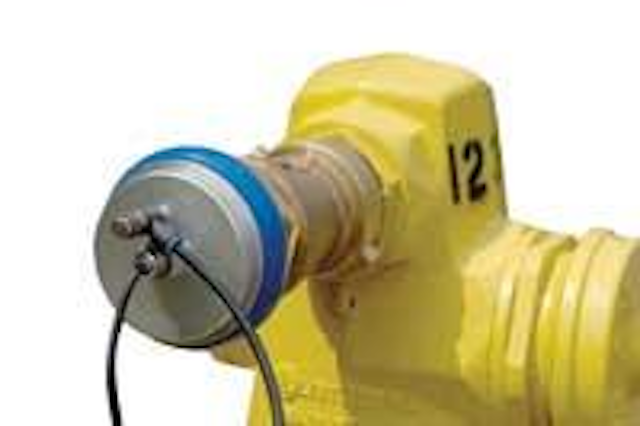 Click here to enlarge image
The new hydrophones for the LC-2500 correlator are a powerful tool for pinpointing leaks in PVC water mains and large diameter pipes where hydrants are available. Ten times more sensitive than most transducers, the hydrophones hear the leak sounds through the water inside the pipe. The LC-2500 Hydrophones Kit includes two hydrophones, two brass adaptors for hydrants with standard NST threads, and a carrying case.
SubSurface Leak Detection Inc.
San Jose, CA
Tel: 408-249-4673
Web: www.subsurfaceleak.com
Circle No. 222 on Reader Service Card
Gas detector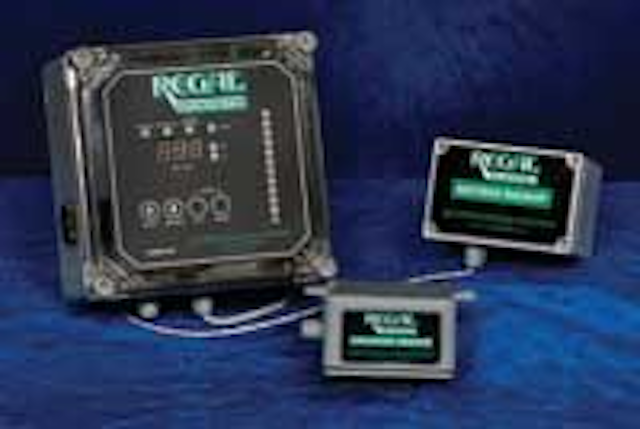 Click here to enlarge image
The new version of Regal's Series 3000 Gas Detector is available. This improvement makes standard many features previously available only as options, including: A single, unpowered and isolated 4-20 mA output circuit board on all single-sensor detectors; Six 10-amp relay circuits consisting of DPDT danger relays, SPDT warning relays, SPDT latch alarm relay, and SPDT horn/failure relay. The monitor includes numeric and four color, 12 LED bar graph displays and individual LEDs to indicate which gas (chlorine or sulfur dioxide) is being monitored. Calibrations are easily performed, and sensor function tests can be performed without setting off alarms.
Chlorinators Inc.
Stuart, FL Tel: 800-327-9761 Web: www.regalchlorinators.com
Circle No. 224 on Reader Service Card
Digital pressure transducer
Click here to enlarge image
The Heise® DXD digital pressure transducer, available from Ashcroft, is now offered with a LabVIEW™ driver and utility software that allows the user to address, configure and monitor one or more DXDs. The transducers are offered in ranges from vacuum through 7500 psi and feature an accuracy of ±0.02% of full span, which includes the effects of temperature. With update rates of up to 15 mS, dozens of the transducers can communicate with a single PC serial port at speeds up to 115K bps via full-duplex RS232 or RS485 communication protocol.
Ashcroft Inc.
Stratford, CT
Tel: 800-328-8258
Web: www.heise.com
Circle No. 223 on Reader Service Card
Gas detection system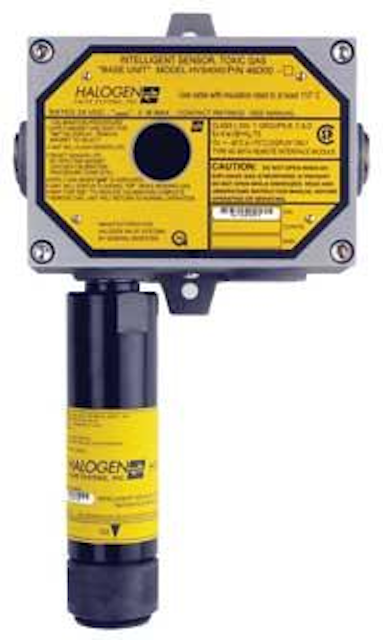 Click here to enlarge image
The Jupiter gas detection system (Model HVS4000) monitors and reports accurate information about hazardous and toxic gases to a SCADA monitoring systems. Its features include a sensor life indication, two (250 vAC - 8 amp) settable internal relays, a three-digit display, dual MODBUS connections and 4-20 mA proportional gas level output.
Halogen Valve Systems Inc.
Irvine, CA Tel: 877-476-4222 Web: www.halogenvalve.com
Circle No. 228 on Reader Service Card
Water level meters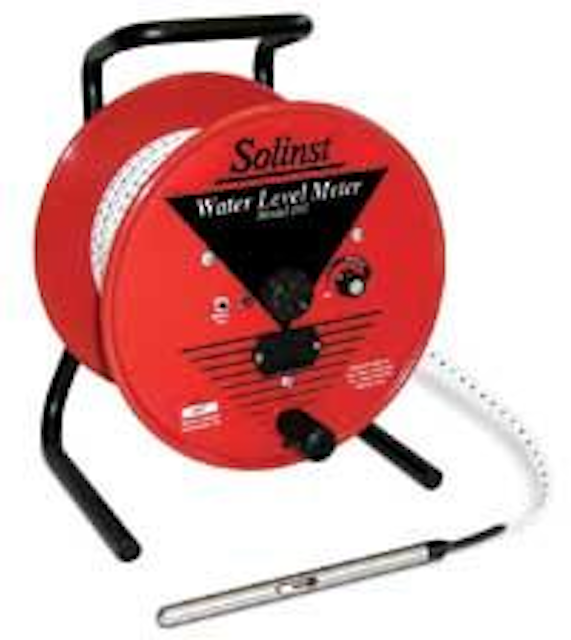 Click here to enlarge image
For over 20 years, the Solinst Model 101 Water Level Meter has been a top-selling instrument that offers consistently repeatable measurements. It offers features such as sensitivity adjustment, battery test button, and full repairability. The durable and flexible flat tape adds to the longevity of the product and measures accurately every 1/100 ft. or mm up to 6000 ft. (1800 m).
Solinst Canada Ltd.
Georgetown, ON Canada
Tel: 905-873-2255 Web: www.solinst.com
Circle No. 229 on Reader Service Card
Modular analyzer
Emerson Process Management's Rosemount Analytical Model 1057 three-input intelligent analyzer combines up to three measurements selectable from pH, ORP and contacting conductivity or resistivity, in any combination. The analyzer includes four 4-20mA current outputs allowing live measurement data along with process temperature to be communicated to SCADA, PLC or DSC host monitoring systems. The internal design is modular and allows signal input boards to be field-replaced. The unit's Quick Start programming screens appear the first time the analyzer is powered. The instrument auto-recognizes each measurement board used in the configuration and prompts the user to configure each sensor loop in a few steps for immediate deployment.
Emerson Process Management
Irvine, CA
Tel: 800-854-8257
Web: www.raihome.com
Circle No. 225 on Reader Service Card
Turbidimeter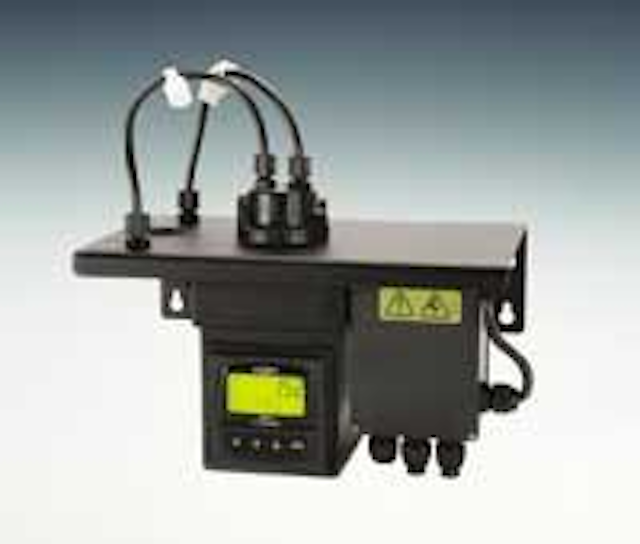 Click here to enlarge image
GF Piping Systems has added the new Signet 4150 Turbidimeter to its line of analytical instrumentation. The new meter provides water quality monitoring that is compliant to U.S. EPA 180.1, making it ideal for both municipal and industrial applications. With its integral pressure regulator, the meter features one-unit installation and setup. Typical uses include monitoring for potable water distribution, raw or filtered water, wastewater effluent, and aquatic life support.
GF Piping Systems
Tustin, CA Tel: 800-854-4090 Web: www.gfpiping.com
Circle No. 227 on Reader Service Card
Flow meter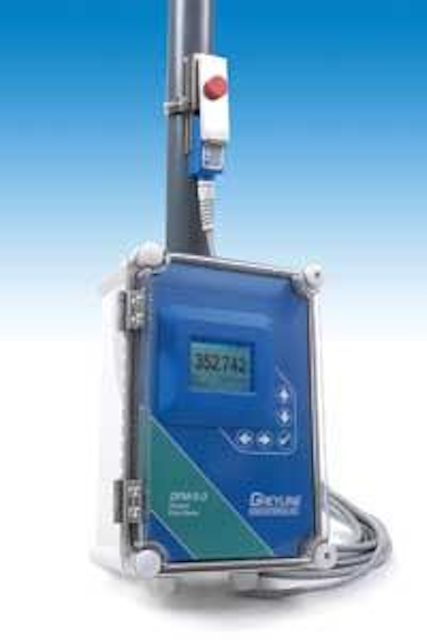 Click here to enlarge image
The new DFM 5.0 Doppler Flow Meter from Greyline Instruments measures flow from outside a pipe. The strap-on ultrasonic sensor mounts on any pipe ½" ID or larger. The meter is designed for "difficult" liquids like wastewater, sludge, slurries, abrasives or any liquid with bubbles or suspended solids. Calibration and start-up is simple with the built-in five-button keypad. Standard features include a backlit display and totalizer, isolated 4-20 mA output and two control relays. Options include a built-in data logger and reporting system with USB output and Windows software, intrinsically safe and high temperature sensors.
Greyline Instruments Inc.
Massena, NY
Tel: 888-473-9546
Web: www.greyline.com
Circle No. 226 on Reader Service Card
Coliform test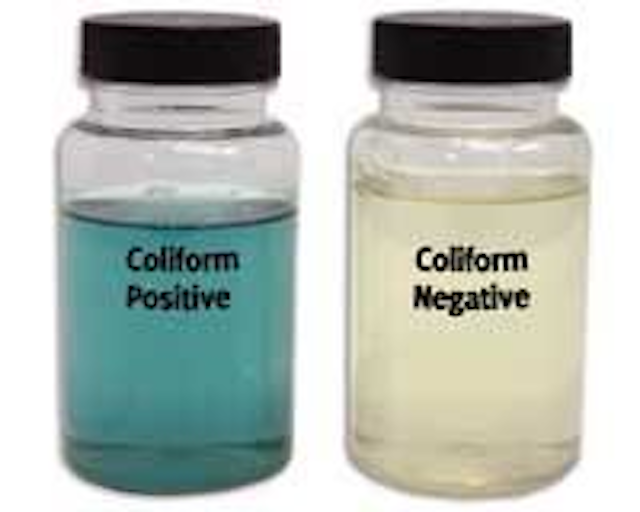 Click here to enlarge image
Industrial Test Systems, Inc. (ITS) announces a new, USEPA compliant method for presence/absence determination of Total Coliforms and E. coli in water – EZ Coliform Cult – MUG Test. Each test consists of a sterilized, ready-to-use 120 mL bottle containing a premeasured amount of growth media. To run the test users simply add the water sample, cap the bottle and then incubate at 35°C for 24 hours (or 25°C for 48 hours). The test works by detecting an enzyme produced by coliform bacteria and a specific enzyme produced by E. coli. If coliforms are present, the liquid sample will change from yellow to blue-green in color.
Industrial Test Systems Inc.
Tel: 800-861-9712
Web: www.sensafe.com
Circle No. 230 on Reader Service Card
USB datalog storage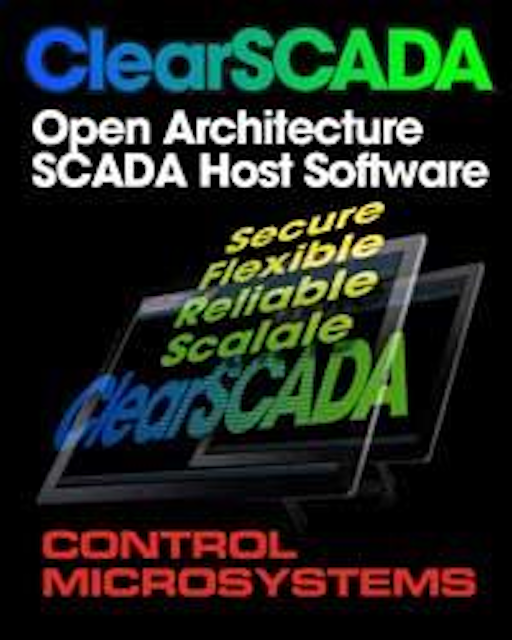 Click here to enlarge image
Control Microsystems has released a USB storage device for data logging in SCADA applications. Using removable USB storage such as Flash memory sticks, the company's SCADAPack 300-Series controllers can now provide easily configured and accessible data logs using the alternate methods of logging to internal memory or to external mass storage devices. In addition to logging data to a pre-connected USB mass storage device directly, this new feature also allows for automatic transfer of logged files on internal memory when a USB stick is inserted in the controller.
Control Microsystems
Kanata, Ontario
Tel: 888-267-2232
Web: www.controlmicrosystems.com
Circle No. 233 on Reader Service Card
Water quality monitoring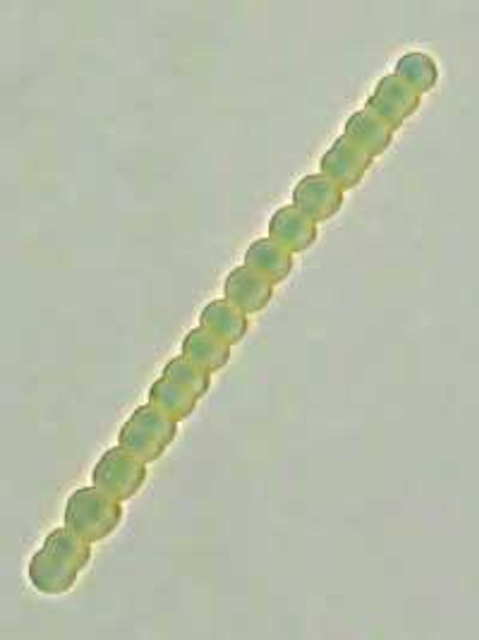 Click here to enlarge image
The FlowCAM® cell and particle imaging and analysis system from water quality instrumentation manufacturer Fluid Imaging Technologies boasts a new patent pending feature that automatically detects the presence of cyanobacteria in water, takes hi-res, full color digital images of each individual cell, differentiates the cells from harmless, non-toxic species of algae and saves the images and measurement data for analysis.
Fluid Imaging Technologies Inc.
Yarmouth, ME
Tel: 207-846-6100
Web: www.fluidimaging.com
Circle No. 232 on Reader Service Card
Water quality mapping
YSI's multiparameter water quality sensor technology has been coupled with side-scan sonar and integrated into an autonomous underwater vehicle (AUV) to offer a system capable of mapping water quality and bathymetry of large water bodies. The unusual mapping vehicle can be programmed to "swim" around lakes and reservoirs, collecting high-resolution data. The EcoMapper AUV is equipped with conductivity, temperature, and depth sensors, plus has five additional sensor ports for such parameters as optical dissolved oxygen, turbidity, pH, chlorophyll, blue-green algae, and Rhodamine WT dye.
YSI Integrated Systems
Yellow Springs, OH
Tel: 800-363-3269
Web: www.ysi.com
Circle No. 231 on Reader Service Card
pH measurement

Click here to enlarge image
Thermo Fisher Scientific has released the Orion Ross Ultra Triode line. These electrodes are an addition to the premium line of Orion pH electrodes. The new electrode measures both pH and temperature. Ideal for precise measurements, the electrodes are epoxy body refillable electrodes. They offer accuracy within 0.03 pH units when using automatic temperature compensation and are available in four different models depending on which meter a customer has.
Thermo Fisher Scientific
Beverly, MA
Tel: 978-232-6102
Web: www.thermofisher.com
Circle No. 237 on Reader Service Card
Gas detector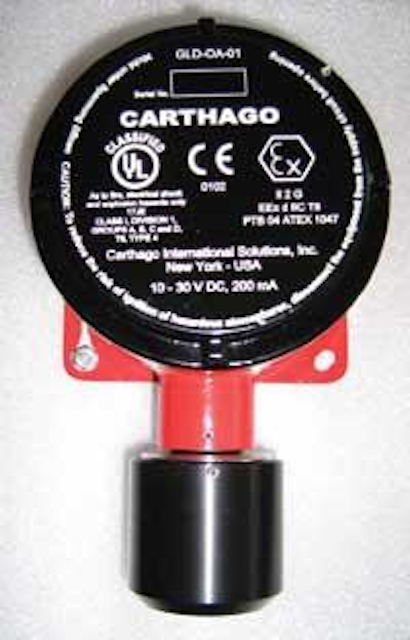 Click here to enlarge image
The OptoAcoustic Gas Detector GLD-OA-01, available from Carthago International Solutions, is a point flammable gas detector, UL-certified for use in potentially explosive atmospheres Class I Division 1. The self-contained gas sensor provides continuous monitoring of combustible gas leaks in the concentration range of 0 to 100% of the Lower Explosion Limit (LEL). It can be used as a stand-alone, or as part of a larger facility protection system using other control equipment. The proprietary sensor technology is based on generating acoustic pressure waves as result of gas irradiation with suitably modulated light.
Carthago International Solutions Inc.
Astoria, NY
Tel: 212-217-2222
Circle No. 238 on Reader Service Card
Free chlorine monitoring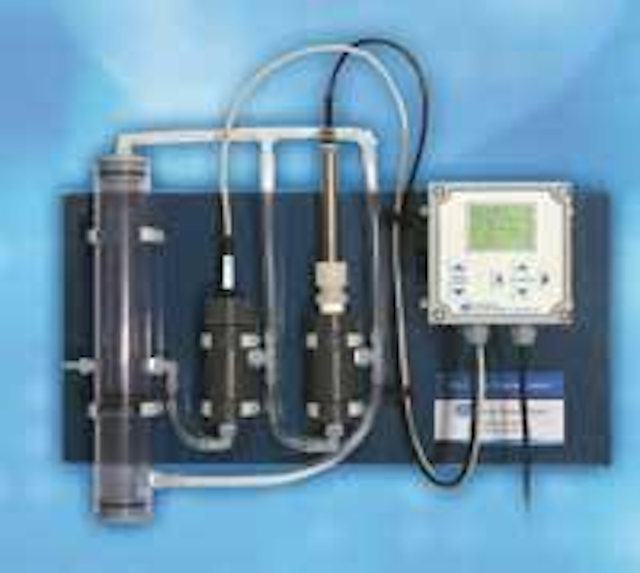 Click here to enlarge image
The new FCA-22 Analyzer System from Electro-Chemical Devices features a virtually plumb-and-play design. The panel mount design of this analyzer system comes factory pre-wired and with assembled flow tubing. The company's sensor and controller technologies allow installation and commissioning to be completed in just three steps.
Electro-Chemical Devices
Yorba Linda, CA
Tel: 800-729-1333
Web: www.ecdi.com
Circle No. 241 on Reader Service Card
Corrosion monitoring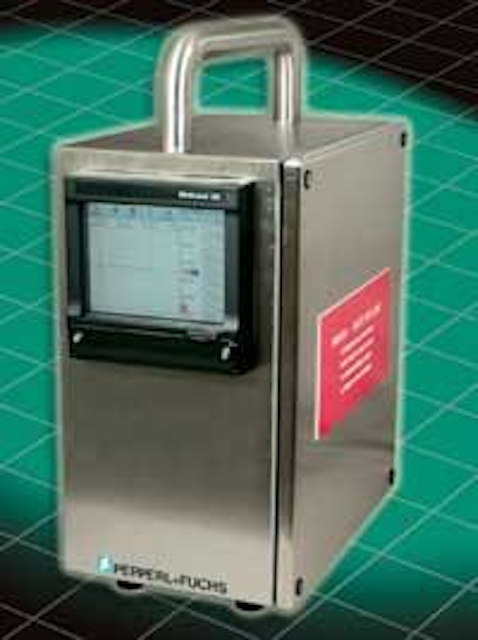 Click here to enlarge image
Pepperl+Fuchs has introduced the CorrTran® Corrosion Data Logging System. This Division 2/Zone 2 system complements the CorrTran® MV online corrosion monitoring transmitter, allowing users to access real-time corrosion data via Ethernet, USB, SD card, or locally via videographic chart recorder. The corrosion data logging system is packaged in a portable, stainless steel enclosure weighing less than 20 lbs. The transmitter outputs a 4-20 mA HART signal that is used to scale the corrosion rate in a PLC or DCS system.
Pepperl+Fuchs
Twinsburg, OH
Tel: 330-486-0002
Web: www.pepperl-fuchs.com
Circle No. 236 on Reader Service Card
Differential pressure gauges
WIKA has introduced the air2guide family of differential pressure (DP) gauges. Designed to measure very low pressure ranges from 1" to 25" WC, the gauge has been optimized to provide significant installation time savings — over 50 percent compared to competitive systems. It has also been retrofitted to existing hole-patterns, eliminating the need for tools. The gauge features a two-part measuring system that separates the media from case components. Standardized case designs allow mechanical and electronic output configurations to use identical components and permit the replacement of only the measuring system. Another WIKA innovation is the ability to easily align the dial from the front of the gauge after the gauge has been installed.
WIKA Instrument Corp.
Lawrenceville, GA
Tel: 888-945-2872
Web: www.wika.com/a2g
Circle No. 239 on Reader Service Card
Gas monitor
RKI is proud to offer the smallest and lightest 4-gas monitor in the world. The compact GX-2009 4-gas monitor from RKI weighs only 4.6 ounces and measures 2.75" H x 2.95" L x .98"D. It simultaneously monitors and displays combustibles, oxygen, carbon monoxide, and hydrogen sulfide. The monitor includes dual audible alarm ports and alarm LEDs on three sides of the instrument, so that alarm conditions are obvious from multiple perspectives, especially in high noise environments.
RKI Instruments Inc.
Union City, CA
Web: www.rkiinstruments.com
Circle No. 235 on Reader Service Card
Leak detection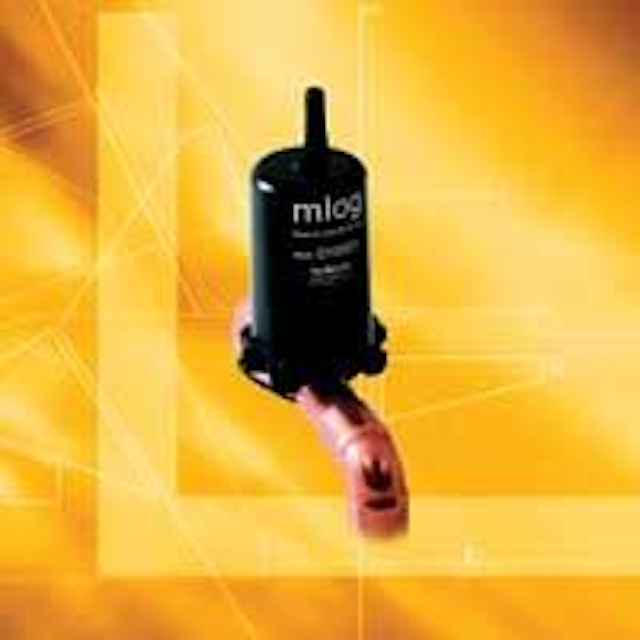 Click here to enlarge image
The MLOG Radio leak detection system from Itron is a low-cost network of intelligent sensors that are permanently deployed throughout a distribution system. Using the same advanced acoustic technology as the MLOG, they monitor for system leaks 365 days a year. The readings are collected by a handheld MLOG Controller either during normal monthly field visits for meter data collection, during walk-by or drive-by collections, or can be read independently. Once back at the utility the receiver downloads the current readings into advanced analytical software.
Itron Inc.
Web: www.itron.com
Circle No. 270 on Reader Service Card
Toxic gas monitoring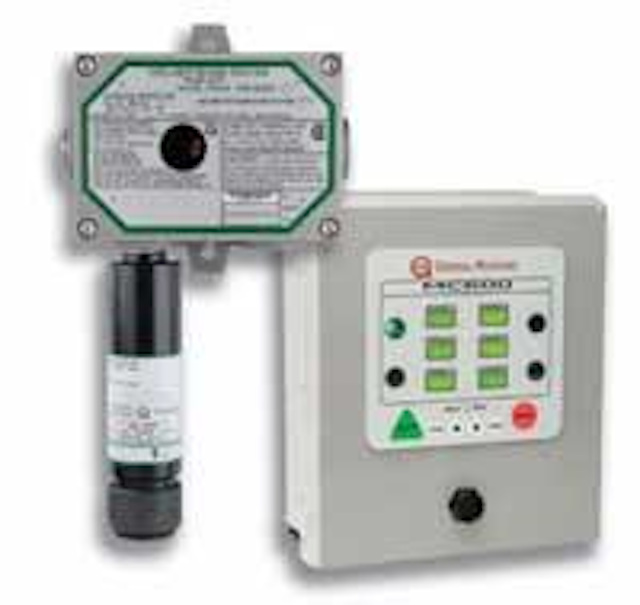 Click here to enlarge image
The TS4000 Toxic Gas Monitoring System from General Monitors is ideal for detecting methane gas in municipal wastewater treatment plants and other industrial applications. The system detects methane waste gas by combining an intelligent microprocessor-based design with rugged electrochemical sensors in an explosion-proof housing. The intrinsically safe design interface module supports sensor field replacement without the need for special tools or hot-work permits. When the TS4000 is integrated with the MC600 Multichannel Controller it can be used as a total toxic gas monitoring solution. Up to 127 controllers can be linked to monitor up to 762 points of toxic or combustible gas with the MC600.
General Monitors
Lake Forest, CA
Tel: 800-330-9161 Web: www.gmitoxics.com
Circle No. 240 on Reader Service Card
Colorimeter
Click here to enlarge image
Orbeco-Hellige's new MC500 Multi-Parameter Water Analysis Colorimeter can test for a wide range of water quality parameters and is suited for use in either the field or laboratory. Using the company's Powder Pack™ stable tablet and liquid reagents, the colorimeters feature a 6 LED photodetector array which supports a large number of pre-programmed methods (from Alkalinity through Zinc) and up to 10 user defined methods. Up to 1,000 data sets can be stored in the instrument's internal memory and transferred to computer using a waterproof infrared data port. The instrument comes with the MC500 Colorimeter, case, 24 mm sample cells, 10 mm sample cells, 16 mm tube adapter, batteries and operators manual.
Orbeco-Hellige
Tel: 800-922-5242
Web: www.orbeco.com.
Circle No. 242 on Reader Service Card
Chlorine analysis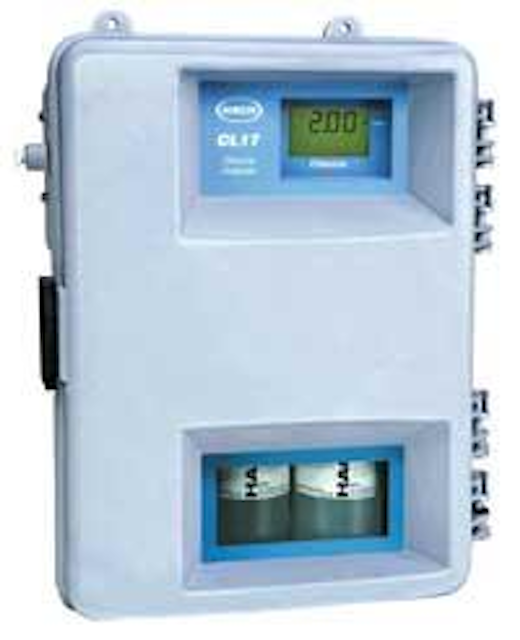 Click here to enlarge image
Hach's CL17 uses colorimetric DPD chemistry for chlorine measurement. It provides fast and economical free or total chlorine results independent of pH, temperature, hardness, and sample flow. The monitor allows for up to 30 days of unattended operation, needs no calibration and requires minimal maintenance. It uses the only EPA –Approved technology for online reporting of chlorine for the new Groundwater Rule.
Hach Co.
Loveland, CO
Tel: 800-227-4224
Web: www.hach.com
Circle No. 234 on Reader Service Card