Utility Turns Sludge Problem into Usable Product
Newport, TN, sends about 2.8 mgd of sewage to its municipal wastewater treatment plant. After it is screened, skimmed, treated, filtered, chlorinated and ...
Feb 1st, 2005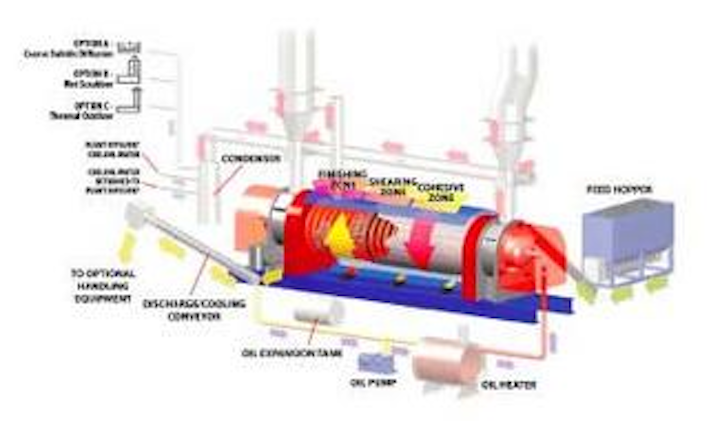 By Joseph H. Herndon
Newport, TN, sends about 2.8 mgd of sewage to its municipal wastewater treatment plant. After it is screened, skimmed, treated, filtered, chlorinated and dechlorinated, the treated liquid is released back into area rivers and streams. The sludge byproduct of the wastewater treatment process also is being returned to nature for beneficial reuse.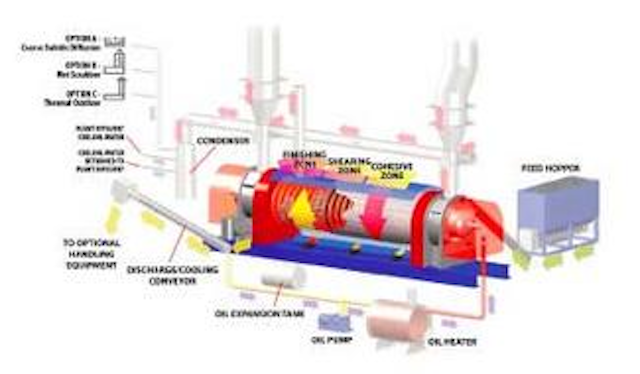 As biosolids pass through the Dragon Dryer system during processing, they lose approximately 75 percent of their volume and become granular in nature.
Click here to enlarge image
"Now, we transform our sludge into a Class A product and sell it," said Carrol Proffitt, wastewater department manager for Newport Utilities in Newport. "We really don't have sludge any more, at least not in the way we used to have sludge. We have put an end to sludge, as we know it.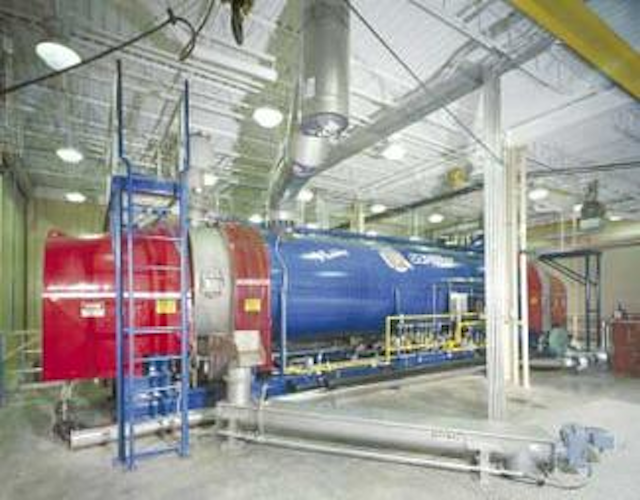 Newport's Dragon Dryer system is designed to dry 45 wet tons of sludge per day.
Click here to enlarge image
"Sure, there was a time when we moved sludge in large volumes from here to there," he said. "We hauled sludge, we burned it and we cursed it - but that's history. Now, we heat to dehydrate and disinfect our sludge and are able to sell what's left of it as a high-quality Class A biosolids - biosolids that are perfect for adding nutrients and organic volume to the soil."
In October 2003, Newport installed an indirect dryer from USFilter Davco Products, called the Dragon Dryer(r) system. A belt press ahead of the dryer dewaters the sludge to about 16 percent solids. The sludge cake then enters the dryer system, where it is dried to 90 percent or higher solids content. The result is Class A biosolids that are safe to handle, cost-effective to distribute and beneficial to use as fertilizer.
In January 2004, USFilter signed a three-year contract with Newport Utilities to purchase the dried biosolids and beneficially reuse them.
Drying System
The Dragon Dryer system - designed specifically for municipal applications - uses indirect heat to dehydrate biosolids and to virtually eliminate pathogens. This is accomplished in a continuous single-pass process.
The system uses internally flowing thermal oil to indirectly heat a dehydration auger, which rotates within a counter-rotating dehydration drum. The dehydration drum also is indirectly heated in progressive stages along its exterior. This combined application of indirect heat provides the proper conditions for a controlled release of moisture from the biosolids.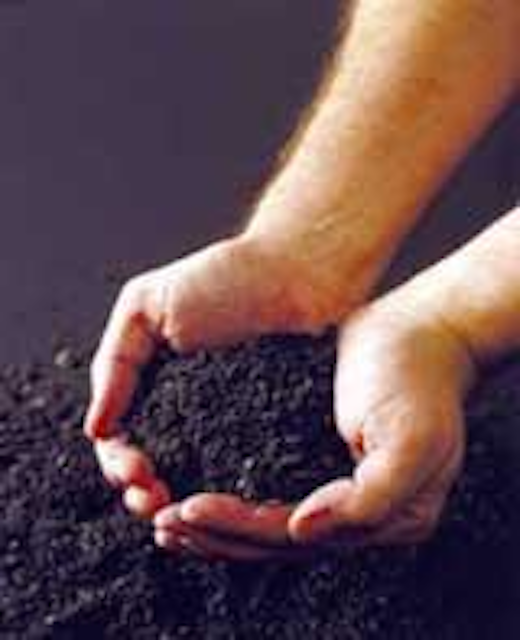 Granular Class A Biosolids provide an economically beneficial reuse product, as well as safety in handling and distribution.
Click here to enlarge image
The main processing unit is enclosed and sealed from the outside environment and is maintained at a negative pressure with limited air intake. This arrangement facilitates the capture of released moisture and any off-gases that may be generated during the dehydration process.
The biosolids are conveyed through the main processing unit by the action of the revolving auger. As the biosolids move through the system, their temperature is raised and maintained at prescribed levels through three discrete processing zones. It has been demonstrated - with a wide range of sludge types - that this controlled approach provides optimum dehydration and pathogen extermination within the biosolids.
Evaporation rates are in the range of l lb of water per 1,400 to 1,600 BTUs.
The thermal oil heater and indirect burners can be fueled with propane gas, natural gas or combinations that include landfill gas, digester gas and fuel oil. The dryer system does not use high-pressure steam as a heat source, so there is no need for any type of boiler equipment.
The system transforms the city's sludge into between six to eight dry tons of granular biosolids per day. The solids are stored in an elevated storage silo - with a 3,500 cubic foot holding capacity - until a brokerage firm contracted by USFilter empties the silo and hauls the biosolids away.
Fertilizer
The dried granular Class A biosolids appeal to farmers for several reasons. Contrary to a pelletized product, the granular form has various sizes of dried particles that bring both immediate and long-term benefits to the landowner. The smaller particles dissolve shortly after being introduced to water while the larger particles offer slow-release organic nitrogen that dissolves over many months.
According to farmers, the price of the dried biosolids material, delivered, is highly competitive with chemical fertilizer of the same analysis. Plus, it has the advantage of being slow-release, so it works well, even when heavy rains occur.
Unlike compost or other organic products that require expensive specialized equipment for land applying, the dried biosolids can be handled with conventional farming equipment. Farmers also pay less to transport the dried biosolids, which can be delivered by dump trailers, side dump trucks, hopper trailers or walking floor trucks.
Conclusion
Newport no longer has to worry about the cost of disposing of and storing its previously generated Class B sludge, which contained small but compliant amounts of bacteria. The city has virtually eliminated sludge by transforming it into a safe, money-generating byproduct. And farmers get an effective fertilizer at an economical price.
"Our residents can take pride in their contribution to agriculture, having each contributed to this useful product, each in their own way," joked Proffitt.
About the Author
Joseph H. (Joey) Herndon is Dragon Dryer product manager. Based in Thomasville, GA, he is a 31-year USFilter veteran. During his career in the water and wastewater industry, Herndon has worked extensively with fertilizer brokers and landowners in the southeastern United States.