New Products
New products involved in the water industry
Feb 1st, 2016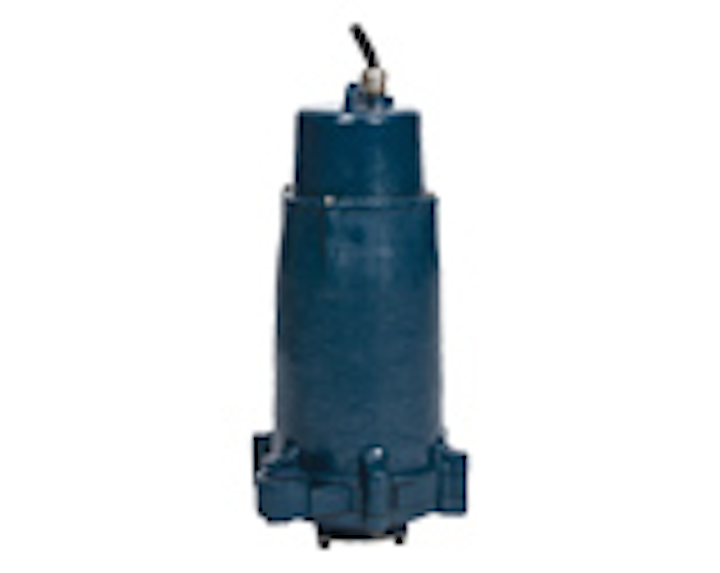 High head grinders
The new FPS IGPH series of high head grinder pumps from Franklin Electric are engineered for the tough demands of higher head conditions found in many low pressure sewage transfer applications. Available in an automatic or manual version, the pumps utilize a patented cutter system with tight clearances for grinding at 414,000 cuts per minute. Two non-clogging impeller stages provide efficient pumping of sewage slurries with a shut-off head of 200 feet. Available in single-phase or three-phase versions, the pumps employ a powerful 2 hp, 3,450 rpm motor to handle the demands of grinding domestic sewage.
Franklin Electric Engineered Products
Service-in-place pump
NETZSCH Pumps North America LLC introduces a new full service-in-place (FSIP) version of its industry-leading NEMO® progressive cavity pump. Ideal for wear-intensive applications, the maintenance-friendly FSIP™ design has been re-engineered to provide full access to all the pump's rotating parts. Users can open the in-service pump housing, dismantle all rotating parts, and install them again without having to disconnect the pump from the piping or having to remove the motor. The NEMO's rotor-stator unit can be lifted out after opening the newly designed inspection cover on the pump housing without the need for any special tools, significantly reducing installation and maintenance time.
NETZSCH
SCADA solutions
ICONICS' GENESIS64™ HMI/SCADA suite takes advantage of the convergence of 64-bit computing machinery and the latest Microsoft operating systems (including Windows 10, Windows 8 and Windows Server 2012) to provide rapid development of HMI/SCADA solutions, engaging three-dimensional graphic visualization, and enhanced connectivity from the plant floor or building operations to corporate business systems. Engineering typically takes up more than 60% of any automation project. GENESIS64 utilizes 64-bit computing to reduce this effort, save on time and costs, and provide a 360-degree view of an entire enterprise.
ICONICS
Motor soft starters
The SK135E/SK175E soft start drive family from NORD is a simple and economical solution to the unnecessary risks associated with running electric motors as a primary mover. The SK135E/SK175E regulates the three major functions of a motor starter and controls them in order to protect your equipment and what you are moving while saving you money in the process. The product series consists of a basic model, the SK135E; and an enhanced model, the SK175E, that has either ASi or Profibus DP onboard networking. The starters are designed to be used in a distributed control system and can be mounted directly on or near the motor.
NORD
Management solutions
InSight Analytics from GE is an industrial internet solution that can help achieve greater system efficiency, reduce operating costs and optimize production by providing near real-time performance calculations and clear, reliable reporting. The first GE analytics available are for reverse osmosis (RO) membranes and condenser efficiency in heat transfer systems. InSight Analytics for RO will help operators get the most out of their membranes through better management of their membrane cleaning schedules. The other offering, InSight Analytics for condenser efficiency, brings a new level of reliability and transparency to measuring condenser efficiency in heat transfer systems, with real-time data normalization, even during peak production times, in a clear, simplified report.
GE
Integrated security solutions
Emerson Process Management has joined forces with Intel® Security, part of Intel, to enhance and strengthen its integrated cybersecurity solution to better secure the DeltaV™ distributed control system (DCS). This increased layer of cyber protection is designed to help safeguard critical assets and data. The DeltaV DCS has long incorporated built-for-purpose control system firewalls and network switches that provide easy-to-configure security and protection features to help system networks remain available, reliable, and more secure. The new solutions provide efficient compliance measures and instant intelligence for changing threat environments, along with the power of real-time visibility and centralized management through a single platform.
Emerson Process Management
HMI upgrade
The 5.7" enhanced HMI, HG2G-5T series from IDEC has a resolution of 65,536 colors and a brightness of 500 cd/m2. The monochrome TFT LCD model has a resolution of 16 shades and a brightness of 1,100 cd/m2. The new HMI has a built-in web server, which allows full remote monitoring and control via any web browser running on a PC, smartphone or tablet. Remote users can monitor current values or processes - and also control operation, print information, switch screens, or even change program values - just as if they were in front of the touchscreen. Users can also remotely perform troubleshooting, run tests and perform maintenance.
IDEC
NSF-certified resin products
On construction projects of almost any scope and size, ensuring the safety of public drinking water is mission-critical. So after a rigorous process of testing and inspections, AP Lift 475, AP Seal 500, AP Fill 700, and AP Soil 600 from Alchemy Polymers' polyurethane resin products have now received the official NSF seal of approval for contact with drinking water. This single designation ensures compliance with the Safe Water Drinking Act (SDWA) and guarantees peace of mind for in-the-field stakeholders on construction projects of almost any scope and size.
Alchemy Polymers
Rugged, detachable laptop
Panasonic's Toughbook 20 is the world's first fully rugged detachable laptop. Toughbook 20 is designed to meet MIL-STD-810G, MIL-STD-461F and IP65 standards, and features an Intel® Core™ m5-6Y57 vPro™ Processor and Windows 10 Pro OS. Other features include an identical, removable, full-shift 2600 mAh battery that can be hot swapped; gloved multi-touch daylight viewable screen options for a true serial port; magstripe reader; 1D/2D capable barcode reader; dedicated GPS or field upgradeable 4G LTE multi-carrier modem; and security through vPro™ processor technology, a removable SSD, optional integrated insertable or contactless SmartCard readers and fingerprint readers.
Panasonic
http://business.panasonic.com
Orthophosphate analyzer
The Liquiline System CA80PH is an orthophosphate analyzer for monitoring water treatment processes. The CA80PH is available in four measuring ranges, two using the standard molybdenum method (blue method; DIN EN 1189) for low range measurement down to 50 μg/L and two using the molybdate vanadate method (yellow method) for high range measurements up to 50 mg/L. Samples and analyses can be taken as often as necessary. A typical sample analysis takes 8-11 minutes depending on the method used. The analyzer automatically obtains a water sample from the process, filters it, adds the reagent, measures the intensity, and then cleans the sampling system with compressed air or water in preparation for the next test.
Endress+Hauser
Square manhole adjustment
Based on the success and acceptance of the round PRO-RING™ Manhole Grade Adjustment System, Cretex now offers square and rectangular PRO-RING™ systems. These new products are manufactured from the same engineered polymer, expanded polypropylene (EPP), as the round versions and meet the loading requirements of AASHTO HS-25. EPP is renowned for its exceptional strength-to-weight ratio, chemical resistance, durability and long service life. PRO-RING™ is approximately 1/20th the weight of concrete grade rings, which makes them easier to handle, safer and reduces the risk of worker injury.
Cretex Specialty Products
Asset & resource management
CGI's Asset and Resource Management (ARM) 2 suite is a business solution providing water, electric, and gas transmission and distribution utilities with organizational control over asset, work, resource and field processes, and facilitating the collection and management of critical operational data. ARM 2 provides utilities with advanced workforce scheduling, capital and maintenance investment strategies, a single platform for all work and assets, tracking and auto-generation of scheduled inspections and surveys, and fully integrated business processes.
CGI Group Inc.
Cyanobacteria monitoring
FlowCam® Cyano was developed for the early detection of harmful cyanobacteria (blue-green algae) in fresh bodies of water. Based on proven dynamic imaging particle analysis (DIPA) technology, the new patent-pending FlowCam Cyano examines a fluid under a microscope, takes images of the magnified particles within that fluid, and characterizes the particles using a variety of measurements. The system uses an ultra-high-precision, computer-controlled syringe pump to pull the fluid sample through a flow cell perpendicular to the optical path. Applications include early detection and monitoring of cyanobacteria, algal population dynamics and classification, and water resource management and research.
Fluid Imaging Technologies Inc.
Choose No. 236 on Reader Service Card
Mobile odor control
The OdorBoss® 60G with Heat by Dust Control Technology® (DCT) combines a mobile enclosure with insulation, heat tracing and internal heat generation to protect equipment and components during operation and storage in freezing conditions. The unit uses a mixture of water and odor treatment agents to distribute a specially-engineered mist over great distances using a powerful fan that propels the treatment into the air where it can attach to odor vapor without equipment clogging or downtime from frozen lines. Fitted with a 2-5/16" Class III ball hitch, the unit can be quickly repositioned on its trailer to accommodate changing work locations or shifting wind patterns with a standard pickup truck or small skid steer.
Dust Control Technology
Four-inch submersible pumps
Pentair Flow & Filtration Solutions' upstaged four-inch submersible pumps provide customers with an average of 20% higher performance (when compared to competitor's published performance curve data). Increased staging across many of Pentair's 1/2 and 1-1/2 HP pumps provide greater performance, with heads to 800 feet and flows up to 27 gallons. In addition, advancements in Pentair's JP Series Four Inch Submersible Pump technology and design, including a stronger discharge and added spring-loaded check valve, now provide customers with a higher quality pump.
Pentair
Security system
Integrated Security Corp's Infinity 2020 fence-mounted intrusion detection system protects high security sites around the world. Fence condition settings are available for each zone and come with real-time weather compensation. No powered units at the fence line make installation simple and inexpensive, with high resistance to electrical disturbances of all kinds. Recalibration is not required. Cut cable needs only a simple splice. Communication links via integrated Ethernet, fiber and SMS text messaging. Controller is IP addressable.
Integrated Security Corp
www.integratedsecuritycorp.com
Finned siphon
Pressure gauges can be damaged by hot media. The new Ashcroft® type 1198 finned siphon can prevent that. Capable of containing pressure up to 3,000 psi, the type 1198 finned siphon can also support media temperatures up to 700°F (371°C). Additionally, 316L stainless steel construction ensures compatibility with a wide variety of media while a built-in dampening mechanism controls the effects of pulsation.
Ashcroft
More WaterWorld Current Issue Articles
More WaterWorld Archives Issue Articles