PRODUCTS & SERVICES — AERATION SYSTEMS
Insite Instrumentation Group's fluorescence dissolved oxygen systems eliminate the need for replaceable membranes, sensor caps, cartridges, and fill solutions.
Feb 1st, 2004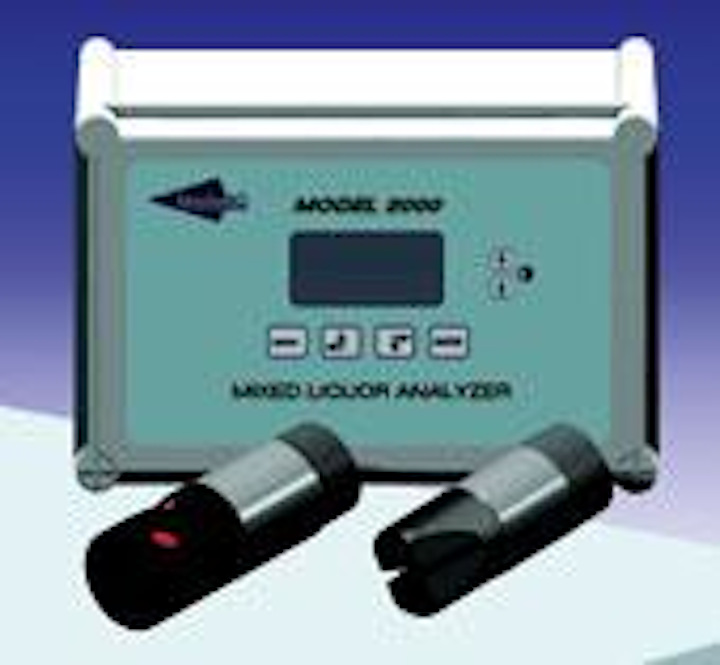 DO monitor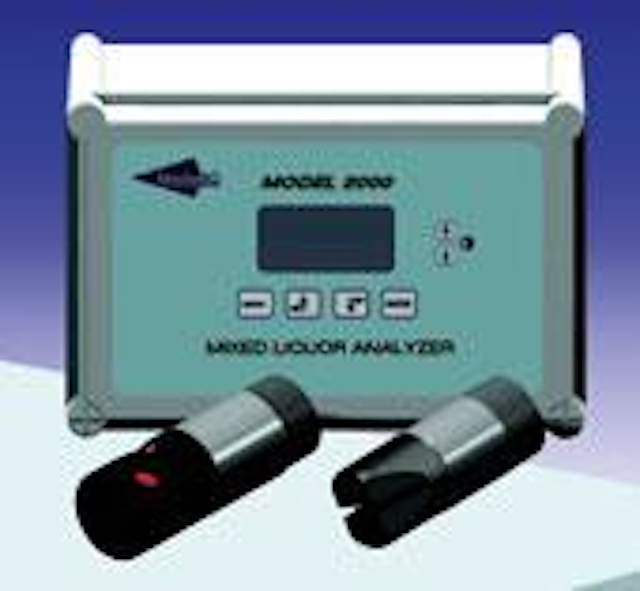 Click here to enlarge image
Insite Instrumentation Group's fluorescence dissolved oxygen systems eliminate the need for replaceable membranes, sensor caps, cartridges, and fill solutions. The system requires infrequent calibration as the sensor does not have sacrificial cathodes or anodes to degrade due to oxidation. When calibration is required, about once a year, the procedure takes about a minute and is accomplished without removing the sensor for the process.
Insite Instrumentation Group
Slidell, LA
Tel: 985-639-0006
Web: www.insiteig.com
DO sensor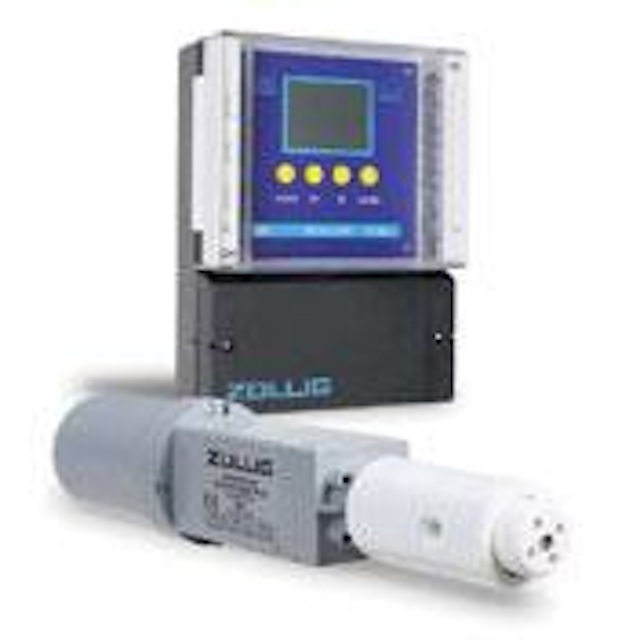 Click here to enlarge image
The Züllig dissolved oxygen system significantly reduces cleaning and calibration frequency in harsh wastewater treatment environments. This non-membrane galvanic sensor has two insulated electrodes continuously polished by a rotating diamond grindstone. The self-cleaning process eliminates the time-consuming tasks of cleaning and replacing membranes and replenishing the electrolyte solution.
Emerson Proc. Mgmt. Rosemount Analytical Inc.
Irvine, CA
Tel: 800-854-8257
Web: www.raihome.com
Gas dispersion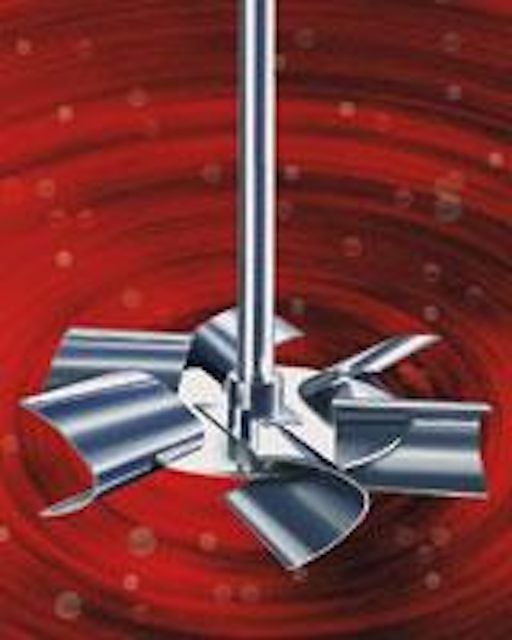 Click here to enlarge image
The BT-6 Gas Dispersion Impeller from Chemineer features a concave, vertically asymmetrical blade design that not only forces gas to the walls, it distributes the gas throughout the entire liquid volume, bottom to top, resulting in superior mass transfer and uniformity. In studies of dozens of different impeller styles, the company's design consistently produced the most uniform gas dispersion, increasing the mass transfer rate by as much as 60% when compared to a flat blade, disc-style turbine.
Chemineer, Inc.
Dayton, OH
Tel: 937-454-3200
Web: www.chemineer.com
Aeration systems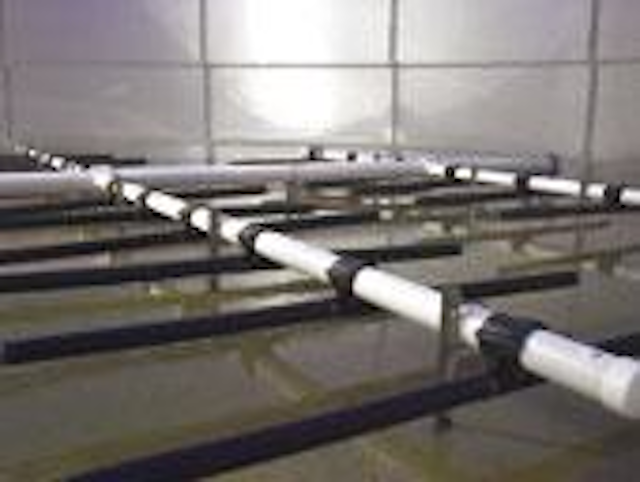 Click here to enlarge image
The Aqua EnduraTube™ (fine bubble diffuser), Aqua EnduraDisc® (fine bubble diffuser), and Aqua CB-12/24™ (coarse bubble diffuser) compose Aqua-Aerobic Systems' new line of diffused aeration products. The fine bubble diffusers are constructed of perforated rubber membrane material, while the coarse bubble diffusers are constructed of stainless steel.
Aqua-Aerobic Systems, Inc.
Rockford, IL
Tel: 815-654-2501
Web: www.aqua-aerobic.com
Aerating fountain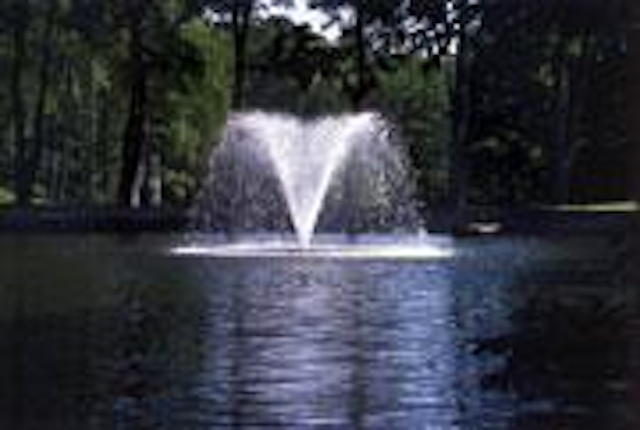 Click here to enlarge image
Otterbine's Aerating Fountains offer nine interchangeable spray patterns. Operating in less than three feet of water, the company's mixed flow pumping system delivers strong aeration and can run in brackish and effluent water. They deter algae growth, odor, fish kills and discoloration, so in most cases there is no need for the additional use of chemicals or algaecides.
Otterbine Barebo, Inc.
Emmaus, PA
Tel: 800-237-8837
Web: www.otterbine.com
Aeration, mixing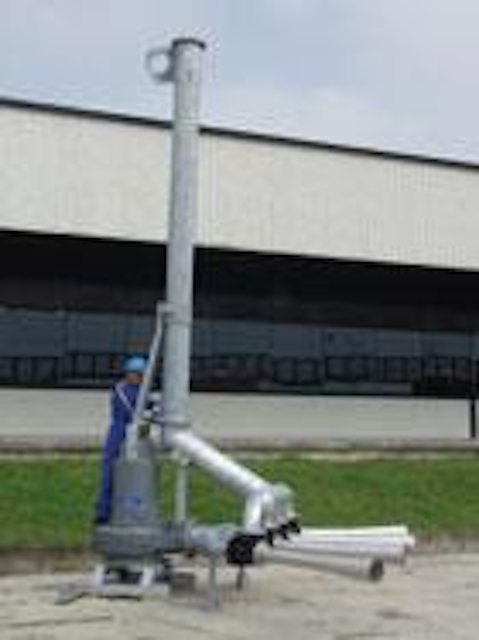 Click here to enlarge image
A new concept in mixing and simultaneous aeration of all types of liquids has been introduced by ITT Flygt. Designated as Flo-Get, the systems incorporate a Flygt submersible pump, an air suction tube, and an ejector/diffuser nozzle. The system is versatile since one or more submersible pumps can be used with one or more ejectors.
ITT Flygt Corp.
Trumbull, CT
Tel: 203-380-4843
Web: www.flygtus.com
Mixers
The Stata-Tube™ mixer from TAH Industries is suitable for a variety of mixing processes including polymer dilution, admixing of chemicals, neutralization of pH control, and dispersing polyelectrolytes. It operates inline with zero maintenance, low cost, easy installation and low energy consumption. Compared to competitive mixers, its unique baffling design ensures complete mixing in a shorter length and less pressure drops. The 50 series come standard in pipe sizes and lengths from 3/8'' to 2'' diameters, and materials include PVC, CPVC, clear PVC, and Polypropylene.
TAH Industries Inc.
Robbinsville, NJ
Tel: 800-257-5238
Web: www.tah.com
DO injection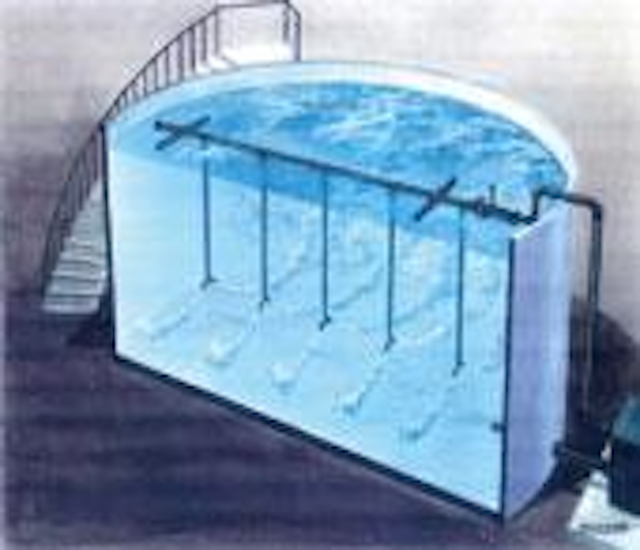 Click here to enlarge image
The patented Mazzei AirJection® System delivers dissolved oxygen economically to any depth in municipal water bodies needing complete aeration. The system is SOTR tested and certified and Alpha values have been independently tested to 1.0. It produces predictable, thorough aeration without the use of blowers and diffusers. Key applications are for odor control, activated sludge treatment, and BOD/COD reduction.
Mazzei Injector Corp.
Bakersfield, CA
Tel 661-363-6500
Web: www.mazzei.net
Aeration system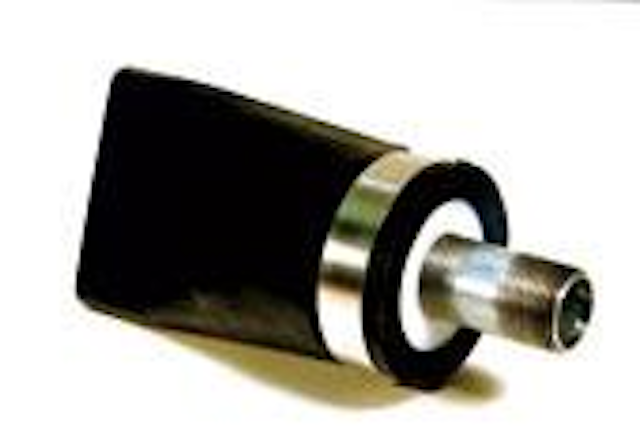 Click here to enlarge image
Red Valve's aeration system combines coarse and fine bubble aeration components to improve mixing and oxygen transfer while preventing backflow and clogging. The custom-designed system uses the Tideflex® TF-A coarse bubble diffuser to provide mixing while the company's Fine Bubble Air Diffuser provides the fine bubble supplement. This increases transfer efficiency due to the entrainment in higher velocity loops created by the TF-A.
Red Valve Co.
Carnegie, PA
Tel: 412-279-0044
Web: www.redvalve.com
DO monitoring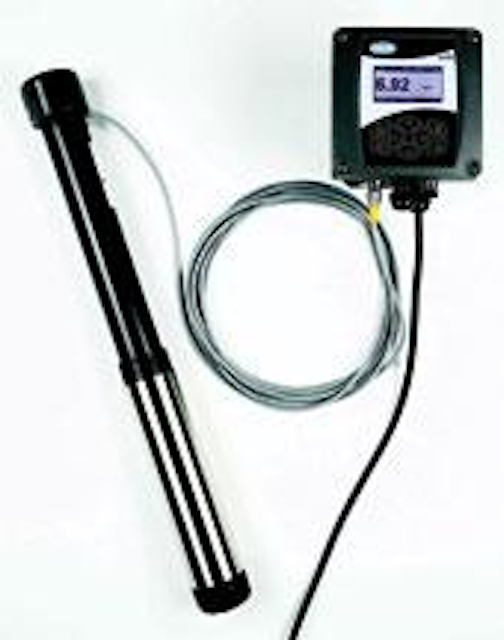 Click here to enlarge image
Hach recently announced the new Hach LDO™ luminescent dissolved oxygen measurement technology. The DO monitoring system has no membrane to clean or replace, no electrolyte solutions to replenish and does not require frequent calibration. It uses a sensor coated with a luminescent material. Blue light from an LED is transmitted to the sensor surface and excites the luminescent material, which emits red light as it relaxes. The time from when the blue light was sent to when the red light is emitted is measured.
Hach Co.
Loveland, CO.
Tel: 970-669-3050
Web: www.hach.com
Control system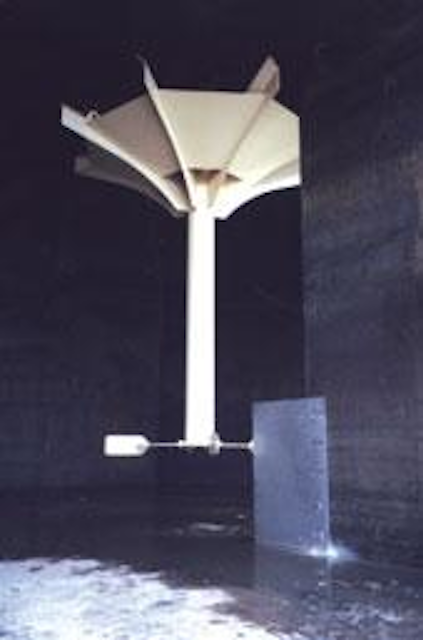 Click here to enlarge image
The ACE™ (Automated Control of Energy) Control System was developed by Eimco (now known as Dorr-Oliver Eimco) to automate and enhance the process control of the Carrousel® System oxidation ditch. ACE integrates dissolved oxygen control with the Carrousel System process control parameters and equipment operation to form a complete stand-alone control system. The control system minimizes energy usage.
Dorr-Oliver Eimco
Salt Lake City, UT
Tel: 801-526-2000
Blower system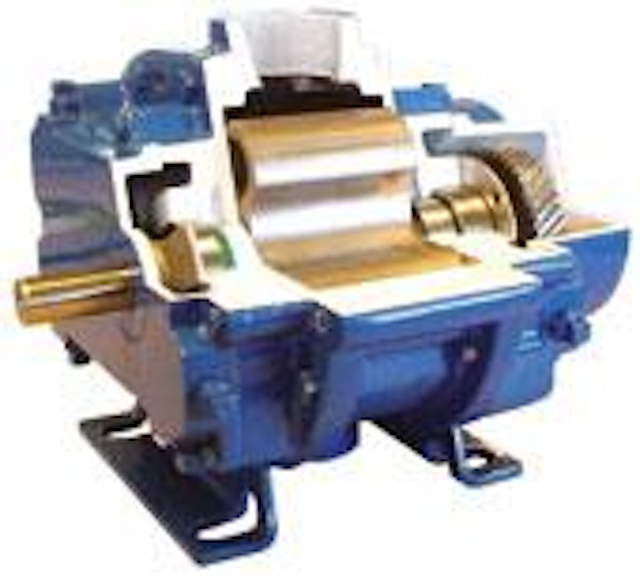 Click here to enlarge image
Designed with features found ordinarily on high-end blowers including special noise reduction features, the Competitor SL™ blowers from Tuthill are designed to be interchangeable, with respect to foot print, shaft height and diameter, with equivalent sizes of competing models. They are ideally suited for wastewater applications such as grit removal and lagoon and tank aeration.
Tuthill Vacuum and Blower System
Springfield, MO
Tel: 800-825-6937
Web: http://vacuum.tuthill.com/09ww
Wastewater treatment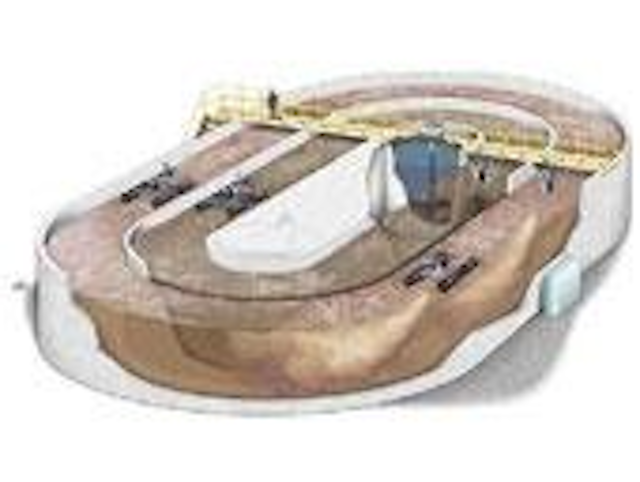 Click here to enlarge image
The new Tri-Oval® wastewater treatment system from Aeration Industries is an oxidation ditch that provides optimal performance at an economical cost. With designs up to 30 feet deep, the small footprint system saves on land costs. The key to the system is its energy-efficient Aire-O2 Triton® process aerator/mixers that provide improved oxygen transfer and mixing with biological nutrient removal in a single unit.
Aeration Industries Int'l
Chaska, MN
Tel: 800-328-8287
Web: www.aireo2.com
Jet aeration systems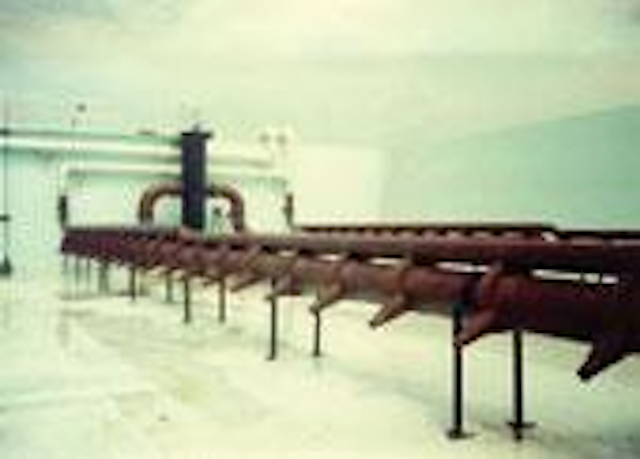 Click here to enlarge image
USFilter Jet Tech Products offers the Vari-Cant® jet aeration systems, which provides both aeration and mixing. It uses proven principles of submerged jet aeration combining state-of-the-art design and materials. In most applications, the system is designed and fabricated of fiberglass (FRP). Other materials are available upon request, such as stainless steel for highly corrosive waste products.
USFilter, Jet Tech Products
Edwardsville, KS
Tel: 913-422-7600
Web: www.usfilter.com
Injection mixer/gas diffuser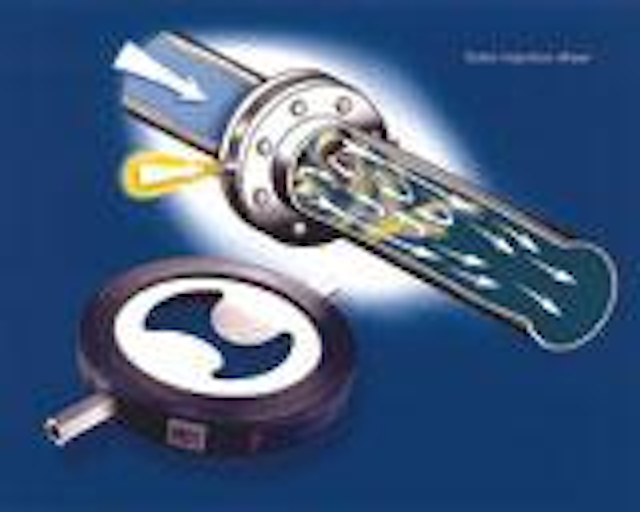 Click here to enlarge image
A patented, low-cost static injection mixer/gas diffuser that eliminates the need to inject upstream and features short laying length for a wide variety of chemicals, industrial, and water treatment applications is being introduced by Westfall Manufacturing. The Westfall Static Injection Mixer/Gas Diffuser is a fixed plate that installs in-line and into which one or more fluids or gases are injected and rapidly mixed by a combination of alternate vortex shedding and intense shear zone turbulences.
Westfall Manufacturing Co.
Bristol, RI
Tel: 888-928-3747
Web: www.westfallmfg.com
Submersible aerator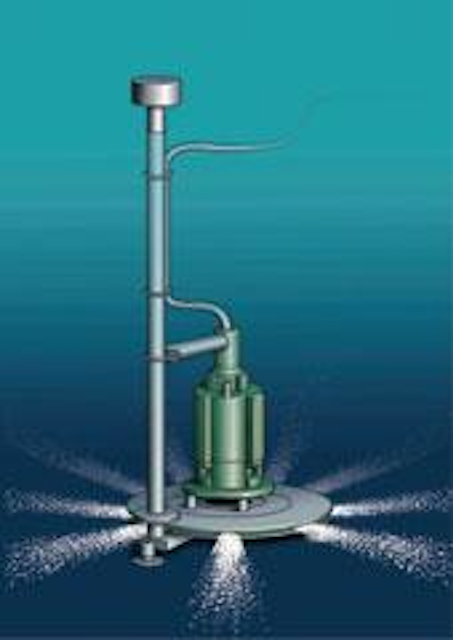 Click here to enlarge image
The MTS Multi-Aspirator submersible aerator provides aeration without the need for a blower. It is simple to install, and is capable of operating continuously for over five years without requiring maintenance. The unit has an operating life expectancy of 15 years, and it is available in various sizes ranging from 2 to 100 hp. The system includes a submersible liquid pump and an air intake pipe that extends at least 18'' above the water surface. The operation of the pump creates a pressure differential, producing a vacuum that causes atmospheric air to be drawn down the air intake pipe. The aspirated air is combined with the pumped liquid, and the fine bubble air/water mixture is directed radially through passages located 360 degrees around the perimeter of the unit.
MTS/Mass Transfer Systems
Walpole, MA
Tel: 508-660-9150
Web: www.mtsjets.com