PRODUCT SHOWCASE
ecoStorm is designed to separate floating pollutants, debris and contaminated settling solids from stormwater drainage.
Mar 1st, 2004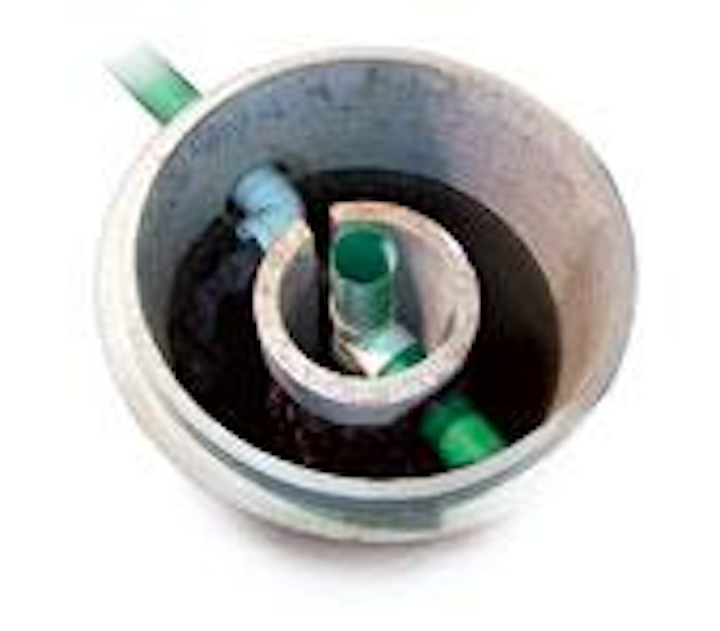 Stormwater treatment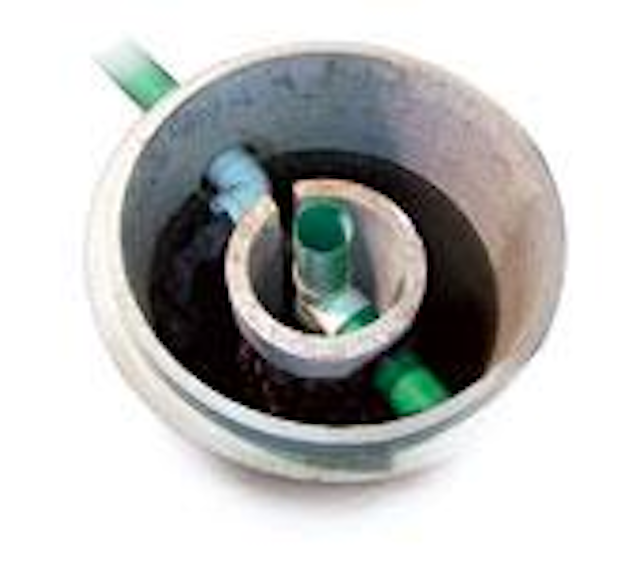 Click here to enlarge image
ecoStorm is designed to separate floating pollutants, debris and contaminated settling solids from stormwater drainage. Also designed for non-point source pollutant removal upstream of holding ponds, the system greatly reduces pond pollutant levels and frequency of pond maintenance. It is a cost-effective best management practice for meeting pollutant removal regulations in a variety of applications. Site-specific engineering maximizes the system's potential for treatment of non-point source pollutants.
Royal Environmental Systems, Inc.
Stacy, MN
Tel: 800-817-3240
Web: www.royalenterprises.net
Metering pump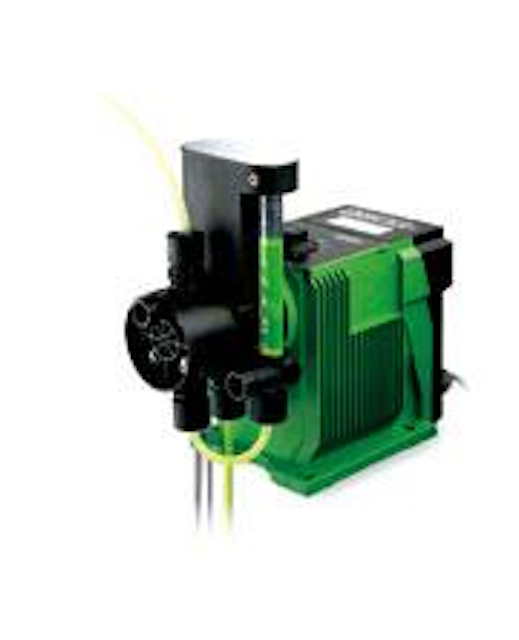 Click here to enlarge image
The new "Plus3 System" metering pumps from Alldos are the highlight of the company's Primus 208 pump range. The pumps are designed for dosing very small volumes of chemicals that easily evaporate during pumping, like sodium hypochlorite. They "pre-vent" the gas and thus prevent likelihood of gas build up in the pumping chamber. Other metering pump designs try to relieve the gas once it has built up between the pump's suction and discharge valves. Such styles can be high maintenance and failure prone designs. The motor-driven pumps feature a calibrating system integrated in the liquid end for exact adjustment of very low flow ranges. An integrated reservoir in the liquid end allows for the chemical supply container to be exchanged while the metering pump continues to operate.
Alldos Inc., USA
Marietta, GA
Tel: 770-956-7996
Web: www.alldos.com
Butterfly valves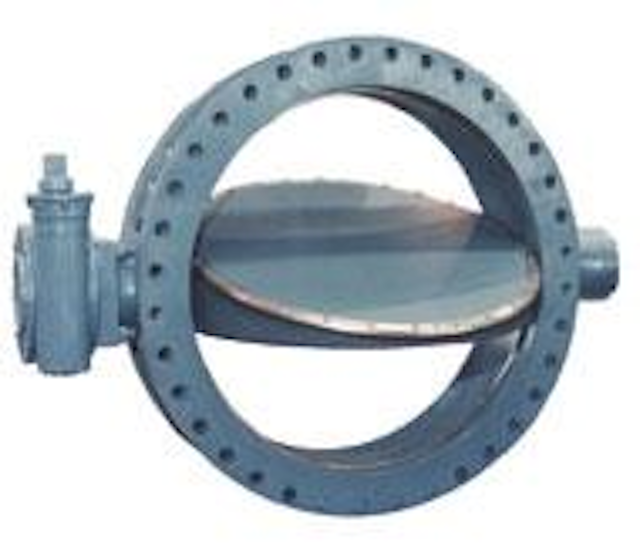 Click here to enlarge image
The Val-Matic American-BFV butterfly valve is now available with an interior and exterior Fusion Bonded Epoxy coating. The coating is a one-part, heat cured, thermosetting epoxy applied as a dry powder to the sandblasted surface of a pre-heated casting and then fused and cured in a high temperature oven. The result is a durable coating with exceptional abrasion and chemical resistance ideally suited for valves in water and wastewater applications. The valves meet AWWA Standard C504, the governing standard for municipal Butterfly Valves and are ANSI/NSF-61 certified for potable water.
Val-Matic® Valve and Manufacturing Corp.
Elmhurst, IL
Tel: 630-993-4023
Web: www.valmatic.com
Ozone contact system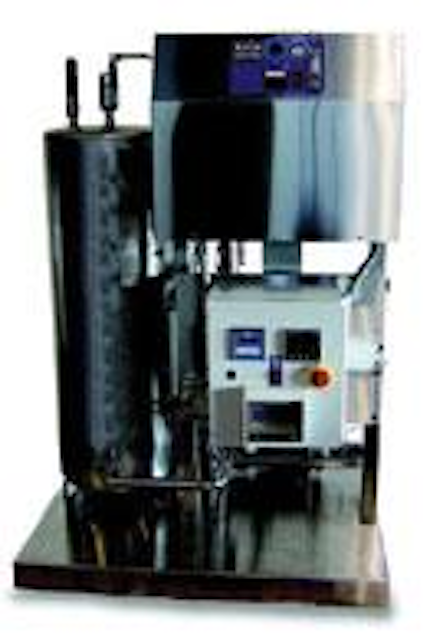 Click here to enlarge image
The IOCS is a complete and fully Integrated Ozone Contact System with Pacific Ozone's unique Enhanced Mass Transfer™ ozone injection design and ozone off gas destruction all engineered into a stainless steel package. The system can be customized with any one of the company's SGC or SGA series ozone/oxygen systems and choice of contact tank sizes. It is possible to mix or match ozone systems from 0.4lbs/day to 3.2 lbs/day to cover a range of applied ozone gas and water flow rates with efficient mass transfer for optimal dissolved ozone levels. The IOCS package is available with optional dissolved ozone monitors and controllers for automatic or remote operation and/or reporting.
Pacific Ozone Technology
Benicia, CA
Tel: 707-747-9600
Web: www.pacificozone.com
Trash pump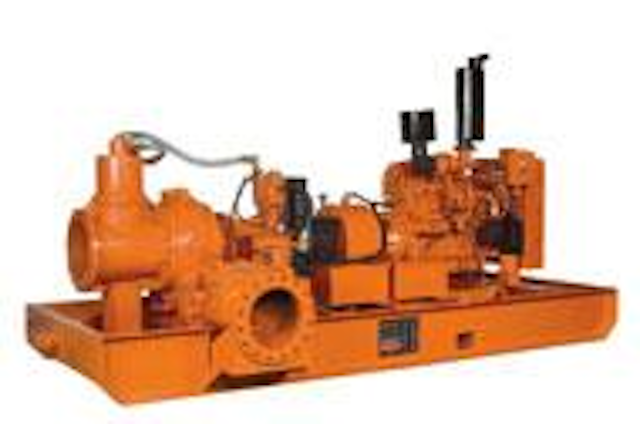 Click here to enlarge image
Godwin Pumps has added the CD400M 18''x 16'' portable trash pump to its line of Dri-Prime automatic self-priming pumps. The CD400M handles flows to 10,000 gpm, heads to 150 feet, and solids to 5'' in diameter. It is ideal for any large volume pumping job with high total dynamic heads (TDH). Like all Godwin Dri-Prime pumps, the CD400M primes and re-primes automatically from dry up to 28 feet of suction lift. This particular model is one of the first to use the new CAT C-9 engine to meet performance requirements as well as new environmental standards. Also, the pump is designed with a double, high pressure oil bath mechanical seal made of solid silicon carbide faces which allows it to run dry indefinitely without damage.
Godwin Pumps
Bridgeport, NJ
Tel: 856-467-3636
Web: www.godwinpumps.com
Headworks screen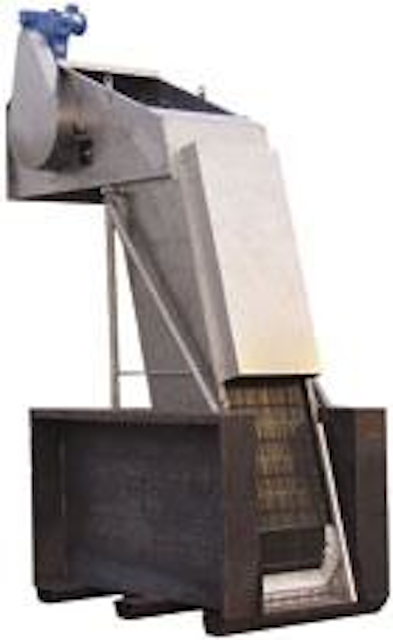 Click here to enlarge image
Manufacturing in the same facility, and with many of the original employees as the former Wiesemann Sales & Engineering, Hydro-Dyne Engineering can manufacture or remanufacture Wiese-Flo, Fine Headworks, FS, or Filter Stepper Screens. The Fine Headworks Screen offers a variety of installations from water intake to wastewater influent applications. They feature all stainless steel construction, low headloss, and no submerged drive parts. Low Flow to Super Duty models handle a wide range of flows and offer opening sizes from 1 mm to 3''. All maintenance and lubrication can be performed without removing equipment from service, but the screen also pivots from the channel for easy bypass. An optional Washing Compactor discharges clean and dry screenings, and conveyors and hydraulic ram compactors are offered to transport and compress screenings.
Hydro-Dyne Engineering
Clearwater, FL
Tel: 727-532-0777
Web: www.hydro-dyne.com
Blower packages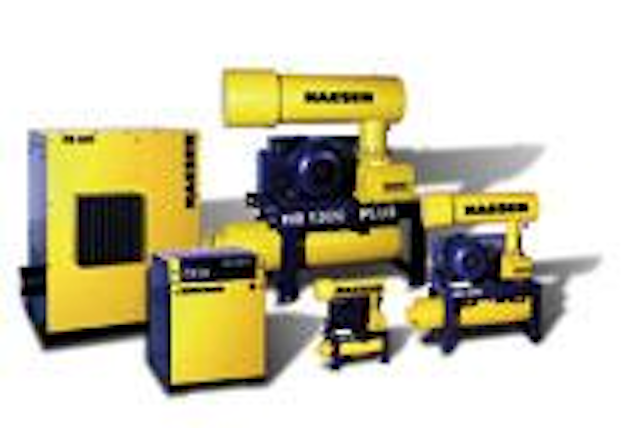 Click here to enlarge image
Kaeser Compressors offers the Omega Com-paK Plus. This complete package features the proprietary Omega Plus rotary tri-lobe blower in a compact, sound dampening enclosure that reduces noise levels by up to 20 dB(A). The package has a small footprint and features pre-mounted accessories to ease maintenance, minimize installation costs and make a complete blower package. All maintenance points, including the automatic belt tensioning device, oil drains and filter elements, are accessible through the wide-opening canopy on the front of the unit. All power and process connections are at the rear allowing multiple units to be mounted side by side with no need for additional access clearance.
Kaeser Compressors Inc.
Fredericksburg, VA
Tel: 800-777-7873
Web: www.kaeser.com