New Literature
Automation Products Group has released a new Guide to Pressure Products.
Dec 1st, 2007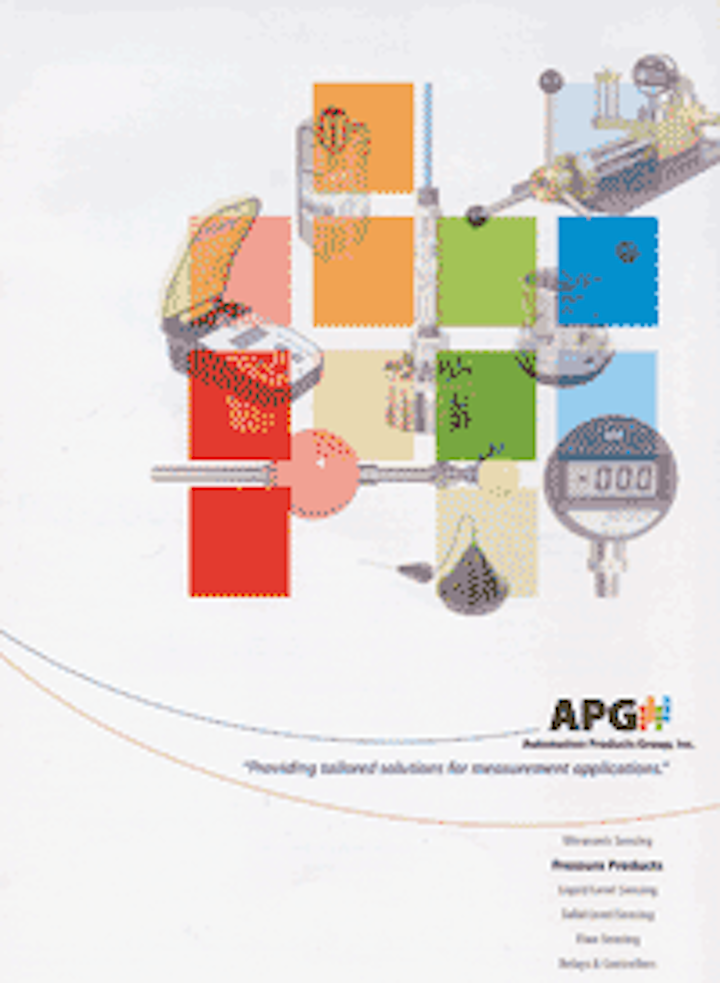 Pressure products guide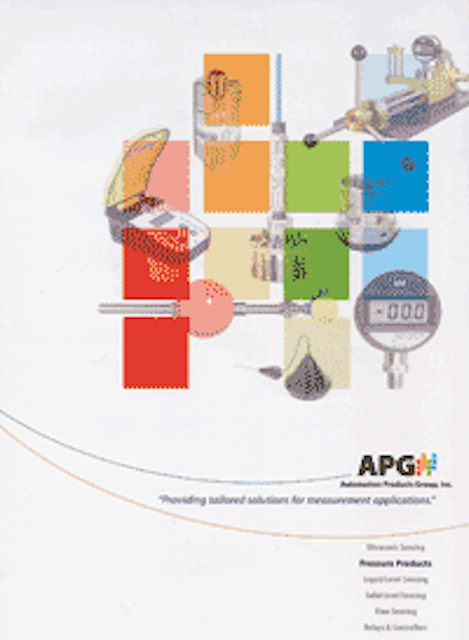 Click here to enlarge image
Automation Products Group has released a new Guide to Pressure Products. The comprehensive resource details the company's family of pressure solutions including digital pressure gauges, hydraulic pressure comparator/calibrators, pressure transmitters and transducers, and submersible liquid level transmitters.
Automation Products Group Inc.
Logan, UT Tel: 888-525-7300 Web: www.apgsensors.com
Sight glasses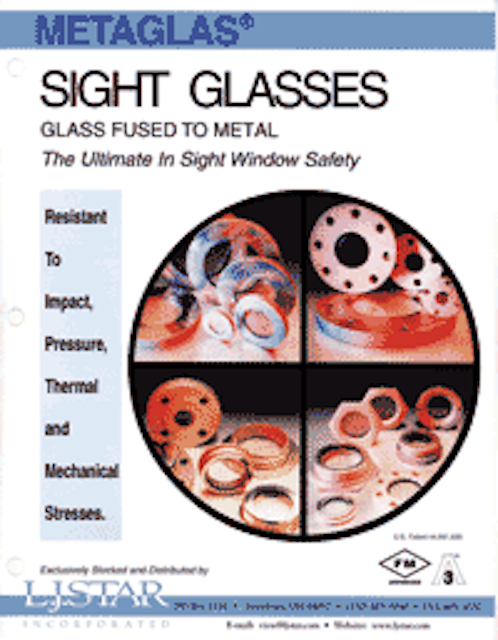 Click here to enlarge image
A new brochure from L.J. Star describes its line of ultra-safe prestressed Metaglas® sight glasses. Made by fusing pure borosilicate glass within stainless steel rings the result is a sight glass that has been described as having the transparency of glass with the strength of steel. The brochure provides photos, descriptions and cut-away drawings of typical products in the line, those suitable for general applications and those for aseptic use.
L.J. Star Inc.
Twinsburg, OH
Tel: 330-405-3040
Web: www.ljstar.com
Oil skimmers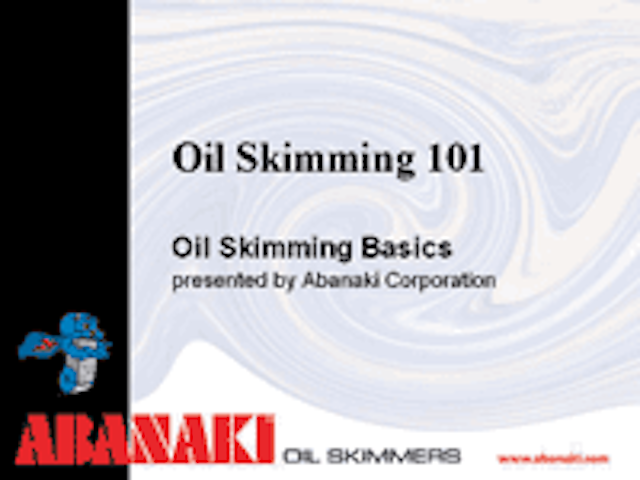 Click here to enlarge image
Abanaki has released an online video tutorial on the basics of oil skimming. The company's 10-minute Webinar, "Oil Skimming 101," provides a comprehensive introduction to the subject, including the reasons why oil skimming is a cost-effective method of removing oil from water.
Abanaki Corp.
Cleveland, OH
Process, analytical systems
The new Emerson Process Management brochure, Complete Process Analytical Solutions, combines the company's industry-standard Rosemount Analytical instrumentation for continuous on-line liquid analysis, gas chromatography, combustion, process and emission analysis into one comprehensive brochure. The brochure allows plant engineers who are solving overarching environmental and process problems to see the wide range of Rosemount analytical solutions available to assist them and the ways in which those instruments can be combined in PlantWeb architecture.
Emerson Process Management
Irvine, CA
Tel: 512-832-3162
Web: www.emersonprocess.com
PE fusion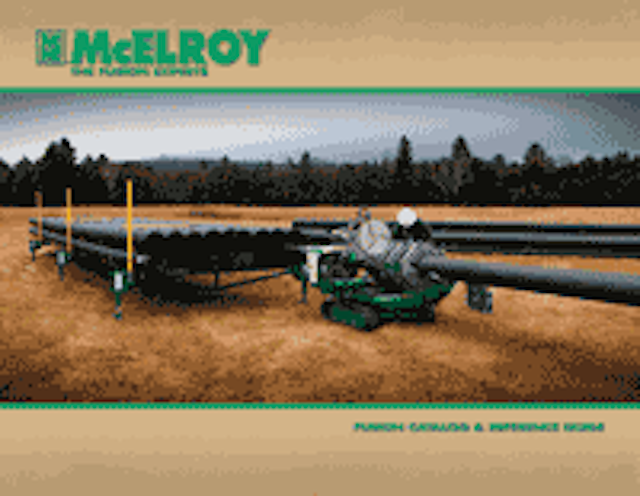 Click here to enlarge image
McElroy Manufacturing has released the newest version of the Polyethylene Pipe Fusion Catalog and Reference Guide. The guide, now in its sixth edition, includes detailed information on the full range of McElroy fusion equipment. Also featured in this edition are several new and improved tools such as the PolyHorseTM, the PolyPorterTM, and ruggedized DataLogger® that are specifically designed to increase productivity during PE pipe installations.
McElroy Manufacturing Inc.
Tulsa, OK Tel: 918-836-8611 Web: www.mcelroy.com/catalog
Atomic absorption spectrometers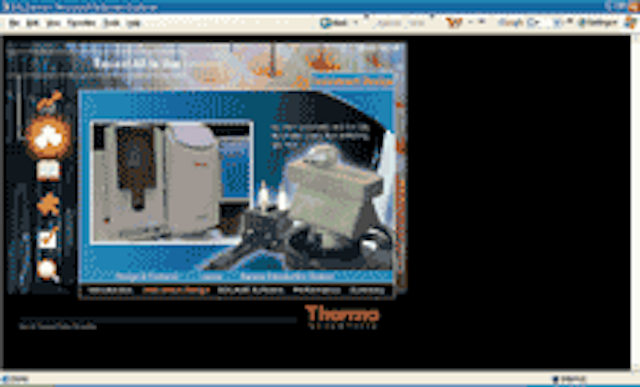 Click here to enlarge image
Thermo Fisher Scientific has developed a new online demonstration program designed to allow current and prospective customers to review the features, benefits and mode of operation of the Thermo Scientific S Series Atomic Absorption (AA) spectrometers. The online demonstration is accessible via www.thermo.com/aa and serves as an evaluation tool targeted at high throughput elemental analysis laboratories in a variety of application areas. The new web tool offers a complete overview of the instrument design, the company's SOLAAR software and the accompanying accessories.
Thermo Fisher Scientific Inc.
Tel: 800-532-4752
Sensor guide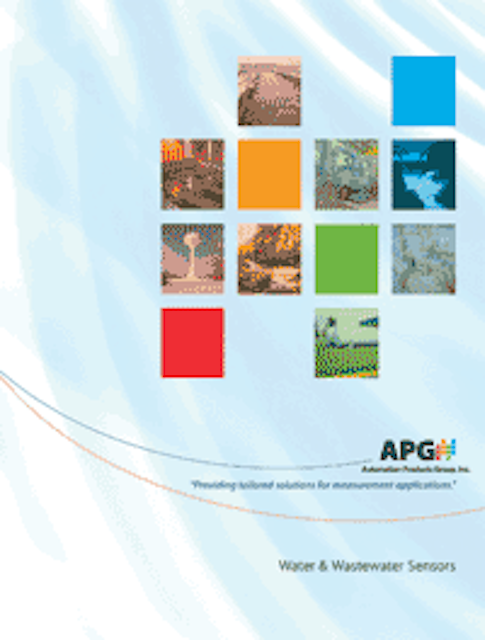 Click here to enlarge image
Automation Products Group has published a new Guide to Water and Wastewater Sensors. Each section offers an overview, a cutaway graphic illustrating the particular application, along with recommended sensing technologies for the application. The guide reviews lift station control, flow and level monitoring, plant influent flow monitoring, water reservoir level monitoring, water tower level, chemical treatment and supply, sand filter control, reverse osmosis filtration and pressure filtration applications.
Automation Products Group Inc.
Logan, UT
Tel: 888-525-7300
Web: www.apgsensors.com
Agitators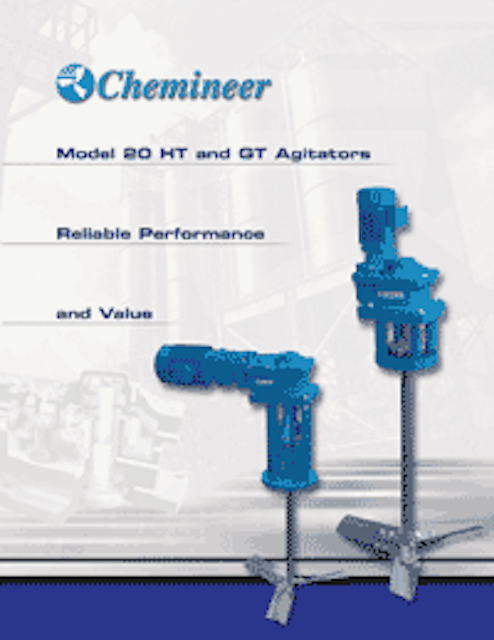 Click here to enlarge image
Chemineer recently released a 12-page brochure featuring the new Model 20 HT and GT Agitators. The agitators feature a high-efficiency gearbox designed specifically for agitator service. Models are available in right angle and parallel shaft configurations to meet specific application requirements from critical chemical reactor systems to routine storage. The full-color brochure provides drive and seal features and benefits, as well as illustrations and tables with dimensional information. The brochure also features full descriptions of mounting options, shaft design and impeller technology.
Chemineer Inc.
Dayton, OH
Tel: 937-454-3200
Web: www.chemineer.com.
Electronic locks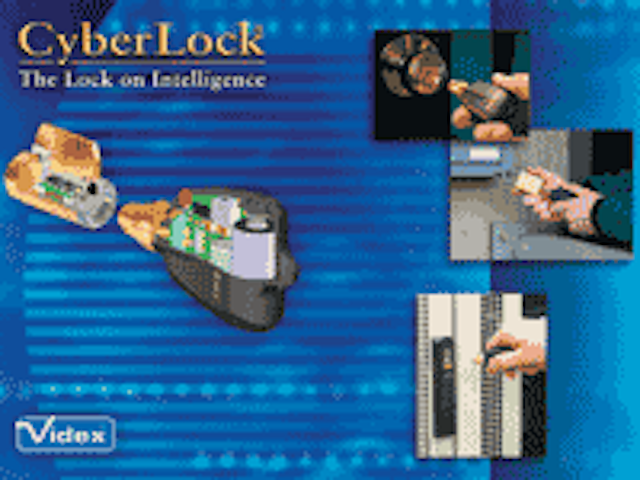 Click here to enlarge image
Videx offers a free catalog and CD featuring CyberLock® electronic locks and intelligent padlocks. CyberLock brings electronic access control and an audit trail to mechanical locks simply by replacing the cylinders in existing locks with electronic cylinders. Both the lock and key record openings and denied entries.
Videx Inc.
Tel: 541-758-0521
Web: www.videx.com