PA power plant recognized for reduction in water usage, treatment costs
NRG Energy's Seward Power Station in New Florence, Pa., was given the GE ecomagination Leadership Award for its water treatment savings.

Jul 10th, 2013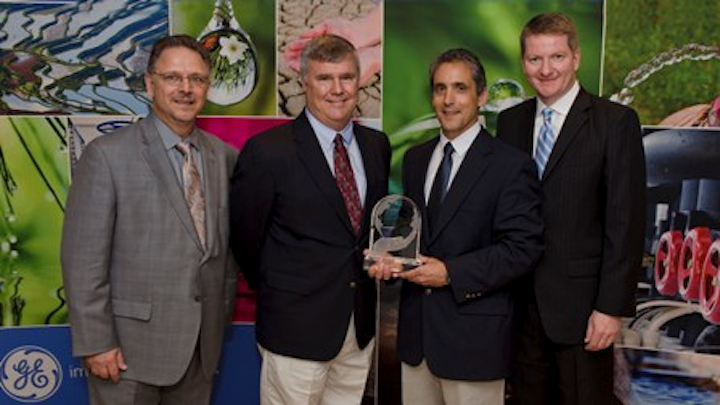 TREVOSE, PA, July 10, 2013 -- NRG Energy's (NYSE: NRG) Seward Power Station in New Florence, Pa., has been recognized by GE (NYSE: GE) with an ecomagination Leadership Award for the utility's significant reduction in water usage and treatment costs with the help of GE and its water chemical technology.
The 525-megawatt coal-fired power plant turned to GE for help in optimizing the performance of its influent clarifier, which removes suspended solids from the water used for power generation and in the cooling tower. GE participated in a six-year effort, including chemical and operational changes and mechanical upgrades, to help Seward meet its goals.

Among other benefits, the Seward Power Station experienced a 25 percent reduction in its total water treatment costs per million gallons and a 100-million-gallon annual reduction in blow down water from the cooling tower. Also, the reduction of manganese was greater than 90 percent consistently. Since 2008, the Seward Power Station achieved more than $500,000 in cumulative savings.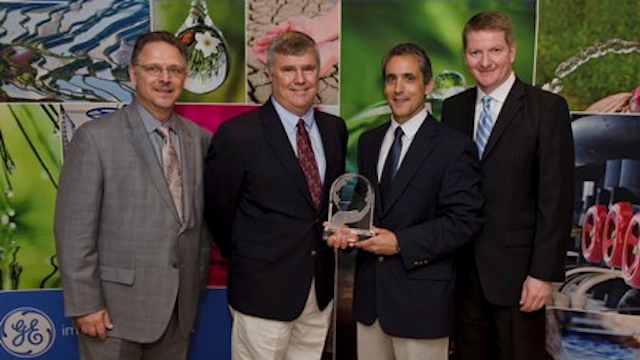 From Left to Right: Mark Gabriel (Corporate Accounts Manager, GE), Fran Sullivan (Senior Vice President of Operations, NRG), Greg Mitchell (Seward Station Plant Manager, NRG), Kevin Cassidy (Chemicals & Monitoring Solutions Business Leader, GE)
Plant management recognized an opportunity for improvement and turned to GE for help in meeting its goals. As a result, operating and treatment costs on the cooling towers were evaluated, and it was determined that improvements could be made to the plant's tower treatment and clarifier performance to maintain condenser performance.
Based upon technical expertise and practical experience gained from the field, GE and the team at Seward Power Station identified several mechanical issues that could be modified. During planned outages over the next several years, the plant made many revisions to the clarifier. In addition, GE conducted an operational excellence survey during this time to optimize the clarifier and cooling tower operation. The end result of the modifications was improved water quality, a significant reduction in water treatment costs to the station and a positive impact on the environment.
GE awarded Seward an ecomagination Leadership Award to recognize the company for its noteworthy reductions in water usage and discharge. GE's ecomagination Leadership Award recognizes the achievements of industrial users that significantly surpass and improve environmental and industrial operational goals while balancing industrial demands.
About NRG
NRG is at the forefront of changing how people think about and use energy. We deliver cleaner and smarter energy choices for our customers, backed by the nation's largest independent power generation portfolio of fossil fuel, nuclear, solar and wind facilities. A Fortune 500 company, NRG is challenging the U.S. energy industry by becoming the largest developer of solar power, building the first comprehensive electric vehicle ecosystem, and providing customers with the most advanced smart energy solutions to better manage their energy use. In addition to 47,000 megawatts of generation capacity, enough to supply nearly 40 million homes, our retail electricity providers—Reliant, Green Mountain Energy and Energy Plus—serve more than two million customers. More information is available at www.nrgenergy.com. Connect with NRG Energy on Facebook and follow us on Twitter @nrgenergy.
About GE
GE (NYSE: GE) works on things that matter. The best people and the best technologies taking on the toughest challenges. Finding solutions in energy, health and home, transportation and finance. Building, powering, moving and curing the world. Not just imagining. Doing. GE works. For more information, visit the company's website at www.ge.com.
About GE Power & Water
GE Power & Water provides customers with a broad array of power generation, energy delivery and water process technologies to solve their challenges locally. Power & Water works in all areas of the energy industry including renewable resources such as wind and solar, biogas and alternative fuels; and coal, oil, natural gas and nuclear energy. The business also develops advanced technologies to help solve the world's most complex challenges related to water availability and quality. Power & Water's six business units include Distributed Power, Nuclear Energy, Power Generation Services, Renewable Energy, Thermal Products and Water & Process Technologies. Headquartered in Schenectady, N.Y., Power & Water is GE's largest industrial business.
###