PRODUCTS & SERVICES Cooling Water Treatment
Designed to switch valves, pumps, heaters and other devices, plus establish on/off control loops, Burkert's Type 8032 "All-In-One" Inline Rotor Flow Transmitter/Switch/Indicator finds coolant protection applications in...
Sep 1st, 2004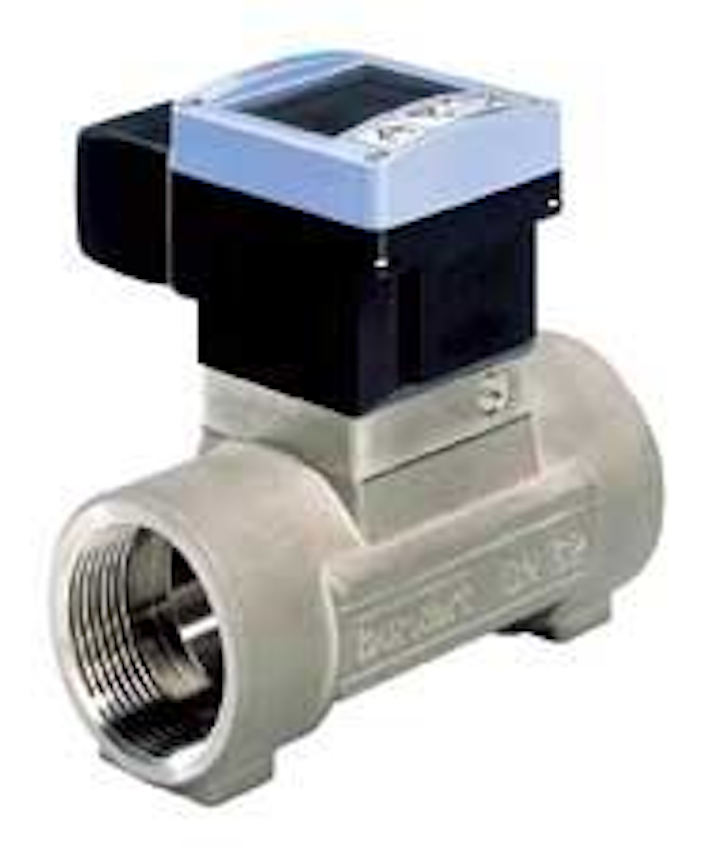 Flow control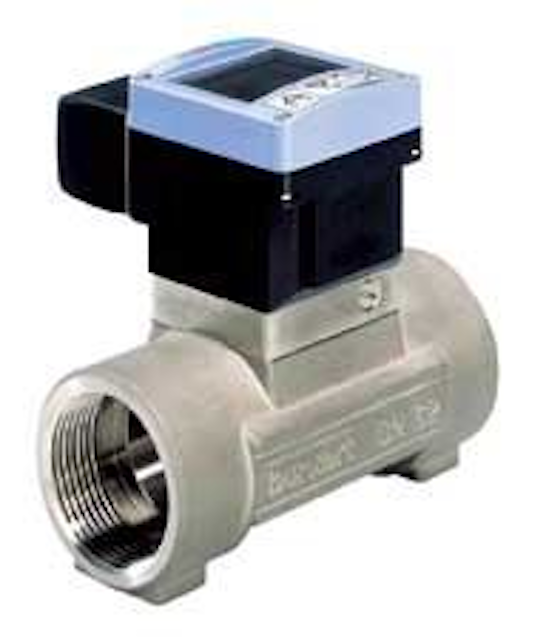 Click here to enlarge image
Designed to switch valves, pumps, heaters and other devices, plus establish on/off control loops, Burkert's Type 8032 "All-In-One" Inline Rotor Flow Transmitter/Switch/Indicator finds coolant protection applications in situations where low-cost, decentralized control loops are needed to locally monitor flow rates plus provide minimum/maximum alarm outputs. Thanks to its teach-in and test simulation functions, the unit can be set up and tested without actually operating the flow system. This cuts both cost and time for installing and calibrating the Type 8032. It provides an independent digital output, via transistor or relay, for any preprogrammed low- and high-flow condition.
Burkert Contromatic Inc.
Irvine, CA
Tel: 949-223-3100
Web: www.burkert-usa.com
Cooling water filter
Click here to enlarge image
The Alfa Laval Filter is a pressure filter with an automatic flushing arrangement suitable for installation either as a filter for a single heat exchanger or a battery of heat exchangers. The filter, made for connections from 4" to 24" and installation directly in the piping system in almost any position, is designed for use with low-quality water and operates as an integral part of a cooling system to remove debris that can foul or clog a plate heat exchanger or a tubular condenser. Made of SS, glass fiber-reinforced polyester or rubber-lined carbon steel, it can be used for other process fluids that require filtration.
Alfa Laval Inc.
Warminster, PA
Tel: 215 443-4259
Web: www.alfalaval.us
Chlorine dioxide generators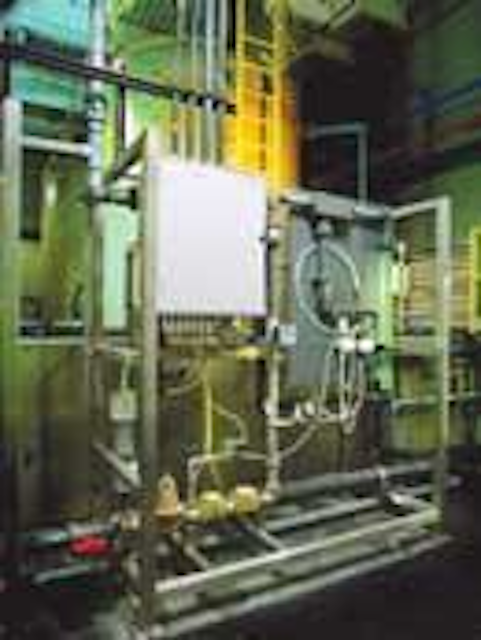 Click here to enlarge image
Altivia offers cost effective water treatment systems including a broad range of chlorine dioxide generators and full-service programs. Chlorine dioxide is effective for control of biofilm, algae and Legionella in contaminated cooling systems where chlorine treatment programs have proven ineffective. Chlorine dioxide doesn't chlorinate or react with ammonia resulting in lower effective dose rates.
Altivia Corp.
Houston, TX
Tel: 866-258-4842
Web: www.altivia.com
Distillation technology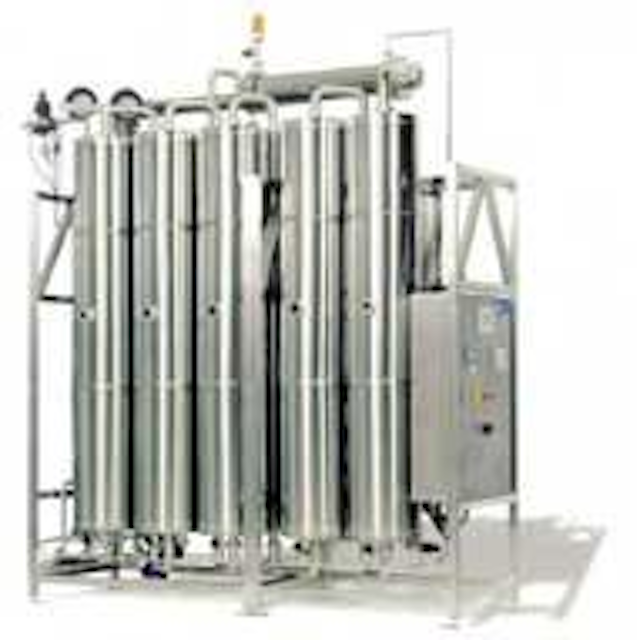 Click here to enlarge image
The Multitron MT distillation units from Christ Water Technology Group – like its Vapotron VT steam generator – uses a new technology for reduction in cooling-water consumption up to 25% and steam consumption by 20% through a combined cooler/heater that preheats incoming water to ensure optimal use of condensate. A triple drop separator also guarantees separation of small and large drops of water in ultrapure quality. Units of up to nine columns have an output of 100 to 15,000 kg/hr of distillate. Size of first column can be adapted for ultrapure steam or WFI, meaning no need for separate ultrapure steam generator in many cases. Online TOC measurement an option. Automatic control system ensures compliance with relevant regulations and keeps record of measured values. Integration also permits a full, wet FAT test of the complete system, including the pre-treatment stages.
Christ AG/Christ Water Technology
Aesch, Switzerland
Tel: +41-61-755 83 64
Web: www.christwater.com
Sensing systems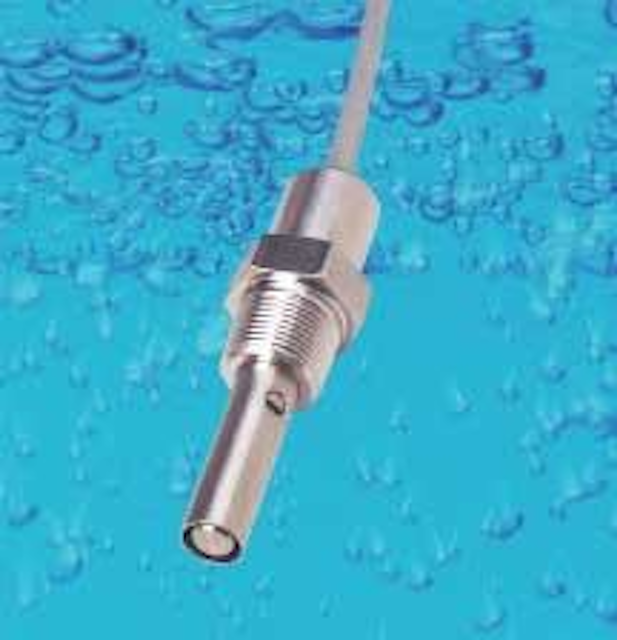 Click here to enlarge image
Emerson Process Management provides a variety of sensing solutions for optimizing cooling tower efficiency, where increased emphasis on reuse of cooling water and the need for maintaining effective heat exchange systems make controlling impurities that cause scale and corrosion more important than ever. The Rosemount Analytical Dual Input Analyzer, Solu Comp® II Model 1055 and chlorine sensor Model 499ACL sensor can be used to determine free chlorine to maximize chlorine's performance and control excess chlorine from being returned to the water source.
Emerson Proc. Mgmt./Rosemount Analytical Inc.
Irvine, CA
Tel: 800-854-8257
Web: www.emersonprocess.com/raihome/
Side-stream filtration
Electric H20's filters are the first standardized line of media filters designed and priced for end-users of cooling water systems. Side-stream filtration is recognized by an increasing number of facilities and HVAC managers as a powerful means to boost chemical water treatment, increasing energy efficiency while reducing maintenance costs and downtime for cooling tower systems. With the fill and sump open to the atmosphere, particles are scrubbed from the air on a continuous basis and delivered to the sump.
Electric H2O Filtration LLC
Phoenixville, PA
Tel: 610-935-1955
Web: www.electrich2o.com
pH/conductivity meter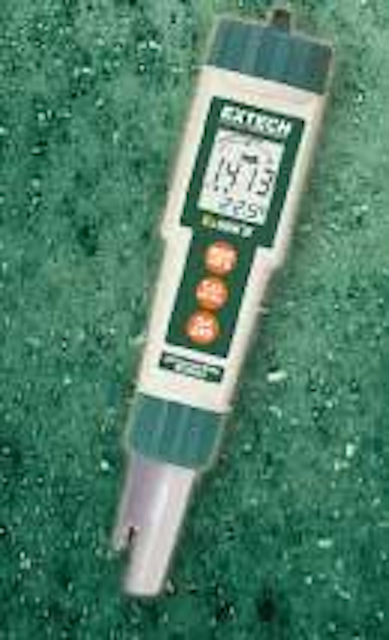 Click here to enlarge image
Applications for Extech Instruments' Waterproof ExStik© II pH/Conductivity Meter, Model EC500, include process and HVAC cooling towers, industrial and commercial boilers, RO systems, pools and spas. Unit combines rugged, flat surface pH electrode with autoranging conductivity cell to precisely measure conductivity, TDS, salinity, pH, and temperature. One of the first combination stick electrodes with a flat surface pH sensor, it delivers seven selectable units of measure: pH, µS, mS, ppm, ppt, mg/L, and g/L; provides automatic temperature compensation, adjustable conductivity to a TDS ratio from 0.4-1.0, and a 0.5 salinity ratio; and features an analog bar graph to indicate trends and internal memory to store up to 25 data sets for easy recall. A Renew feature monitors calibration and features auto power off and a low battery indicator. It also comes with an electrode, protective sensor cap, sample cup with cap, four batteries, and a 48" (1.2m) neckstrap.
Extech Instruments
Waltham, MA
Tel: 781-890-7440
Web: www.extech.com.
New biodetector series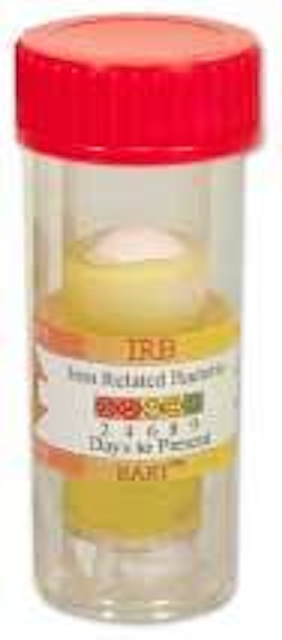 Click here to enlarge image
LaMotte Company is now distributing the BART™ series of Biodetectors. Originally designed for diagnosis of biofouled wells, these Biological Activity Reaction Tests can be used for drinking water wells, municipal water and wastewater, cooling towers and heat exchangers, and process water. Determine the presence and level of activity for iron related bacteria, sulfate reducing bacteria, heterotrophic aerobic bacteria, and five other bacteria types. BART™ Biodetectors require no microscope, laboratory, or incubator. Samples are checked daily at room temperature. The time taken for a color change (reaction) to occur gives a measure of the population size and activity. Interpretation of the results is provided with the kit. Packaged nine or seven tests per box.
LaMotte Company
Chestertown, MD
Tel: 410-778-3100
Web: www.lamotte.com
Cooling system kit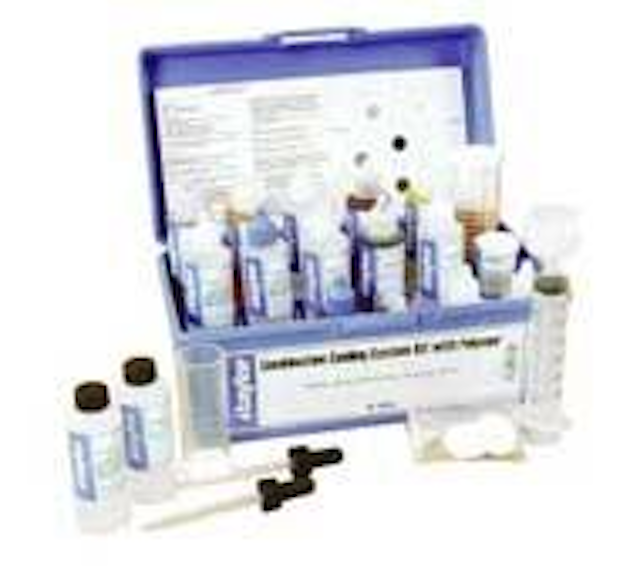 Click here to enlarge image
Taylor Technologies recently added the K-1692 to its line of products for industrial water analysts. This combination of tests is appropriate for cooling systems using acrylate-based polymers for scale control and sludge conditioning. Besides total free polymer (0, 2, 5, 7, and 10 ppm free polyacrylic acid), they include total alkalinity (1 drop = 10 ppm CaCO3), chloride (1 drop = 10 ppm Cl-), calcium hardness (1 drop = 10 ppm CaCO3), nitrite (1 drop = 40 ppm NaNO2), and phosphonate (1 drop = 0.9 ppm HEDP).
Taylor Technologies Inc.
Sparks, MD
Phone: 800-837-8548
Web: www.taylortechnologies.com
Mixed-oxidant disinfection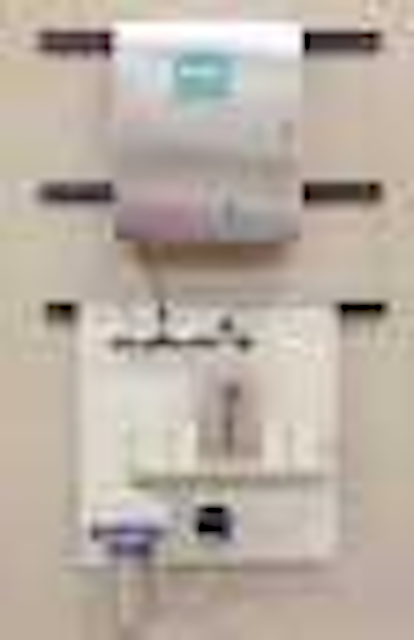 Click here to enlarge image
MIOX on-site mixed-oxidant generators are extremely effective against biofilm and algae, improving cooling tower operations and efficiencies. Mixed oxidants are several orders of magnitude more effective at microorganism inactivation than are biocides at comparable doses. Mixed oxidants have eliminated Legionella in systems that were previously experiencing positive bacterial hits. In addition, biofilm regrowth is prevented, eliminating the protective coating that can harbor harmful bacteria.
MIOX Corp.
Albuquerque, NM
Tel: 505-343-0090
Web: www.miox.com