Side-Stream Filtration, UV Sterilization Help Reduce Cooling Tower Maintenance
Cooling towers, by design, are the world's finest air scrubbers. As part of the cooling method, they flush airborne contaminates into the system, where they deposit on heat exchange surfaces.
Sep 1st, 2004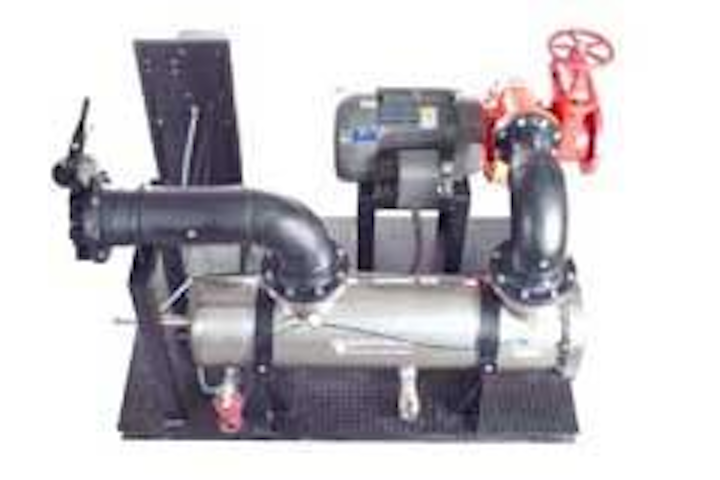 By Greg Wymore
Cooling towers, by design, are the world's finest air scrubbers. As part of the cooling method, they flush airborne contaminates into the system, where they deposit on heat exchange surfaces. Suspended matter in the cooling water also supplies living microorganisms with a constant food source for sustaining life and multiplying.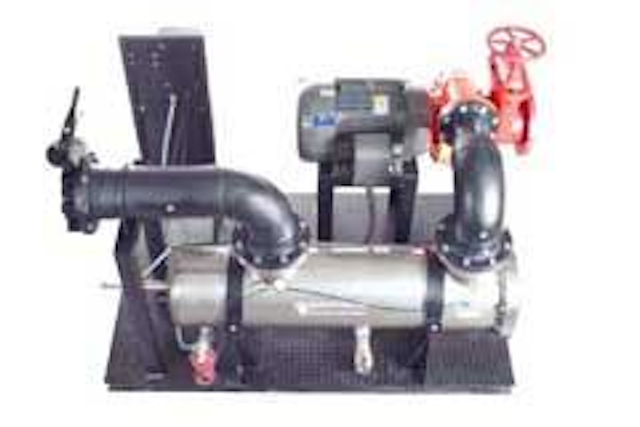 Click here to enlarge image
A permanent medium filtration system can remove these contaminants before they increase the cost of operating the water-cooled equipment or shut the system down. And, combined with ultraviolet (UV) sterilization, constant side-stream filtration will result in a much cleaner system, with the UV providing a constant suppression of microorganism growth far below those achievable with chemical biocides.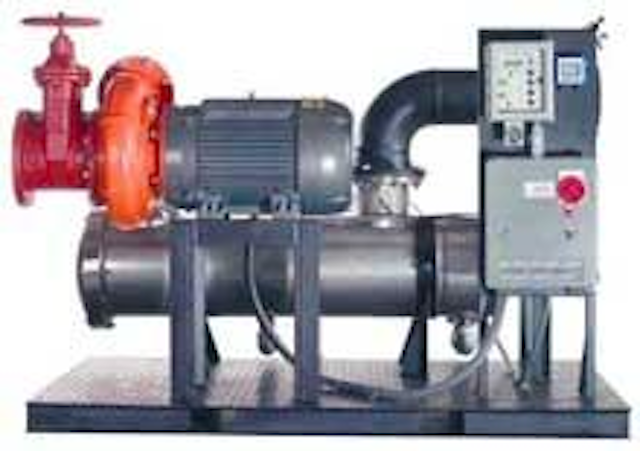 Large 1,500-gpm system in an Amgen pharmaceutical plat in San Juan, Puerto Rico. The system's UV pressure vessel comes from WEDECO. The filter involves screen filtration down to 10-15 microns with units made of SS woven wire backed by an SS perforated cylinder for rigidity to avoid blowouts due to excessive pressure.
Click here to enlarge image
Cooling water system treatment programs must include the following four specific parameters of control for successful equipment protection: scale, corrosion, biological fouling, and airborne contaminants. Airborne dirt affects scale control, corrosion and biofouling – and is the only parameter that cannot be measured. No one knows which way the wind will blow and what it will pick up in its travels and deposit into the system.
The most effective means to control all of these problems is cleanliness. Filtration of sump water helps keep the tower clean. Removal of as many contaminants, both airborne and byproducts of the system, makes the treatment program easier. Filtration and UV provide a daily cleaning of the water.
With side-stream filtration, a portion of the water filters continuously. The whole system is filtered every hour. Side-stream filtration works on the principle that continuous particle removal will keep the system clean. The filtration goal is not to make drinking water but to remove the fine dirt, dust, smoke and organic particles that collect in water.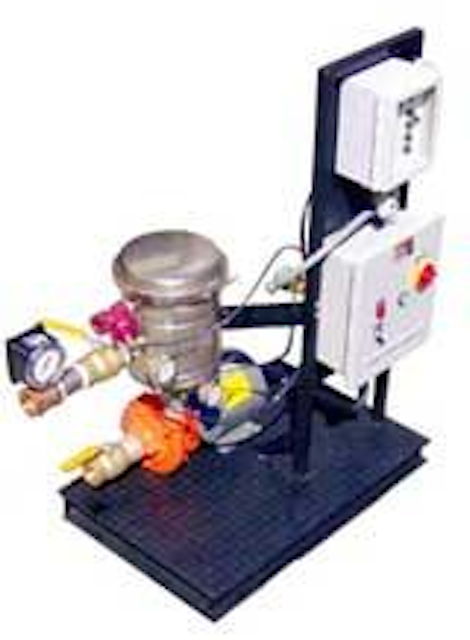 Small 50-gpm system in Ball Metals can plant in Arvada, CO, that makes nearly three million cans a day. Other cooling tower applications include heat-transfer systems at foundries such as steel mills and aluminum plants. In addition the system has been used for disinfection at fish hatcheries and, in food processing, for wash-down water for vegetables.
Click here to enlarge image
The most effective filter system for cooling towers and process water is a permanent medium unit, one that requires very little attention or maintenance. The medium must be finer than 50 microns to trap the average airborne contaminant. Things to look for in filter systems are: self cleaning, simplicity, compactness and ease of operation. Also important are screens with pore sizes down to 10-15 microns, providing consistent filtration and a short automatic backflush cycle.
Typically, a side-stream representing about 15-20% of the total recirculated flow is adequate for sizing purposes. For example, a 100-ton cooling tower will have a total recirculating flow rate of 300 gpm. Sizing the filter and UV sterilizer to handle flows of 50-60 gpm would be sufficient for cleaning the entire capacity of the tower once every hour.
When you add up all the benefits, permanent side-stream filtration with UV sterilization pays for itself in less than two years. No water-cooled system – especially cooling towers – should operate without a filter/UV combination.
About the Author:
Greg Wymore is an application specialist based in Cedar Rapids, IA, for TECCO Inc., of Peoria, IL. TECCO represents Valve and Filter Corp., of Arvada, CO. The company's VAF2000 Automatic Self-Cleaning Filter combined with a UV sterilizer provides a continuous side-stream cleaning for cooling tower or other water-cooled equipment. For more information, VAF can be reached at 800-759-6554 or sales@valveandfilter.com