New Products
New Belcor® 585 is an enhanced Phosphonocarboxylate (EPOC) based product that provides a combination of both scale inhibition ...
Mar 1st, 2011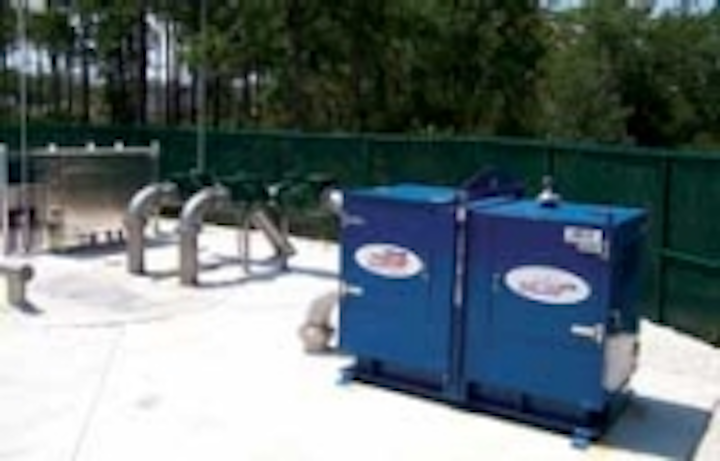 Scale, corrosion control
New Belcor® 585 is an enhanced Phosphonocarboxylate (EPOC) based product that provides a combination of both scale inhibition and corrosion control. The product exhibits equivalent ferrous metal corrosion control to Belcor® 575, the company's organic corrosion inhibitor. This multifunctional product displays improved calcium carbonate and phosphate scale inhibition properties in moderate or soft waters, in addition to advanced halogen resistance and corresponding zinc stabilization. Belcor® 585 inhibits bulk water precipitation allowing more of the inhibitor to reach the metal surface minimizing product loss in the bulk water. BWA Water Additives, 201-394-2476, www.wateradditives.com
Variable speed controller
The new C100A Variable Speed Controller from Fluid Metering provides an ideal control interface for FMI's Variable Speed Pumps. The C100A features both manual speed adjustment using a front panel mounted rotary dial, as well as electronic speed control via a 4-20 mA signal from an external source (sensor, flow meter, analyzer, process controller, etc). Features include IR compensation, current limiting circuit, minimum and maximum speed adjustment, which are all factory preset to best meet specific application parameters.Fluid Metering Inc., Syosset , NY, 800-223-3388, www.fmipump.com
Moisture analyzers
The Michell Promet I.S. and Liquidew I.S. moisture analyzers are now available in a multi-channel format using the company's new Multi-Channel Control Unit (MCU) that enables up to four measurement channels within a single 19" rack unit. Moisture content of both gases and liquids can be made with a single analyzer system. Each channel of the MCU functions independently of the others. The MCU has a bright alphanumeric LED display with optional live gas pressure or liquid temperature inputs for automatic conversion from dew point to the user's units of choice. Michell Instruments Inc., Newburyport, MA, www.michell.com/us
Plunger pumps
Cat Pumps has announced the availability of the 316 Stainless Steel models 3501 and 3511 to its line of positive displacement plunger pumps. These new pumps meet the requirements of specialized industrial applications where corrosive and aggressive liquids need to be pumped. The triplex high pressure pumps are ideally suited to applications such as hydrostatic pressure testing of vessels and pipes, flushing through small instrument lines, enhanced oil recovery, saltwater desalination and high pressure chemical dosing and injecting. Cat Pumps, 763-780-5440, www.catpumps.com
Process control
GE Intelligent Platforms has released Proficy® Process System 2.0, a flexible process control platform suited for Power, Water, and Oil & Gas applications that will help lower customers' total cost of ownership by reducing the costs associated with designing, commissioning, operating, and maintaining process operations and providing them with a sustainable competitive advantage for their business. Applications include main steam cycle, municipal water treatment, and well-to-tank control. The software simplifies the design and maintenance of a system with features that enable users to capture, standardize, and easily maintain their control strategies. GE Intelligent Platforms, Charlottesville, VA, www.ge-ip.com/process
Aeration, mixing
The Reliant Water Technologies' Model WQA was specifically designed to operate in shallow (5' to 12' deep) ponds and lagoons to provide aeration and de-stratification with a minimum of energy. This patented water moving and aeration system requires only 5' of water to operate. It continuously moves all the water within a five acre pond or lagoon. The water movement helps to break up the bottom's toxic dead zone, allowing for the ammonia and nitrogen components trapped there to rise and naturally dissipate through oxidation. The system uses both coarse and fine bubble diffusion technologies. Reliant Water Technologies, New Orleans, LA, 877-820-5511, www.reliantwater.us.com
Axial flow impeller
The Chemineer XE-3 is a high efficiency axial flow impeller for heat transfer, blending and solids suspension applications. The impeller is as much as 10% more efficient than the company's HE-3 and other high efficiency impellers in turbulent mixing. This improved efficiency can reduce energy costs in both new and retrofit applications. The mechanical design of the impeller reduces weight allowing longer shafts without the need for additional support. The impellers are available in carbon steel, 316/316L stainless, high alloys and with an extensive array of coatings. Chemineer Inc., Dayton, OH, 937-454-3200, www.chemineer.com
Surveillance system
The Longwatch XLP Low Power Video Surveillance System is powered by solar cells and batteries. The system hibernates in a low-power standby mode until an external sensor, such as a motion detector or intrusion alarm, or a command from the central control room, sends it a signal to wake up. The system immediately records a short "video alarm clip," transmits it to a remote operator at a central HMI/SCADA system, and continues to record video on its disk until commanded to return to hibernation. Longwatch Inc., Norwood, MA, 781-255-7400, www.longwatch.com
Digital isolators
Weidmuller has introduced the new ACT20X range of digital isolators, specifically developed for hazardous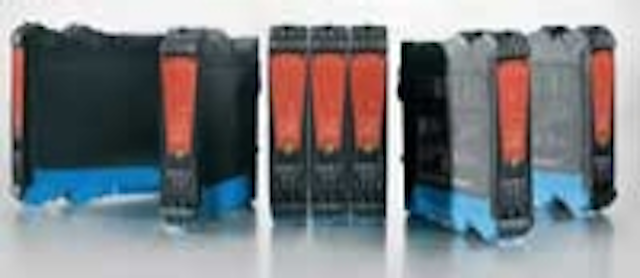 area applications. This range of intrinsic safety signal conditioners includes modules that can convert and isolate digital signals to and from hazardous areas, as well as versions that isolate and drive digital actuators. Only 22.5mm wide, these space-saving devices are part of the company's wide range of isolators and converters for process applications in hazardous areas. The range includes two types of digital modules - Pulse Isolators and Actuator Drivers. Pulse Isolators accept digital inputs from field equipment within a hazardous area. Weidmuller, Richmond, VA, 800-849-9343, www.weidmuller.com
Wet/Wet pressure switch
Dwyer Instruments has released its new series DX Differential Pressure Switch. Wetted materials of brass and fluoroelastomer are suitable for use with most gases and water based solutions. The switch can be used for low differential pressure indication with set point on a decrease of pressure as low as 1 psid. Differential set point ranges are available from 2.5 to 75 psid on increasing differential pressure and 1.0 to 67 psid on decreasing differential pressure. Unit features a high static pressure rating of 200 psig for higher static pressure applications. Standard is a weatherproof, UL type 4X enclosure for dust laden, outdoor, or wash-down installation environments. Dwyer Instruments, Michigan City, IN, 800-872-9141, www.dwyer-inst.com
Centrifugal pumps
Griswold™ Pump has announced that the standard and low-flow models of its 811 Series ANSI Centrifugal Pumps are now ATEX-compliant. ATEX is the common name for European Union Directive 94/9/EC, which is the European safety standard for all equipment intended for use in potentially explosive atmospheres. With this certification, the company's 811 ANSI pumps are now available for use in places where explosive atmospheres may arise through the mixture of air and flammable materials such as gases, vapors, mists and dusts. The pumps have been designed with an open-impeller that minimizes concentrated wear; self-tightening impellers that reduce leaks and failures; the ability to externally adjust the clearance so that peak efficiency is ensured even after wear-area loss; back pump-out vanes that reduce pressure on the shaft seal and bearings; and investment-cast impellers that are ultra-smooth to guarantee hydraulic and mechanical balance, as well as maximized seal and bearing life. Griswold™ Pump Co., Grand Terrace, CA, www.griswoldpump.com
Ion exchange resin
Dow Water & Process Solutions has announced key improvements to Dowex™ Marathon™ C10, an ion exchange resin that can be used for effective removal of contaminants from water in industrial water demineralization, condensate polishing and softening. The strong acid cation exchange resin has a uniform particle size that exhibits more uniform exhaustion, regeneration, and backwash compared to conventionally sized resins. The higher level of crosslinking also shows exceptional stability to compressive, osmotic, and oxidative stresses. Improvements to the resin include reduction in mean particle size increasing resin kinetic performance by 15%. Dow Water & Process Solutions, Minneapolis, MN, www.dowwaterandprocess.com

Calibration gas
Gasco Affiliates, a producer of precision calibration gas, is once again enhancing calibration gas delivery with the launch of the 44, a standard 34-liter cylinder containing 44 liters of precision calibration gas. The new 44 features 29 percent more gas than the traditional 34-liter unit, reducing the cost per liter while also extending the life cycle of a standard 34-liter cylinder. The company uses exclusively designed, reinforced, 34-liter aluminum alloy cylinders and applies its proprietary manufacturing process to safely and effectively increase the gas pressure. This process enables the standard 34-liter cylinder to hold 10 additional liters of calibration gas. The 44 holds both pure gases and gas mixtures and is approved for safe transport by the Department of Transportation. Gasco Affiliates, LLC, 800-910-0051, www.gascogas.com
Electrical Safety
With a simple motion, the DS-10 "Chicken Switch" circuit breaker operator quickly attaches to most 'DS-style' circuit breakers manufactured by Westinghouse, Cutler-Hammer and Square D. The device is held in place by strong magnets, so no modification to the breaker is required. A standard 30' control cable, or optional 50' cable, allows the human operator to be positioned at a safe distance while opening or closing the breaker. The DS-10 is powered by regular AA batteries and stores in a rugged injection molded carrying case. It works with "DS-style" circuit breakers between 800 amps and 4000 amps.
MarTek Ltd., Charleston, WV, 304-965-9220, www.chickenswitch.com
AODD pumps
Wilden has announced the new 2" center-ported Advanced™ Series Pro-Flo X™ Brahma pump. PX810 Brahma pumps feature a threaded 2" top inlet and bottom discharge. Additionally, the flow path uses flap valves for maximum solids passage. These features avoid damage from product entrapment and settling solids in intermittent-duty applications. The new pump comes equipped with the patented Pro-Flo X Air Distribution System, featuring the Efficiency Management System that optimizes operation of the pump with the turn of an integrated control dial. This enables the pump user to select the desired efficiency point and flow rate that best suits the application. Wilden, Grand Terrace, CA, www.wildenpump.com
Chlorine dioxide analyzer
The new CDA-22 Chlorine Dioxide Analyzer from Electro-Chemical Devices features a panel mounted plumb-and-play design and automatic flow control in a low-maintenance complete measurement system. It is designed to measure chlorine dioxide in concentrations ranging from 0.05-20 ppm in applications including industrial cooling and rinse water, wastewater or other fresh water samples. The analyzer incorporates a CIO2 sensor, automated flow control device and analyzer/controller mounted on a PVC panel. Installation is complete after connecting the sample and drain lines, power and outputs. Electro-Chemical Devices, Irvine, CA, 800-729-1333, www.ecdi.com
Dosing system
Spiroflow Systems recently expanded and updated its range of powder handling systems for discharging and metering of water and effluent treatment chemicals. As a result, the company is able to help companies comply with the regulations covering the discharge of effluent into rivers and streams. Chemicals used for pH, bacteria, taste and odor control such as hydrated lime, powdered activated carbon (PAC) and soda ash are delivered in various forms. Spiroflow Systems, 704-291-9595, www.spiroflowsystems.com
Rotary vane pumps
Clark Solutions has released its TSFR Series Magnetic Drive Rotary Vane Pumps. The pumps are designed
for applications such as heat exchange and process loops where many hours of operation are required. They are AC powered, feature four speed selections, and are rated for continuous flow to 264 gph. The pumps feature frictionless and high efficiency electro-magnetic drives. The electronic controller provides continuous ramp speed control between 1100 and 3500 rpm. Motor speed can be set via dipswitches, which can be set manually or remotely or can be controlled by a proportional feedback loop. The external feedback loop is useful for precise control of pressure or flow rate independent of variations in flow circuit conditions. Clark Solutions, Hudson, MA, 978-568-3400, www.clarksol.com
Ultrasonic flow monitoring
Spirax Sarco's new UTM10 ultrasonic clamp-on flow and energy meter has the ability to measure liquids with small amounts of suspended solids or aeration in line sizes from ½" to 80". It flow measurement readings for full pipe liquid applications such as cooling lines, liquid condensate, water distribution and processes where system shutdown is impossible. The meter is designed to clamp onto the outside of existing pipes without contacting fluids, reducing installation time and material costs. With no moving parts, there is no mechanical wear; no repair kits or replacement parts are ever needed. Spirax Sarco Inc., Blythewood, SC, 803-714-2036, www.spirax.com
Pressure instruments
Ashcroft® pressure instruments can be configured with media isolators specifically engineered for harsh or corrosive process liquids and gases. Whether the measuring device is a dial gauge, switch, digital gauge or transmitter, there is a diaphragm seal or other isolation device that can be mated for complete media protection. The company's seals are available in a wide variety of sizes, wetted materials and configurations including capsule type, welded or bonded and clamped designs with threaded, flanged and flushing connections. Ashcroft, 800-328-8258, www.ashcroft.com
Agitators
The Chemineer HT & HTM High-Torque Agitators are suited for a variety of processes. Torque ratings are up to 1.3 million in-lbs. (1,000 hp+) for the HT, 2.5 million in-lbs. (2,000 hp+) for the HTM parallel shaft design and 7 million in-lbs. (5,000 hp+) for the HTM right angle units. The company's gear drives feature spiral bevel and helical gearing that increases service life and oversized solid internal shafting. Agitator drives are assembled in the factory prior to shipment to save installation time. The HT and HTM agitators include both standard and optional shaft designs and a variety of impeller and sealing options to satisfy a broad range of application requirements. Chemineer Inc., Dayton, OH, 937-454-3200, www.chemineer.com.
Boiler level gauge
A wide angle viewing hood with enhanced optics has made the Clark-Reliance Simpliport® 180 system much easier to view. The new direct-reading boiler water level gauge provides clear viewing of the its bi-color level indication, making it visible at any angle or distance. The gauge is installed to meet ASME Boiler Code (Section 1) requirements, which mandate a direct reading gauge on all boilers to indicate water level. Until now, such gauges would require the viewer to be both within a few feet of the gauge as well as directly in its line of sight. Clark-Reliance Corp., Strongsville, OH, 440-572-1500, www.clark-reliance.com
Conductivity measurement
The Burkert transmitter Type 8222 is a compact device specially designed for measuring the conductivity value of fluids. The transmitter consists of a cell and a temperature sensor molded in a sensor holder. This ensemble is plugged-in and connected to an IP67 enclosure containing the electronic module with cover and a removable display. The conductivity sensor is available with three different cell constant C values, these with C = 0.01 or 0.1 are fitted with stainless steel electrodes and those with C = 1.0 is fitted with graphite electrodes. Burkert Fluid Control Systems, 949-223-3100, www.burkert-usa.com
More Industrial WaterWorld Articles
Past IWW Issues