Sampling
RACO introduced an upgrade of its Alarmware? Software, Version 1.57, a data collection and analysis tool for its Catalysttrademark remote data logging and alarm notification system.
Mar 1st, 2002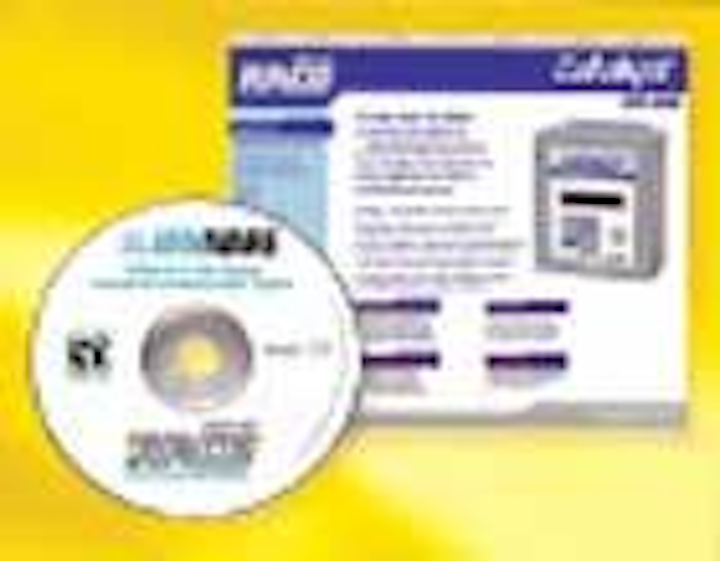 Remote logging/notification system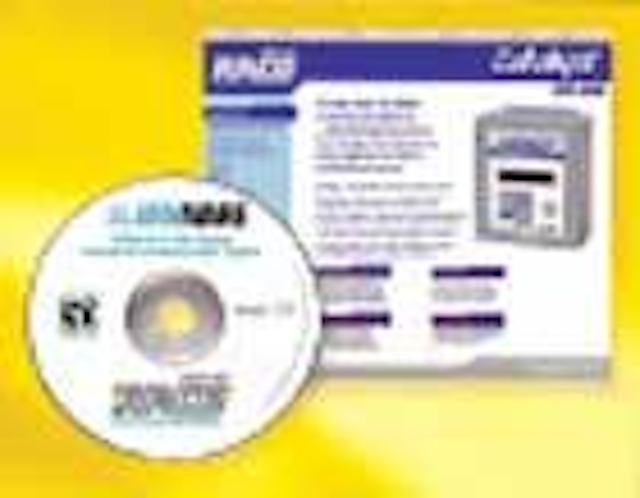 Click here to enlarge image
RACO introduced an upgrade of its Alarmware™ Software, Version 1.57, a data collection and analysis tool for its Catalysttrademark remote data logging and alarm notification system. The software has been upgraded to provide user interface enhancements, such as improved navigation and help functions. Now it allows users to set up all monitoring, reporting and control functions. A key new feature provides the ability to designate any text report, generated remotely or locally, to be delivered by fax. Catalyst is an HMI, wireless, remote data logging and alarm notification system that allows real time, two-way communications with critical data via phone, fax, pager, or cell phone, and can also report to SCADA system hosts.
RACO Manufacturing & Engineering Co.
Emeryville, CA
Tel: 800-722-6999
Web: www.racoman.com
Continuous organics analyzer
The UV-0254 Organics Analyzer is capable of continuous, real time analysis of constant flow sample stream. The unit offers an isolated analog output, high and low alarms, diagnostic alarms, LED digital display, many AC power options and an optional data log. Features include direct photodiode detection, temperature stabilized light source and detector, sealed electronics enclosure, sealed flow cell, automatic zero and clean, and more. Parameters include percent Transmittance, UV Absorbance Units, or correlation to ppm of TOC, COD, DOC and NOM. The autozero and clean function assures stable output without intensive maintenance.
Applied Spectrometry Associates, Inc.
Waukesha, WI
Tel: 262-650-2280
Web: www.chemscan.com
Portable gas detectors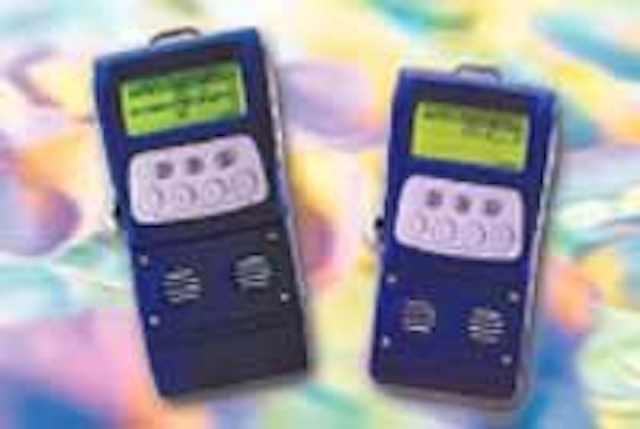 Click here to enlarge image
General Monitors' G20 and G40 Portable Gas Detectors include full-sized electrochemical cells for optimal personal safety. The G-series simultaneously monitors from one to four toxic gases, including oxygen deficiency and combustible gas. Enclosed in a custom-formulated, stainless steel filled and polypropylene housing, the G-series is resistant to impact and chemical exposure. Designed to meet IP65 standards, both portable units are approved for damp and dusty environments. Additionally, a 10-hour minimum NiMH battery is standard for prolonged projects. Both the G20 and G40 are ideal for applications in: chemical plants, electric utilities, underground tunnels, confined spaces, construction, mining, oil/gas production, refineries, telecommunications, wastewater treatment, and fire service.
General Monitors
Lake Forest, CA
Tel: 949-581-4464
Web: www.generalmonitors.com
Residual chlorine monitor
The AccuChlor2 uses an EPA-approved amperometric measurement technique to provide free or total chlorine measurements. Construction of the measuring cell provides stable and repeatable measurements from extremely low ppm ranges to as high as 60 ppm of free or total chlorine. It is ideal for use in municipal and industrial water and wastewater treatment. The monitor uses ordinary inexpensive distilled white vinegar as a non-toxic and non-hazardous method for process pH adjustment.
GLI International, Inc.
Milwaukee, WI
Tel: 800-GLI-0263
Web: www.gliint.com
Pocket-sized gas monitors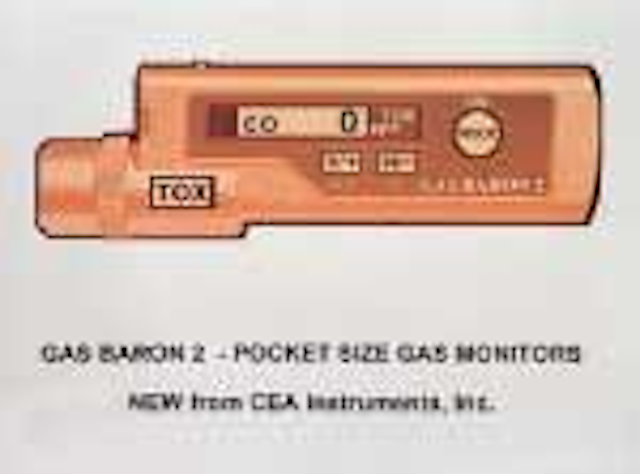 Click here to enlarge image
The Gas Baron 2 Series of low cost, UL and CSA approved, durable, single gas monitors are newly improved with an expanded range of sensors. Interchangeable sensors are now available for chlorine, nitrogen dioxide, nitric oxide, sulfur dioxide, hydrogen sulfide, and carbon monoxide. Other versions for oxygen, hydrogen cyanide, ammonia, chlorine dioxide, phosphine and combustibles as %LEL are also available. Standard features include digital display, backlight, user adjustable audible and visual alarms, belt clip, calibration flow adapter, and operation manual. An alarm jack is provided that can be used with an earphone or remote vibrating alarm.
CEA Instruments, Inc.
Emerson, NJ
Tel: 201-967-5660
Web: www.ceainstr.com
Reagent tests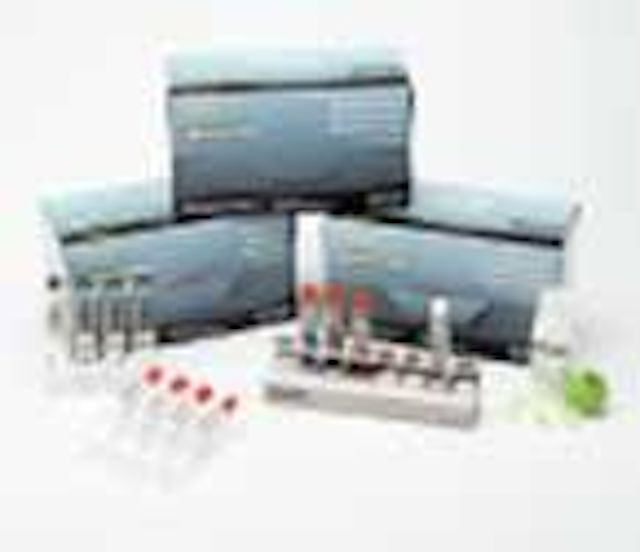 Click here to enlarge image
Unicells from Hach feature reagents inside the cap, called a Unicap. All the user has to do is add the sample to the test tube and screw on the Unicap, then shake, wait the time called for in the procedure and read it on a spectrophotometer. There are 16 new parameters including copper, iron, nickel, chromium, fluoride, aluminum, cadmium, lead, ammonium (in two ranges), nitrate, total nitrogen, phosphate (in two ranges), and sulfate (also in two ranges). The company also has a new reactor called the DRB100 for preparing samples requiring digestion.
HACH Company
Loveland, CO
Tel: 800-227-4224
Web: www.hach.com
Cyanide test kits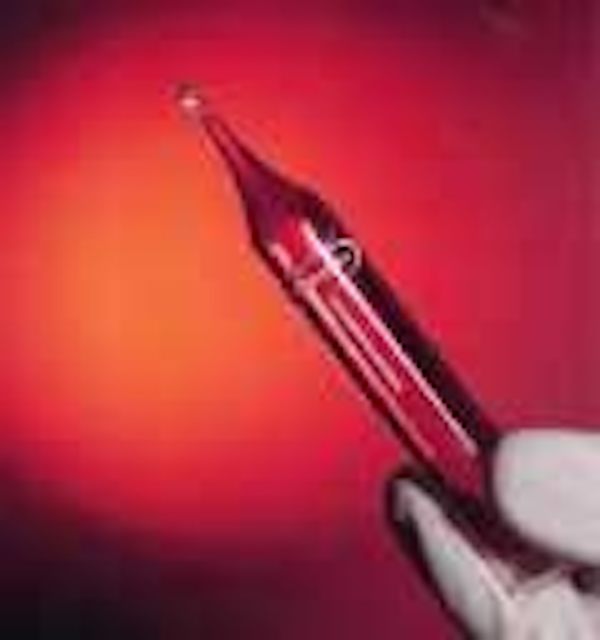 Click here to enlarge image
CHEMetrics announced the availability of its Vacu-vials® Test Kit (K-3803) for the measurement of cyanide in water. Cyanide, used in many chemical and refining processes, may be found in effluent from electroplating and metal cleaning operations, coke ovens, steel manufacturing facilities and gas scrubbers. This kit employs the Isonicotinic/Barbituric Acid Method for fast, accurate and cost-effective testing. It measures concentrations as high as 0.4 ppm cyanide. Unit doses of reagent are sealed under vacuum in proprietary self-filling ampoules.
CHEMetrics, Inc.
Calverton, VA
Tel: 800-356-3072
Web: www.chemetrics.com
Lab data management software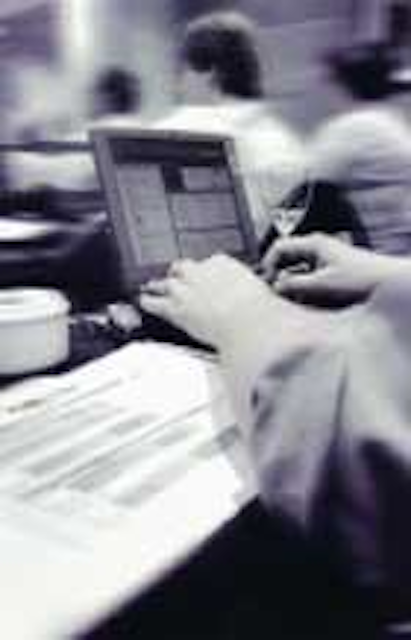 Click here to enlarge image
Thermo LabSystems announced a number of significant new software innovations recently. The new eRecordManager™ includes functionality for addressing the long-term data archival and knowledge management requirements of all science-based industries. Through a unique library of over 150 powerful file converters that automatically generate XML versions of the data, archived information can be viewed on virtually any platform. StudyManagertrademark is an advanced multi-dimensional study management software product designed to support a range of study-based environments, including stability, clinical, DMPK and bio-analytical applications. This new system is especially anticipated to generate interest in the pharmaceutical, biotechnology, and food and beverage industries.
Thermo LabSystems Inc.
Beverly, MA
Tel: 800-395-5467
Web: www.thermolabSystems.com
Addressable gas alarm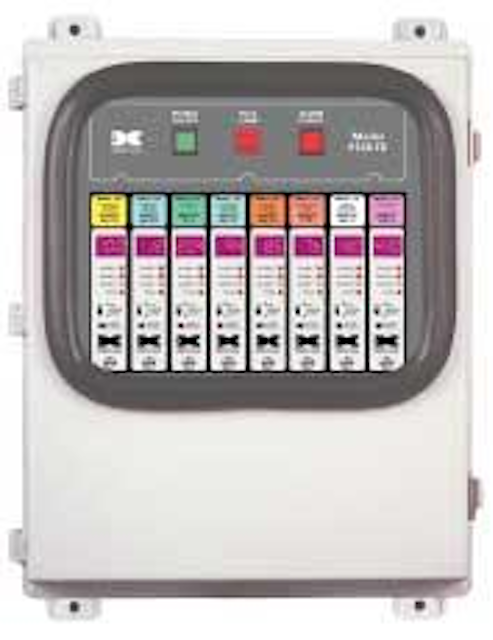 Click here to enlarge image
The Detcon Model 812FB gas alarm system consists of a single sensor and redundant gas detection control modules packaged in a NEMA 4X control enclosure. System capacity is up to eight active channels of monitoring for any combination of toxic, combustible gas or oxygen deficiency alarm conditions. Each microprocessor based control module is individually addressable via a standard MODBUS RTU protocol. System alarm relays consist of three-level gas alarm condition and fault condition failsafe supervision. One very useful system feature is site specific programmability of latching/non-latching, energized/de-energized relay functions. An optional type-Z purge can be supplied for hazardous location installations.
Detcon, Inc.
The Woodlands, TX
Tel: 888-367-4286
Web: www.detcon.com
Feed, monitoring and control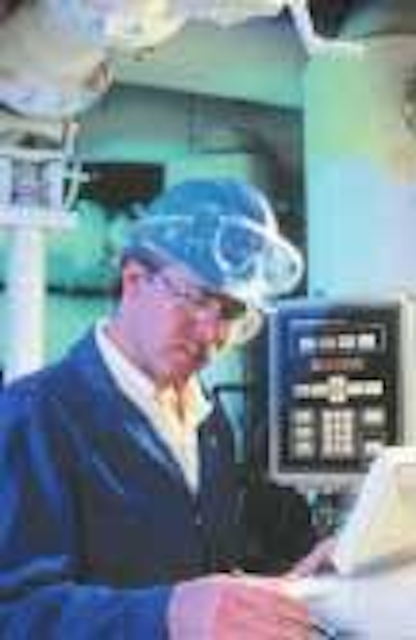 Click here to enlarge image
The PaceSetter Plus® computerized chemical feed, monitoring and control system provides precise management of chemicals in industrial boiler, cooling, wastewater and process treatment programs for improved performance, reliability and cost effectiveness. This system from BetzDearborn uses a self-correcting technology that continuously measures the quantity of chemical fed against the amount required, and automatically makes the necessary adjustments to prevent underfeeding or overfeeding conditions. Each stand-alone PaceSetter Plus controller can independently feed up to four chemicals into different processes. It also provides alarm capabilities, and can be connected to a laptop PC for programming and data retrieval or linked in a network of up to 31 units. Handling and spillage are minimized because chemicals are automatically dispensed from bulk storage containers. The system meets NEMA 4X specifications.
BetzDearborn
Trevose, PA
Tel: 215-355-3300
Web: www.betzdearborn.com
Moisture titrators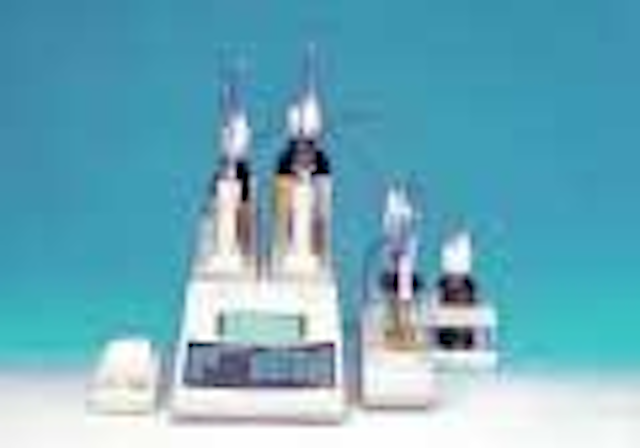 Click here to enlarge image
KEM's moisture titrators can manage titrations quickly and accurately, making moisture testing simple and efficient. KEM utilizes the Karl Fischer technique, a reliable method for determining moisture content. The ADP-511 vaporizer can be added to test solids and gases. The volumetric titrators satisfy a need for determining the moisture content of various products and raw materials. Data can be printed out or downloaded to a PC for analysis. The KEM titrators cut testing time and improve accuracy.
CSC Scientific Company, Inc.
Fairfax, VA
Tel: 800-458-2558
Web: www.cscscientific.com
Automatic samplers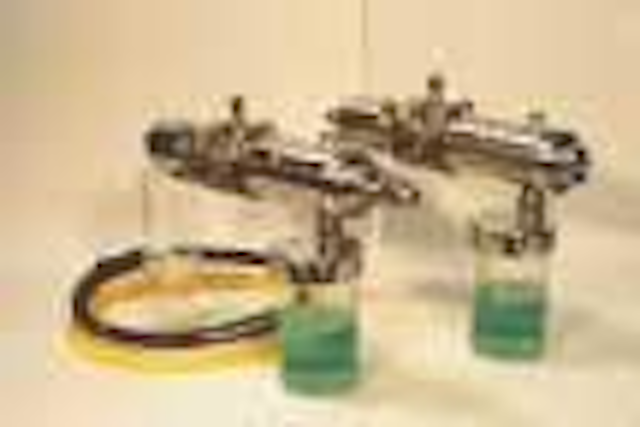 Click here to enlarge image
Isolok® automatic samplers offered by Bristol Equipment Company draw measured portions of liquids or slurries on command from electrical or all-pneumatic controls. Actuated by a single compressed air cylinder, for greater safety in dusty or volatile environments, the sampler taps process streams moving through pipes or vessels pressurized up to 300 psi, as well as troughs or tanks. The sample path always remains completely enclosed to avoid spillage, sample or process contamination and exposure of personnel or plant environment. Standard sampler designs draw samples of 3 cc, 8 cc, 10 cc, or 25 cc by positive displacement with each cycle, with custom sampling sizing available. A wide range of cycling controls is offered including automatic time-base, flow-proportional, manual cycling and PLC interface modules.
Bristol Equipment Company
Yorkville, IL
Tel: 630-553-7161
Web: www.bristolequipment.com
Non-contact temperature measurement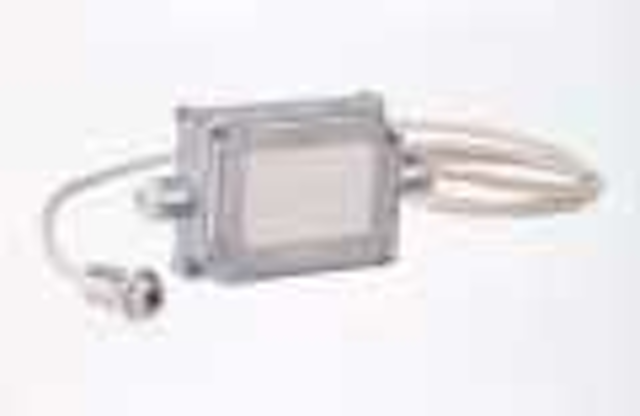 Click here to enlarge image
Dwyer Instruments announced the release of Series MIL Mini In-Line IR Sensor. This miniature low cost, accurate and easy-to-install temperature measurement system is an alternative to traditional methods. The Series ML is a two-piece infrared, temperature measurement system with a miniature sensing head and separate electronics. The sensor is small enough to be installed just about anywhere, yet it performs as well as a much larger system. The electronics feature emissivity, peak hold, valley hold, and averaging function, all of which are adjustable on the five-digit LCD user interface. This sensor is designed for applications with temperature ranges from -40 to 1112 degrees F. It is housed in a stainless steel enclosure to ensure long term performance in harsh industrial environments.
Dwyer Instruments, Inc.
Michigan City, IN
Tel: 219-879-8000
Web: www.dwyer-inst.com
Submersible sensor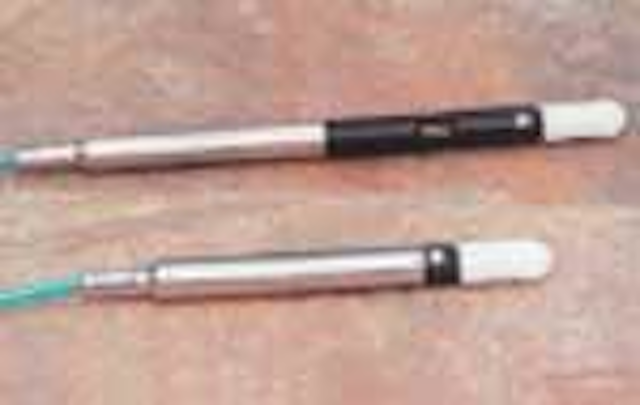 Click here to enlarge image
INW's TempHion is a submersible water quality sensor that provides accurate and stable water quality measurements. The unit may be used for precise single- or multi-well tracer tests, saltwater intrusion tracking, tidal influence studies, wastewater treatment discharge and pH monitoring. It is available with pH, redox, bromide, chloride, and temperature modules. The signal-conditioned output allows for long cable runs in submerged applications with minimal noise and transient effects.
Instrumentation Northwest, Inc.
Kirkland, WA
Tel: 800-776-9355
Web: www.inwusa.com
Split-hinge tube furnace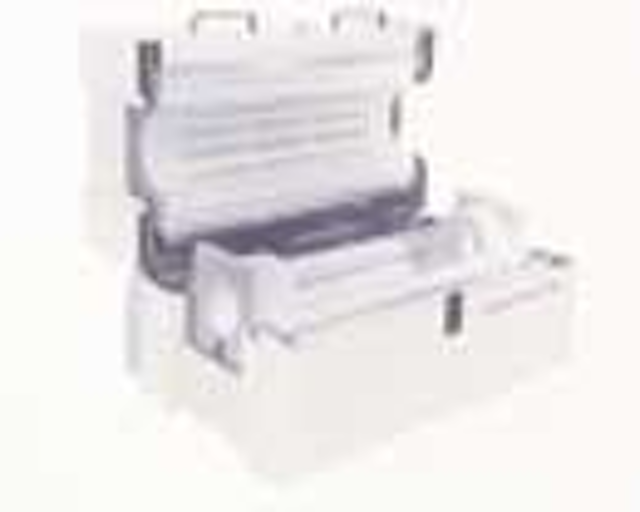 Click here to enlarge image
Lindberg/Blue M, a leading brand of laboratory furnaces, ovens and waterbaths, announced the availability of its 1200 degree C split-hinge tube furnace for horizontal or vertical use. The unique split hinge design allows for versatile configuration, fast cooling, overall ease of furnace operation and convenient access to the process tube. Available in both single and three zone models, all units have a temperature range of 100 to 1200 degrees C. Units are able to heat up or cool down quickly. All models feature the patented Moldatherm® LGO™ heating element modules for superior radial and linear temperature uniformity as well as low external surface temperatures.
Revco Technologies, Inc.
Asheville, NC
Tel: 800-252-7100
Web: http://lindbergbluem.com
Continuous wastewater monitor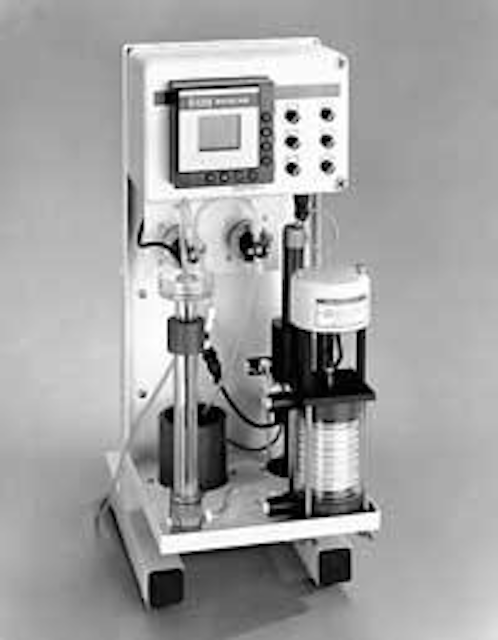 Click here to enlarge image
The BIOSCAN on-line wastewater toxicity monitor provides a reliable means for continuously monitoring and recording the effect of treated industrial effluents on municipal wastewater treatment plants or receiving waters. Where wastes are discharged after pre-treatment to a municipal wastewater treatment plant, the monitor uses a sample of the activated sludge to determine treatability or inhibition to that plant. Where effluent is discharged directly to receiving waters, a broad range screening culture may be used as the reference organism. Data is continuously displayed on the screen and an optional on-board data logger stores up to 14 days of data. The monitor provides a continuous 4-20mA signal for remote recording and control functions. An alarm contact is provided for early warning of inhibitory or toxic conditions. Every 24 hours the unit executes a self- calibration program and results are stored in memory.
N-CON Systems Co., Inc.
Crawford, GA
Tel: 706-743-8110
Web: www.n-con.com
Boiler/cooling system test kit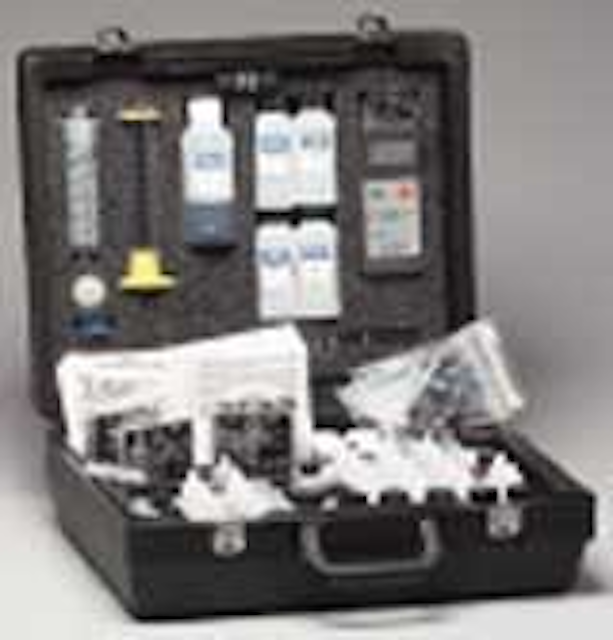 Click here to enlarge image
The portable laboratory contains 15 of the most common tests for monitoring water quality in high-pressure steam boilers and open recirculating cooling systems. Tests include eight drop-count titrations (alkalinity, chloride, total and trace hardness, molybdenum, nitrite, phosphonate, sulfite), four color-matching tests (copper, total iron, orthophosphate, silica), and three tests (conductivity, pH, TDS) performed with the Myron L ARH1 handheld meter. Durable polyethylene attach
Taylor Technologies, Inc.
Sparks, MD
Tel: 800-TEST-KIT
Web: www.taylortechnologies.com
Conductivity sensor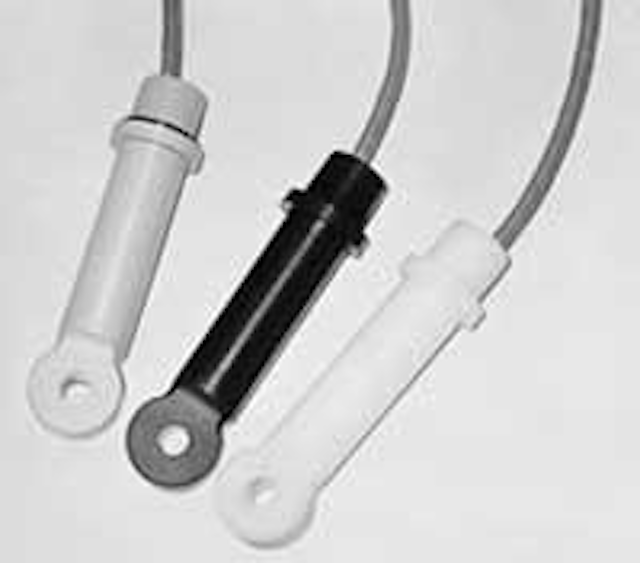 Click here to enlarge image
The Sensorex OEM Toroidal (inductive) conductivity sensor features a wide measurement range. Resistance to corrosion, coatings, and fouling are provided by the polypropylene housing. Simple installation for submersion is achieved by connecting a 3/4 inch coupling and conduit to the sensor's 3/4 inch NPT. In-line mounting into a two-inch tee is achieved using a custom coupler (sold separately). All sensors are provided with 20 feet of five-conductor cable and a choice of integral temperature compensators.
Sensorex
Garden Grove, CA
Tel: 714-895-4344
Web: www.sensorex.com
Risk management system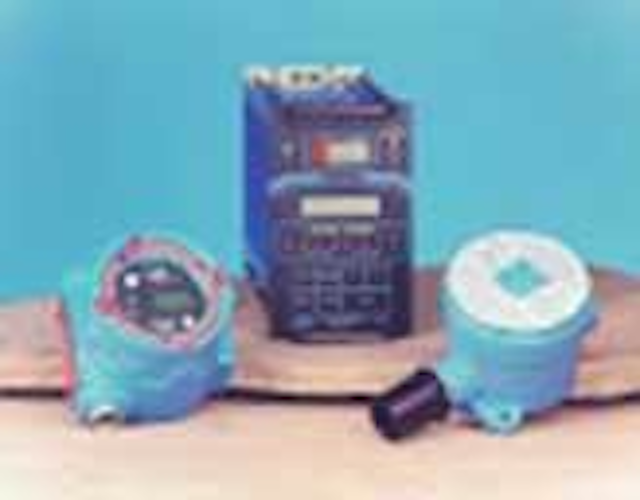 Click here to enlarge image
The Sentry Gas Risk Management System is further enhanced with additional software capability using the Sentry Commander. The commander consolidates data from many different Sentry controllers to provide the user with an easy-to-use central alarm processor. This, combined with the intelligent sensors, a wide range of sensor types, and one-person calibration, makes the Sentry system the package that can meet the instrumentation needs of engineers and operators at wastewater treatment plants. The system monitors for hazardous gas conditions found in these plants, including combustible gas, oxygen deficiency and toxic gases. The fixed site type monitor provides plant-wide monitoring and detects hazardous conditions before a person enters the area.
Sierra Monitor Corporation
Milpitas, CA
Tel: 800-72 SIERRA
Web: www.sierramonitor.com