Reverse Osmosis for the Beverage Industry
Treating source water for purity
Jul 1st, 2016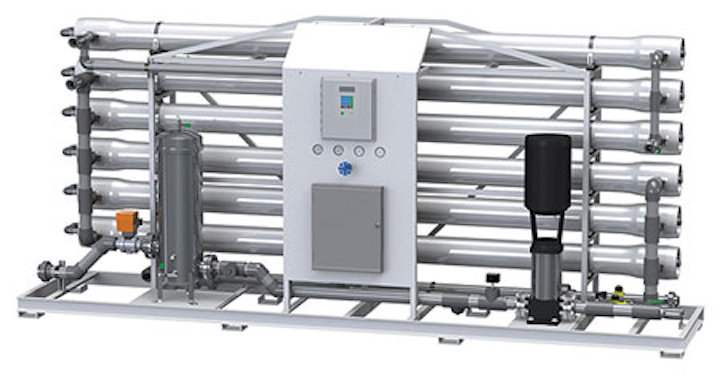 Water is the lifeblood of the beverage industry. Considering the water-intensive nature of the sector, there is much at stake. Bottlers are contending with both the risk of varying quantity and quality of source water as well as the mounting pressure to reduce the consumption of the water they use. As part of their risk-management strategy, bottlers are turning to filtration technology to standardize the quality of a broad range of available source water for production, cleaning and utility use.
Filtration technology such as reverse osmosis (RO) allows bottlers to purify feed water originating from sources of water that have higher than desirable levels of dissolved solids. Further, filtration technology is allowing bottlers to improve their water usage efficiency by recycling water through others areas of the plant such as utilities; thereby reducing the overall water footprint.
Whether the water is to be used within the product, rinsing the bottles, cleaning the process equipment, washing the tankers, or feeding the boiler, AXEON Water Technologies offers pre-engineered, cost-effective, packaged solutions and in-house expertise to meet the needs of industrial water treatment professionals.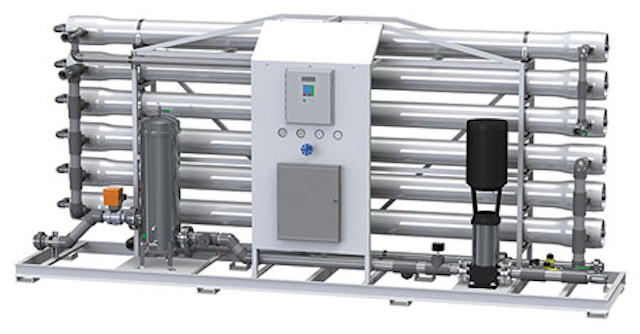 The AXEON X1 Industrial Reverse Osmosis (RO) System allows the water treatment professional to select a model that ideally suits the volume and quality of the source water.
The AXEON X1 and X2 Industrial RO Systems, with capacities ranging in size from 25 to 350 gallons per minute, allow the water treatment professional to select a model that ideally suits the volume and quality of the source water whether it is drawn from a tap, a well or surface water. AXEON systems utilize low pressure membranes producing a greater amount of pure water with less energy consumption. Each model is designed with a computer controller and instrumentation package, providing the operator with straightforward system monitoring and control.
To optimize these industrial RO systems and improve their productivity, AXEON has several options available for both pretreatment and post-treatment including media filtration, antiscalant or antifoulant injection, UV disinfection, ultrapurification, and clean-in-place systems.
Known for more than 27 years in the water industry as membrane experts, AXEON has a complete portfolio of membrane chemicals to gently protect and extend the life of the membranes, including antiscalants, cleaners and preservatives. When the time does come for replacement, AXEON carries a full line of replacement membranes and cartridge filters.
For more than 27 years, Axeon Water Technologies has assisted customers in solving the most challenging water quality issues primarily utilizing membrane filtration technology, leading the way in manufacturing of reverse osmosis systems and nanofiltration membrane systems. Axeon also manufactures water purification and water treatment systems/components for seawater desalination, chemical injection systems and ultraviolet systems. All manufacturing is done in the USA. If you would like additional information on AXEON's food and beverage water treatment solutions, contact (800) 320-4074, or sales@axeonwater.com.