New Products
Compilation of new products for the industrial water market.
Aug 29th, 2014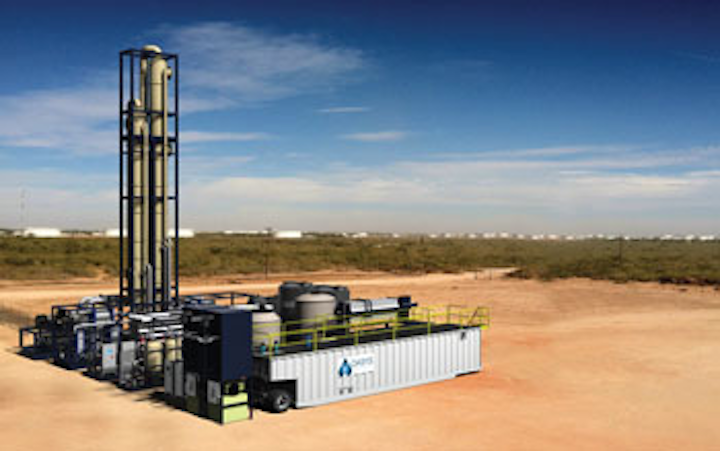 Membrane brine concentrator system
Oasys Water's Membrane Brine Concentrator (MBC) System, a complete forward osmosis offering, is a solution for high-salinity industrial wastewater that uses membranes and the principles of osmosis to separate water from salt and other dissolved solids at a fraction of the energy and cost of traditional evaporation. The MBC system can desalinate 4,000 barrels of water per day and is ideal for the oil and gas industry where it can achieve up to 85 percent water recovery, discharging brine of concentrations up to 25 percent salt.
Oasys Water
www.oasyswater.com
Security products
Phoenix Contact's FL mGuard RS2000 and RS4000 family of security and connectivity devices now has Class I, Division 2 approval. This means that the mGuard appliances can now be used to protect and connect industrial networks in many hazardous locations, including oil refineries, offshore platforms, wastewater treatment facilities, and others. IT-friendly features, such as an industrial firewall for traffic filtering, auditing and logging capabilities, and anti-malware ensure network protection.
Phoenix Contact
www.phoenixcontact.com
Visit Phoenix Contact at WEFTEC.14 - Booth 7003
Biochemistry analyzers
Xylem's YSI-brand 2900 Series Biochemistry Analyzers constitute an essential part of many stages of bioprocessing and life sciences applications due to their ability to accurately and rapidly monitor and control fermentations and cell cultures. The analyzers offer both offline and online analysis of critical samples for companies that manufacture vaccines, small molecules, alcoholic beverages, chemicals, and biofuels.
YSI, a Xylem brand
www.ysi.com
Visit Xylem at WEFTEC.14 - Booth 4329
Stormwater software
Cloudcompli's cloud-based software automates the stormwater monitoring process. This software is used by construction operators, industrial facilities and governing bodies to monitor all project sites and is tailored to the SWPPP, local and federal regulations. The software automatically syncs NOAA data, sends alerts, completes the annual report, and meets the project's specific SWPPP requirements, using the exact document needed regardless of the governing agency.
Cloudcompli
www.cloudcompli.com
Analyzer
Wilks' InfraCal 2 Analyzer offers additional features to the already-established InfraCal Oil in Water Analyzers and InfraCal Biodiesel Blend Analyzers. These features include better repeatability, multiple calibrations, unlimited data storage, optional internal battery pack, touch screen display, and password protection for instrument settings. It incorporates new electronics, providing a better signal-to-noise ratio that improves the stability and repeatability.
Wilks
www.wilksir.com
Pneumatic dosing system
Bürkert's patented pneumatic dosing system for fluids can be used in applications that require dosing of defined sample quantities with maximum repeatable accuracy. Examples include vaccines, chemicals in industrial washing machines, flavorings in the beverage industry, pharmaceutical raw materials, and dosing tasks in filling machines. The high precision is made possible by the use of pneumatics. The system is actuated by means of pressure and vacuum, which provide more power than conventional actuating systems.
Bürkert Fluid Control Systems
www.burkert-usa.com
Visit Bürkert at WEFTEC.14 - Booth 4705
Liquid level transmitter
American Sensor Technologies' Model AST 4530 Liquid Level Transmitter is designed to measure the level of harsh liquids, such as slurries, salt water and oil, in vented tanks or containers. Constructed with PVDF material and a PTFE diaphragm, the AST 4530 submersible pressure sensor features a PVDF cable, cord grip and housing, as well as a conduit connection for turbulent installations such as process plants, salt water holding tanks, on-board ships, turbulent tanks, and rail cars.
American Sensor Technologies
www.astsensors.com
Butterfly valves
Valtorc's butterfly valves provide an economical solution to flow control with their bidirectional service. The high performance sanitary butterfly valves are offered in sizes up to 12" in manual or actuated packages. They are ideal for food services with 110PSI max at 200F and satisfy USDA and FDA standards. FDA-approved Viton or EPDM options are also available upon request.
Valtorc International
www.valtorc.com
Flow meters
QuadraTherm® 640i and 780i from Sierra Instruments are now available with full device description Foundation Fieldbus digital communication protocol, making them the ideal flow meters for industrial applications, including oil and gas. It is designed to provide end users easy access to all relevant data available in their mass flow meter.
Sierra Instruments
www.sierrainstruments.com