Water Briefs
Collection of industrial water news headlines.
Apr 23rd, 2014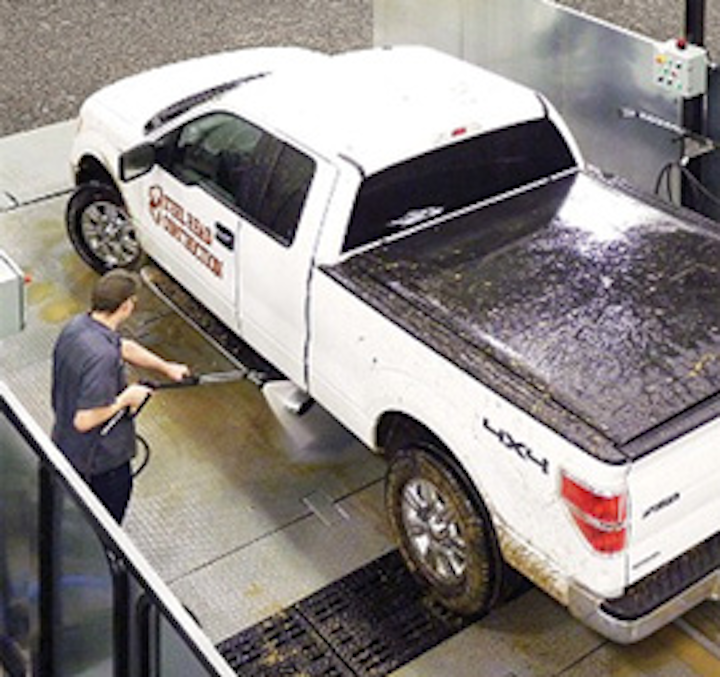 First closed-loop car wash installed in U.S. Embassy to Iraq
A closed-loop vehicle washing system designed for semi-permanent installations is being installed in the United States Embassy to Iraq in Baghdad.
Launched by Riveer, a provider in engineered wash-water recovery systems, the CamelRack system filters and recycles wash-water for indefinite periods of time without intervention, separating dirt and oils, while cleaning the water for reuse by injecting ozone.
The CamelRack marks Riveer's entry into what could be considered the environmental car wash market. Whereas hand-washing a car uses an estimated 160 gallons of water, CamelRack reduces water use by 95 percent.
"There is an increasing demand for closed-loop car washes as issues regarding freshwater, groundwater pollution and the spread of noxious weeds gain more attention," said Matt Petter, president of Riveer. "The needs of the U.S. Embassy in Iraq are really no different than an equipment company in Arizona, in that the objective is to wash vehicles on site in a harsh environment while conserving water."
Riveer-engineered wash-water recovery systems are typically specified for heavy construction vehicles, oil and gas operations, military retrograde, and municipal truck maintenance. Automatic soap injection and separate freshwater rinse features will allow the staff to keep their vehicles clean using minimal water.
Because of Baghdad's exceptionally dusty environment, CamelRack has a built-in mud conveyor to automatically drag mud and debris out of the rack and into a hopper for easy disposal. The water- recycling equipment is housed in a climate-controlled ISO enclosure with HVAC, insulated aluminum walls, automatic lights, and secondary containment to combat the arid atmosphere.
---
WA hydroelectric redevelopment project wins ACEC Engineering Excellence Gold Award
The American Council of Engineering Companies, Washington Chapter (ACEC-WA) recently honored Kleinfelder, an architecture, engineering and science consulting firm, with the Gold Award for Social, Economic, and Sustainable Development for the redevelopment of Snoqualmie Falls Hydropower Plant in Snoqualmie, Wash.
Built and carved using hand drills and explosives in 1898, the Snoqualmie Falls Hydropower Plant 1 is located in a cavern only accessible via a vertical 294-foot shaft. Photo credit: Kleinfelder
Kleinfelder received the award for demonstrating advanced technical expertise throughout the three-year, $200-million redevelopment of the landmark facility. The project included renovation of a 116-year-old power-generating infrastructure, preservation of six historical buildings and development of major recreational site enhancements.
The Snoqualmie Falls Hydropower Plant 1, owned and operated by Puget Sound Energy, is the world's first completely underground powerhouse. Built and carved using hand drills and explosives in 1898, the powerhouse is located in a cavern only accessible via a vertical 294-foot shaft. In 1910, a second, larger power-generation system was built on the Snoqualmie River, below the falls. The hydroelectric plants are considered historically significant because they were instrumental in introducing alternating current electricity to the world.
Project work included demolition and redevelopment of the original subsurface powerhouse and second larger powerhouse, water intake structures, multiple water conveyance systems, and a low-head diversion dam. The project also included construction of a site museum, interpretive center, viewing areas and park facilities, shoreline restoration and protection, and restoration of six historical register buildings.
A museum, interpretive center, viewing areas, and park facilities are now available to nearly two million annual visitors. Aside from providing a place for visitors to enjoy the falls, the project now provides clean power for some 40,000 households.
---
WQA: Water industry professional certification changes coming
The Water Quality Association (WQA) has announced important changes to its professional certification scheme in coordination with the unveiling of its new Modular Education Program (MEP). Beginning in March 2015, WQA will offer two advanced-level certifications -- Master Water Specialist and Master Service Technicians -- as well as four core titles: Certified Water Treatment Representative, Certified Water Specialist, Certified Installer, and Certified Service Technician.
The Certified Water Specialist (CWS) designation will cease to exist in its current form, although the title will continue. Certified professionals holding the titles of CWS-V and CWS-VI will be redesignated as Master Water Specialists, and professionals holding the titles of CWS-I, CWS-II, CWS-III, and CWS-IV will be redesignated simply as Certified Water Specialists. All Certified Water Specialists can work through the advanced curriculum of the new MEP program to achieve the Master Water Specialist title.
Individuals currently holding the Certified Installer (CI) designation will retain that title. They will also have the opportunity to progress to the level of Certified Service Technician and subsequently to the Master Service Technician level. Further, individuals currently holding the Certified Sales Representative (CSR) title will be redesignated as Certified Water-Treatment Representatives (CWRs). Certified professionals may also pursue any other core certification title through the MEP.
Through the MEP, WQA will offer a variety of educational pathways designed for non-technical office staff, sales and marketing personnel, equipment installers, service technicians, and system designers. Upon completion of any education pathways, the learner will receive a certificate of completion, which differs from a title-bearing certification.
Beginning March 2015, to become eligible for certification, all non-certified enrollees will be required to complete the foundational learning activities, which consist of the Basics curriculum badge followed by the Fundamentals curriculum badge.
---
Global water treatment chemical demands to exceed $30B, finds study
According to a new study conducted by The Freedonia Group, Inc., a Cleveland, Ohio-based industry market research firm, world demand for water treatment chemicals is forecasted to rise 5.8 percent per year to $30.6 billion in 2017.
The study indicated that demand will be driven by rising water quality standards in manufacturing and other industrial applications, expanding access to safe drinking water in underserved regions, and a shift toward higher value chemicals with improved performance and/or environmental profiles, particularly in developed countries.
According to Freedonia analyst Emily Park, there will be significant advances in developing parts of the world, particularly the Asia/Pacific and Africa/Mideast regions. Further, increases in developed countries will be tempered by greater competition between water treatment chemicals and equipment in some applications, reflecting a more complex industry response to environmental concerns.
Countries in developing regions will also see rising standards for industrial water quality and the adoption of more complex manufacturing processes, along with healthy economic expansion, that will drive strong growth in demand for water treatment chemicals. Likewise, the use of chemicals in these countries has historically been low relative to rates seen in manufacturing and industrial markets in more affluent areas.
As such, rising water treatment chemical use rates will be reflective of greater reliance on both commodity-type chemicals and specialty chemicals. The increased use of water treatment chemicals in these regions will be supported by manufacturers' efforts to remain competitive by improving the quality of finished products, which can be directly impacted by water quality.
In developed areas, such as the U.S., Western Europe and Japan where the use of water treatment chemicals is well established, growth in demand is expected to be more moderate, and the shift in product mix will be more complex.
---
U.S. oil and gas water management contractor continues to expand
Bosque Systems, one of the largest independent water management contractors to oil and gas operators in the U.S., has treated and managed close to 200 million barrels of produced and flowback water for oil and gas operators in 2013 and is continuing to expand.
Bosque Systems works as a partner with oil and gas operators and handles millions of barrels at all phases of the fluid management lifecycle. Solutions offered include sourcing, gathering systems, pipelines, water storage solutions, and various water treatments depending on the water quality, drilling pattern and goals of the operators.
The company's relationship with major operators has grown from disposal to full water lifecycle management. Likewise, Bosque Systems has introduced certain technologies to provide a single point of contact to operators in need of treatment and recycling. It also continues to hire specialist operators and technicians in markets including the Eagle Ford Shale, the Cline Shale, Permian Basin, Mid-Con region, and the Bakken.
In the Wolfcamp play for example, the company is allowing operators to reuse 100 percent of flowback and produced water, thus minimizing freshwater withdrawal and drastically reducing truck traffic in the region by using pipeline across fields.
The company leases land and sets up tanks, containing up to 40,000 bbls of recycled water, and other equipment to capture, treat and make this water available for the operator. In this region, Bosque Systems allows for blending up to 30 percent recycled and treated water within producers' operations.
The produced water is mixed with freshwater at the well site. To date, the same operator has used about 2,000,000 barrels (about 84 million gallons) of recycled water, which, without this initiative, would have been all freshwater. Blended water has helped complete over 35 wells in the Eldorado portion of the Wolfcamp since April.