New Products
GE Intelligent Platforms announced the release of QuickPanel+ -- the first product in the company's new line of operator interface (OI) solutions designed to utilize the industrial internet.
Mar 4th, 2014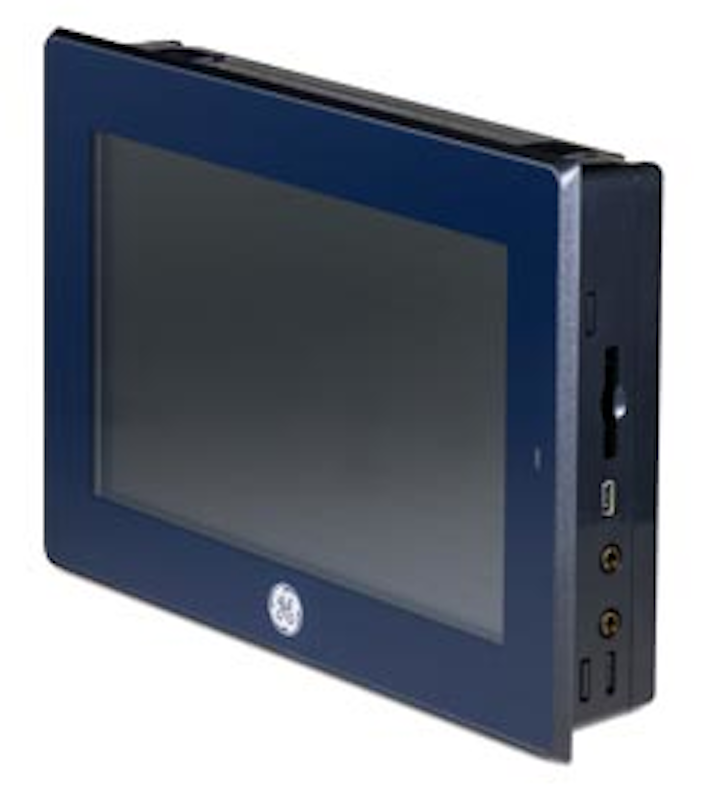 Interface solutions
GE Intelligent Platforms announced the release of QuickPanel+ -- the first product in the company's new line of operator interface (OI) solutions designed to utilize the industrial internet. The technology integrates process control, view and an option to run an embedded data historian with the latest touchscreen technology to provide high performance, connectivity and efficient user experience. QuickPanel+ is a general-purpose operator interface capable of connecting to a variety of industrial PLCs and PACS. With faster processing speeds and more memory, it delivers control, view and data historian capabilities in a single device.
Video wall cube
Christie Digital introduced the new front access video wall cube product that enables seamless high-performance rear-projection video wall displays with minimal installation and maintenance space required. The platform is equipped with the company's latest Entero™ HB DLP® LED-based technology display that allows cubes to be positioned directly against a rear wall, removing the need for maintenance space behind. Christie's front access system with a motorized six-axis adjuster provides precise alterations for perfect image quality.
Christie Digital Systems USA, Inc.
www.christiedigital.com
Cable reels
Coxreels announced the re-engineered fluid path on the 1195 Series reels, which now comes standard equipped with an in-line swivel and a remodeled low-profile outlet riser, offering superior full-flow characteristics and an improved operating pressure range. The 1195 Series, featuring a sturdy one-piece, all-welded "A" frame base for maximum stability and designed to handle 50 to 125 ft. of 2" hose I.D for increased volume delivery applications, now has an in-line, electroless, nickel-plated steel NPT swivel. The swivel is anchored to a new solid billet aluminum bearing assembly, ensuring swivel-to-axle concentricity, proper swivel alignment and improved seal life and integrity.
Coxreels
www.coxreels.com
Wall-mount enclosures
The new HWSSHK 304 and 316L stainless steel wall-mount enclosures from Hammond Manufacturing are designed for installation in harsh industrial environments such as the water industry, oil and gas plants, utilities, mining conveyor belt controls, and process control applications. Further, they offer excellent corrosion resistance and high resistance to chemical attack that does not degrade after scratching or other surface damage. Sealed to NEMA 4X (IP66), the units are UV-resistant and are stronger and more vandal- proof than GRP alternatives. The enclosures are suitable for housing both electrical equipment and electronic systems. They are available in 30 sizes, ranging from 24" x 20" x 6" to 60" x 36" x 16".
Hammond Manufacturing Co. Inc.
www.hammondmfg.com
Wrap clamp
The new Ford Meter Box Dual-Armor Wrap Clamp offers full wrap-around coverage of stainless steel armor to provide maximum protection against leaks. The dual-armored EPDM gasket provides 360-degree coverage of the pipe, making it easy to squeeze and hold the gasket over the leak. The stainless steel body and e-coated ductile iron lugs provide superior corrosion resistance, while location indicators simplify "blind" installation for underwater scenarios.
The Ford Meter Box Company Inc.
www.fordmeterbox.com
Small range pumps
Atlas Copco introduced a new small range of WEDA pumps to provide fast and efficient dewatering. In addition to the original nine pumps, the WEDA04 and WEDA08 provide drainage pumping, with the WEDA08S for sludge pumping and the WEDA04B for low suction pumping. The 04 is equipped with a 400-watt electric motor, while the 08 features a 750-watt electric motor. The polyurethane semi-vortex impeller reduces the risk of clogging, making it ideal for construction sites or industrial pits. The 04B features a 400-watt electric motor and has the ability to pump down to 1 mm of water. It is well suited for applications requiring low-suction pumping such as emptying pools or flooding cleanup. The 08S is equipped with a 750-watt electric motor and a vortex cast-iron impeller and is designed for difficult sand and mud applications.
Atlas Copco
www.atlascopco.com
Flocculant range
BASF globally launched the new ultra-high molecular-weight cationic powder flocculant range with Zetag® ULTRA for solid/liquid separation in industrial wastewater treatment. Providing high dewatering performance at low dosage rates, the technology enables operational cost savings and supports sustainable natural resource management. Further, the Zetag® ULTRA offers strong floc integrity to withstand high shear forces, which makes it effective for centrifuge applications and dissolved air flotation. The molecular architecture of Zetag® ULTRA offers customers a clear cost advantage through operational cost savings. The achieved higher cake solids are environmentally beneficial as less energy is required for transportation, disposal and incineration, which has a positive impact on the carbon footprint of the treatment facility.
BASF
www.basf.com
Liquid level sensor
The new Gems Sensors & Controls ELS-1150XP Series electro-optic liquid level sensors are designed and approved for flammable and explosive environments. At just 2" in length, these compact sensors are ideal for monitoring the small, pressurized vessels found in oil, gas and petrochem environments. They accurately monitor level in applications such as storage tanks, chemical injection equipment, compression tanks, hydraulic oil vessels, glycol tanks, and other well-head automation equipment. These rugged sensors have no moving parts and are available in nickel-plated carbon steel or stainless steel. The strong fused glass prism eliminates leak potential and is capable of operation in temperatures ranging from -40°F to +257°F and in pressures up to 5,000 psi.
Gems Sensors & Controls
www.gemssensors.com
Ion sensor
Engineers and technicians in need of highly- accurate fluoride ion (F−) measurement will find that the S80 Fluoride Specific Ion Sensor from Electro-Chemical Devices offers precise measurement while extending sensor life and reducing plant operating costs. ECD's Model S80 intelligent sensors measure fluoride ions at concentrations from 0.02 to 2,000 ppm at a temperature range of 0°-80°C and a pH range of 5-8 pH. Further, they have a rugged 3/4" O.D. 316 stainless steel body with a 10-foot cable or an optional waterproof detachable cable assembly. ECD's sensors are versatile, rugged and low-maintenance and are available in insertion/submersion or valve retractable sizes. They are also available with multiple individual measurement parameters in the same mechanical configuration -- pH, ORP, Dissolved Oxygen, Conductivity and Resistivity, and Specific Ion.
Electro-Chemical Devices
www.ecdi.com
Mobile trailers
Bosque Systems announced the deployment of a new set of mobile trailers designed to safely and cost-effectively remediate against

the crystallization of mineral scales in oil and gas wells and equipment. Bosque's ScaleStop™ scale inhibitor equipment is mobile, efficient and compact with a small footprint, so it can easily and affordably be moved from site to site. The fracturing fluid is treated on-site using a custom header prior to being blended with other fracturing compounds to allow for proper mixing. The injection method is a metered, controlled and supervised process.
Bosque Systems, LLC
www.bosquesystems.com
Ball valves
Val-Matic has acquired the QuadroSphere® Ball Valve line. The QuadroSphere® Ball Valve's unique contoured surfaces provide multiple flow paths through the valve and provide for self-flushing to prevent clogging by avoiding high scale and solids buildup while also protecting the seats from damage. Reduced seat engagement results in lower- running torques and up to 70% less wear. Further, the QuadroSphere® is available in sizes 2 NPS and larger in pressure classes from 150 to 2500 with a variety of body, seat and seal materials to meet specific application needs.
Val-Matic Valve & Manufacturing Corporation
www.valmatic.com
Pond netting
Heavy Duty Pond Netting from Bird-B-Gone creates a physical barrier that prevents migratory birds from landing in toxic tailing ponds or other water collection sites. The netting is stretched over these areas to also prevent bird deaths. The netting is made from a durable, UV-stabilized Dupont® knotted mesh nylon and is designed for prolonged use in harsh chemical environments. Available in several mesh sizes from 3/4" to 4", the versatile contraption helps exclude a variety of large- and medium-sized migrating birds.
Bird-B-Gone Inc.
www.birdbgone.com
Trace metal monitor
Modern Water launched the OVA7000 Dual Cell as part of its trace metal analyzer product portfolio designed to extend the range of detectable metals to up to 10 in a single unit, offering 24-hour monitoring of three to six sample streams. The new analyzer uses voltammetry to detect metals in liquid applications -- a detection method that offers an alternative solution to lengthy laboratory analysis and is used in all of Modern Water's OVA product range.
Modern Water
www.modernwater.com
Rotary screw compressor
Kaeser Compressors announced the newly- redesigned ASD rotary screw compressors series. These units deliver "built-for-a-lifetime" reliability, simple maintenance and sustainable energy savings and are available in 25, 30 and 40 hp with flows from 106 to 194 cfm and pressures to 217 psig. Kaeser has improved the new ASD series' power with true direct drive design, premium efficiency motors, lower internal pressure differentials, and optimized airends. New features include an enhanced cooling design, eco-friendly filter element, integral moisture separator with a drain, and an electronic thermal management system.
Kaeser
www.kaeser.com
Dissolved oxygen meter
The portable "Beverly" oxygen meter from Hamilton is designed to address current challenges in the brewing process with quick response time, the independence of using a flow-through procedure and no polarization time, thus providing an extremely low rate of error. Likewise, Hamilton's "Beverly" serves to increase the efficiency of small- and medium-sized breweries with extremely simple sensor installation as well as handling and maintenance needs combined with a robust design. The device's display indicates any warnings and the steps needed to resolve problems.
Hamilton Inc.
www.hamiltoncompany.com
Lubricant inspection pod
Luneta announced the launch of the Condition Monitoring Pod™ (CMP), a new multi- parameter inspection device modernizing and expanding daily lubricant inspections. The CMP is a visible inspection window revealing critical health conditions of the lubricant and machine. Its design provides an improved method of inspecting the health of machinery without the need for laboratory analysis. The CMP provides 16 capabilities including an easy-to-remove-and-view magnetic plug, a built-in oil sampling port, corrosion/varnish inspection probe, and quick lubricant access point for syringe sampling. Ideal applications include gearboxes, bearing oil sumps, hydraulic reservoirs, compressor oil reservoirs, turbine- generator main oil tanks, and paper machine central reservoirs.
Luneta
www.luneta.com
Pressure sensors
American Sensor Technologies manufactures pressure transducers using Hastelloy C276 material for use with corrosive liquids and gases. Using the thickest Hastelloy diaphragm in the industry for a given pressure, AST ensures long-term use of its sensors as well as the output signal. Utilizing its exclusive Krystal Bond Technology, AST designs its pressure sensors as a monolithic piece of material with no welds, O-rings or fluid fills. Further, bulk silicon strain gages are mounted directly to the top of the metal diaphragm using a special glass-firing process. With a high raw output signal, inorganic materials and a thick diaphragm membrane, users benefit from complete isolation of the pressure to the fitting and long-term stability.
American Sensor Technologies Inc.
www.astsensors.com
Automation solution
Red Lion Controls announced a new EtherTRAK-2 I/O module (E2-MIX20884-D) and enhanced firmware for its Sixnet series RTUs, ideal for both distributed and local I/O applications that require a high density of mixed I/O types. The module offers dual Ethernet ports that allow it to be used in fault-tolerant ring topologies and provides several inputs and outputs of discrete and analog. This high-density of mixed I/O allows customers to reduce costs versus traditional single-function I/O. The module's four isolated, high-speed counter inputs can be used for metering and flow rates in oil and gas and water/wastewater applications. With enhanced firmware, Red Lion's RTUs provide an efficient means to reliably monitor and control remote sites around the clock in extreme environments.
Red Lion Controls
www.redlion.com
Transfer pump
The EZstrip Transfer Pump from NOV Mono provides a quick and easy way to disassemble, de-rag and maintain a PC pump in place, reducing maintenance time by more than 93% for significant cost savings. Distinguished by a patented split coupling, the pump offers direct access to the wear parts and rotating assemblies without affecting operational parameters. Further, the pump includes a full drive train including a rotor, stator, shaft, rod, and seal along with a pre-assembled drive train. Suction and discharge ports also remain connected to the pipe work, eliminating dismantling lengths, and operational parameters are unaffected since design has no effect on flow and pressure. Low-running speeds reduce wear for a longer working pump life as well.
Moyno Inc.
www.moyno.com
Actuator
Progressive Automations' new PA-16 Mini Medium-Force Actuator provides a solid 300 lbs of force and is easy to install and versatile for all automation systems. The PA-16 can be used for manufacturing automation, robotics, automotive automation, and more and operates at speeds of 0.20 in. per second. Custom options for the PA-16 include IP rating, speed, stroke size, voltage, force, mounting holes, and wiring options. The operational temperature is -25ºC to +65ºC and comes with a duty cycle of 25%. The actuator is RoHS compliant and CE certified and can be used with any of the control systems offered by Progressive Automations.
Progressive Automations
www.progressiveautomations.com