Water Briefs
News from the nation.
Dec 1st, 2015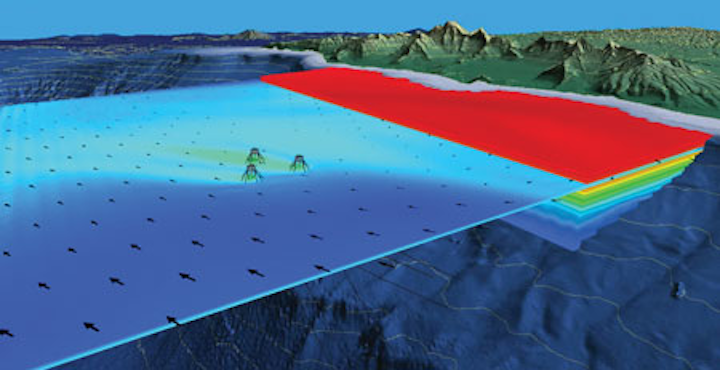 Study shows fracking water comprises less than 1 percent of industrial water use
According to a new Duke University study, U.S. energy companies used nearly 250 billion gallons of water to extract unconventional shale gas and oil from hydraulically fractured wells across the nation between 2005 and 2014. During the same period, the fracked wells generated about 210 billion gallons of wastewater.
As large as those numbers seem, the study calculates that the water used in fracking makes up less than 1 percent of total industrial water use nationwide. While fracking an unconventional shale gas or oil well takes much more water than drilling a conventional oil or gas well, the study finds that compared to other energy-extraction methods, fracking is less water-intensive in the long run.
Underground coal and uranium mining, and oil recovery enhancement extraction use between two-and-a-half to 13 times more water per unit of energy produced. The study also found that fracked oil wells generate about half of a barrel of wastewater for each barrel of oil, while conventional oil wells on land generate more than three barrels of wastewater for each barrel of oil.
JWC Environmental to acquire IPEC Consultants under new agreement
JWC Environmental (JWC), a specialist in solids reduction and removal for the wastewater industry, has entered into an agreement to acquire IPEC Consultants Ltd. (IPEC), a manufacturer of solids/liquid separation products for wastewater and specialty industrial process liquids. The pending acquisition advances the commitment that JWC has to offering an innovative lineup of screening solutions to its municipal and industrial customer base.
Since 1979, IPEC has developed cost-effective drum screens, sludge thickeners, grit separators, and solids conveyance and dewatering equipment for a diverse range of markets in 47 countries. With these products folded into the JWC brand umbrella, both IPEC and JWC customers now benefit from a larger, more diverse line of waste screening and separation products.
As part of the acquisition, Bert Irwin, founder and owner of IPEC, will join the JWC executive team to support the ongoing business. "We are pleased to become part of such a respected and trusted leader in the wastewater industry," he said. "Their strong global presence, extensive field service network and significant financial resources will allow the IPEC product lineup to better serve a much wider customer base."
Advanced coastal, ocean modeling tool launched for large industrial water flows
Makai, an ocean technology firm based in the state of Hawaii, has announced that it is expanding its environmental and coastal modeling services for clients who discharge into, or withdraw from, the world's oceans, lakes and reservoirs.
Recently, Makai completed an ongoing, 3-year effort totaling $850,000 to adapt the EPA-approved Environmental Fluid Dynamics Code (EFDC) into a robust and flexible dispersion and water quality modeling tool. The new Makai EFDC modeling system (M-EFDC) is specifically designed to simulate and predict the dispersion of large industrial water flows.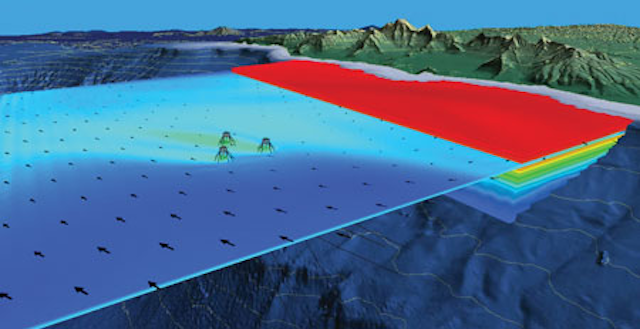 Combined with Makai's experienced team, the new M-EFDC enables cost-effective modeling solutions ranging from initial project planning to more rigorous regulatory submittals and watershed management efforts. Likewise, the advanced technology simulates aquatic systems in three dimensions across a wide range of sizes and time-scales.
The model results are used in the design, planning and permitting process for the intake or discharge of a variety of facilities, including: desalination, seawater cooling systems (including once-through cooling systems), LNG processing plants, petroleum refineries, traditional thermoelectric power plants, pulp and paper mills, chemical manufacturing plants, food processing plants, and metal manufacturing plants.
EPA finalizes steam electric power rule
The Environmental Protection Agency (EPA) has officially finalized a rule that aims to reduce the discharge of toxic pollutants into America's waterways from steam electric power plants by 1.4 billion pounds annually, as well as reduce water withdrawals by 57 billion gallons per year, resulting in an estimated benefit of $463 million per year to Americans. The targeted toxic pollutants include mercury, arsenic, lead, and selenium.
The final Steam Electric Effluent Limitation Guidelines are based on technologies that are readily available and broadly used in the industry today, reinforcing the ongoing trend towards cleaner, more modern plants. The standards provide flexibility in implementation through a phased-in approach, allowing plant owners to pursue integrated strategies to meet these requirements.
EPA estimates that about 12 percent of the 1,080 steam electric power plants in the U.S. (an estimated 134) will have to make improvements in technology to comply with the rule. Many of these facilities are found in the states of the Mid-Atlantic and Mid-West. Which plants will need to update technologies will be determined by the plants themselves once they have had the opportunity to study and understand the rule's new requirements.
GE to research link between power generation and water desalination
As part of a new program with the U.S. Department of Energy (DOE), GE researchers at the company's Global Research Center in Upstate New York are conducting studies to further find the commonalities between power generation and water desalination. In power plants, steam turbines use pressurized steam to spin their rotating parts and power generators to produce electricity.
As part of the water desalination technology being developed with the DOE, researchers are using steam turbine turbomachinery 3D-printed in a miniaturized form to compress and stream a mixture of air, salt and water through a hyper-cooling loop that freezes seawater. By freezing the mixture, the salt naturally separates in solid form, leaving just the ice. The ice is then melted, leaving clean water.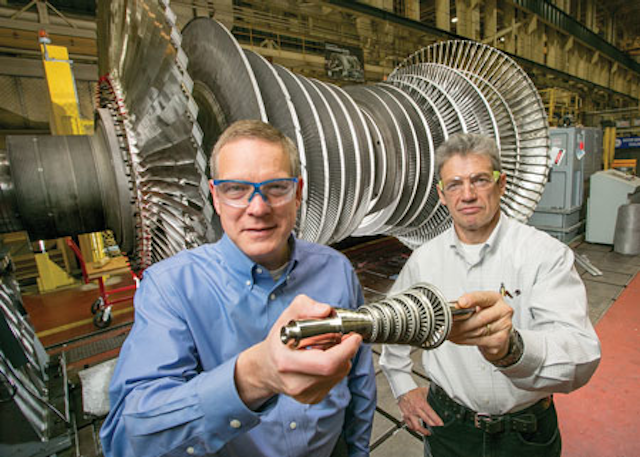 Douglas Hofer, who is leading the development of the turbine technology, explained that in a low-pressure steam turbine, water vapor (steam) condenses to liquid water. For the new desalination process, the GE team is extending that idea to freeze liquid salt water into solid ice and salt crystals during its expansion through the turbine.
"Cooling the salty water, or brine droplets, by expanding cold gas in the turbine would greatly reduce the energy required for desalination," said Hofer. "The heat transfer between the cooling gas and brine would be much more efficient compared to conventional thermal desalination systems."
Vitali Lissianski, chemical engineer and project leader at GE Global Research's Energy Systems Lab, said, "If it works, the process we are developing could reduce the cost of desalination by 20 percent versus more conventional thermal evaporation approaches."
Cambrian Innovation launches financing mechanism for distributed clean water solutions.
Cambrian Innovation has launched a new financing vehicle for distributed clean water and energy solutions backed by a $30M fund.
Cambrian Innovation is the maker of the EcoVolt® product suite, a set of modular solutions that extract clean energy and water from wastewater with advanced biotechnology. The containerized EcoVolt products are installed onsite at food and beverage companies, seamlessly fitting into and scaling with business operations.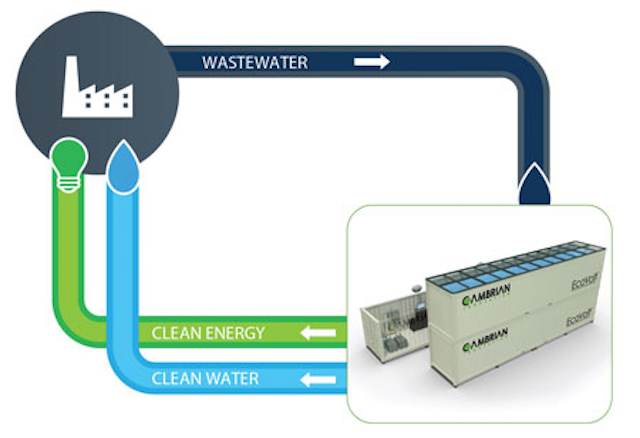 Under the new financing mechanism, called a water-energy purchase agreement (WEPA), growing industrial businesses will be able to benefit from onsite wastewater treatment and clean energy generation by simply paying an affordable monthly fee based on usage.
The WEPA concept is based on the successful power purchase agreement (PPA) deployed in the solar industry during the past decade. Through it, Cambrian will finance, install and operate EcoVolt systems on the customer's behalf, and sell back clean energy and clean water on a take-or-pay model. Customers convert what was previously an environmental liability into a source of on-going financial and environmental benefit, with zero capital outlay and no operating risk.
The first-of-its-kind financing model was created to drive widespread adoption of distributed clean water and energy solutions.
Offshore oil platform to receive high-specification treatment equipment from Ovivo
Ovivo Inc. has been awarded a $6 million contract to design and supply modular freshwater makers for an offshore oil production platform located in the North Sea.
Ovivo will supply of a filtration plant and a custom engineered fresh potable water maker package, through its heritage brand Caird & Rayner Clark, which is based upon reverse osmosis technology to treat seawater. The equipment is scheduled for delivery in December 2016.
"This large contract is the latest of a series of orders booked in the energy market since January, which bodes well for the remaining of the current fiscal year in this key segment," said Marc Barbeau, Ovivo president and CEO. "Our global platform continues to be a key advantage for us in order to reach our customers across the world and supply our high-specification water treatment technologies."
Ovivo offers comprehensive technological solutions as well as services and equipment tailored to specific client needs. The company operates in over 15 countries with more than 800 employees.
Danfoss, HVAC industry mourn loss of esteemed colleague, innovator
The Heating, Ventilation and Air Conditioning (HVAC) industry recently lost a respected colleague, mentor and innovator - Dr. Joost Brasz of Danfoss Turbocor Compressors, a manufacturer of valves and fluid-handling components for HVAC and industrial applications.
Brasz was recognized by the HVAC industry and the academic community as a leader and expert aerodynamic engineer in turbomachinery and centrifugal compressor technology. He was a frequent author and speaker at prestigious conferences, including the Purdue International Compressor Engineering Conference.
He received numerous patents in the field - including for the newest Danfoss Turbocor compressor technology, the VTT Series of Compressors with IntraFlow™ technology. He was a Ph.D. graduate of Eindhoven University of Technology in Eindhoven, Netherlands. Brasz leaves a tremendous legacy to Danfoss Turbocor Compressors and to the HVAC industry, having made his mark on innovation and the potential of energy efficiency.
Researchers find inexpensive, green method to clean oil sands wastewater
Researchers have developed a process to remove contaminants from oil sands wastewater using only sunlight and nanoparticles that, they say, is more effective and inexpensive than conventional treatment methods.
Frank Gu, a professor in the Faculty of Engineering at the University of Waterloo and Canada Research Chair in Nanotechnology Engineering, is the senior researcher on the team that found photocatalysis - a chemical reaction that involves the absorption of light by nanoparticles - can completely eliminate naphthenic acids in oil sands wastewater, and within hours. Naphthenic acids pose a threat to ecology and human health. Water in tailing ponds left to biodegrade naturally in the environment still contain these contaminants decades later.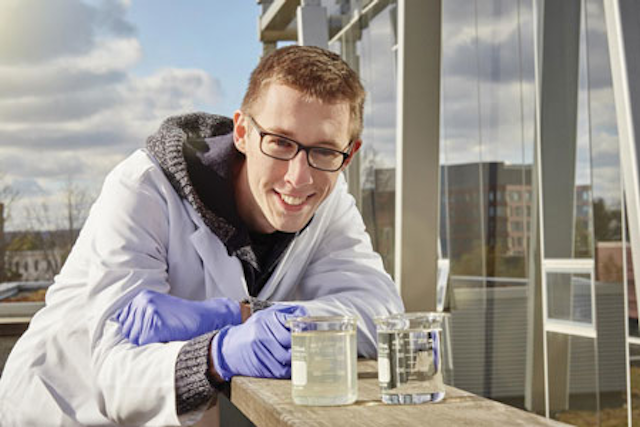 Tim Leshuk, University of Waterloo.
Credit: Light Imaging Ltd.
Nanoparticles become extremely reactive when exposed to sunlight and break down the persistent pollutants in their individual atoms, completely removing them from the water. This treatment depends on only sunlight for energy, and the nanoparticles can be recovered and reused indefinitely. Unlike treating polluted water with chlorine or membrane filtering, the Waterloo technology is energy-efficient and relatively inexpensive.
"With about a billion tons of water stored in ponds in Alberta, removing naphthenic acids is one of the largest environmental challenges in Canada," said Tim Leshuk, a PhD candidate in chemical engineering at Waterloo. "Conventional treatments either haven't worked or have been far too impractical or expensive to solve the size of the problem. Waterloo's technology is the first step of what looks like a very practical and green treatment method."
Next, the Waterloo research team will work on scaling up the technology and ensuring that the treated water meets Canadian regulations.