Product Showcase
Collection of new products of special interest to the industrial water and wastewater markets.
Aug 31st, 2015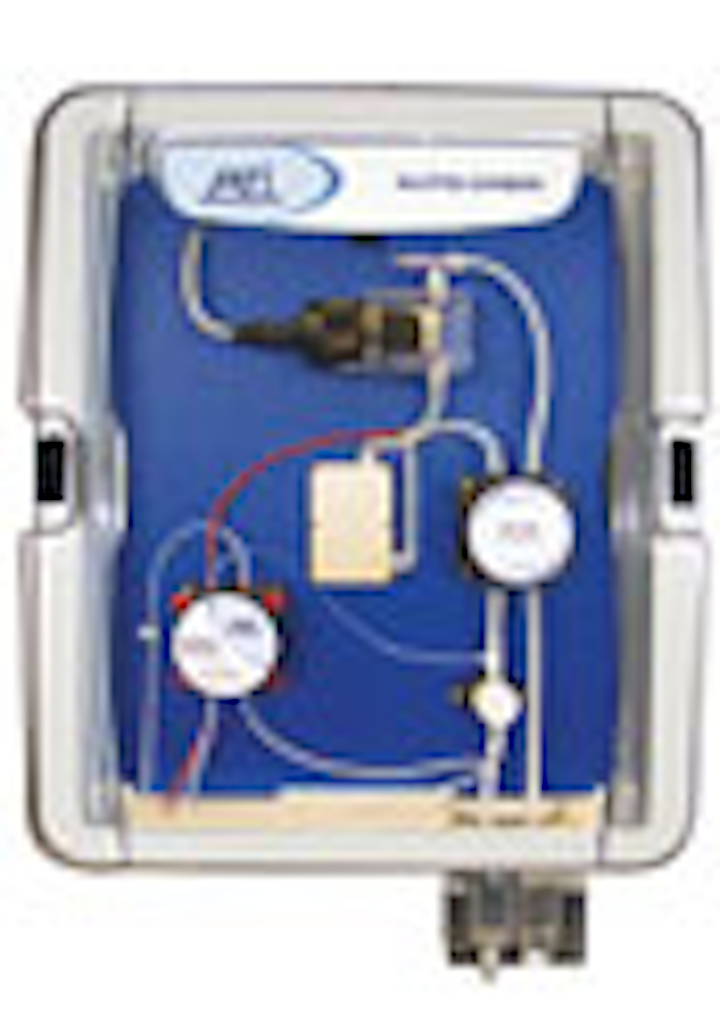 Ammonia monitor
Analytical Technology's Q46N Free Ammonia Monitor is designed for the continuous measurement of free ammonia, total ammonia and monochloramine. It is intended for monitoring chloraminated water to minimize the amount of excess ammonia in the system. The Q46N has a fast response time for real-time ammonia measurement and provides continuous, real-time updates for better process control. It utilizes a simple chemical system with three inexpensive reagents, which are required for operation.
Analytical Technology Inc.
www.analyticaltechnology.com
Industrial networking devices
Antaira Technologies has announced the expansion of its industrial networking infrastructure family with the LNP-1202G-SFP and LNP-1204G-SFP series. The combination of SFP fiber and RJ45 copper with high Gigabit port count connectivity have been designed to help fulfill special needs for various industries. Both the LNP-1202G-SFP and LNP-1204G-SFP are 12-port, industrial-grade unmanaged Ethernet switches with high-power PoE+ capabilities that are IEEE 802.3at/af compliant. The units require a high-voltage power input of 48~55VDC.
Antaira Technologies
www.antaira.com
Cloth media filter
The AquaDisk® cloth media filter from Aqua-Aerobic is an economical and efficient option for the treatment of stormwater at various plants and remote locations. The OptiFiber® cloth filtration media is engineered to accommodate varying flows and characteristics of stormwater. The filter media provides considerably lower effluent TSS without the use of chemicals and is mechanically designed to handle grit and scum. Advantages include: effective TSS removal, a low-energy backwash system, and no complicated startup with easy building enclosure.
Aqua-Aerobic Systems Inc.
www.aqua-aerobic.com
Universal transmitter
The Model T80 Universal Transmitter from Electro-Chemical Devices provides a versatile, easy-to-use, economical solution for virtually all liquid analytical measurements. Featuring a highly intelligent digital transmitter protocol, the technology simplifies process measurement and reduces maintenance costs for seven common industrial plant parameters. The ECD Model T80 Universal Transmitter is a single-channel transmitter designed for the continuous measurement of multiple parameters in a general-purpose industrial environment: pH, ORP, pION, Dissolved Oxygen, Turbidity, Conductivity, or Resistivity.
Electro-Chemical Devices
www.ecdi.com
Dilution systems
Merlin Chemical Dilution Systems from Force Flow make it possible to easily adjust chemical strength on site to keep a metering pump operating in the ideal speed range, regardless of changes in seasonal chemical demand. Easily dilute to a level that allows the metering pump to operate in the preferred speed range for best consistency and chemical dispersion into process. Further, save money by purchasing standard high-strength chemical, then diluting on site as needed. Enter the starting strength, and the Merlin Dilution System does the rest.
Force Flow
www.forceflow.com
Guided wave radar transmitter
Magnetrol® International has announced the release of the Eclipse® Model-706 guided wave radar transmitter configured with Modbus protocol. The protocol is widely used in the unconventional oil and gas industry, where the ECLIPSE offers advanced liquid and interface level control to ensure accuracy, efficiency, reliability, and ease of use for production applications. ECLIPSE Model-706, loop-powered, 24-VDC transmitters are designed with guided wave radar technology, which represents best-in-class liquid level instrumentation. The 706 offers high-performance solutions ideal for wellhead equipment.
Magnetrol International Inc.
www.magnetrol.com
Novolac epoxy
Sauereisen SewerGard® Industrial No. 210 is a novolac epoxy that is specifically formulated for industrial wastewater environments where plants and refineries treat water that they have contaminated before it is sent to a municipal wastewater treatment plant. All three formulations provide an impermeable, high-strength, corrosion-resistant lining resistant to sulfuric acid, elevated temperatures, aggressive chemicals, organic and inorganic acids, and caustics.
Sauereisen Inc.
www.sauereisen.com
Leak detection kit
The Spectroline® OLK-402 Industrial Leak Detection Kit accurately and efficiently pinpoints leaks in water- and water/glycol-based industrial systems. It allows inspection of the entire system under all operating conditions. At the heart of the kit is the OPTI-LUX™ 400 high-intensity, violet-light LED leak detection flashlight. Its high-output violet light causes dyes to fluoresce more brilliantly and with greater contrast than with standard blue light inspection lamps.
Spectroline
www.spectroline.com