New Products
Compilation of new products for the industrial water market.
Apr 23rd, 2015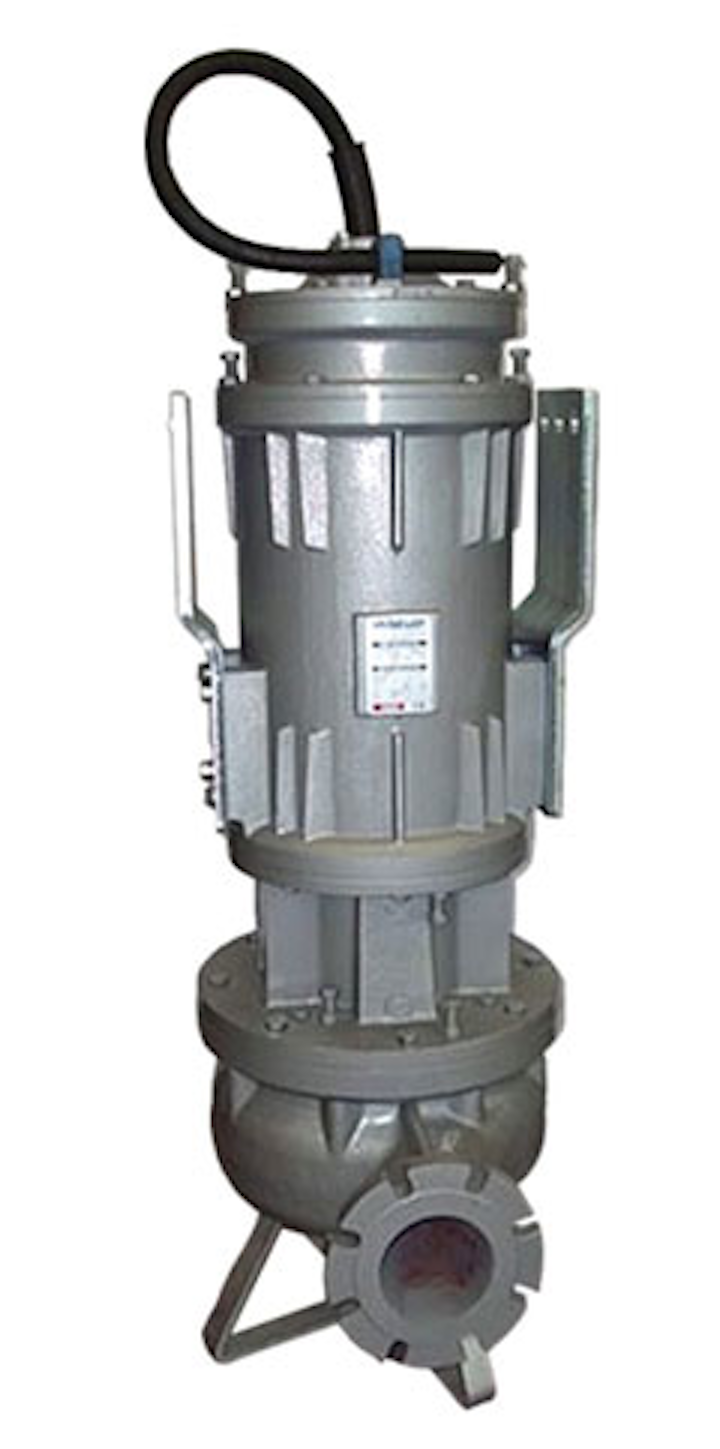 Recessed impeller pump
Dragflow's no-clog Pump EL60 RI is the first of its upcoming series of Recessed Impeller Pumps and ensures the passage of solids, up to 100 mm through the pump casing, avoiding the risk of clogging and increasing pump efficiency. Flowing solids are quickly discharged, reducing internal recirculation, so the hydraulic efficiencies and pump wear life are increased as well. Due to the natural flow of the fluid through the casing, fragile solids can pass through the pump with minimum risk of damage. The pump is also available with Dragflow's Agitator or Chopper, used separately or combined.
Dragflow
www.dragflow.it
Surge detector, recorder
Weidmuller's DIN rail-mounted surge detector and recorder, the Varitector Logger 30, is designed to detect transient surges over 50A in ground circuits of industrial control systems. This module expands the Weidmuller surge protection portfolio with a key analytical tool capable of helping users vulnerable to lightning surges understand the transient voltage activity in their control and distribution systems. The self-contained IP20 module with an integral LCD display provides access to time-stamped surge event data. The Varitector provides the ability to verify how many transient events have occurred, along with their timing.
Weidmuller
www.weidmuller.com
Submersible pumps
BJM Pumps has announced the release of the new XP-KZN heavy-duty, submersible, explosion-proof pumps, designed for tough conditions where FM, C/US approval (Class I, Division 1, Group C & D) is needed. The XP-KZN features a top discharge, slim-line design with an agitator to suspend heavy slurries containing coal, ash, sand, gravel, or other abrasive materials. The top discharge and slim design allow for an easy fit into tight, thin spaces. The agitator helps keep solids suspended in liquid and helps prevent the pump from clogging, reducing capital and operating costs.
BJM Pumps
www.bjmpumps.com
Mass flow meter
Magnetrol has released the Thermatel® TA2 thermal dispersion mass flow meter with FOUNDATION fieldbus™ digital output communications, offering all of the advantages of the standard TA2 model, such as: dual gas calibration with two unique curves (e.g., propane and natural gas); field adjustability to install in different gas types or adjust for different gas mixes; a calibration verification procedure that provides cost savings due to decreased process downtime and unnecessary recalibrations; internal resettable and non-resettable totalizers; a strong signal at low flows and low pressures with high turndown; and ISO 17025 and NIST traceable calibrations.
Magnetrol International
www.magnetrol.com
Corrosion control film
S-10FA from Cortec® Laboratories is a filming amine formula for corrosion control in boiler condensate systems. The molecules of S-10FA anchor their hydrophilic heads to wetted metal surfaces, while their hydrophobic tails will shield metal surfaces from contact with acidic corrosive condensates and prevent corrosion products, dirt and other impurities in condensate return systems from attaching to the metal. A thin, protective field is formed on the metal when S-10FA is volatilized in the steam stream. S-10FA should be added separately from other boiler treatment chemicals and preferably be injected into the steam header.
Cortec Corporation
www.cortecvci.com
Hydraulic diaphragm metering pumps
Neptune™ Chemical's Series 500 hydraulic diaphragm metering pumps improve the accuracy and reliability of drip- and center-pivot irrigation systems by applying fertilizers and chemicals in the most precise, timely and cost-effective manner. Neptune Fertigation and Chemigation systems have been designed for the application of fertilizers, herbicides, fungicides, insecticides, and other strong chemicals. The chemical tanks have a sloped bottom for complete drainage and ease of cleaning. All tanks larger than 55 gallons are fitted into double-wall containment and injection lines to protect the environment.
Neptune Chemical Pump Co.
www.neptune1.com
Valve actuators
Rotork CQ pneumatic and hydraulic valve actuators are engineered to deliver a self-contained solution for applications demanding functional integrity and safety where space is limited. They incorporate a fully concentric, balanced, compact design that provides reduced dimensions when compared with conventional scotch-yoke actuators. The CQ's symmetric design is totally enclosed with a rugged, waterproof housing, which contains a helical mechanism that transforms linear piston motion into 90º (+/-5º) rotation for the operation of quarter-turn valves. Output torques up to 600,000 Nm (5.3 million lbf-in) are available, and customization of the torque profile is available to suit individual valve requirements.
Rotork Controls
www.rotork.com
Field-measuring instrument
Heyl Brothers' Testomat® 2000 Phosphate is a robust online field-measuring instrument that analyzes phosphate concentrations in water circuits on a quantity- or time-controlled basis.
Industrial plants are facing major challenges and changes over the years, with the quality of water circuits being unpredictable due to external influences. With phosphate gaining more importance as a finite raw material as well as a potential environmental hazard in high concentrations, the recovery and removal of this element from water streams has become a focal point. The Testomat's scope of application includes process water monitoring, biogas plants, online environmental analysis, and more.
Heyl Brothers
www.heyl.de
Stainless steel nipples
Matco-Norca has expanded its PVF product line with the addition of Schedule 40 stainless steel nipples for use in both sanitary and industrial applications ranging from dairy and food processing to cosmetics, chemicals and water treatment operations. These RoHS-compliant nipples come in sizes ranging from 1/8" up to 3" in diameter and include over 40 individual sizes. Their stainless steel 316 conforms to ASTM A312, while their dimensions and ends conform to ASTM A733. Threads conform to ASTM B1.20.1. All sizes are in stock, and mill Material Test Reports are available.
Matco-Norca
www.matco-norca.com
Electric actuators
Asahi/America's Series 92 electric actuators have been installed in a variety of oil and gas applications including pipeline transmission, well head control, drilling fluids, and chemical plants. ATEX certified, UL1203 certified and ABS approved, the actuator's rugged construction, proven design and customizable options make it ideal for oil and gas industries. Its enclosure is a die-cast aluminum alloy with a thermally-bonded powder-coat finish. This UL1203 explosion-proof enclosure is bolted together in two sections by eight 5/16" hex-head cap screws and fitted with an O-ring between the two halves, allowing the Series 92 to weather harsh and hazardous environments.
Asahi/America Inc.
www.asahi-america.com
Motor platform
Baldor Electric Company offers ABB's expanded line of the high-voltage, rib-cooled motor platform, type NXR, with higher power ranges and increased ingress protection up to IP66. The platform is now available in frame sizes 355-450 and in the power range of 100-1250 kW. Size, shape and positioning of the cooling ribs have been optimized for best possible cooling performance. Pre-engineered fixing points are provided on the sides, making it easy to install accessories on the outside and ensuring that airflow over the cooling surfaces is not affected.
Baldor Electric Company
www.baldor.com
Waste management
Under its BioSuck project, Fraunhofer UMSICHT is partnering with an international working group on redesigning waste management in the foodstuffs industry. By suctioning the waste that occurs by means of vacuum technology, less wastewater is incurred, which reduces disposal costs. At the same time, the waste that was transported hygienically and concentrated via the vacuum pipes can be utilized for bioenergy purposes or recycled. In the project, a system and guidelines are being developed for decision-makers in the foodstuff industry that provide information on when and where the installation of vacuum pipes for waste collection is ideal.
Fraunhofer UMSICHT
www.umsicht.fraunhofer.de
Gas monitor
The GSM-60 is a microprocessor-based gas monitor especially designed for use in industrial process, aerospace, pharmaceutical, and semiconductor applications. The system incorporates an internal sample draw pump and gas sensors. The instrument can be custom configured with both internal and external sensors for monitoring a combination of gas parameters including VOCs, dew point, oxygen and CO, or a number of other target gases including O3, HF, HCl, Cl2, etc. As an option, this versatile monitor can also be connected to a wide range of remote 4-20 mA toxic or combustible gas sensor/transmitters.
ENMET LLC
www.enmet.com
Nanotechnology
Aqua Bio Technologies has announced the PrO2 series, an advancement in the use of nanotechnology to treat wastewater with increased effectiveness and improved efficiency, saving time, costs and energy. The PRO2 Series works by inundating the aerobic bacteria with the oxygen it needs to consume large amounts of waste, rendering it harmless. Through nanotechnology, the system injects concentrated streams of oxygen-rich micro-bubbles into the targeted waste streams, enabling bacteria to consume up to 95% of organic waste. This result in dramatic reduction in sludge hauls, and the energy efficiency reduces aeration costs by 75% or more.
Aqua Bio Technologies
www.aquabio.co
Ethernet switch
Antaira Technologies has introduced the LNX-0501G-SFP and LNX-0601G-SFP series, a 5-port industrial gigabit unmanaged Ethernet switch, with 4*RJ45 10/100/1000Tx and 1*dual rate 100/1000 SFP slot. The product series provides a high EFT surge (2,000 VDC) and ESD (6,000 VDC) protection to prevent any unregulated voltage and can support the power redundancy feature using a dual power input design with reverse polarity. There is also a built-in relay warning function to alert maintainers when power failures occur. The LNX-0501G-SFP and LNX-0601G-SFP series have been designed to fulfill needs within industrial automation, outdoor applications and extreme ambient weather environments.
Antaira Technologies
www.antaira.com
Remote sensing system
The SignalFire Remote Sensing System™ (SFRSS), a long-range mesh networking technology designed for challenging, large-scale environments, provides cost-effective remote monitoring of well pad tubing and casing pressures in upstream oil and gas fields. The SFRSS consists of a gateway and remote nodes that interface with a variety of sensors, transmitters and actuators using industry-standard interfaces. As a truly wireless system, it is significantly less expensive that an equivalent wired system -- particularly if trenching is required. Tubing and casing pressures, heater-treater and gas flare temperatures, tank levels, flows, well shut-ins, and RTUs can be seamlessly integrated into a single system.
SignalFire
www.signal-fire.com
Spectrometer system
KROHNE has announced its new SpectroBAY® process near-infrared (NIR) spectrometer system for efficient process control in the chemical industry. Improving chemical plant reliability and profitability through automated control, SpectroBAY is ideal for a range of applications, including fluids, gases and suspensions in conjunction with optical sensors. The system is ideal for chemical processing plants with several educts and raw materials that react with a catalyst in a solvent. SpectroBAY can be used for checking incoming material, measuring product characteristics like identity and purity, evaluating secondary component characteristics, and monitoring reaction progress during chemical conversion for safety and performance.
KROHNE Inc.
www.us.krohne.com
Drive
The Drives & Motion Division of Yaskawa America has released the Z1000U HVAC Matrix Drive, which provides extremely low harmonic distortion in a space-saving design, along with the same HVAC-specific features as the standard Z1000. This single component solution achieves excellent low distortion levels all by itself without the need for additional countermeasures such as passive filters or multi-pulse arrangements. Unlike conventional drives, Yaskawa's matrix technology employs a system of nine bi-directional switches that are arranged in a matrix to convert a three-phase AC input voltage directly into a three-phase AC output voltage.
Yaskawa
www.yaskawa.com
Safety glasses
Ergodyne has announced the expansion of its Skullerz® brand to now encompass head, eye and face protection. With this comes the launch of the company's new Skullerz Safety Glasses, offering seven unique, patented models in up to 13 different lens options. Designed to drive worker compliance with unmatched style, comfort and safety, all models meet or exceed ANSI Z87.1+ High Velocity Impact and MIL-PRF 32342 Military Ballistic Fragmentation Protection requirements.
Ergodyne
www.ergodyne.com
Joint agreement
Frutiger Company has signed a joint marketing, sales and supply agreement with HaloSource, which provides HaloSource exclusive rights to supply Moby Dick MobyFloc for new sales of Frutiger wheel and truck wash systems and dewatering units in the U.S. and Canada. In addition, HaloSource will also be Frutiger's preferred supplier for environmental water technologies and related services for all Frutiger units in the region. The HaloKlear portfolio of eco-friendly polymer technologies addresses a wide variety of pollutants and contaminant types including total suspended solids, algae, hydrocarbons, heavy metals, oils, and organic compounds.
HaloSource Inc.
www.halosource.com
Semi-trash pumps
Suitable for handling water with small solids and light debris, Subaru's semi-trash pumps offer a heavy-duty overhead cam gasoline engine, large volute discharge opening and dependable performance. The pumps consist of two models: the 2-inch PKX201ST and 3-inch PKX301ST. The PKX201ST is powered by the Subaru EX13, a 4.5-horsepower engine, and provides a delivery volume of 153 gallons per minute. The PKX301ST offers a delivery volume of 246 gallons per minute and is driven by the EX17, a 6.0-horsepower engine. The pump and engine built as an integrated unit provides maximum performance and dependability.
Subaru Industrial Power Products
www.subarupower.com
Flanged ball valves
SVF Flow Controls' Class 600 flanged ball valves (SVF Series B43C) are available from stock in sizes 1/2" to 8" and are certified to API-607 and NACE. They feature ISO-5211 mounting pads for easy and robust mounting for automation, and larger sizes feature a trunnion design. The high-performance, full-ported valves are certified to API-607 fire safe design and API-608, ISO TopWorks for actuation and are designed for a wide range of industrial applications.
SVF Flow Controls Inc.
www.svf.net