Product Showcase
Collection of new products of special interest to the industrial water and wastewater markets.
Oct 1st, 2015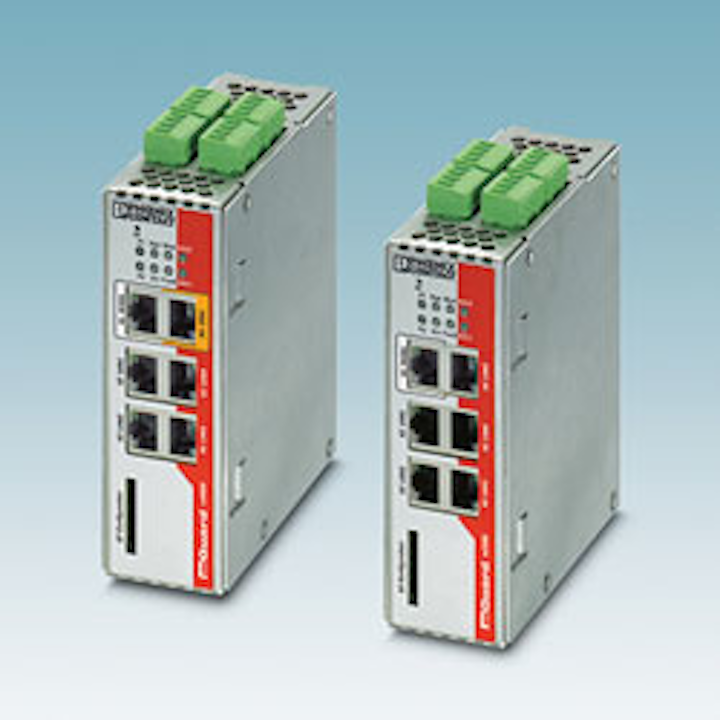 Security routers
Phoenix Contact's newest versions of the FL mGuard combine its secure routing, VPN and firewall functions with network switch capabilities in one package. The RS2005 has five unmanaged Ethernet ports, and the RS4004 has four managed ports, along with a "demilitarized zone" port to secure multiple networks. Thanks to the integrated switch, the updated mGuard devices can eliminate or reduce the need to buy and install a stand-alone switch. This results in lower hardware costs, smaller installation footprint and easier network setup.
Phoenix Contact
Ultrafiltration systems
PRAB has enhanced its line of ultrafiltration (UF) systems for metalworking companies that separate emulsified oils and suspended solids from wastewater and coolant. The engineered systems use a hollow-fiber, tubular or spiral-wound membrane to achieve required micron filtration levels. Adding a PRAB UF system can reduce oily water volumes by as much as 90% without the use of chemical additives. The units are available as skid-mounted, fully automated systems and help companies meet zero manifesting goals and comply with federal RCRA requirements.
PRAB
Flowmeters
The F-462N Series flowmeters from Blue-White feature metal-free wetted parts, making them ideal for use in many ultrapure applications, where contact with metal could contaminate the fluid. Constructed of molded Polysulfone, the meters offer better resistance to high temperatures and pressures, as well as many harsh chemicals. Maximum fluid temperature is 200˚F at 0 psi. Maximum working pressure is 150 psi/10.3 bar at 70˚F/21˚C. An optional splash shield is available. The high-capacity F-462N utilizes precisely engineered ridges molded into the meter body, which guide PTFE floats.
Blue-White Industries
Diaphragm valve
GF Piping Systems has added the new diaphragm valve type 604/605 with an integrated pneumatic actuator to its extensive product range. This long runner combines compact design with best flow performance for an economic price-performance ratio. The valve's compact design fits standard installation lengths, and its integrated pneumatic actuator with quick opening and closing times enables more than one million closing cycles over its long service life. The valve is flexible in its operating modes and offers fail-safe to close, fail-safe to open and double acting options.
GF Piping Systems
Motor platform
Baldor has announced the Above NEMA Vertical P-Base motor platform. The new totally enclosed, fan-cooled G-series is available in a broad power range of 200-900 HP, in frame sizes 5010-5012 at a variety of voltage ratings including 460, 2300, 4160, or 6600. The entire platform has a cast iron frame in a more compact design than the previous generation. Designed for the pumping and fan industry, these motors meet standard NEMA specified P-Base dimensions for vertical pump applications or horizontal mount for tunnel fan applications.
Baldor Electric Company
Water level loggers
Combining proven pressure sensor technology and advanced microprocessor-based electronics, Keller America's DCX family of water level loggers is ideal for shallow or deep well water logging applications. Combining a water level logger with a temperature data logger, these instruments are designed and constructed to provide years of trouble-free service under the most demanding conditions. Data capture is accomplished by periodic data transfer to a laptop or Pocket PC (Windows CE), or for remote installations, by GSM modem technology.
Keller America
Industrial Internet solution
GE has launched a new, enhanced version of its InSight Industrial Internet solution, which allows customers to improve overall plant performance by remotely monitoring facility data and utilizing the information to make more informed business decisions. As a part of the platform, users are connected with a team of GE experts responsible for setup and configuration, wireless enablement services, troubleshooting, and training. InSight works by capturing operating data from a variety of plant applications and transforming it into valuable information that is used to optimize water and process applications.
GE
Smart database series
Shimadzu Scientific has released the new GCMS Smart Database Series. It is comprised of separate databases for analyzing pesticides, forensic toxicological substances, metabolites, and environmental pollutants. Each database includes hundreds of related compounds with optimized transitions and collision energies, CAS registry numbers and retention indices. The software series supports a simultaneous high-sensitivity analysis of samples using GC-MS/MS. Further, Smart MRM™ technology enables automated creation of fully optimized multiple reaction monitoring (MRM) and Scan/MRM methods with the push of a button.
Shimadzu