New Products
Compilation of new products for the industrial water market
Feb 23rd, 2015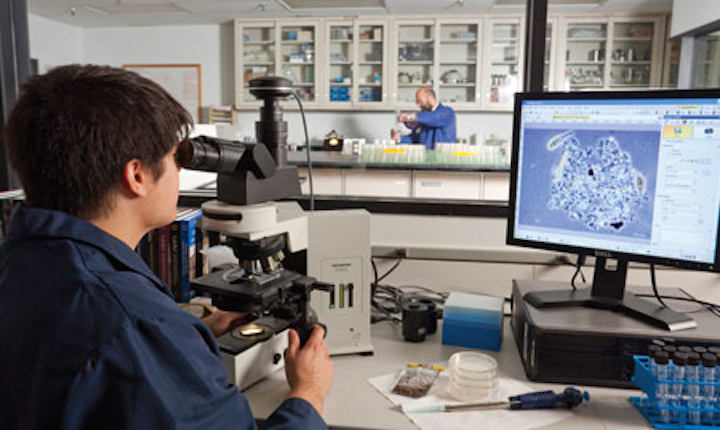 Industrial biocide
GE has introduced a new biocide for industrial cooling water systems designed to reduce microbiologically influenced corrosion and the potential risk of Legionella bacteria. The Spectrus TD1100E is a non-oxidizing microbiological control agent used to kill or control growth of microbial populations in open evaporative cooling systems. It improves heat transfer rates; increases efficiency; reduces the amount of chemicals, which lowers environmental impact; and diminishes adsorbable organic halogens in effluent water. Spectrus also reduces sessile bacteria (biomass), which is a key risk factor for Legionella development on a cooling system.
GE
www.ge.com
Centrifugal pumps
The B-series range of self-priming centrifugal pumps from BBA Pumps are available in sizes from 1" to 12" and are ideal for applications where low-tech solutions are required and budgeted, trouble-free operation is crucial. The 6", diesel-driven, solids-handling BE160 model has now been modified from a technical point of view, making it suitable for regions where ambient temperatures can be extremely high. With a max flow of 345 m3/h, it is now available with an air-cooled diesel engine. The major benefit of this is that users don't have to deal with polluted radiators and overheated engines.
BBA Pumps
www.bbapumps.com
Servo system
Mitsubishi Electric's MR-JE servo system features one-touch auto-tuning, vibration suppression, machine diagnosis functionality, and high tolerance against instantaneous power failures. Because of its auto-tuning function, the MR-JE is especially suited to applications that require precise control of servomotors, such as packaging, labeling and machine tool applications. It is ideal for use in pick-and-place machines. Users simply turn on the advanced one-touch tuning function to adjust servo gains. In addition to auto tuning, the vibration suppression function also contributes to optimal servo performance, while extending machine life.
Mitsubishi Electric Automation Inc.
us.mitsubishielectric.com
Vortex flowmeter
The 602VF vortex flowmeter from Spire offers accurate, low-maintenance flow measurement for gas, steam and liquid applications. It is widely used in chemical industries, power plants, mining, metallurgy plants, steam plants, and water conservation. The flowmeter utilizes robust piezoelectric elements to detect Karman vortex frequency behind a shedder bar. Thanks to the advanced proprietary spectrum signal processing technology, it is able to provide excellent vibration immunity for stable and accurate flow measurements at low flows without any need for start-up tuning.
Spire Metering Technology
www.SpireMT.com
UV leak-detection lamp
The Spectroline® TRITAN™ 365 is a powerful, multi-LED, broad-beam ultraviolet (UV) leak-detection lamp. When used with Spectroline fluorescent dyes, it pinpoints fluid leaks in a wide range of industrial systems such as hydraulic equipment, compressors, engines, gearboxes, fuel systems, and more. The TRITAN features three ultra-hi-flux UV LEDs for fluorescent leak detection, plus a white light LED for general component inspection in dimly lit areas. The lamp's broad-beam profile provides extra-wide area coverage -- 45-inch (114-cm) diameter at a 20-foot (6.1-m) distance -- making it ideal for quick leak checking of large surface areas.
Spectronics Corporation
www.spectroline.com
Screw-clamp terminal blocks
Phoenix Contact's line of screw-clamp terminal blocks now includes pluggable fuse and knife disconnect terminal blocks for potentially explosive areas (Class I, Zone 2). The 6.2-mm and 8.2-mm terminals meet the requirements of ignition protection standards important for control applications throughout many process industries, particularly oil and gas and petrochemical. UT 4-MT-EX, 4-TG-EX and 6-TG-EX terminal blocks with pluggable P-FU-EX fuse holders for 5 x 20-mm or 6.3 x 32-mm fuse inserts use the screw-clamp connection technology for ferruled or stranded wires. These blocks support the CLIPLINE Complete system of bridging elements, test accessories and marking.
Phoenix Contact
www.phoenixcontact.com
Mobile interface software update
Opto 22 has announced groov 2.3, a major update adding Modbus/TCP communication to the company's groov web-based mobile interface software. With this, thousands of industrial devices can now be monitored and managed using effective, scalable operator interfaces on various mobile devices. Modbus/TCP is a widely adopted TCP/IP-based communications protocol used in level sensors, rotary encoders, drives, meters, and industrial controllers and I/O. Industrial automation end-users, system integrators, machine OEMs, or any authorized person can quickly and securely monitor and control these devices, as well as automation, building and other control systems.
Opto 22
www.opto22.com
Laboratory information management system
Accelerated Technology Laboratories (ATL) has announced the release of the new ATL LIMS ON DEMAND, one of the first cloud-based LIMS offerings that meets all client security and compliance requirements. This commercial off-the-shelf LIMS can be readily deployed without a large capital outlay, and the advantages include low cost of entry, rapid deployment and full IT support. This hosted solution includes: a dynamic computing environment and dedicated virtual server per client, all required software, guaranteed up-time, daily backups, server management, maintenance and upgrades, and support ensuring maximum up time.
Accelerated Technology Laboratories, Inc.
www.atlab.com
Reverse osmosis units
The Elite Plus range of reverse osmosis units from Purite helps breweries meet high water purity demand. The units incorporate semi-permeable membranes through which pressurized feedwater is passed to remove up to 98% of inorganic ions and 99% of dissolved organic contaminants. The range can provide permeate outputs from 750 to 10,000 L/hr. This effective water purification solution, which provides consistent and high-purity water on demand, is especially useful for lagers and ales that consist of more delicate flavors, where purified water is even more important because it has far less impact on taste.
Purite
www.purite.com
Distribution analytic platform
Delta Energy & Communications' Intelligent Distribution Analytic Platform (DEC-iDAP™) correlates, analyzes and visualizes varied, multi-system data sources from a network and provides utilities with intuitive visualizations and alerts to observe critical issues in real-time. It provides this data in a geospatial view of the utility's assets on one easy-to-read map. Deployed as an SaaS platform and globally accessible from desktop PCs or mobile devices, utilities can assign custom alerts to their analysis methods, eliminating the need to check each data set when a problem occurs and preventing problems before they occur.
Delta Energy & Communications
www.delta.la
Chemicals, dyes
Archroma has added its portfolio of ZDHC MRSL-compliant chemicals and dyes to its ONE WAY Sustainability Calculator. The move will give textile apparel and footwear customers the time-saving advantage of being able to pre-select products that help continue to drive down the level of impurities in the manufacturing process, which also means in the wastewater. ONE WAY supports customers in meeting their sustainability targets by providing a fast, measurable and reliable approach to the selection of chemical product and process solutions. All dyes and chemicals have been screened against more than 15 textiles eco-standards and criteria.
Archroma
www.archroma.com
Tape measure tether
The new Gear Keeper Retractable Tape Measure Tether from Hammerhead offers effort-free extension and gentle retraction for safety and convenience. The tether is available with a choice of two different personal attachment devices. The model RT4-5604 features a rotating Belt Clip Mount that permits a 360˚ range of motion. When clipped, workers can safely and easily access and extend the tape measure without fear of dropping it. Those who prefer to clip their tape measure to a D-ring can choose the model RT4-5605, which features a Heavy-Duty Snap Clip Mount.
Hammerhead Industries Inc.
www.gearkeeper.com
Enclosures
Dwyer Instruments has announced the release of its new series CSE-N1, CSE-KN, CSE-3R, & SSE Steel enclosures. With carbon steel, galvannealed steel and 304 stainless steel units ranging from 10" x 8" x 4" to 36" x 30" x 8", these UL-approved enclosures can suit a variety of needs. Dwyer offers water-tight and dust-tight enclosures along with optional drip shields and optional keyed locks to keep important instrumentation as safe as possible. Further, the company offers sub-panels and mounting straps/feet to make installation highly convenient.
Dwyer Instruments Inc.
www.dwyer-inst.com
Tank lid
Orenco has launched its new damage-resistant DuraFiberTM Lid, made of resin-infused fiberglass fabrics for extreme durability and breaking strengths in excess of 20,000 pounds. It fits most ribbed PVC and HDPE riser pipe and weighs only 11 pounds. Additional benefits include a flat-style flange, allowing flush-to-grade installation; a cored centering ring, providing an easily aligned, snug fit; and a urethane gasket, ensuring a watertight seal. Lids include four 5/16" stainless steel flathead screws and a hex wrench. Optional insulation (2" or 4") is available, which can be pre-installed at the factory or installed onsite with a hardware kit.
Orenco Systems
www.orenco.com
Thermal evaporator
ENCON Evaporators' environmentally friendly Thermal Evaporator is engineered to provide an effective and economical method of wastewater minimization. This proven design requires minimal labor to operate, and it has the ability to handle different waste streams simultaneously. It is made with the highest quality components, including a heat exchanger design that provides extremely efficient heat transfer, resulting in reduced fuel costs. The mist eliminator system captures unwanted contaminants before exhausting, enabling compliance with today's stringent emissions regulations. A wide variety of heat source options are available, including innovative options that can reduce operating cost to almost zero.
Encon Evaporators
www.evaporator.com
Envelope pumps
To meet the need for optimum efficiency and energy savings across all building loads, Armstrong has announced that its Design Envelope pumps are now available for use with single-phase power. The new pumps allow designers, contractors, project managers, and building owners to choose the best pumping solution for their specific needs. Armstrong now offers a complete selection of high-efficiency pumping solutions to serve a broad range of operating requirements. Features include a sensor-less variable speed control, integration of pump and controller, space-saving Vertical In-Line design, and compliance with ASHRAE 90.1 energy-efficiency guidelines.
Armstrong Fluid Technology
www.armstrongfluidtechnology.com
Current switches
NK Technologies has introduced ASXP-LS Current Switches, a combination current transformer and signal conditioner designed specifically for monitoring large loads. The switches feature an electromechanical relay output, external power source, simple field setpoint adjustment, and easy installation. The mechanical relay contact provides a trouble-free, durable alarm or interlock, improving safety and overall system reliability, while the selectable "Fail Safe" operation provides protection for critical loads. ASXP-LS Current Switches are used to monitor large machines for over- or under-load conditions, detect open discharge lines and sense clogged filters. They can also monitor generators to shed non-critical loads.
NK Technologies
www.nktechnologies.com
Fluidized bed scrubber
Bionomic Industries has announced availability of its new RotaBed patented "Fluidized Bed" Scrubber. Designed to handle gas capacities from 500 through 250,000 ACFM, RotaBed's superior performance comes from a unique swirl-induced Coriolis grid that achieves high fluidized bed stability, resulting in efficient gas mixing and transfer efficiency. The scrubber's turbulent, "packless," highly plug-resistant mass transfer bed is up to 99% open in the fluid contact scrubbing zone and delivers ultra-high efficiency gas absorption and particulate collection of over 99% on most applications. A two-stage chevron mist eliminator ensures complete droplet removal from the gas exiting the scrubber. Typical applications include acid gas removal from high-temperature thermal oxidizers; chlorine dioxide and sulfur dioxide removal in pulp and paper bleach plants; and acid and alkali fume removal from pickling, galvanizing and cleaning lines in the metals industry.
Bionomic Industries Inc.
www.bionomicind.com