COOLING WATER TREATMENT
Santa Barbara Control Systems offers the Chemtrol® CT Series controllers for cooling towers, boilers and other industrial applications.
Sep 1st, 2005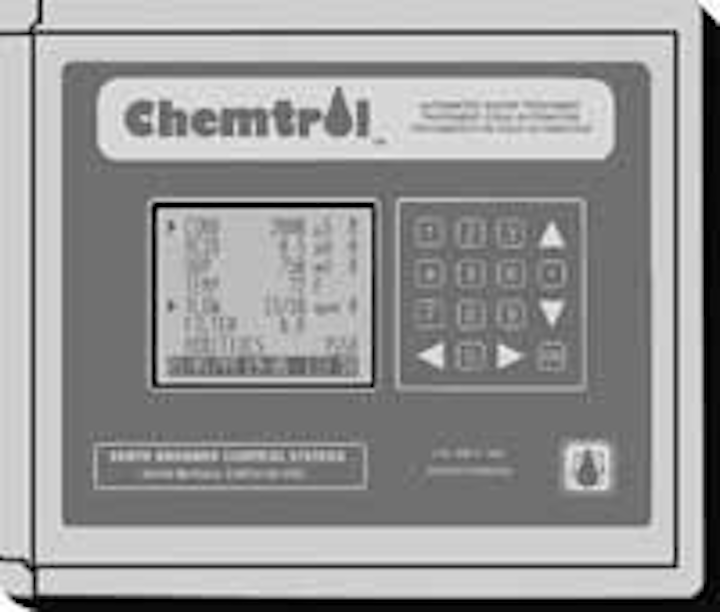 Automated water treatment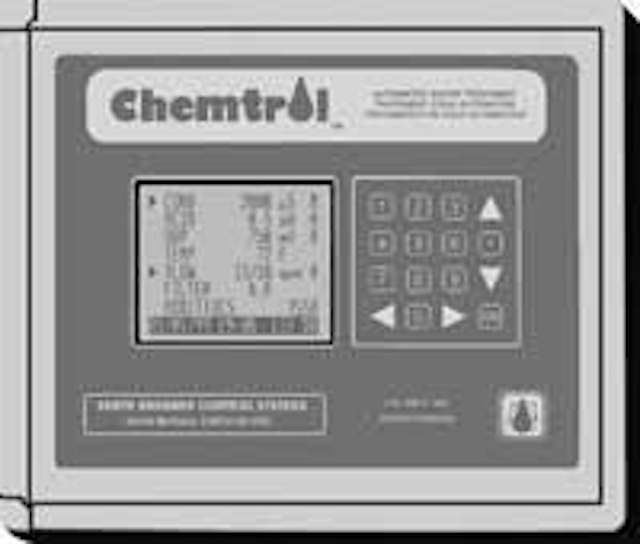 Click here to enlarge image
Santa Barbara Control Systems offers the Chemtrol® CT Series controllers for cooling towers, boilers and other industrial applications. Features include conductivity, pH, ORP, temperature, water flowmeters, additive feed programs, filter backwash, Langelier saturation index, data logging, and remote computer/voice operation under Windows. The controllers offer large screens with easy-to-use menus, a 5-year electronics warranty, and toll-free technical support. Chemtrol, Div. of Santa Barbara Control Systems, Santa Barbara, CA, 800-621-2279, www.sbcontrol.com.
Condenser leakage monitor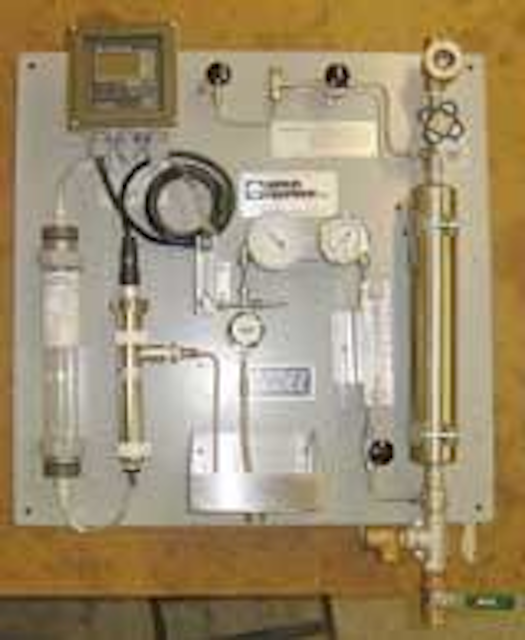 Click here to enlarge image
The Condenser Leakage Monitoring System (CLMS) offers constant surveillance of the condenser to detect when and where infiltration of the external cooling water supply is occurring. Quickly sensing a condenser tube rupture or tube sheet leak is critical for maintaining cycle purity in power plants. Samples are taken from within the vacuum environment of the condenser itself, as opposed to the discharge of the condensate return pump. This means a leak in any bay can be detected, isolated and fixed without shutting down the entire condenser. Waters Equipment Co., Lansdale, PA, 215-699-8700, www.watersequipment.com.
Ozone for cooling towers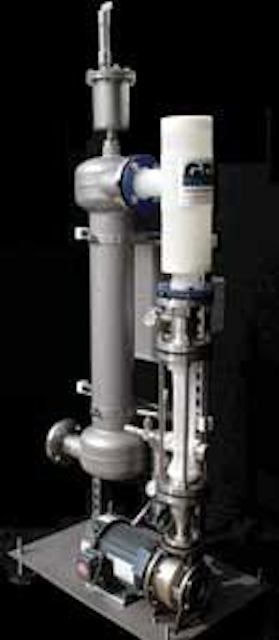 Click here to enlarge image
The GDT™ process is a compact and efficient ozone generation and dissolution system, complete with all process and safety systems. The treatment of water with ozone has been accepted as a preferred alternative for water sanitization in many industries including the specific needs of the "heat transfer" cooling tower market place. This ozone treatment process can now be applied to cooling tower and recirculating chilled water and closed loop flows with reliability and ease of installation. Mazzei Injector-GDT Corp., Bakersfield, CA, 661-363-6500, www.mazzei.net.
Tee valve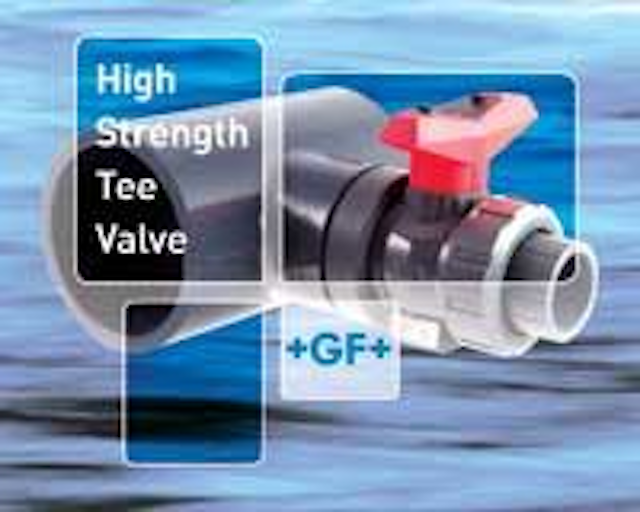 Click here to enlarge image
George Fischer's new Tee Valve is designed to minimize accidents and reduce labor installation costs. The fully assembled package includes a Type 546 ball valve connected to a tee by a specially designed high-strength reducer bushing, and a safety plug assembled to the valve. The valve can be used in a variety of applications including plant cooling water and plant vacuum found in the semiconductor market, chemical processing and water and wastewater treatment industries. Available in PVC and CPVC body materials with EPDM valve seals, it comes in sizes 1" x ½" through 8" x 2". George Fischer Inc., Tustin, CA, 800-854-4090, www.us.piping.georgefischer.com.
Flow, level meter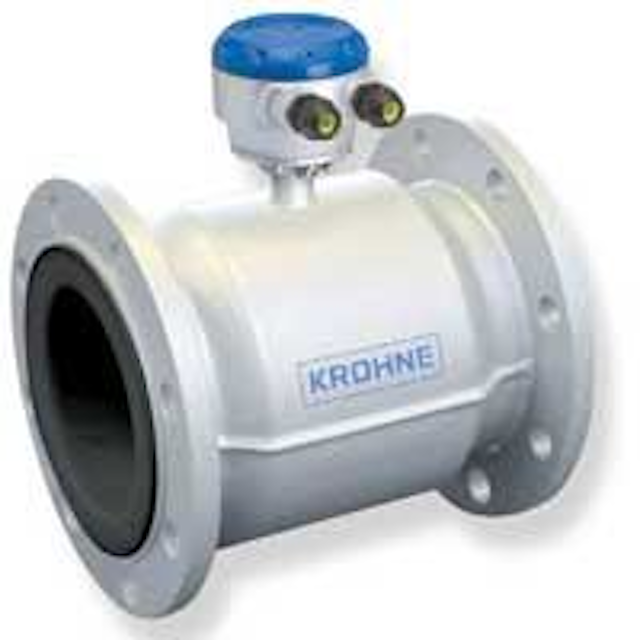 Click here to enlarge image
Krohne Inc. will showcase its new Optiflux 2300 flowmeter, consisting of the Optiflux 2000 electromagnetic flow sensor and Optiflux 300 converter, for the water and wastewater industry this fall. Well matched for cooling stations and district heating in the power industry, the flowmeter also is ideal for: water distribution networks and irrigation; water purification; environmental engineering; wastewater treatment in the municipal, pulp and paper, metals and mining; and various other process industries. Krohne Inc., Peabody, MA, 800-356-9464, www.krohne.com.
Conductivity controller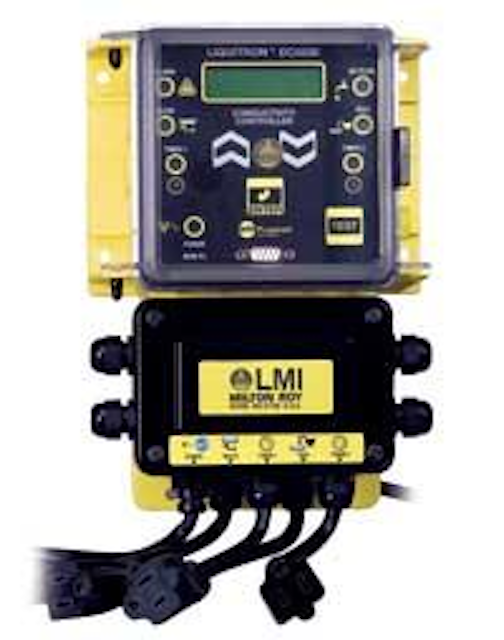 Click here to enlarge image
The Liquitron DC5500 Series conductivity controller is a microprocessor based control system that will operate in a variety of water treatment applications. The unit provides a set point and relay for conductivity control, and a variety of timer functions to control chemical addition, including dual biocides. It stores up to 31 days of data and downloads via RS-232 or via modem connection with optional LMI LiquiComm™ communications package. This data can be viewed in a graph or report format. LMI Milton Roy, Ivyland, PA, 215-293-0401, www.lmipumps.com.
Sodium nitrite test kit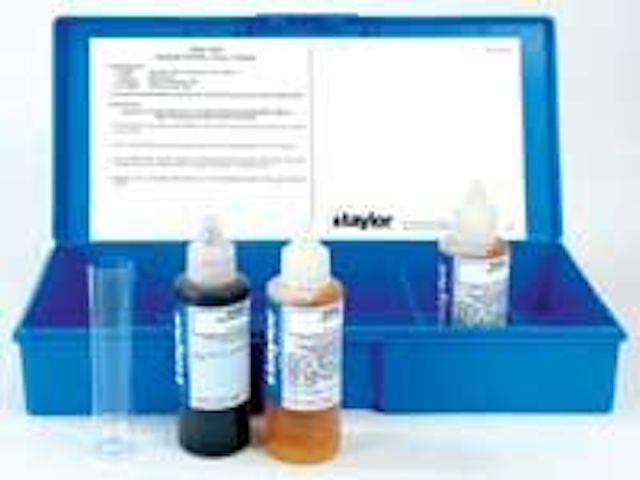 Click here to enlarge image
In closed-loop cooling water systems that are freeze-protected with glycol, sodium nitrite-based corrosion inhibitors can be monitored with Taylor's K-1510 test kit. This simple drop-count titration (1 drop = 40 ppm NaNO2) employs the cerium oxidation of nitrite method, commonly referred to as the "CAN method," to prevent the antifreeze from interfering with test results. Users will see a distinct change in sample color, from orange/red to blue, at the endpoint of the test. Taylor Technologies Inc., Sparks, MD, 800-837-8548, www.taylortechnologies.com.
ORP sampling

Click here to enlarge image
Users in a variety of fields who need a convenient sampling method to measure oxidation reduction potential (ORP) in water can now rely on the new EcoSense® ORP15 Pen for fast, accurate measurements. The sampler measures ORP (absolute and relative mV) and temperature. Features include a graphic interface, one-hand operation, memory, IP-67 waterproof housing, and replaceable electrodes. YSI Inc., Yellow Springs, OH, 937-767-7241, ext. 521, www.ysiecosense.com.
On-site water disinfection
MIOX on-site mixed-oxidant generators are effective against biofilm and algae, improving cooling tower operations and efficiencies. Mixed oxidants are several orders of magnitude more effective at microorganism inactivation than are biocides at comparable doses. Mixed oxidants have eliminated Legionella in systems that were previously experiencing positive bacterial hits. In addition, biofilm regrowth is prevented, eliminating the protective coating that can harbor harmful bacteria. MIOX Corp., Albuquerque, NM, 505-343-0090, www.miox.com.
Cooling water flowmeter
Click here to enlarge image
Universal Flow Monitors Inc. announces CoolPoint™, a vortex shedding flowmeter for measuring and monitoring cooling water in industrial processing applications. These flowmeters are designed to provide consistent flows of water as well as water-based machine coolant and water/glycol mixture. Repeatability is ±1% of actual flow, and accuracy is ±2% of actual flow. This high repeatability and accuracy provide consistency in cooling loops using low viscosity, clean or dirty water-like liquids compatible with brass, PVDF and Viton. With totalizing capability, the flowmeter has a scaled pulse output as a standard selectable option that increases the meter's ability to measure, monitor and control the total amount of liquid used in a process. Universal Flow Monitors Inc., Hazel Park, MI, 248-542-9635, www.flowmeters.com.
3D modeling
Among the seven 3D modeling nominees for Bentley Systems Inc.'s 2005 BE Award that chose the company's AutoPLANT autoCAD-based design software to increase productivity, one targets a cooling water application. Kellogg Brown & Root Pty Ltd (KBR) produced detailed documentation for the manufacture and installation of new equipment to upgrade two nitric acid plants and the cooling water system for Orica Ltd.'s Yarwum plant. The plant manufactures explosives for the mining industry in Australia. Nominated projects range from large to small and represent water-related applications in the electric power, water resources, chemical, oil and gas industries. Awards will be presented May 21-25 at the BE Conference in Charlotte, NC. A series of e-seminars are planned regarding the software. Bentley Systems Inc., Exton, PA, 610-321-6493, www.bentley.com/autoplant.
Isolation skids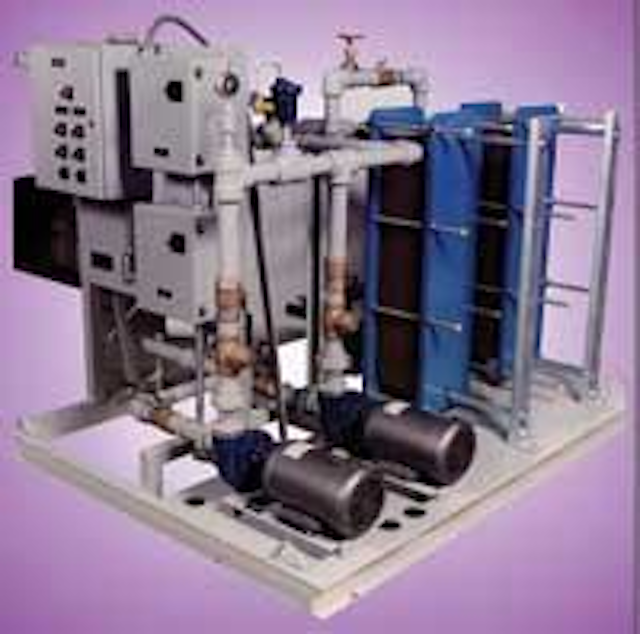 Click here to enlarge image
Waters Equipment Company has introduced the Cooling Water Isolation Skid (CWIS) as an means of maintaining on-line sample temperature where abundant, cool surface water sources exist (i.e., river, lake or dam). The skids are designed to allow use of high solids or hard water supplies for cooling a process line or battery of sample coolers without concern that solids in the raw water supply will precipitate or plate out in the process or shell of the coolers. Waters Equipment Co., Lansdale, PA, 215-699-8700, www.watersequipment.com.
Cooling tower controller
Click here to enlarge image
As water contamination in cooling tower water increases, so does conductivity. The Myron L Company's model CTCII™ Cooling Tower Controller operates on this principle. When conductivity reaches the value selected as a set point, the controller automatically energizes a valve to blowdown or bleed off part of the concentrated water and make up with freshwater. Myron L Company, Carlsbad, CA, 800-869-7668, www.myronl.com.