Milliken Cures Cooling Tower Water Quality Problems at Clarifier Plant
Even if a chemical plant starts out with the world's purest process water, the water won't remain that way long once it passes through the cooling tower.
May 1st, 2005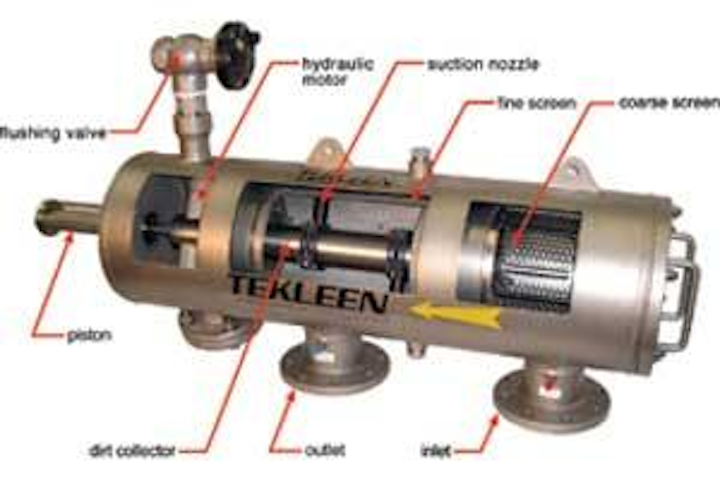 Even if a chemical plant starts out with the world's purest process water, the water won't remain that way long once it passes through the cooling tower.
"Cooling towers make good air washers," explained Lee Munday, senior mechanical engineer at one of Milliken & Company's chemical plants in Blacksburg, S.C. "They'll pull all sorts of stuff out of the air."
So, when Milliken recently installed a new continuous batch manufacturing line, he needed to find a way to return the cooled water to its original condition before allowing it back into the plant for reuse. The company chose self-cleaning Tekleen filters manufactured by Automatic Filters Inc. of Los Angeles.
A Legacy of Excellence
As CEO of the privately-held Milliken & Company, Roger Milliken believes in nothing short of the highest quality. In 1989, the company was among the first to receive the Malcolm Baldridge National Quality Award issued by the U.S. Department of Commerce's National Institute of Standards and Technology (NIST). That was followed up with similar British, Canadian, European and Japanese awards.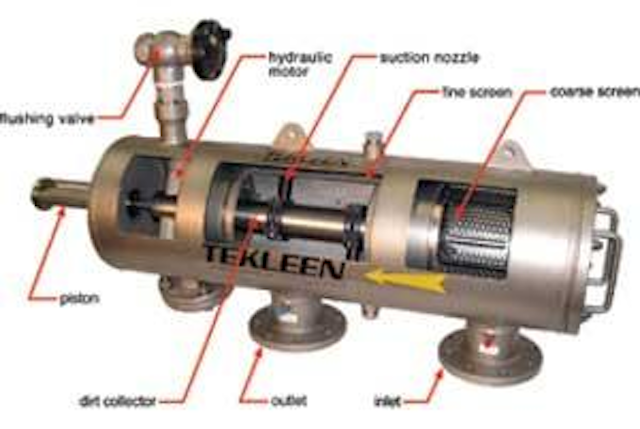 Click here to enlarge image
Milliken traces itself to the Deering Milliken Company, a woolen fabric maker in Portland, Maine, co-founded in 1865 by Milliken's great-grandfather. That operation grew into a diversified chemicals company, with 14,000 employees and 65 plants churning out 38,000 products. Estimated annual revenues of $3.4 billion earned it 50th place on Forbes magazine's 2004 list of the largest privately held companies.
In addition to chemical and textile factories, the company also maintains its own textile research center, the world's largest, and holds more than 1,800 patents. Out of that research came a product Milliken Chemical and Industrial Specialties Division markets under the name "Millad 3988" - a sorbitol-based clarifying agent for polypropylene plastics that makes them less hazy.
In 2000, Milliken built a new plant in Blacksburg, to produce Millad. Although the world's largest facility of its type, it wasn't enough to meet growing demand. So, Milliken installed a new production line in 2004 for Millad and other specialty chemicals used in the plastics industry.
High Quality Process
To ensure an uninterrupted supply of high quality process water for this new line and prevent unnecessary shutdowns, Milliken needed to install filters on the cooling towers.
"The plant has a high requirement for uptime so we didn't want to spend any more time than necessary to clean cooling towers," said Munday. "Shutdowns are expensive so we endeavored to have as clean of water as we can get within reason."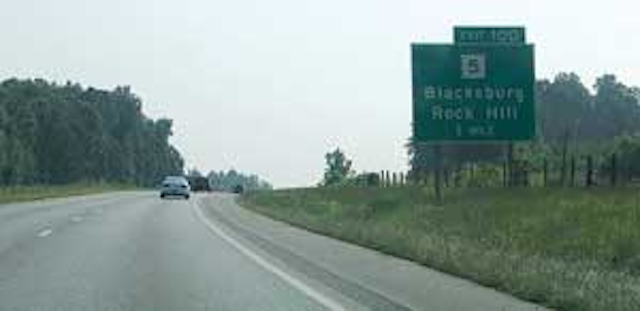 Exit off of I-85 to Blacksburg, S.C.
Click here to enlarge image
The chemical plant uses surface water it gets via a filtration plant at another Milliken facility in Blacksburg. Although that water was of adequate quality, once through the cooling tower, it would likely be contaminated by airborne dust, sand, pollen, algae and pipe scales. Calcium and magnesium in the water binds these particles onto warm surfaces in heat exchangers, chillers and compressors, reducing the system's cooling capacity. Scale formation reduces the heat transfer rate and increases water pressure drop through the heat exchangers, condensers and pipes. A study by Carrier found that just 0.002" of fouling can increase pumping needs by 20%, adding to energy costs.
Milliken, therefore, wanted to install water filters on both towers to keep contaminants out of the water. And, since downtime was such a costly issue, it didn't want to have to shut down the water supply to replace filter cartridges or put the filter through a backwash cycle. Selecting self-cleaning filters eliminated that problem since they don't interrupt the flow of clean process water during the cleaning.
Keeping It Stainless
The company purchased six Tekleen ABW4-LP filters. This model contains a five square foot stainless steel screen.
"We looked at a number of manufacturers, but one plant requirement is that it had to be all stainless steel," Munday said. "They had the best price for a stainless steel filter since it's more of a standard item for them, but it is a special order item for everyone else."
Tekleen filters are available in a wide variety of sizes and configurations accommodating flows from less than 30 gpm on a 1" line to 12,000 gallons on a 24" line, and with screen mesh as small as 5 microns. Special designs are also available to accommodate harsh chemicals as well as high temperature and high pressure operating conditions.
In this design, the dirty water flows in around a coarse prefilter which removes larger particles. It then flows to the other end of the filter housing, passing from the inside to the outside of the final filter and then through the outlet. Over time, particles removed from the water clog the filter, reducing flow and pressure. At the outlet is an adjustable pressure differential switch, typically set at 5-7 psi. When that threshold is crossed, it opens the small flush valve which initiates a cleaning procedure.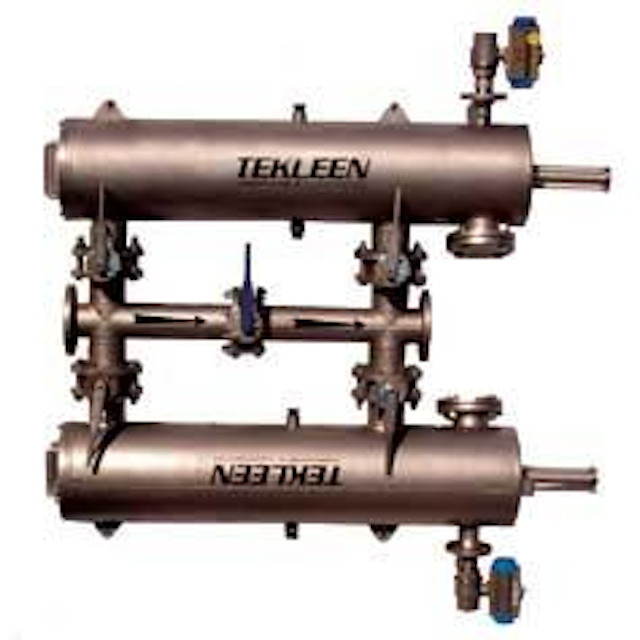 Click here to enlarge image
Rather than requiring the full water flow to initiate a complete backwash, these filters have a number of small cleaning nozzles arrayed around a central shaft. Opening the flush valve lowers the water pressure within the cleaning unit and the nozzles vacuum the dirt from the inside surface of the filter screen. A hydraulic motor and piston cause the nozzles to rotate and move axially in order to cover the entire screen surface. Then, the flush valve closes and the cleaning mechanism returns to its starting position. Depending on the size of the model, the entire procedure lasts 5-10 seconds. And, since it's only cleaning a small portion of the filter screen at any given moment, water filtration continues uninterrupted. Other than a small control voltage for a differential pressure sensor and to actuate the flush valve, all motions involved in cleaning the filter are performed using the water pressure.
Two of these units had 10-um screens installed inline to filter 100% of the water for one cooling tower. The rest came with 25-um screens and were installed for side stream filtration on the other cooling tower.
"The inline one just took a couple fittings and some valves to install," Munday said. "The side stream filters required a pump and some associated piping to put in, but it was still a fairly simple installation."
Conclusion
Ensuring a steady supply of clean water is essential for reducing equipment maintenance costs, eliminating unplanned shutdowns and upgrading product quality. And, as Milliken's experience shows, improving water quality doesn't have to be an expensive or arduous undertaking. In fact, it cuts costs and frees up staff time for other essential maintenance activities. The key is selecting self-cleaning filters made of the right materials and which don't interrupt the water flow during the cleaning process.
About the Author:
Drew Robb is a freelance writer specializing in engineering issues. For more information on this article, contact Automatic Filters Inc. at 310-839-2828 or visit its website, www.tekleen.com.