Key Steps to Erosion, Sediment Control for Oil, Gas Construction
According to 2011 news reports, the No. 1 penalty in oil and gas operations is not inappropriate or unsafe fracking operations - it is erosion and sedimentation violations.
May 1st, 2012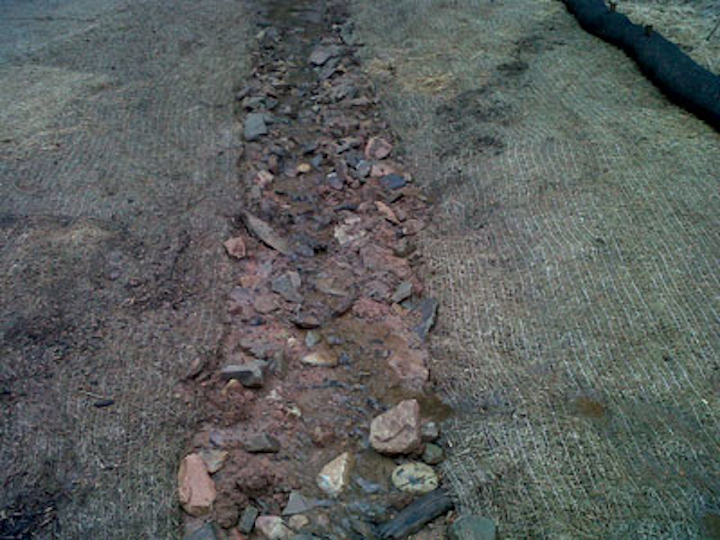 By Joe Crea
According to 2011 news reports, the No. 1 penalty in oil and gas operations is not inappropriate or unsafe fracking operations - it is erosion and sedimentation violations. Erosion and sedimentation violations that affect water quality can compromise regulatory compliance and overall project costs, leading to the suspension or total shutdown of projects as well as substantial fines to the owner.
For instance, the Pennsylvania Department of Environmental Protection recently fined a natural gas production company $565,000 in civil penalties and reimbursement costs, in part because of erosion and sediment control violations and wetland encroachment violations.
Yet, with a little time management and preparation in the early phases of a project, owners and operators can avoid costly mitigation and possible litigation in the wake of environmental mishaps.
Environmental Guidelines
Proper planning entails site-specific knowledge and understanding of both on-site and off-site topography, precipitation and soil types. The onsite and offsite information provides critical details for proper design of construction and post-construction best management practices (BMPs) and ultimately helps achieve and sustain final stabilization.
Environmental protection agencies typically outline these requirements. For instance, the current Pennsylvania Erosion and Sediment Control General Permit-1 (ESCGP-1) requires operators to:
• Develop an erosion and sedimentation control (E&SC) plan that meets the standards and specifications such as those identified in the Pennsylvania Department of Environmental Protection's (DEP) Erosion and Sediment Control Best Management Practices (BMP) Manual.
• Develop a site restoration plan with post-construction BMPs.
• Satisfy the terms and conditions of the general permit and regulations.
• Meet guidelines such as those in the DEP's Oil and Gas Operators Manual and the Erosion and Sediment Pollution Control Program Manual.
• Apply BMPs consistently with the site characteristics and meet applicable performance and water resource protection requirements.
Beyond this information, there are a few key steps to consider for properly developing and implementing erosion and sediment control plans, from initial planning through site closure on any oil and gas industry project.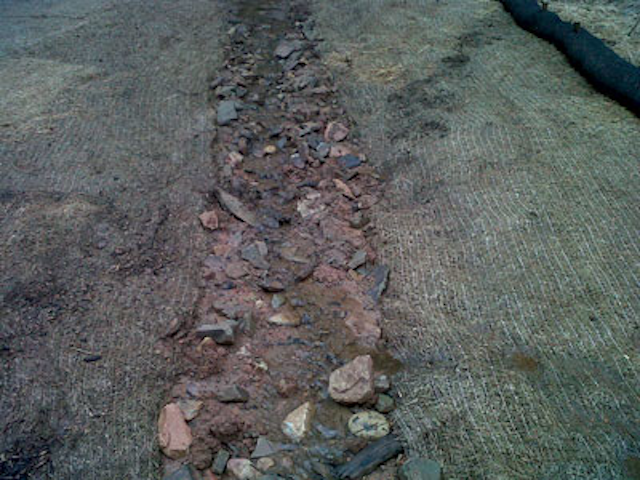 Erosion control blankets are installed on the side slopes, allowing clean water to flow away from disturbed areas.
Site Assessment, Restoration
An effective E&SC plan begins with a site assessment or walk-through of the proposed project to identify potential areas of concern. During this walk-through, the project engineer and/or environmental specialist takes note of the topography, soil conditions, up-slope and down-slope drainage patterns as well as the existing off-site/on-site ground cover.
While onsite, it's important to take notice of receiving watercourses and water bodies that may be affected by erosion and sediment, and identify potential permanent off-site run-off concerns and downstream stability - especially those conditions where site run-off may affect a special protection watershed. Effective erosion and sediment controls such as non-discharge Antidegradation Best Available Control Technologies (ABACT) must be considered in these situations.
ABACTs are an environmentally sound and cost-effective pollution prevention and stormwater reuse BMP. Individually or collectively, these systems can manage the net change in stormwater volume, rate and quality from storm events up to and including a two-year/24-hour storm.
Beyond potential sedimentation concerns, an effective E&SC plan should also consider proper outfall protection. Off-site accelerated erosion can occur in areas such as diversion channel outfalls, pipe outfalls and even discharge points from waterbars.
Waterbars are a common slope BMP approach on linear pipeline projects. In some circumstances, where slopes are extremely long and steep with poor vegetative conditions, waterbars alone may not be effective in minimizing erosion and resulting sedimentation. In this instance, additional BMPs may be necessary. Some situations may warrant the need to implement a sediment trap at the bottom of the slope. If a sediment trap is needed, note the condition up front in the plan so that additional temporary workspace can be acquired in order to accommodate a properly sized sediment trap. Temporary work space may also be needed in dewatering activities to accommodate respective dewatering BMPs.
Another critical ingredient for long-term erosion and sediment control is successful site restoration. A construction restoration sequence should address the segregation and proper storage of topsoil for future use. The stabilization notes within the E&SC plan should also specify proper application of agronomic amendments, seed and mulch cover. The plan should also note maintenance for long-term vegetative establishment and proper functioning of applicable post-construction BMPs.
Once the site information is gathered, coordinate the development of a quality E&SC plan with the project designer. Finally, prepare to address concerns of government and landowner stakeholders and the downstream audience. Address stakeholder concerns early to foster ongoing support and cooperation throughout the project life cycle.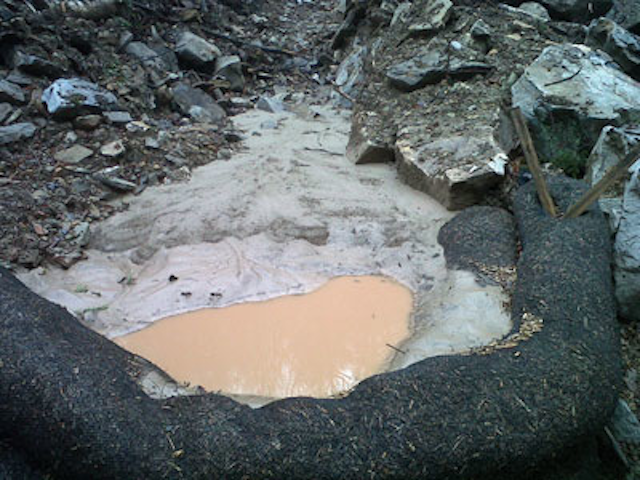 A compost filter sock is used as a sediment trap and must be cleaned before the next rain event.
Implement, Maintain
An E&SC plan should be dynamic. Conditions will arise that warrant on-site amendments, and it is important to revise the plan as necessary. As a guideline, inspect the project site weekly and after every precipitation event. During these inspections, take note of properly functioning BMPs that might need some maintenance, and of course, replace improperly functioning BMPs as applicable to the given site conditions.
Before dismissing a given BMP on a universal basis, review the following:
• Was the E&SC plan properly designed?
• Was the E&SC plan properly installed?
• Was the E&SC plan properly maintained?
If the answer to any of the aforementioned questions was yes, the BMP itself is not the problem.
Finally, document every inspection and store in a place that is readily accessible to DEP inspectors if requested. A comprehensive E&SC plan with quality inspections will help operators and contractors recover oil and gas with minimal environmental interference in the most practical and cost-effective manner.
E&SC Resources
Certified Inspector in Sediment and Erosion Control (CISEC) (www.cisecinc.org)
Certified Professional in Erosion and Sediment Control (CPESC) (www.cpesc.org)
Certified Professional in Storm Water Quality (CPSWQ) (www.cpswq.org)
International Erosion Control Association (IECA) (www.ieca.org)
---
About the Author: Joe Crea, CPESC, CPSWQ, CISEC, is an environmental compliance specialist for Kleinfelder based in Exton, Pa. He can be reached at JCrea@kleinfelder.com. Crea has 18 years of experience in environmental compliance in 13 states. He gained significant oil and gas stormwater experience working on the West Slopes and Great Plains of Colorado (Piceance and DJ Basins, respectively). He has also conducted more than 100 training events and currently serves as vice president on the CISEC Board of Directors and on the Editorial Advisory Board for the Erosion Control Journal.