New Products
All-Flo Pump Co. announces its All-Safe™ DRM (Diaphragm Rupture Management) product.
Jan 1st, 2012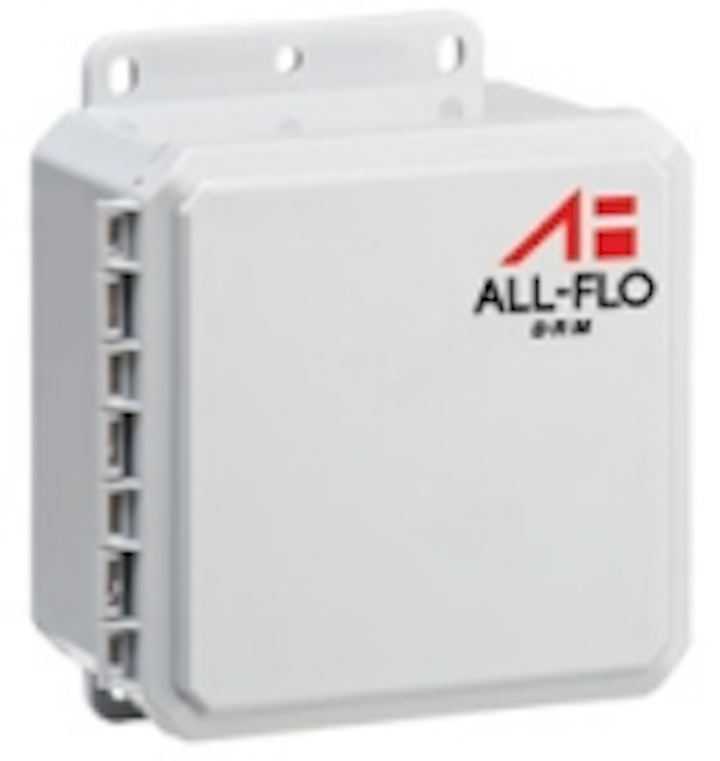 Diaphragm pumps
All-Flo Pump Co. announces its All-Safe™ DRM (Diaphragm Rupture Management) product. Available globally, the high-tech product instantly alerts pump operators in the event of a diaphragm rupture. The system provides two layers of protection; an "early warning sensor," installed between the PTFE overlay and the backup diaphragm, detects a leak if the PTFE overlay becomes compromised. The sensor alerts pump operators of the leak before the backup diaphragm is compromised and hazardous fluid enters the air section.
All-Flo Pump Co.
www.all-flo.com
Cut, bevel machine
Rapid Cut & Bevel™ Machines from Reed safely and efficiently cut and bevel up to 24" nominal (610 mm actual) PVC or PE pipe in one pass. Faster than manual cutters and safer than chop saws, these lightweight, pneumatic powered machines are portable to the jobsite and are used aboveground, in water or in trenches. It takes about one minute per pipe diameter inch for set-up, cut and bevel.
Reed Manufacturing Co.
www.reedmfgco.com
Pump curves
Pump-Flo Solutions has announced a new software product, P-Library, which allows anyone to develop pump curves for any centrifugal pump. The program creates a file that can be used in the Pump-Flo selection and Pipe-Flo system design software. This allows system designers or pump specifiers to graph a pump using a spreadsheet or digitizing tablet and save the file as a digital pump catalog file. Users will find this program to be particularly time saving because building a pump catalog in P-Library is faster, allows for multiple impeller diameters to be included and is saved in a PMP file format.
Engineered Software Inc.
www.eng-software.com
Pipe restraints
The Ford Uni-Flange® 1500R pipe restraint is rated to 150 psi for UL and 200 psi for FM. The UFR1500R is the rapid installation addition to the 1500 line of restraints. It requires fewer bolts to complete an installation. The restraint features specially designed ring segments that provide positive thrust restraint. The segments are activated by Auto-Tork bolts with heads that twist off at the required torque offering a visual indicator of correct installation. A safety stop is built into the bolt and gland casting, ensuring the bolts can never be over tightened.
Ford Meter Box Co.
www.fordmeterbox.com
Water level meter
Solinst Canada is offering a new version of the Model 101 Water Level Meter featuring the company's recently developed laser marked flat tape and a submersible probe. The flat tape is made of durable PVDF with laser markings every 1/100 ft. or each millimeter, certified traceable to National Standards. The thick dog bone design prevents adherence to wet surfaces. The tape also has increased abrasion resistance, tensile strength, and electrical efficiency with the use of six strands of copper coated stainless steel and 13 strands of stainless steel in each conductor.
Solinst Canada Ltd.
www.solinst.com
Remediation
Solvay Chemicals has signed a contract with Carus Corp. to market a new soil and groundwater remediation technology that uses Solvay's IXPER® 75C Calcium Peroxide. The new Drillox Technology has proven to be very powerful at the in-situ degradation of contaminants. The basis of the patent pending technology is the slow release of hydrogen peroxide. In the presence of a suitable catalyst, this property can be used to perform Modified Fenton's chemistry. The technology can be implemented either by the traditional direct push method, or through injection wells already used for remediation.
Solvay Chemicals
www.solvaychemicals.com
Sludge pumps
Xylem has added three new sludge pumps to its flagship Flygt 2600 drainage range. The company, which was spun off from ITT Corp. last fall, specifically designed these versatile pumps (models 2620.280, 2630.280, and 2640.280) to meet customer demands for multi-purpose drainage pumps that can serve the evolving needs of the mining, tunneling, municipal, industrial, and construction markets. Available for rent or purchase the pumps have new features which are easy to install and service, reducing the total cost of ownership. The portable Flygt sludge 2600 pumps have a range of 1.5 to 5.6 kW for 50 Hz countries and 2.4 - 8.9 hp for 60 Hz countries.
Xylem Inc.
www.flygt.com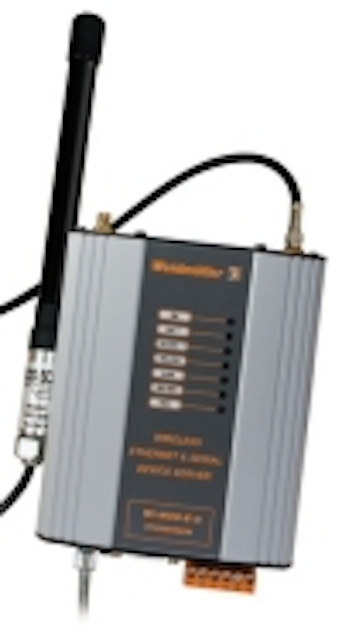 Ethernet modem
Weidmuller's new Industrial Ethernet device (2.4Ghz, Wi-Fi) can be dropped into any existing network. It is suited for wireless connections in process/automation applications connecting to PLCs, DCS/SCADA, data loggers or field instruments with an RS232/485 or Ethernet port/interface. Built around the 802.11b/g standard, the new WI-MOD-E-G wireless Ethernet modem has a throughput speed of up to 108Mbps and features 400mW of transmit power.
Weidmuller
www.weidmuller.com
Portable flow meter
Dynasonics, a division of Racine Federated, has launched the new DXN portable ultrasonic flow meter. It is built on hybrid metering technology that automatically switches between transit time and Doppler modes as needed. The meter also includes a 7" full color touch-screen, the ability to store site-specific settings using plain text, and an advanced software interface that adapts to the needs of customers.
Dynasonics
www.dynasonics.com