Onsite Hypochlorite Generation Solving Oil & Gas Industry Biofouling Issues
Producers of the second largest oil field off Canada's North Atlantic Coast, the Terra Nova field, turned to USFilter, part of Siemens Water Technologies...
Mar 1st, 2006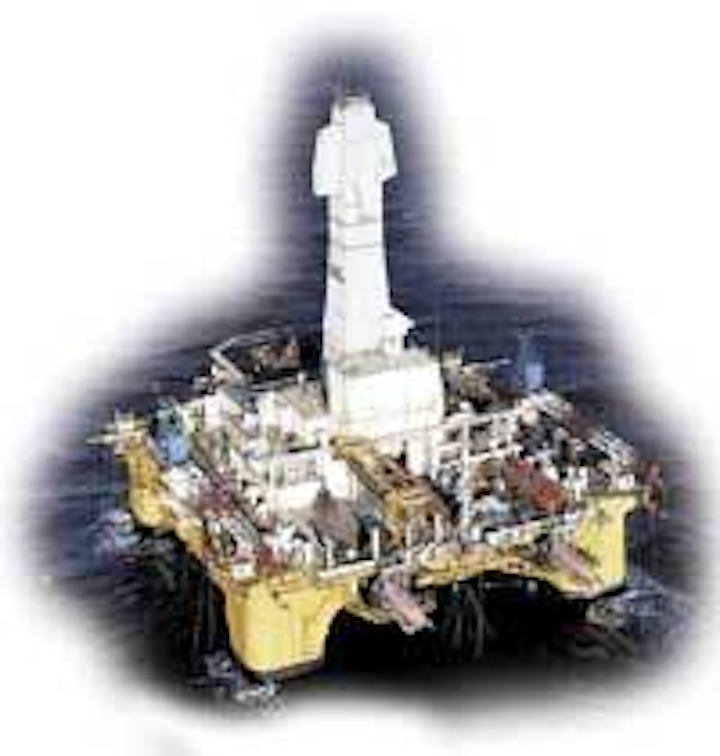 Henry Goodrich Mobile Offshore Drilling Unit drills wells for Terra Nova.
Click here to enlarge image
Producers of the second largest oil field off Canada's North Atlantic Coast, the Terra Nova field, turned to USFilter, part of Siemens Water Technologies, for an onsite chlorine generation system to reduce fouling of water used in process cooling systems of a floating production storage and offloading (FPSO) vessel.
Biological fouling is a frequent problem whenever seawater or freshwater is used as cooling or process water for processes such as re-gasification of liquefied natural gas (LNG), or in refineries, petrochemical plants, oil platforms, desalination and power plants. Biofouling reduces efficiency and safety of these processes by restricting cooling water flow in pipe runs and reducing heat transfer across heat exchangers and condensers. If it becomes severe enough, the plant will need to be shut down while the problem is remediated.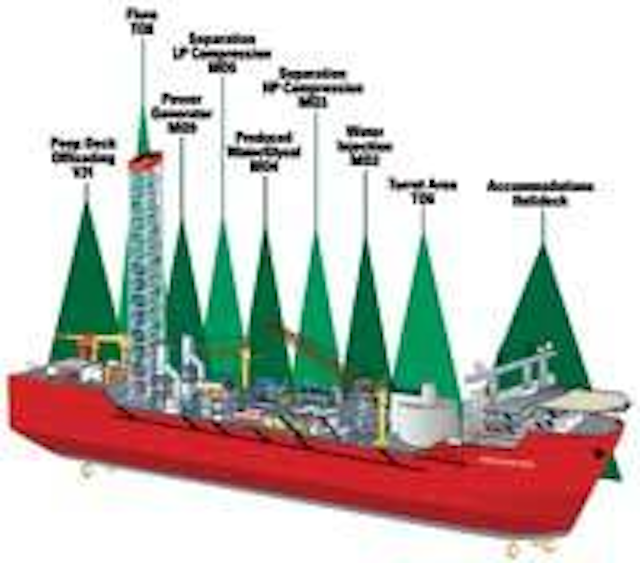 Layout of the Terra Nova FPSO topsides modules.
Click here to enlarge image
Shellfish, mollusks, algae and slime weed are the usual culprits that restrict cooling water flow to the heat exchanger's surface. These marine organisms can also increase corrosion by restricting oxygen diffusion and causing destructive turbulences at inlets, which can significantly shorten affected equipment's operational life. Moreover, the cooling water circuit's artificial habitat is free of natural predators and has ideal temperatures and oxygen conditions, all of which can dramatically accelerate fouling growth.
LNG import terminals often use a tremendous amount of water when heating and re-gasifying the liquid for transporting the gas to users such as power and chemical plants or for distribution to residential consumers. Offshore drilling rigs use seawater extensively for a variety of applications such as lift water for fire mains, water injection and process water. Marine organism fouling can adversely affect these applications which, if left untreated, can severely restrict and eventually block flow.
Biofouling Solutions
Chemical feed, particularly a strong oxidant like chlorine, is usually used to control these biological organisms. Although a gas, chlorine is the least expensive option; however, logistics, storage space and safety constraints limit feasibility of its use for oil and gas applications. Commercial sodium hypochlorite is an alternate solution but, much like chlorine, it too has logistic and storage tank limitations as well as high associated transportation costs.
Onsite generated sodium hypochlorite has been effectively used in the oil and gas industry for years. These systems provide a more cost-effective, safer and reliable alternative to the dangers and adverse costs of purchasing and handling bulk chemicals. Onsite generation of hypochlorite is perhaps the most efficient, long-term and viable solution to the oil and gas industry's biofouling woes. The process only requires three essential ingredients - water, salt and electricity - which are, for the most part, readily available.
Electrocatalytic Systems
Through its Electrocatalytic product line, Siemens offers Chloropac® systems that produce a dilute, safe sodium hypochlorite solution onsite for direct injection into the water system. The heart of the system is comprised of either the bipolar concentric tubular electrode (CTE) cell assembly or the bipolar parallel plate electrode (PPE) cell assembly. By passing electric current through the salt water, the system converts the sodium chloride into sodium hypochlorite - the active ingredient required for anti-fouling.
The CTE system is typically used for small to medium production capacities, while the PPE system is typically used for larger production capacities of sodium hypochlorite. Turbulent flow results when liquid passes through the CTE system's tubular design at a high velocity. This self-cleaning prevents calcareous deposits from accumulating and/or precipitating on the electrodes. The CTE design doesn't require acid wash or other electrode cleaning methods, which allows the system to consistently operate at design output capacity and to provide one of the lowest life cycle costs of any system. Its non-corroding titanium cell body can tolerate raised anode potentials and can be designed to operate at normal currents in cold-water seas without risk of accelerated platinum loss.
The Chloropac system is a safe and low maintenance method to produce sodium hypochlorite onsite. When dosed at a level to meet chlorine demand, the sodium hypochlorite will result in a discharge that's environmentally compliant with local regulations. Moreover, it won't harm nearby plant and animal habitats. Environmentally safe, the system produces no heavy metal pollution or hazardous chlorine gas, and it doesn't require chemical storage or disposal. In addition, its power supply provides continuous DC output, which maintains production at a constant, precise level regardless of variable seawater temperature and salinity conditions.
Worldwide, more than 2,000 units are in operation, including for power utility, desalination, petrochemical, offshore, oil and gas and marine applications. These systems have been used extensively on offshore oil and gas exploration drilling rigs, FPSO vessels and LNG/GTL (gas-to-liquid) petrochemical plants. A couple of unique FPSO installations are located in extremely cold waters off the shores of Norway, the United Kingdom and Canada.
Real-Life Application
One of the many cold-water installations was for Petro-Canada's Terra Nova FPSO vessel, in the Jeanne d'Arc Basin 350 km off the Newfoundland coast. Petro-Canada, the operator and 34% interest holder in Terra Nova, discovered the oil field in 1984. The second largest off Canada's East Coast, the Terra Nova oil field is estimated to contain nearly 406 million barrels of oil. Field production began in January 2002.
Terra Nova is the first harsh environment development in North America to use an FPSO vessel. The vessel had to withstand the basin area's extreme cold, high winds and seas as well as seasonal fog, ice and icebergs. So too did the installed Chloropac system that, since 2004, has been treating the vessel's lift water to prevent marine fouling in the process cooling water system.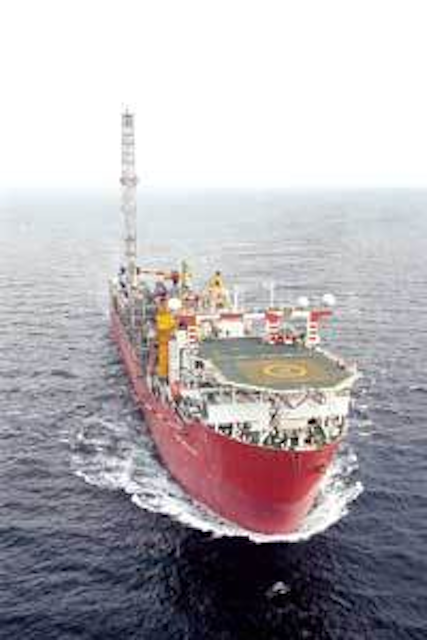 The consortium that owns the Terra Nova Floating Production Storage and Offloading (FPSO) vessel includes Petro-Canada, ExxonMobil Canada, Husky Oil Operations Ltd., Norsk Hydro Canada Oil & Gas Inc., Murphy Oil Co. Ltd., Mosbacher Operating Ltd., and Chevron Canada Resources.
Click here to enlarge image
In addition to being able to handle weather variations, the sodium hypochlorite system had to fit into a footprint of about 85 square feet. Siemens realized a standard skid-mounted system could not fit in this space. As a result, engineers custom-built a compact, dual-level Chloropac system that is 6' 6" deep x 13' long x 13' high, with a generating capacity of 978 lbs./day of sodium hypochlorite.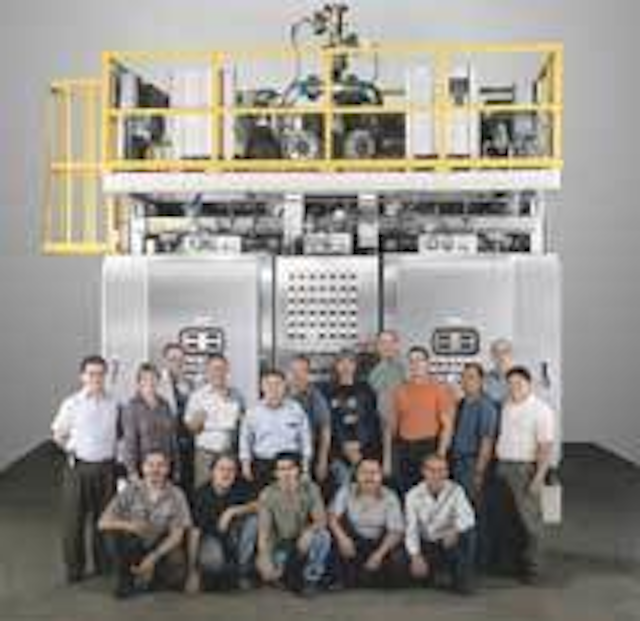 To fit into an 85 sq ft area, Siemens engineers custom built a dual-level 6' 6" deep x 13' long x 13' high Chloropac system skid (above) for the Terra Nova FPSO. Pictured is the design, engineering, production and manufacturing staff.
Click here to enlarge image
"We decided to replace our existing copper ion system with the Chloropac system that would generate hypochlorite solution onsite to successfully stop biofouling," says Jim Piercey, senior facilities engineer of Petro-Canada. "An extra benefit was increased safety for our employees. It was also a more economical solution than shipping in and subsequently storing chemicals."
Siemens engineers further reduced the electrochlorination unit's size and costs by using a hydrocyclone instead of a degassing tank and dosing pumps. And to assuage any other safety fears, the water company provided Terra Nova's operating crew with several start-up and subsequent training programs.
Conclusion
Refineries, petrochemical plants, oil platforms, desalination and power plants that use seawater cooling typically experience biofouling. Biofouling restricts cooling water flow in pipe runs and reduces heat transfer across heat exchangers and condensers. Generating sodium hypochlorite onsite can eliminate this problem as well as the need to store and haul in bulk hypochlorite. Siemens' Chloropac systems are one such onsite generated sodium hypochlorite solution.
Petro-Canada's Terra Nova FPSO is the first North American cold-water Chloropac installation. The Canadian company's satisfaction with the system led Aker Maritime, Kvaerner Corp. to order a Chloropac hypochlorite system for the White Rose FPSO, which is located in the same general vicinity as Terra Nova.
About the Author: Thomas Bayer is Chloropac systems sales director for USFilter, part of the Siemens Industrial Solutions and Services (I&S) Group's Water Technologies division. Thomas joined Siemens two years ago and is based in Union, NJ. During his 20 years in the industry, Thomas has worked in Europe, North and South America, Asia and the Middle East. He has a degree in chemical/mechanical engineering from the University (FH) of Konstanz (Germany) and is a member of the German Engineering Association (VDI).