New products
To pretreat de-oiled produced water, many steam assisted gravity drainage (SAGD) heavy oil recovery facilities have recently shifted...
May 1st, 2006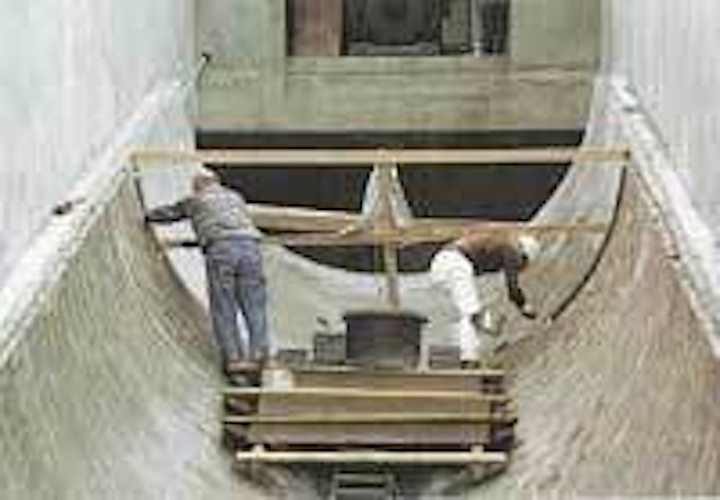 Produced water treatment
To pretreat de-oiled produced water, many steam assisted gravity drainage (SAGD) heavy oil recovery facilities have recently shifted from conventional methods of using warm or hot lime softening, filtration, and weak acid cation (WAC) ion exchange to using falling film vertical tube evaporators to produce steam generator feedwater. This alternative approach to produced water treatment is simpler, more cost-effective, and reliable. It also reduces the size and complexity of the steam generation system as other de-oiling steps are eliminated. GE Water & Process Technologies, Trevose, PA, 215-355-3300, www.gewater.com
Trough tile linings
Click here to enlarge image
Abresist custom-engineered tile linings extend the life of screw pump troughs handling wastewater, especially from combined systems. Tile harder than the sand and other solids entrained in sewage and stormwater resist the wear they cause, maintaining the proper gap between the screw and trough, keeping the lifting capacity constant. Installed on steel or concrete, even designed to account for the bend in the screw. Abresist Corp., Urbana, IN, 800-348-0717, www.abresist.com
Liquid chromatography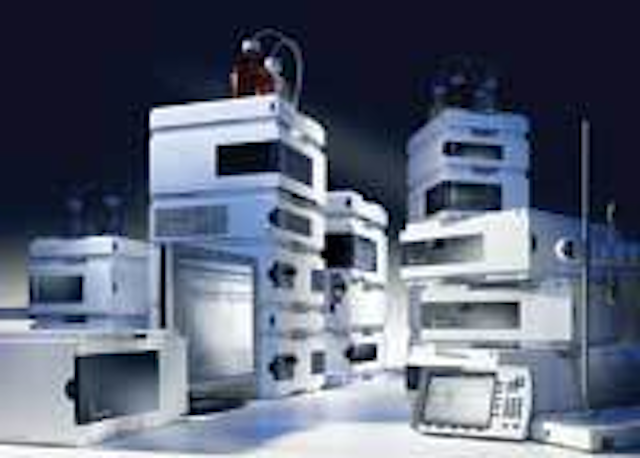 Click here to enlarge image
Successor to its 1100 LC unit, the Agilent 1200 Series LC liquid chromatography system is one of the world's fastest, most comprehensive LC systems. With over 60 instrument modules, it can be configured for all major LC applications, including a new rapid-resolution format as well as prep-scale, standard, narrow, capillary, nanoflow and Agilent's latest chip-based liquid chromatography. HPLC-Chips are available to apply this technology for both small and large molecule work, with chromatographic separation or just for infusion of samples. Agilent Technologies, Palo Alto, CA, 408-553-7205, www.agilent.com
Brushless pump system
Click here to enlarge image
The Masterflex® I/P Process Pump System from Barnant features a 1/3-hp PWM brushless motor drive, roller and ball bearing construction and a non-chip epoxy-coated IP55 washdown steel enclosure, making it well-suited for 24-hour continuous-duty operations under real-world conditions. This powerful drive in a small package is ideal for limited-space process applications light enough to carry with one hand, but powerful enough to drive two pump heads with any tubing formulation. Barnant Company, Barrington, IL, 800-637-3739 or www.barnant.com
Cooling products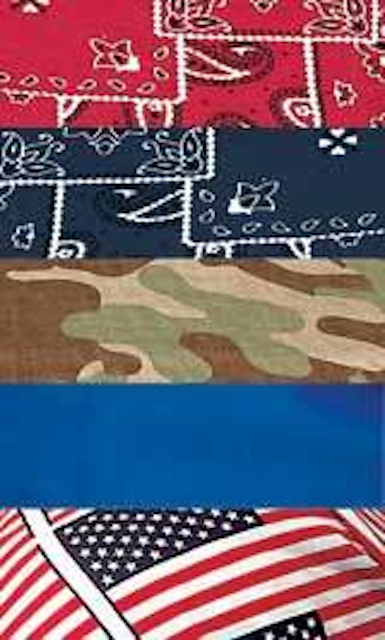 Click here to enlarge image
Allegro Industries now offers a complete line of Cooling Products designed to protect and provide comfort to workers who must function in environments with excessive heat. These products feature a unique non-toxic polymer fabric or crystals that are activated by water, allowing this composite to absorb and lock in water to cool from 24-72 hours. All are reusable by soaking in cold water and can be refrigerated for an extended cooling effect.Allegro Industries, Garden Grove, CA, 800-622-3530 or www.allegrosafety.com
Process mixers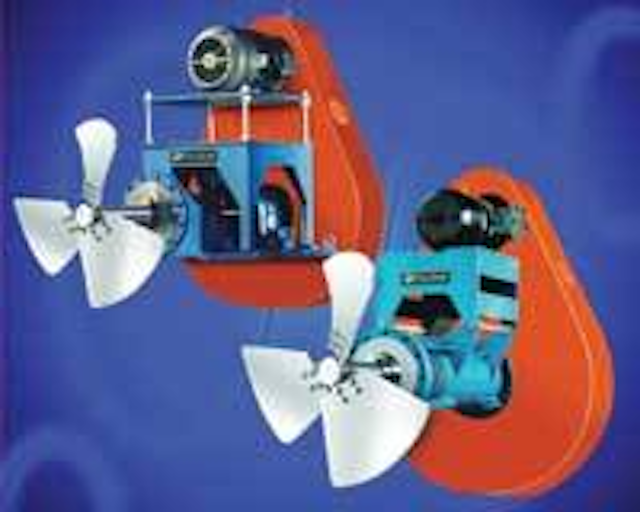 Click here to enlarge image
The Prochem PB and MD side-entering agitators from Chemineer provide high quality performance in a variety of demanding applications such as pulp and paper, FGD, petroleum blending and storage. The agitator shafts are designed to handle up to 10 times the normal operating bending load at full torque. The Ultra VX drive belts and sheaves provide economical power transmission with effective shock-absorbing capability. Chemineer Inc., Dayton, OH, 937-454-3200, www.chemineer.com
LAN controller security

Click here to enlarge image
Information security services specialist, igxglobal is using ConSentry Network's Secure LAN Controller® in initial implementation of its new managed LAN security services with HydroQual, an ENR 200 Environmental engineering and consulting firm. HydroQual evaluates the presence and impact of pollutants in natural water systems, assesses and optimizes water and wastewater treatment processes, and provides environmental hydrodynamics and sediment transport modeling. ConSentry Networks Inc., Milpitas, CA, 408-956-2100, www.consentry.com
Industrial process routers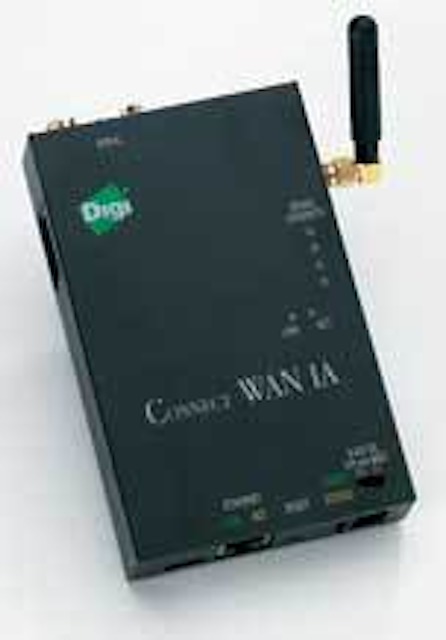 Click here to enlarge image
Digi International has introduced Digi Connect WAN IA, a new wireless WAN cellular/gateway router with features specifically tailored for industrial automation applications. It's the newest member of its Digi Connect WAN family of wireless WAN routers. This unit provides secure cellular GSM or CDMA connections for reliable primary and backup network connectivity to industrial automation devices such as SCADA devices, programmable logic controllers (PLCs) and remote terminal units (RTUs). Digi International, Minneapolis, MN, 877-912-3444, www.digi.com
Nitrate removal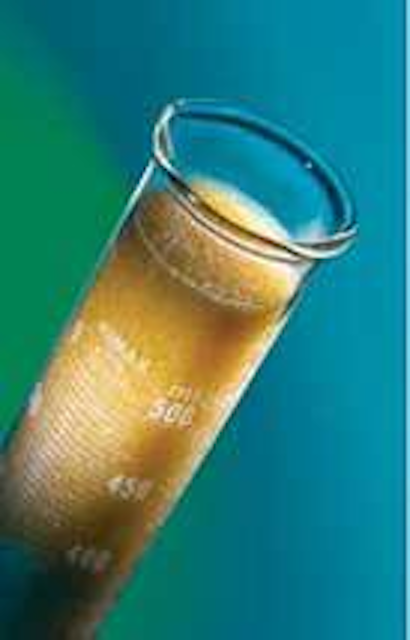 Click here to enlarge image
DOWEXTM NSR-1 resin, a triethylamine-based nitrate selective resin from Dow Liquid Separations used for the removal of nitrate from drinking water, is currently helping U.S. facilities meet the EPA's MCL value for nitrate of 10 ppm for public water systems. These resins offer better selectivity for nitrates over other anions like sulfates and chlorides, allowing for more effective nitrate removal. Hence, it's more suitable for cases in which the ratio of sulfate to nitrate is moderate to high, as compared to type I or type II strong base anion resins. It's also certified under NSF/ANSI Standard 61 for all materials contact drinking water. The Dow Chemical Company, Midland, MI, 800-447-4369, www.dowex.com
Remote oil & gas automation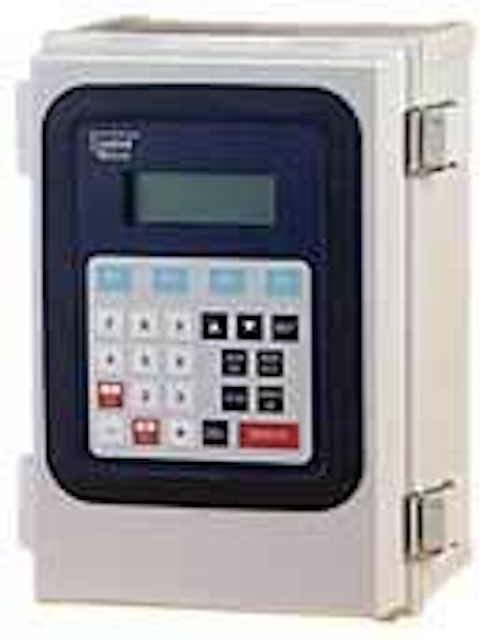 Click here to enlarge image
Expanding its recently acquired Bristol ControlWave® remote automation technology, Emerson Process Management introduces the ControlWave ExpressPAC, a highly integrated pre-engineered package solution that combines a new RTU with a variety of options commonly required in SCADA applications. This hybrid system integrating the best technologies from PLC, RTU and automation architecture is well suited to remote applications in the energy, water, and wastewater industries, including small I/O point applications such as water pump, tank, well and reservoir control, wastewater lift station and stormwater monitoring, and natural gas well, storage and plunger lift control. Emerson Process Management, Watertown, CT, 860-945-2200, www.bristolbabcock.com
Water level logger

Click here to enlarge image
Ideal for recording water levels and temperatures in wells, streams, lakes, wetlands and tidal areas, the Onset® HOBO Water Level Logger is a high-accuracy, pressure-based water level recording device. It operates as a stand-alone unit and doesn't rely on cumbersome vent tubes and desiccant packs for operation, simplifying deployment and eliminating many maintenance issues. Forestry Suppliers Inc., Jackson, MS, 800-360-7788, www.forestry-suppliers.com
Area-velocity flowmeter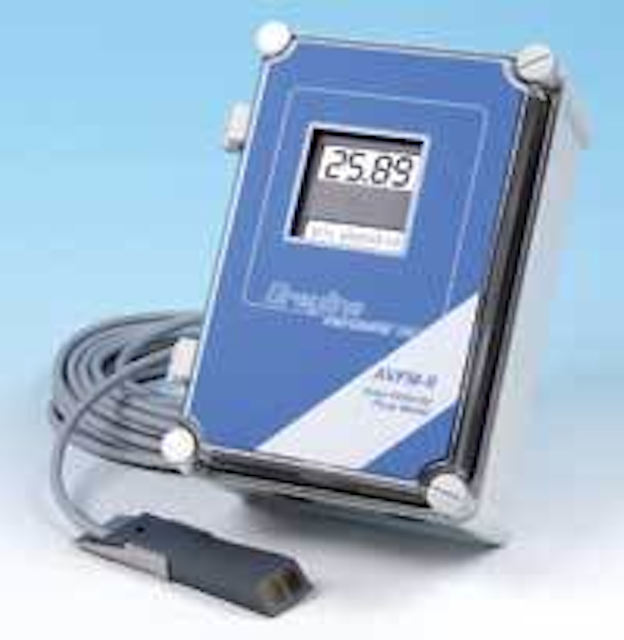 Click here to enlarge image
Monitor flow through open channels, partially full sewer pipes and surcharged pipes without a flume or weir. This new flowmeter, the Greyline AVFM-II, is designed for municipal stormwater, combined effluent, raw sewage and irrigation water. It uses a submerged ultrasonic sensor to continuously measure both velocity and level in the channel. Greyline Instruments Inc., Massena, NY, 888-473-9546, www.greyline.com.
Sanitary lighting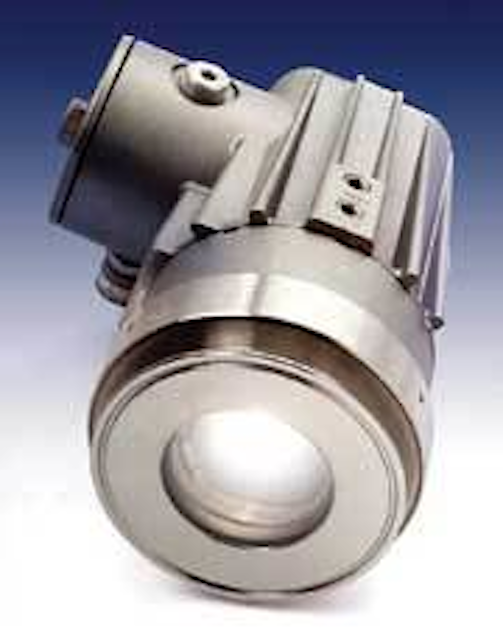 Click here to enlarge image
Designed to provide illumination for interiors of tanks, vessels, mixers, pipelines and visual flow indicators, the USL 08-EX lights from L.J. Star Inc. provide 35 to 100 watts in a variety of sanitary applications. They're quipped with a Metaglas® prestressed window and a MetaClamp® connection. Even at the most extreme temperatures (as high as 536°F) or in overpressure situations, sudden, total failure essentially never occurs. Also, the Metaglas fused glass/steel transition presents an uninterrupted surface with no crevice to trap bacteria. L.J. Star Inc., Twinsburg, OH, 330-405-3040, www.ljstar.com
Chemical pump seal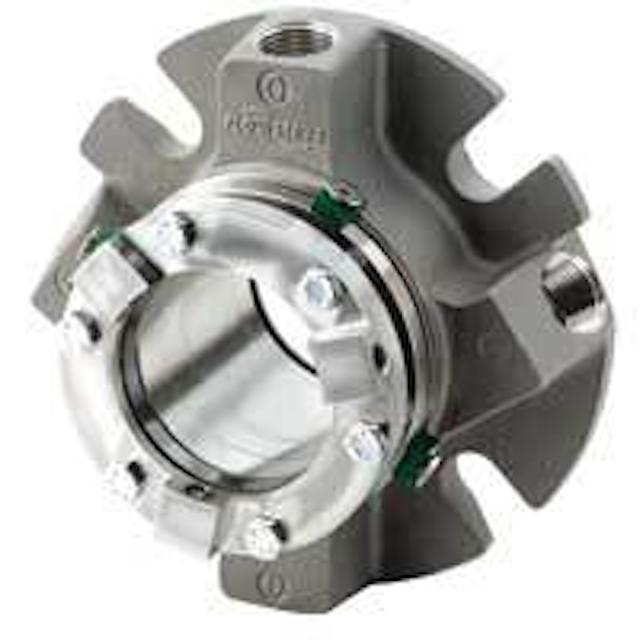 Click here to enlarge image
The Flowserve GCX single mechanical cartridge seal, designed for ANSI and DIN pump services where the pumps and seals are required to operate in multiple chemical environments without chemical compatibility change-outs. The seal is ideally suited for intermediate and batch chemical processes in short-run chemical plants and in multiple campaign specialty chemical and pharmaceutical plants using solvents and steam for decontamination. Built with durable metals to withstand corrosion and harsh chemical conditions, it features an alloy C-276 bellows, 316 stainless steel components, and flexible graphite foil secondary seals. The metallurgical components in the GCX also enable it to operate in a wider temperature range than elastomer-based seals. Flowserve Corp., Dallas, TX, 972-443-6644, www.flowserve.com
Boiler sensor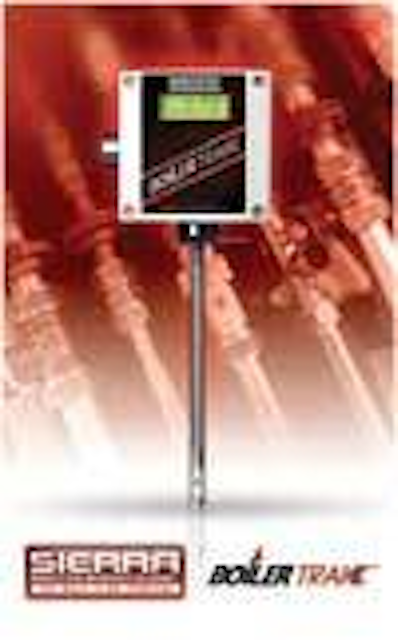 Click here to enlarge image
Suitable for pipes or ducts from 1.25" to 6", the new Boiler-TrakTM Smart Insertion mass flow meter is a boiler and heater efficiency solution for compliance to new regulations for burning natural gas in commercial boiler applications. Easy to install or retrofit into existing piping, the unit provides mass flow rate and totalized flow (200 millisecond response to flow rate changes) of the natural gas burned, integrating functions of flow-range adjustment, meter validation and diagnostics in a probe-mounted NEMA 4X (IP65) housing. It includes an optical/galvanic isolated 4-20 mA output, two alarm outputs and one contact input for range or gas selection. The programmable microprocessor-based transmitter is easily configured via RS 232 and Sierra's Smart Interface™ software, or with three push-buttons on the device. Sierra Instruments, Monterey, CA, 800-866-0200, www.sierrainstruments.com
Fiber-reinforced coating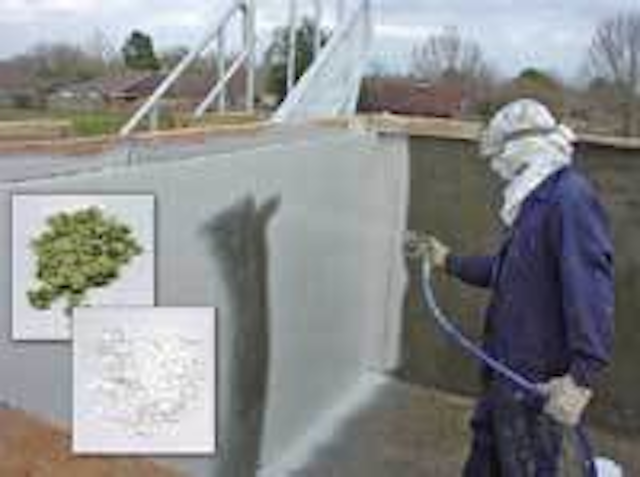 Click here to enlarge image
Tnemec's new Series 436 Perma-Shield FR fiber-reinforced modified polyamine epoxy shares the resin technology found in its Series 434 Perma-Shield H2STM and Series 435 Perma-GlazeTM coating formulations for exceptional resistance to H2S gas permeation and to microbiologically induced corrosion (MIC) found in severe wastewater systems. Fiber reinforcement adds flexural and tensile, making it ideal to use in wastewater systems where high abrasion and impact resistance are needed, such as sewer interceptors and wet wells, influent channels, grit chambers, and other headworks facilities, to name a few. Tnemec Company Inc., Kansas City, MO, 800-863-6321, www.tnemec.com
Line locator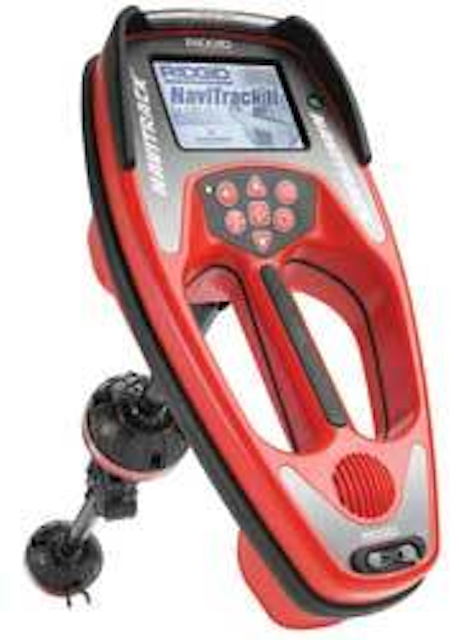 Click here to enlarge image
The newest line locator from Ridge Tool, the NaviTrack IITM replaces the original NaviTrack and offers several improvements. It features superior accuracy, making it even faster and easier for locating pipe inspection cameras, remote transmitters, underground pipes, cables and utility lines. However the unit is held or direction the user approaches the target, the locator guides even the most inexperienced operators to the exact location. Ridge Tool Company, Elyria, OH, 800-769-7743, www.ridgid.com
Co-dispenser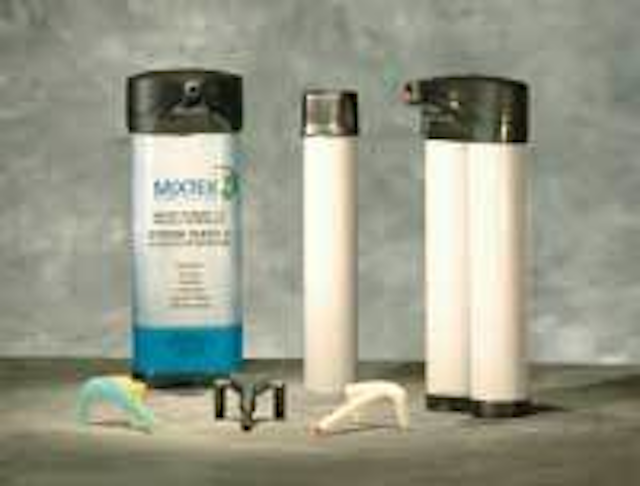 Click here to enlarge image
Mixtek has introduced its new generation Series E Advancec Co-Dispensing System, featuring Cushion ToleranceTM to consistently dispense product accurately regardless of can-to-can dimensional variations. Ergonomically engineered tilt-touch actuation, it has flexibility to accommodate components that must be combined in other than a 1:1 ratio and versatility to deliver product as a homogeneous stream, spray or as separate, side-by-side streams. Mixtek System LLC, New York, NY, 212-247-1800, www.mixtek.com
Humidity transmitters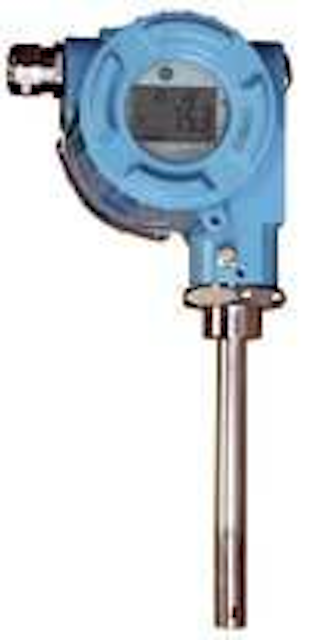 Click here to enlarge image
Available with intrinsic safety or explosion-proof certification, the updated DewPro line of moisture and humidity transmitters from GE Sensing offer compact, rugged, loop-powered technology to measure either dew point temperature or relative humidity. Dew point temperature is measured from -90 to 10°C with a proven planar aluminum oxide moisture sensor suitable for tough industrial applications due to its calibration stability. Relative humidity is measured from 0-100% in process temperatures up to 150°C using a polymer-based capacitive sensor immune to the condensation upsets common in high humidity applications. These flow-through and insertion transmitters are designed for simple installation and two-wire connectivity.GE Sensing, Billerica, MA, 800-833-9438, www.gesensing.com
Network management
Click here to enlarge image
The new Event MonitorTM Trigger System from Hach Company makes sense of reams of remote water quality measurements by 'learning' sensor measurement combinations related to network events for practical, real-time water distribution system monitoring. Constantly comparing measurements against those in its internal plant event library, the system can immediately alert operators as they recur and help system personnel manage normal or unpredicted changes in their water network. Hach Company, Loveland, CO, 800-604-3493, www.hach.com
Pharmaceutical water treatment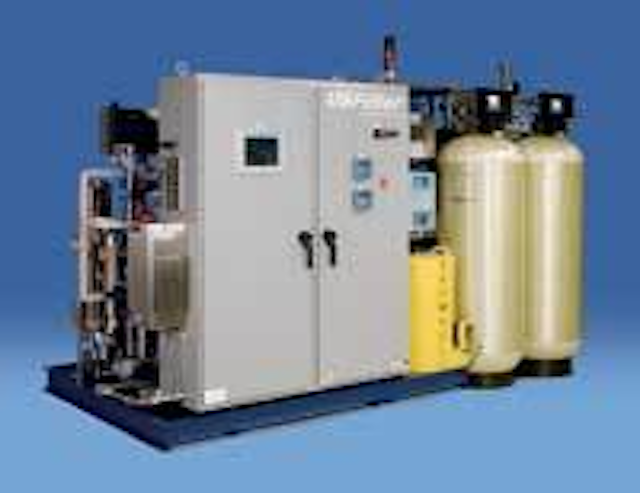 Click here to enlarge image
Siemens Water Technologies introduces the Apex system, specially designed for pharmaceutical and other high-purity applications. It's a modular, totally integrated and automated purified water system on a single, compact skid. The system's comprehensive validation documentation package makes validation much simpler. Other features include: a panel-mounted, color touch screen, human machine interface; push-button automatic hot-water sanitization that reduces operating costs and saves water; cGMP design and construction for optimum quality; and seven flexible size configurations with nominal flow rates from two to 25 gallons per minute (7.6 to 95 liters per minute). Siemens Water Technologies, Warrendale, PA, 866-926-8420, www.siemens.com/water
Water sampling website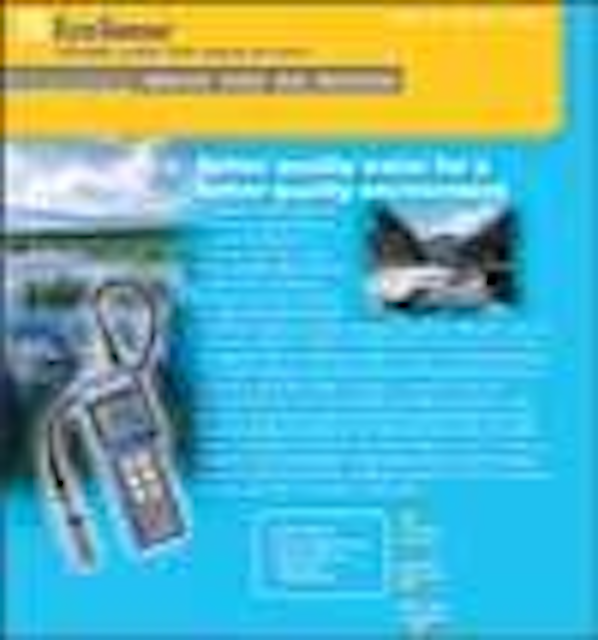 Click here to enlarge image
For simple, straightforward spot sampling capabilities - in surface water, drinking water and wastewater applications - YSI introduces a new website for its EcoSense family of products. www.ysiecosense.com provides a wide array of information about features, specifications and application stories. Side-by-side comparison charts and interactive features such as request-a-quote and ask-a-question forms are also available on the site. YSI Inc., Yellow Springs, OH, 937-767-7241, www.ysiecosense.com