New Products
Compilation of new products for the industrial water market
Dec 31st, 2013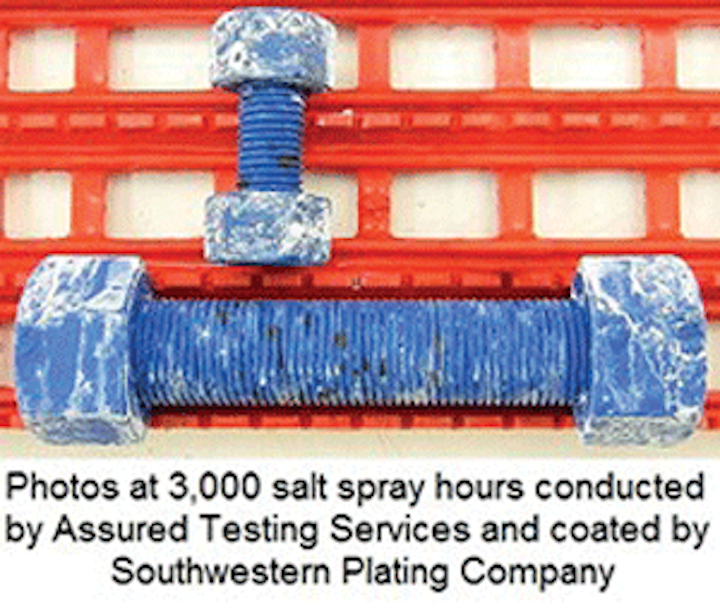 Corrosion coatings
Intech Services is releasing a new DuPont™ Teflon® industrial coating that is the first truly water-based, low-VOC and easy-to-use coating with a corrosion resistance of up to 3,000 salt spray hours. Specifically engineered for coating off shore, chemical processing and water treatment fasteners, the new coating is targeted towards applications requiring outstanding corrosion resistance, anti-galling and dry lubrication. These water-based coatings can be applied to thicknesses of 1-4.5 mils, and curing temperatures of +450˚F improve the process with less bake time and energy required. Coatings are available in colors including blue and red, with yellow and black colors being added in the near future.
Intech Services
www.intechservices.com
Cadmium sensor
ANDalyze bolsters its DNA-based sensor/fluorimeter platform solution for simplifying the on-site testing and analysis of water for heavy metal contamination with the addition of a cadmium (Cd) sensor. This expands its capabilities which already include sensors for lead, copper, mercury, uranium, and zinc. The product, which requires no special knowledge of chemistry to use effectively and produces no hazardous chemical waste, is used in a variety of water quality applications, such as the testing of mining runoff water, groundwater, surface water, industrial wastewaters and sea water. The ANDalyze solution consists of consumable sensors in combination with the ANDalyze Fluorimeter (which can interpret both existing sensors and all future sensors).
ANDalyze Inc.
www.andalyze.com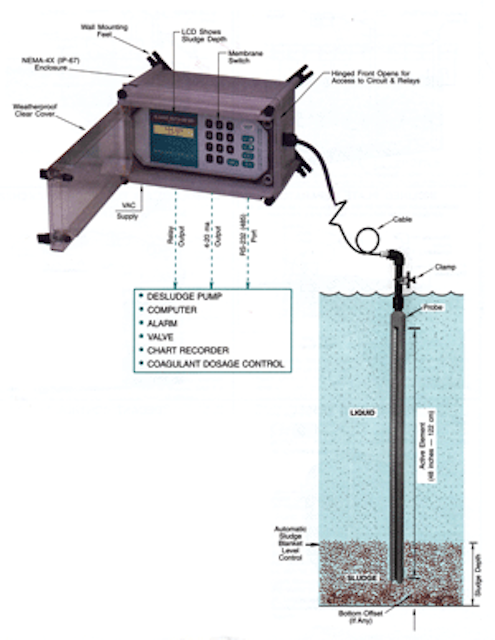 Sludge blanket detector
Markland Detectors use high-intensity infrared light to monitor and automate control of blanket interface levels in clarifiers and settlement tanks (including lamellas and decanting tanks) when treating incoming process water and wastewater. They allow users to program de-sludge pumps to operate only when necessary, preventing overflows, optimizing feed density for filter presses/digesters/centrifuges, and improving outflow for reuse. These detectors can adjust DAF surface skimmer speeds to match floating sludge layers, control SBR decant valves for minimized cycle times, and are used to measure resin beds in intake water softeners, settled fly ash from scrubbers, and settled mud levels.
Markland Specialty Engineering Ltd.
www.sludgecontrols.com
AC drive
The Drives & Motion Division of Yaskawa America announced the release of the MV1000 medium voltage AC drive family. Designed for energy savings and improved process control, the MV1000 drives combine compact modular design, high efficiency, low harmonics, and industry-leading MTBF into a medium-voltage drive solution. It also uses two 5-voltage step bridges per phase to generate a high-quality, 17-level, line-to-line voltage output delivered to the motor. The MV1000 is available in 2.4 kV and 4.16 kV models in four different frame sizes. 2.4 kV models are available with outputs ranging from 200 HP to 2750 HP, while 4.16 kV models are available with outputs ranging from 300 HP to 5000 HP.
Yaskawa America Inc.
www.yaskawa.com
Industrial routers
Red Lion Controls announced the addition of the compact all-in-one RAM® 6021 to its Sixnet series RAM 6000 industrial routers. RAM 6021 routers offer industrial and manufacturing site operators a secure, flexible way to remotely connect, monitor and control assets, saving time and reducing costs across industries that include factory automation, oil and gas, and water and wastewater applications. The routers are purpose-built for extreme conditions and deliver the security required to prevent unwanted intrusion in both the connected factory and remote locations.
Red Lion Controls
www.redlion.net
Printer, software
K-Sun Corp. introduced PipeMarker V8™, a new software program for Microsoft Windows® 8, 7 and XP, bundled with the K-Sun® PEARLabel® 400iXL -- a new 300-dpi, wide-format thermal transfer printer. The new one- to four-inch capacity printer and software make it easy for safety and facility professionals to design and print custom ANSI and ASME A13.1 compliant pipe markers, tags and labels on all-weather adhesive supplies quickly and inexpensively, in-house and on-demand. The PEARLabel® 400iXL Printer offers one-inch, two-inch and four-inch wide adhesive supplies in multiple color combinations necessary to meet industry standards for pipes and values. It also has a small desktop footprint and easy access, front-cartridge loading of K-Tape resin thermal transfer ribbons and olefin adhesive-backed tapes.
K-Sun
www.ksun.com
Fine particle filter
Dow Water & Process Solutions' TEQUATIC™ PLUS fine particle filter is ideal for many applications for difficult, high-solids water, including industrial wastewater treatment and reuse, and is supported by a recently-opened manufacturing facility in Menlo Park, Calif. With its patented design, the TEQUATIC PLUS filter combines the power of continuously-cleaning, cross-flow filtration with centrifugal separation and solids collection into one device to meet the demands of extreme water environments. It is unique to the tough water space, reliably handling very high and highly variable total suspended solids (TSS) up to 10,000 mg/L without frequent filter changes -- even in the presence of oil. These and other features enable it to overcome the shortcomings of conventional technologies such as bag and cartridge filters.
Dow Water & Process Solutions
www.dowwaterandprocess.com
Infrared analyzers
Portable infrared analyzers, such as the InfraCal Analyzers from Wilks, have been used worldwide for measuring off-shore oil in produced water for over 30 years. They have the advantage over other analytical instruments in that the measurement can be performed by non-technical users, and it is relatively unaffected by composition changes in the effluent. They also provide off-shore users with the necessary ruggedness and reliability that is a key requirement. In addition to their use for measuring oil content in produced water on oil drilling platforms, portable IR analyzers are ideal for both on- and off-shore oil measurements in drill cuttings.
Wilks Enterprise
www.wilksir.com
Operator interface system
Industrial automation manufacturer Opto 22 has announced groov version 2.0, a web-based mobile operator interface system that simplifies building and using effective, scalable operator interfaces on smartphones, tablets and other mobile devices -- all with no programming. The system allows industrial automation end users, system integrators, machine OEMs, technicians, or any authorized personnel to quickly and securely monitor and control PLCs and PACs like Allen-Bradley ControlLogix and CompactLogix, Siemens SIMATIC S7, Schneider Electric Modicon, GE PACSystems, and other controllers, all from a mobile device.
Opto 22
www.opto22.com
Sulfide analyzer
The new SMS-22 Sulfide Ion Measurement System from Electro-Chemical Devices is a sequential sampling analyzer. It conditions the sample, measures the sulfide, neutralizes the sample, measures the pH, and drains and rinses the cell. After measurement, the highly caustic sample pH is reduced to a safe level near pH 8. The SMS-22 Sulfide Ion Measurement System uses a sulfide ion selective electrode (ISE) to measure the total amount of sulfide present in the sample. ISE-based S-2 measurement provides a wide measurement ranges of 0 to 5 ppm and up to 500 ppm using economical, easily replaceable electrode cartridges. It features a measuring temperature range of -5°C to +50°C (20°F to 120°F), accuracy to ± 20 ppb or 5% of reading, whichever is greater, and repeatability of ± 2 percent of reading.
Electro-Chemical Devices
www.ecdi.com
Industrial flow meters
Assured Automation's industrial grade liquid flow meters offer durable, compact, high-precision fluid measurement systems. The company's G2 Series meters feature 316SS housing, a PVDF rotor, 316SS rings, tungsten carbide shafts, ceramic bearings, and a ferrite signal generator. These rugged meters are ideal for a variety of flow measurement applications, including clean fluids (free of particulate), fuel transfer pumps, lubrication oil, geothermal heating/cooling systems, fertilizer trucks, plant process fluid, and chemical feed lines.
Assured Automation
www.assuredautomation.com
Controller
Ashland Water Technologies introduced its new OnGuard™ i controller. This first-to-market technology provides a full range of performance-based and knowledge-based control, making it possible to automate even the most demanding water or process treatment applications. The OnGuard™ i controller has a powerful co-processor that uses proprietary software to perform complex calculations. It also provides incredible flexibility since it can be configured to virtually any key performance indicator or key operating indicator for a particular facility. This allows Ashland customers to fully customize and automate their water or process treatment program while maximizing benefits such as reduced water, energy or chemical consumption.
Ashland
www.ashland.com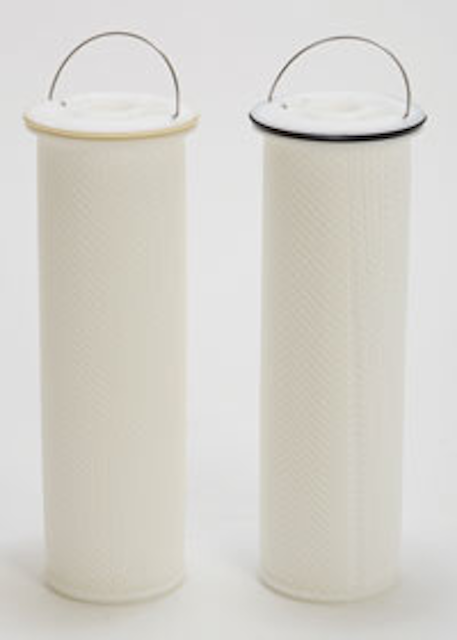 Pleated bag filters
Filtration Technology Corporation announced the expansion of its absolute rated high capacity and standard cartridge product line to include the new Nominal Pleated Bag Series. This bag will fit into existing size-2 bag housings and will not require modification to existing equipment. With 28 times the dirt holding capacity of a standard size-2 bag, this pleated bag will reduce acquisition and disposal costs and provide reduced change outs and labor costs. FTC's pleated bags are designed with high particle removal efficiencies and are available in a wide variety of liquid filtration micron ranges. The High Capacity 550 Series Bag Filters can increase the surface area in a standard size-2 bag housing up to eight times and increase the dirt holding capacity as much as 20 times in comparison to a conventional bag filter.
Filtration Technology Corporation
www.ftc-houston.com
Air filtration
Champion Laboratories announced the launch of the new FRAM Industrial brand. The branding is designed to underpin the vast range

of air filtration products whilst reinforcing quality and dependability across a wide range of applications, including wastewater. It also provides commitment to the development of future air filtration technology and unrivalled customer service. The FRAM Industrial brand is key to spearheading Champion's new approach to customers, as well as generating sales growth in established markets in the UK, mainland Europe, Middle East and Africa.
FRAM Filtration, a brand of Champion Laboratories, Inc
www.fram-filtration.com

Knife gate valve
The DeZURIK KSV Severe Service Knife Gate valve is specially designed to withstand high pressures and abrasive slurries -- some of the toughest services in mining, (including oil sands processing), steel, power, chemical, municipal sludge, bio-fuels production, and paper industries. Numerous features make this valve style ideal for isolation in high-pressure, high-density slurry lines. The rigid one-piece body, 100% diameter port, hard-faced gate and rotatable seat rings also contribute to the most rigorous applications. KSV valves are pressure/temperature rated to ANSI B16.34 Class 150 and 300 and are available in sizes 3-60" (80-1,500 mm).
DeZURIK
www.dezurik.cm
Centrifugal pumps
Griswold™ Pump Company's E,F&G Series heavy-duty, end-suction centrifugal pumps are ideal for use in commercial and agricultural irrigation applications, thanks to their efficient performance, long life and easy maintenance. With capacities up to 682 m3/h (3,000 gpm), heads to 95 meters (310 feet), a broad range of sizes and configuration options, and extensive performance features, the pumps can be used in a wide variety of water pumping applications. Their 360-degree mounting capabilities extend installation options, while their close-coupled configurations can also be mounted vertically when space is at a minimum. All E,F&G Series models are flanged in accordance with ANSI B 16.1 for 125-psi applications.
Griswold Pump Company
www.griswoldpump.com
Couplings, fittings
LOKRING couplings and fittings are ideally suited for fast-track or cost-effective fabrication of small bore piping and OD tube systems and field modification and repair of existing piping and OD tube systems. When used, LOKRING provides a highly-efficient alternative to field welding or flanging and is consistent with good engineering practice in the design and construction of piping and OD tube systems. Where pressures, temperatures or services require conformance with national standards to pressure piping, LOKRING couplings and fittings have been designed and manufactured to meet the requirements of those standards.
LOKRING Technology LLC
www.lokring.com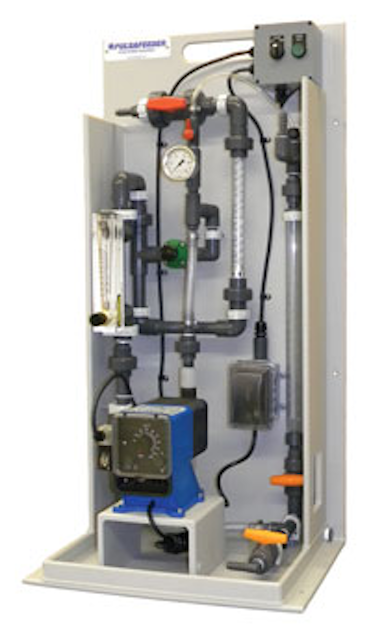 Polymer makedown systems
Pulsafeeder introduced its Polymer Makedown Systems in both automatic and manual versions. These systems feature the proprietary 3-Step Static Blending System, which provides excellent dilution without harming the polymer chains. These rugged fabricated assemblies offer turn-key simplicity and industrial grade durability. With a wide range of dilution utilizing three different water flow rates to choose from (0-5 GPM; 5-10 GPM, and 10+ GPM), the blending system is custom-sized to provide outstanding activation of all types of polymers, without the sometimes damaging effects of motorized mixing devices.
Pulsafeeder Inc.
www.pulsatron.com
Chemical transfer couplings
The PF Series non-spill thermoplastic chemical transfer couplings from Parker Hannifin Corporation eliminate fluid loss upon disconnection for minimal environmental contamination. These quick and dry disconnect couplings are designed to meet requirements for closed system transfer of chemicals and other fluids. They can also be used with concentrated or diluted industrial chemicals, fertilizers, herbicides, insecticides, fungicides, or pesticides when transferring from bulk storage tanks, returnable containers, applicators, and more.
Parker Hannifin Corp.
www.parker.com
Multichannel transmitter
Endress+Hauser released the Liquiline cm44x multichannel transmitter with EtherNet/IP connectivity. The transmitter is ideal for process monitoring in the water, wastewater, chemical, power and other industries, and allows the operator to remotely view diagnostic data, perform configuration, or access device parameters via any web browser. The cm44 transmitter and all Endress+Hauser products built on the 4-wire, Liquiline platform, such as the Liquistation water sampler, are pre-engineered to integrate seamlessly with the PlantPAx process automation system, helping users simplify their network architecture, reduce deployment time and facilitate connectivity from the instrumentation level to the business systems level. The transmitter also has built-in connectivity to Ethernet, Profibus, Modbus, HART, and 485 networks.
Endress+Hauser
www.us.endress.com
Rugged tablet
The ultra-rugged Algiz 7 tablet PC from Handheld is small, light and fast, with multiple connectivity options and a wide range of functions, ideal for field workers demanding a super-durable product that is tough and powerful, yet light and easy to work with. The tablet meets stringent MIL-STD-810G military standards for withstanding humidity, vibrations, drops, and extreme temperatures, and with its IP65 rating, it keeps dust and water out as well. The Algiz 7 weighs a mere 1.1 kilograms and has a 7" widescreen touch display that features the new and unique MaxView technology, providing spectacular brightness in outdoor conditions -- even direct sunlight.
Handheld USA Inc.
www.handheld-us.com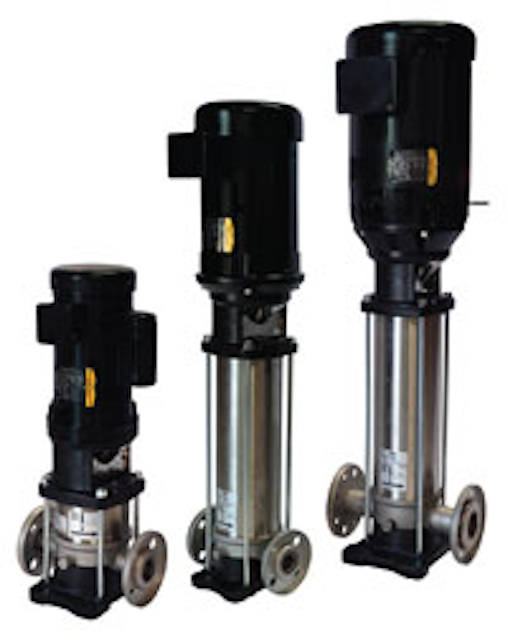 Vertical booster pumps
Franklin Electric announced the release of the VR Series, stainless steel, vertical multistage booster pumps. Featuring an innovative hydraulic design, superior efficiency and an integral heavy-duty bearing designed for minimized axial thrust, the pumps utilize industry standard motors -- high thrust motors are not required. This product is designed to deliver clean water under pressure with temperatures ranging from -5°F to +250°F for a multitude of commercial and industrial applications. The VR Series is ideal for use in many applications, including water supply and pressure boosting, water treatment, reverse-osmosis, wash-down and circulation systems, process water, boiler feeds, and irrigation and farming.
Franklin Electric Co., Inc.
www.franklin-electric.com
Data collection
Mitsubishi Electric Automation's EcoWebServer III provides visible management of energy usage by sharing energy consumption data over the web via a company's intranet or other information layer network. It includes a configuration wizard for easy set up and displays visualizations through a web-based interface for historical energy bar graphs. The information can be tracked by minutes, hours, days, months, or years. Additionally, the energy data collection server can provide this energy information via FTP or notification by email. Plant managers, sustainability teams and other professionals tasked with energy management can monitor, manage and record energy by department, building, floor, store, or facility, as well as by application, factory process or equipment.
Mitsubishi Electric Automation Inc.
www.meau.com
Acidic neutralization
Blue Earth Labs announced pHaze™, its non-hazardous formulation for neutralizing acidic runoff generated during chemical water treatment with the company's line of Floran® and neXt™ surface cleaning and filter rehabilitation products. A solid, pH-buffered, odorless neutralizer, pHaze is NSF-60 certified for use in drinking water systems. As a single component formula, it is applied to any acidic runoff, neutralizing immediately on contact to adjust the pH level of the waste stream for safe and proper disposal. Treatment with pHaze is a non-hazardous way to ensure pH value reaches an acceptable level that adheres to EPA regulations for wastewater runoff. Because it is buffered to a maximum pH of 10, pHaze does not require constant monitoring as with typical neutralizers.
Blue Earth Labs
www.blueearthlabs.com