Mass Measuring
The ST100 Series Thermal Mass Air/Gas Flow Meter from Fluid Components International (FCI) is a new air and gas flow measuring solution for industrial plants and processes ...

Aug 28th, 2013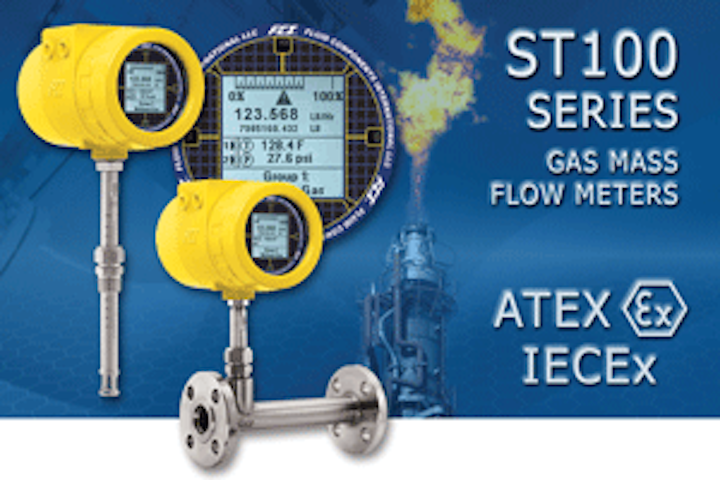 New Thermal Mass Air/Gas Flow Meter Offers Solution for Industrial Processes
The ST100 Series Thermal Mass Air/Gas Flow Meter from Fluid Components International (FCI) is a new air and gas flow measuring solution for industrial plants and processes designed to help utilities meet their overall output, processing information and communication needs.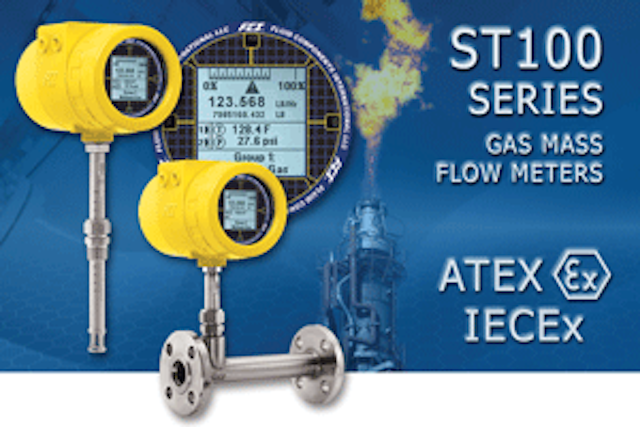 The technology combines advanced flow sensors with feature- and function-rich electronics to help industry professionals manage a variety of output applications such as 4-20 mA analog, frequency/pulse, alarm relays, and digital bus communications including HART, Fieldbus, Profibus, or Modbus. It can also be calibrated to measure most process gases including wet, dirty and mixed in a variety of rugged settings. Further, the company's goal for the design is to eliminate obsolescence.
"With FCI's ST100 flow meters, the instrument is very adaptable to where a user might go in the future," said Randy Brown, FCI marketing manager, in a recent press release. "If there is a change in the process communication protocol deployed, a user can simply and easily convert instead of replace."
The proper measurement of air and gas flow in many industrial water plants and processes is instrumental to the overall operation of their businesses. Likewise, thermal dispersion technology, as used in the ST100 series, utilizes the relationship between flow rate and cooling effect for direct measurement of mass flow. With no moving parts and minimal invasiveness, thermal dispersion is ideal and widely applied in air and gas applications, and provides a highly repeatable and accurate measurement.
According to Brown, the meters can be used in a variety of "water and wastewater applications such as aeration, digester and disinfection gas injection." He said that several ST100's have been in field trials in different industries for more than six months. Two of the trial sites are with wastewater treatment plants in aeration basins, and another is with a water plant in an ozone disinfection application.
FCI's flow meter provides users with a graphical, multivariable, backlit LCD display/readout with a continuous display of all process measurements and alarm statuses, as well as with the ability to interrogate for service diagnostics. An optional, patent-pending SpectraCal™ Gas Equivalency calibration method lets users select and switch between 10 common gases. Also standard is an on-board data logger with an easily accessible, removable 2-GB micro-SD memory card capable of storing up to 21 million readings, and it obtains up to 1000:1 turndown.
It can also store up to five unique calibration groups to accommodate broad flow ranges, differing mixtures of the same gas and multiple gases. "For example, in WWTP digester gas applications, this can be a highly valuable feature to ensure calibrations matched with seasonal changes that can occur in the digester gas composition," Brown said.
The ST100 series is also capable of offering three different types of flow sensors to best match user applications: the fast-response FPC-style, which features an integral flow conditioner and protective shroud optimized for compressed air and clean gas applications; the fast-response, general purpose FP-style that offers a protective shroud and is used with FCI's VeriCal™ in-situ calibration option; and the unshrouded S-style that's ideal for wet, dirty gases and erratic flows, and that facilitates easy cleaning and provides a smoothed response.
The flow series is comprised of two core model families: ST and STP. ST meters measure both mass flow and temperature, and the STP family adds the third parameter of pressure. Both families include single-point and dual-element models as configurations outfitted with FCI's VeriCal. "With a single instrument requiring a single penetration point for all three measurement parameters, a user can realize significant cost savings in sensor and installation when compared to three discrete sensors," Brown said.
The basic insertion-style air/gas meter features a thermal flow sensing element that measures flow from 0.25 to 1,000 SFPS (0.07 NMPS to 305 NMPS) with accuracy of ± 0.75 percent of reading and ± 0.5 percent of full scale. The series includes service up to 850ºF (454ºC) and is available with both integral and remote (up to 1,000 feet [300 meters]) electronics versions.
The ST100 Series Thermal Mass Air/Gas Flow Meter from Fluid Components International has received ATEX and IECEx approvals for hazardous environments, including the entire instrument, the transmitter and the NEMA 4X/IP67 rated enclosure. Instrument approvals in addition to ATEX and IECEx include FM and FMc.