New Literature
Compilation of print and digital information resources for the industrial water market
Oct 29th, 2013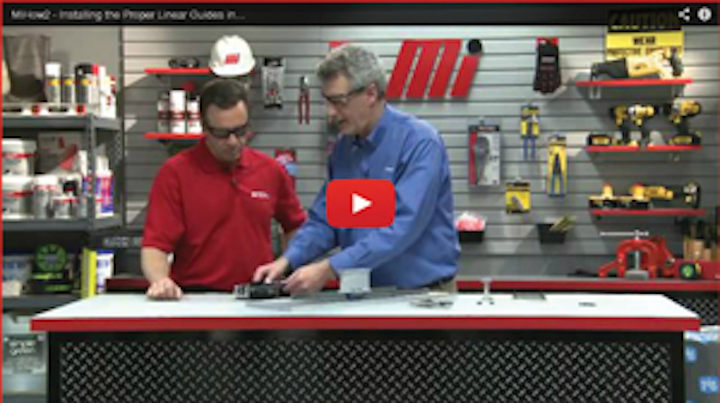 Linear video guide
Motion Industries has released a new video, "Installing the Proper Linear Guides in Various Applications," on its MiHow2 channel (www.mihow2.com). The product/application solutions series shares practical industrial applications that viewers can adapt in their own facilities. Each video was filmed in a workshop setting and features the Motion Industries host with a guest from one of the market-leading industrial manufacturers demonstrating a product or application.
Motion Industries Inc.
www.motionindustries.com
White paper
Sierra Instruments' new free biogas measurement white paper, "Precise Biogas Flow Measurement: Overcoming the Challenges of Changing Gas Composition," offers engineers and plant and facility managers solutions for precise biogas measurement even with changing gas composition -- an inherent application challenge in biogas energy flow measurement. Sierra's new QuadraTherm® 640i four-sensor mass flow meter provides end users with ±0.75% of reading above 50% of the full scale, far better than the 2.0 % of reading possible with other thermal technologies. Sierra's QuadraTherm technology provides end users with an optimal solution for accurately measuring and managing biogas to produce higher energy yields.
Sierra Instruments Inc.
www.sierrainstruments.com
Switch website
Peerless Electronics announced that its online OTTO Controls e-store is now open. The store offers a vast selection of Otto's toggle, rocker, Hall Effect and pushbutton switches, switch guards, grips, and accessories. Peerless stocks more than 500 different switches from OTTO Controls, most of which are sealed, and is making these products available through easy online ordering. Peerless also offers switch assembly services such as switch harnesses, switch panels and engraving and hot stamping of legends.
Peerless Electronics Inc.
Industrial control management
The International Society of Automation (ISA) has published a new reference book that outlines how to establish and manage industrial control groups and how to initiate and execute industrial control projects. The book, "Managing Industrial Controls," provides an overview of industrial control systems, post-engineering phases, and how to assess plants' needs and justify budgets. The book provides valuable resources for all managers of industrial control groups, especially those seeking a helpful manual that covers key matters relating to industrial controls from a management perspective, as well as for professionals working in industrial controls who intend to become group managers or supervisors.
International Society of Automation
www.automationfederation.org
Turbocompressor blowers
The Compressed Air and Gas Institute announced the release of its latest standard, "CAGI BL 5389, Simplified Acceptance Test of Electric Driven, Low Pressure Turbocompressor Air Blower Packages." The standard provides a simplified, wire-to-air performance test code applicable to packaged, low-pressure turbocompressors handling atmospheric air. The ISO 5389 standard provides a detailed, complex procedure to test and rate turbocompressor blowers. It is an easily-integrated, cost-effective, yet highly accurate approach to testing and is applicable to all dynamic blower packages in all industrial and municipal air applications. While the standard is intended for use with all types of turbocompressor blower packages, it will be particularly useful for machines that are manufactured in batches or in continuous production quantities.
The Compressed Air and Gas Institute
www.cagi.org
Speed reducers
Sumitomo offers a variety of white papers targeting water and wastewater treatment applications, primarily focused on gearboxes used in mixing and aeration applications. When upgrading or installing a new mixer application in a water treatment facility, one of the critical components is the speed reducer, which is installed between the motor and the impeller shaft. The speed reducer, also referred to as the gearbox or torque increaser, plays many important roles in the application simultaneously, including supporting the mixer impeller shaft.
Sumitomo Drive Technologies
www.sumitomodrive.com