New Products
Walchem has introduced the Digital EZC Series Metering Pumps, the latest addition to its E Class pump line. The new pumps are solenoid-driven, diaphragm metering pumps
Jul 1st, 2003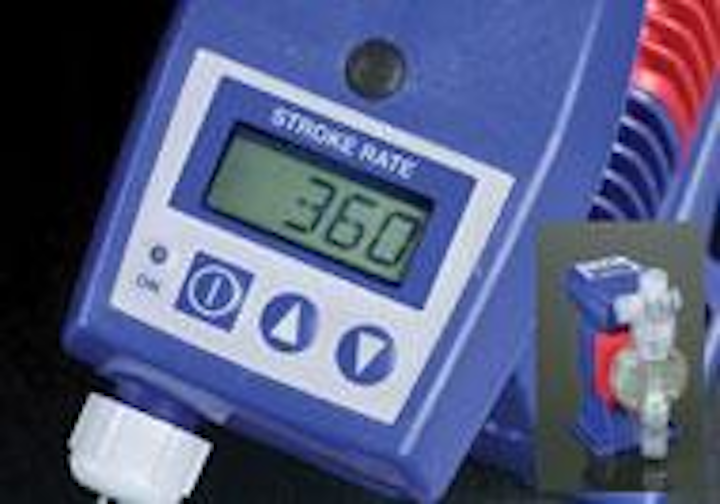 Metering pumps
Click here to enlarge image
Walchem has introduced the Digital EZC Series Metering Pumps, the latest addition to its E Class pump line. The new pumps are solenoid-driven, diaphragm metering pumps with a maximum capacity of 6.7 gph and a maximum pressure of 150 psi. The high speed, fixed stroke length design makes the pumps an economical solution for applications requiring low cost but high turndown capabilities. The units pump at 360 strokes per minute, reducing the chemical slug feeding found in slower metering pumps. The digital controller has three pushbuttons for speed adjustment and provides an IP65 solution for harsh environments. For installations with restricted access, the digital controller can be mounted remote from the pump.
Walchem Corp.
Holliston, MA
Tel: 508-429-1110
Web: www.walchem.com
Wastewater analysis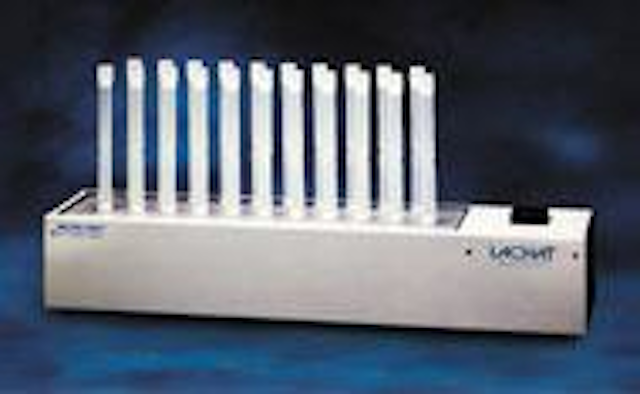 Click here to enlarge image
Micro Dist® from Lachat is designed to avoid the costly problems of using expensive, fragile glassware, fume hoods, and clean up when distilling samples for wastewater analysis. The system distills up to 21 samples for sulfide, cyanide, methylmercury, and ammonia in 30 minutes, phenolics and tritium in 90 minutes. The system can handle many sample types, even if the sample is a sludge or has a high level of suspended solids. The USEPA has now approved Micro Dist analysis for NPDWR monitoring of cyanide and recommended approval for NPDES monitoring. The unit consists of only two pieces, a collection tube with a porous membrane and a sample tube, which are disposed of after use. The press fit joint between the two does not leak, a potential problem when using glassware.
Lachat Instruments
Loveland, CO
Tel: 800-247-7613
Web: www.lachatinstruments.com
Oil/water separator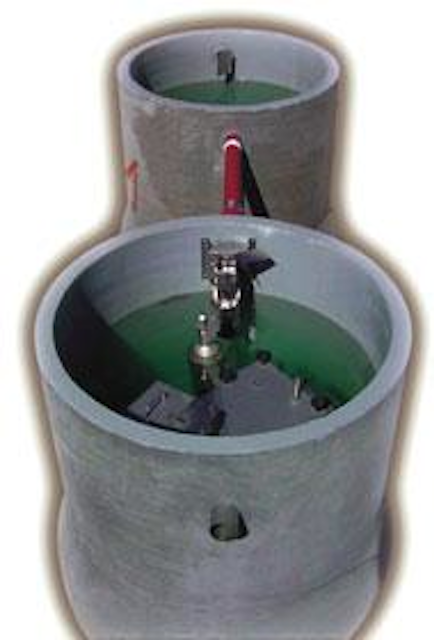 Click here to enlarge image
The ecoSep® Below Grade Oil/Water Separator from Royal Environmental can help keep water clean from oil contaminates. The unit permanently separates oil from water and allows virtually no oil emulsion formations to develop. Independent testing demonstrates that its high-efficiency separation of free oils and hydrocarbon-laden sediment exceeds today's environmental standards. The units can be designed for use in point-source and industrial stormwater applications. No external energy supply is needed; there are no electrical parts, only mechanical and stainless steel components. The units allow for access to all major components for cleaning and maintenance.
Royal Environmental Systems, Inc
Stacy, MN
Tel: 800-817-3240
Web: www.royalenterprises.net
Magnetically driven pumps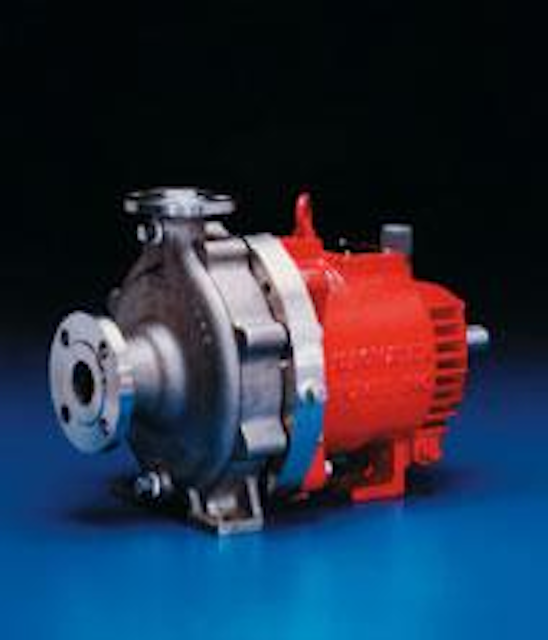 Click here to enlarge image
The Magnatex® MAXP series sealless, magnetically driven pumps are specifically designed to conform to all ANSI B73.1 dimensional standards in both liquid and drive end. Fully interchangeable with existing ANSI pump installations, they eliminate expensive piping and baseplate modifications when retrofitting sealed pumps. The pumps are available in 17 pump sizes, 16 magnet sizes, and 9 different alloy materials of construction. With capacities to 2,000 gpm, heads to 470 feet, up to 150 hp, and temperatures to 750° F, the pumps can handle a broad range of difficult applications. Advanced design features include single static gasket construction which eliminates all O-rings in the process fluid and synchronous (no-slip) mag-drive design using Neodymium or Samarium Cobalt magnets. Heavy-walled containment and optional secondary containment are available.
Magnatex® Pumps, Inc.
Houston, TX
Tel: 713-972-8666
Web: www.magnatexpumps.com
Mobile storage tanks
Terracon offers the HLT Mobile Water Storage Tank. These seamless one piece molded linear polyethylene construction tanks are designed for durability. Molded-in legs ensure structural integrity and stability. The tanks can be used to feed pressure washers, concrete saws, or any other mobile application that requires water away from traditional supplies. The tanks range in capacity from 30 gallons to 525 gallons. Painted steel bolt-down anchor straps are available for all sizes.
Terracon Corp.
Holliston, MA
Tel: 508-429-9950
Web: www.terracontanks.com
Water treatment
USFilter Kruger Products' Actiflo system is a compact, high-rate, physical-chemical clarification process that uses microsand along with lamellar settling to enhance flocculation and clarification. By using microsand as a seed for floc formation and clarification, the process is up to 20 times smaller than conventional processes. Furthermore, the sand allows for more effective removal of solids, organics, metals and pathogens. The sand also stabilizes the process during sudden fluctuations in raw water quality.
USFilter Kruger Products
Cary, NC
Tel: 800-525-0658
Web: www.usfilter.com
Dye tracers
Kingscote Chemicals has introduced its Bright Dyes® FLT Orange line of fluorescent water tracing dye products. The dyes are perfect for flow studies, leak detection, input metering, septic system analysis and other plumbing applications. They are available in tablets, liquids, powders and wax forms and come in three fluorescent colors (Yellow/Green, Red and Orange).
Kingscote Chemicals, Inc.
Miamisburg, OH
Tel: 800-394-0678
Web: www.brightdyes.com
Safety tank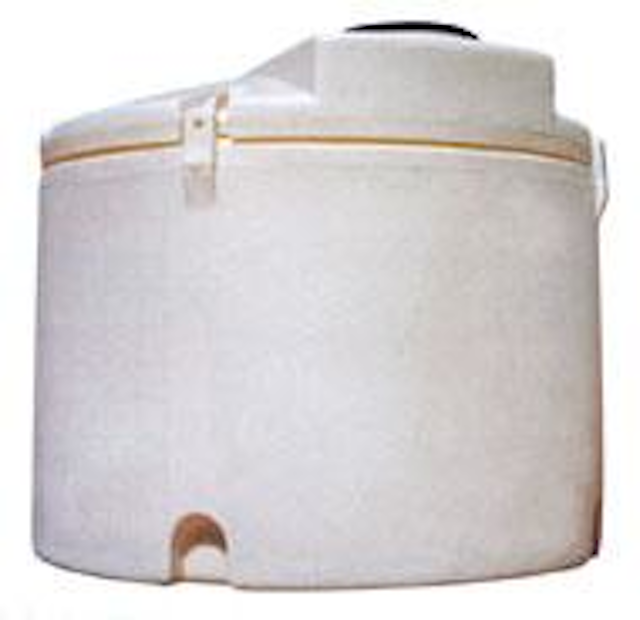 Click here to enlarge image
Poly Processing offers the Safe-Tank® storage and containment system, the tank within a tank. The high density crosslinked polyethylene tank alleviates the need to build large high maintenance concrete containment areas. In the event of a spill, the system's all-in-one design features a protected containment area that will isolate reactive chemicals, all within the footprint of a standard vertical tank.
Poly Processing Co.
Monroe, LA
Tel: 866-590-6845
Web: www.polyprocessing.com
Seawater treatment membranes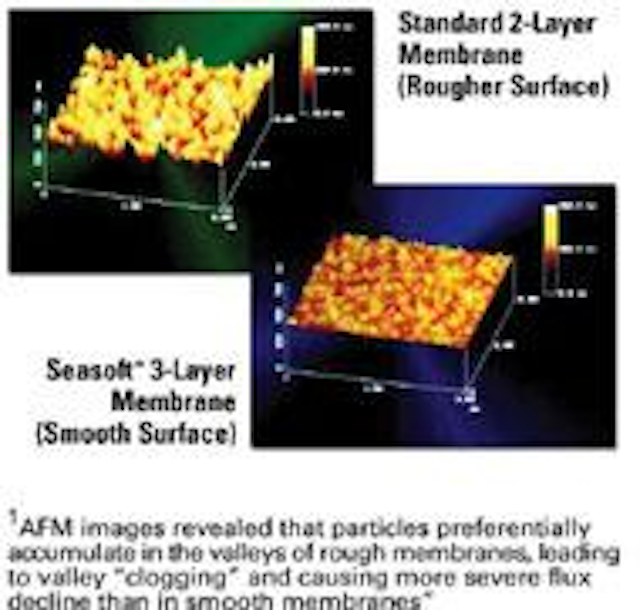 Click here to enlarge image
In response to demand for a less cumbersome and costly way to treat seawater for production of industrial process water, GE Osmonics has engineered the new Seasoft™ membrane elements. Using Seasoft nanofiltration (NF) elements as a pretreatment step reduces the hardness of seawater by more than 95 percent. This hardness reduction enables reverse osmosis (RO) plants to operate at lower pressures and higher recoveries. By providing a more purified feed to subsequent processes, the new membranes have facilitated a 25 percent increase in overall productivity while reducing pressure requirements by 17 percent. The membrane elements are available in a standard 8 in. diameter and 40 in. length.
GE Osmonics
Minnetonka, MN
Tel: 800-423-3725
Web: www.desalwater.com
Dosing system
Click here to enlarge image
Severn Trent Services offers the Advance® PDS precision dosing system as a pre-assembled and pre-wired packaged system designed for chemical injection. The system features corrosion-resistant materials for all wetted components in the single- or multiple-pump system arrangement. The system, effective across a range of applications and operating conditions, features integrated controls for automated system operation, alarm indication and system shutdown. Optional remote alarms for low tank level, tank mixer and shutdown are also available.
Severn Trent Services
Colmar, PA
Tel: 215-997-4000
Web: www.severntrentservices.com
Laboratory testing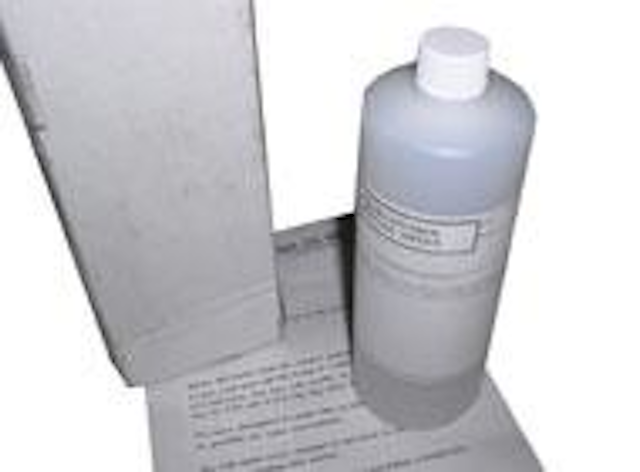 Click here to enlarge image
Odor Control Co. is now offering free lab testing of malodor samples. The company will test the sample and formulate an odor neutralizer that will eliminate the odor problem. Its lab helps customers determine the best molecularly structured odor neutralizer for their waste. A wastewater treatment plant might identify hydrogen sulfide as their primary source of odor problems. However, there might be additional, less detectable or identifiable odors being emitted into the air. Raw sewage has pesticides, food preservatives and other chemicals that add odors into the air. As an added service, the company will provide and pay for a sample testing kit and all related shipping and testing charges.
Odor Control Co., Inc.
Scottsdale, AZ
Tel: 888-948-3956
Web: www.odorcontrolco.com
Treatment, storage tanks
Columbian TecTank fabricates tanks for water treatment, filtering, digesters, clarifiers, leachates and aeration. Its factory applied, baked on coating systems offer excellent protection. Proprietary sheet edge application increases corrosion resistance and reduces maintenance requirements.
Columbian TecTank
Kansas City, KS
Tel: 913-621-3700
Web: www.columbiantectank.com
Powder coatings
Atofina Chemicals reports that in recent cavitation erosion resistance tests, coatings of Rilsan® PA-11 fine powder were shown to be three times better than 316L stainless steel. In other cavitation tests, Rilsan coatings were over 75 times more cavitation erosion resistant that the best fusion-bonded epoxy coatings. All tests were conducted and reported by an independent testing laboratory. The fine powder coatings meet AWWA standard C224.01 and several different colors are approved for potable water use under NSF-61. They are easily applied using conventional powder coating methods and are available worldwide.
Atofina Chemicals Inc.
Philadelphia, PA,
Tel: 800-628-3391
Web: www.atofinachemicals.com
Meter boxes, covers
NDS Inc. has added the NDS Premium Commercial Grade line of meter boxes and covers to its line of valve and meter box products. The new line commercial grade meter boxes and covers are injection molded of structural foam polyolefin, providing the customer with a product that is lightweight, durable and easy to install. All cover sizes are available with AMR top or bottom mount options, and drop in or overlapping models and are interchangeable with other manufacturer boxes.
NDS Inc.
Woodland Hills, CA
Tel: 800-726-1994
Web: www.NDSPRO.com
Sanitary butterfly valve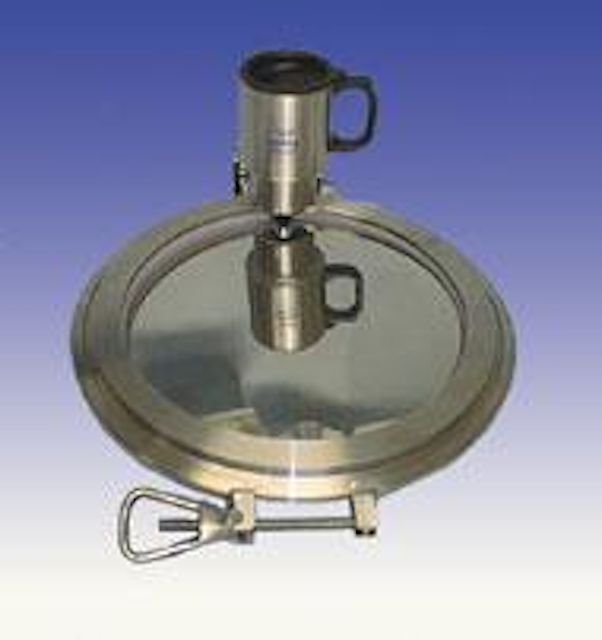 Click here to enlarge image
Gemco a manufacturer of equipment for solids processing industries, has manufactured its line of Spherical Disc Valves since the 1930's. While this valve offers a full port opening, self-cleaning seat and long life, it does require a high profile related to its diameter. For space restricted applications, the company now offers a low-profile Butterfly Valve. Measuring only 1 1/2 inches in thickness, the SB valve can fit in the tightest spaces.
GemcoValve Co.,br>Middlesex, NJ
Tel: 800-654-3626
Web: www.gemcovalve.com
FOG treatment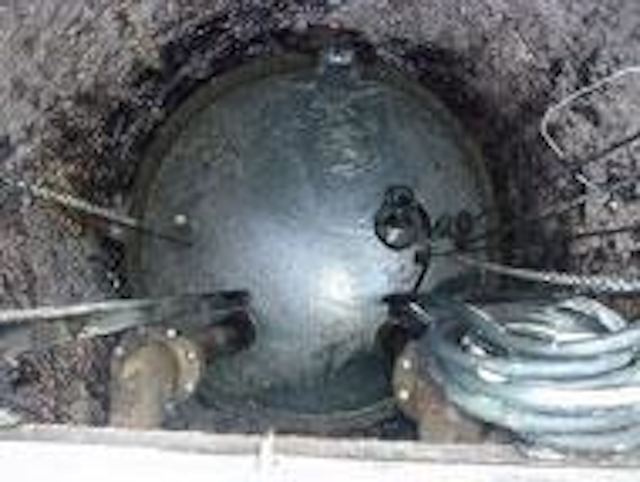 Click here to enlarge image
Munox® XL-Plus, available from Osprey Biotechnics, is patented biotechnology using natural, live bacterial cultures for degradation and control of fats, oil & grease (FOG) prevalent at wastewater collection and transfer points. Treatment with the product is a safe, cost-effective method of eliminating troublesome organics from municipal treatment systems. Using the new grease treatment program, municipalities report 90% to 100% reductions in grease buildup at previously troublesome locations. The product recently gained recognition by EPA's Design for the Environment partnership program, the first involving an industrial cleaner/degreaser that bioremediates.
Osprey Biotechnics, Inc.
Sarasota FL
Tel: 800-553-7785
Web: www.ospreybiotechnics.com
Power winches
Thern power winches are a versatile alternative to complicated overhead hoist systems. The winch can be mounted upside down to a support beam to raise and lower filter screens for periodic cleaning. Once out of the channel, the screen is held in a cleaning position by a tie-off cable. There are several mounting options to accommodate special plant considerations. Special rated motors and controls provide protection in corrosive or explosive environments.
Thern, Inc.
Winona, MN
Tel: 507-454-2996
Web: www.thern.com
Gas flow equalizer
USFilter has introduced the new Equa-Draw™ System engineered by Wallace & Tiernan Products. The system eliminates waste and reduces labor associated with traditional manifolding of vacuum regulators commonly used for water treatment gasses, such as chlorine, sulfur dioxide and ammonia. The patent pending system equalizes the gas that flows from several connected gas containers — all under vacuum for safety. The design eliminates the need for manually balancing the flow rates from each individual vacuum regulator. The modular system can link up to six gas containers, either 150 lb. cylinders or one-ton containers.
USFilter Wallace & Tiernan Prod.
Vineland, NJ
Tel: 856-507-9000
Web: www.usfilter.com