Gulf of Mexico FPSO enhanced by Intermoor's chain tensioning and cutting
The FPSO Turritella will connect to subsea infrastructure, breaking the existing water depth record for an oil and gas production facility.
Jun 8th, 2016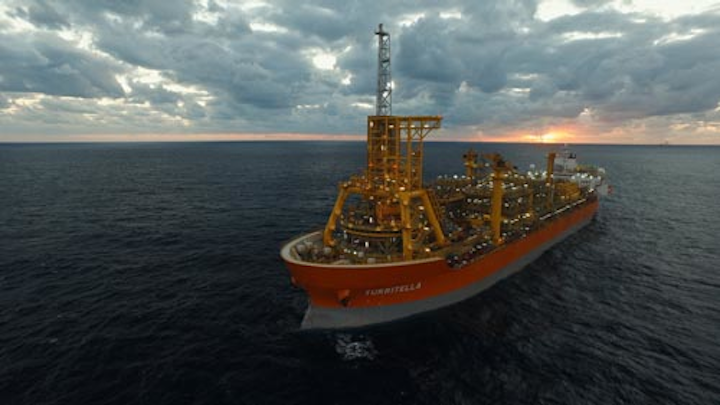 GULF OF MEXICO, June 8, 2016 -- InterMoor, an Acteon company, has successfully completed the final tensioning and chain cutting operations on the FPSO Turritella for the Shell Stones project, located in the Walker Ridge protraction area in the Gulf of Mexico (GoM).
The FPSO Turritella will connect to subsea infrastructure located beneath approximately 9500 ft (2896 m) of water, breaking the existing water depth record for an oil and gas production facility. This ultra-deep water project marks the first FPSO for Shell in the GoM, and the second FPSO in the GoM.
Having arrived in January 2016, the Turritella is a dis-connectable turret moored FPSO with nine mooring lines consisting of chain and polyester, arrayed in three bundles of three. The mooring lines were attached to a dis-connectable Buoyant Turret Mooring (BTM) buoy in field, awaiting the FPSO's arrival. Each mooring leg has an in-line mooring connector (ILMC) tensioning system, located approximately 900 ft below the surface, which was pre-tensioned after connection to the BTM. Once the Turritella arrived, and the BTM was recovered by the FPSO. InterMoor's work scope consisted of chain final tension adjustments through the ILMC system, subsequent cut and removal of excess chain, and riser pull-in rope stretching and transfer to the FPSO.
InterMoor used the Seacor Keith Cowan anchor-handling vessel (AHV) to perform the first phase of the operations and later moved to a larger construction vessel already on charter and on standby.
Tom Fulton, global president, InterMoor, said, "InterMoor supported this FPSO's mooring needs by utilizing a cost-effective and Jones Act compliant anchor handling vessel, whereas competitors would typically resort to a large construction vessel.
"We were able to successfully provide full project management and engineering, including: design, procedures, procurement, dock support, offshore equipment and personnel for all phases. Our team also designed installation aids and fabricated them in our Morgan City facility, in Louisiana."
Acteon sister companies worked alongside InterMoor on the project, with UTEC providing the positioning survey for the AHV, and Mirage custom-designing and fabricating the diamond wire cutting saw and clamping system.
InterMoor also provided the following services for the Turritella installation:
Provision of Tow Masters on-board the FPSO.
BTM buoy clump weight rigging removal.
Dock and equipment support to Shell contracted heading control tugs.
FPSO heading control steering lines design, procurement and offshore installation
Dive-Support Vessel mooring design, procurement and offshore support for hook-up and disconnection.
InterMoor, an Acteon company, is the leading mooring, foundations and subsea services provider delivering innovative solutions for rig moves, mooring services and offshore installation projects. We support operators and contractors worldwide with our engineering, fabrication, shore base, survey and positioning, and inspection services to truly provide customized solutions that reduce cost, time and risk. For more information please visit: www.intermoor.com.
About Acteon
Acteon provides a range of global subsea services from surveying, installation, asset integrity management through to decommissioning. Acteon's companies are 2H Offshore, Aquatic, Claxton, Clarus Subsea Integrity, Conductor Installation Services (CIS), Core Grouting Services, InterAct, InterMoor, J2 Subsea, LDD, LM Handling, MENCK, Mirage Machines, NCS Survey, Offshore Installation Services (OIS), Probe Oil Tools, Pulse Structural Monitoring, Seatronics, Subsea Riser Products (SRP), TEAM Energy Resources and UTEC Survey. Acteon's companies share knowledge and experience to add value and create effective, tailored solutions for clients across four business segments: survey, monitoring and data; risers and moorings; seabed foundation technologies; and project support services. Learn more at www.acteon.com
About subsea services
Acteon's aim is to define, shape and lead subsea services through best-in-class expertise offering full market coverage across the whole life of a subsea field. Acteon's integrated approach to subsea services makes it easy for clients to combine capabilities to meet their specific project needs. Acteon's subsea services companies share knowledge and experience across four business segments to deliver highly efficient solutions tailored to a client's unique challenges, thereby reducing overall cost, risk and complexity.
Risers and moorings
Acteon provides deepwater riser engineering, structural analysis, riser, conductor, flowline and pipeline services to add value and create effective, tailored solutions. Acteon offers world-leading capabilities in high-pressure, high-temperature risers, temporary and permanent moorings, design, supply, installation, relocation and decommissioning. With the largest global inventory of offshore mooring equipment, Acteon also provides global inventory management with rapid delivery.